Jeremy Irons: The fire in irons
Jeremy Irons is one of the country's best-loved actors. But he also has a reputation for isular and irascible, and for having a - how shall we put it? - 'complicated' private life. Will a new TV documentary set the record straight at last?
Interview
,
Liz Hoggard
Saturday 30 September 2006 00:00 Comments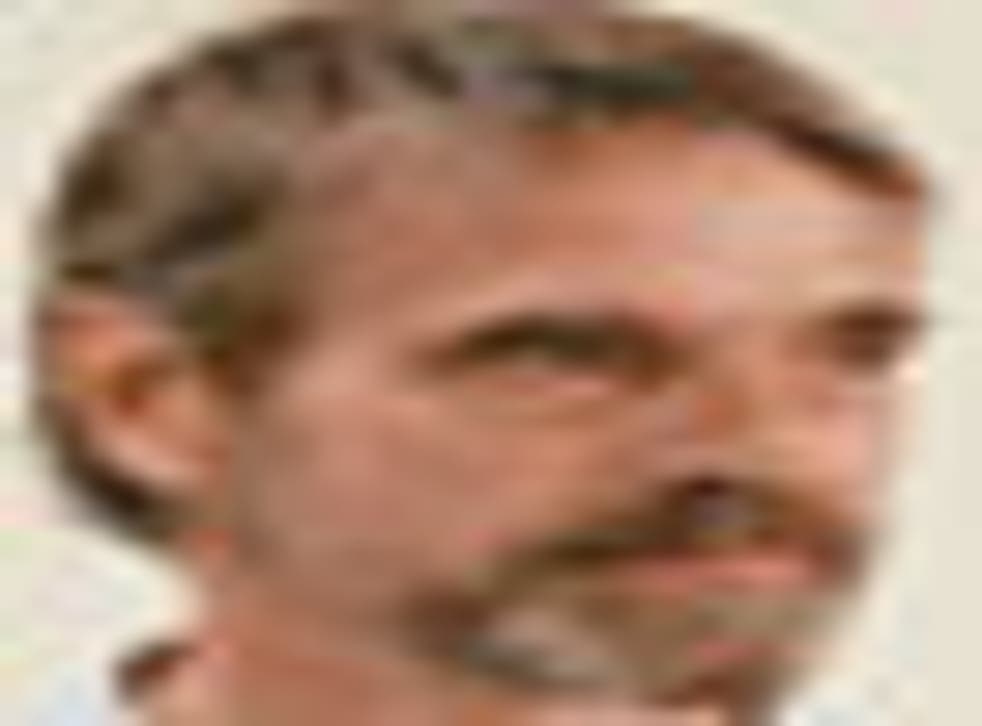 Jeremy Irons has a novel way of putting fellow actors at their ease. "One of my first jobs when I start rehearsing is to sort of behave badly in a way, so people think, 'Oh, I'm not going to respect him. Get out of the way!' It's my way of saying to them, 'I'm a mucker, I'm a vagabond, I'm a rogue, I've as much to learn as you.' It's more difficult now because I'm a known commodity. I have to make my fellow workers realise I am as unknowing, as much of a child, as they are. Because if I say, 'Listen, why don't you try it like that?' - if there's a feeling that I'm speaking from a position of power, or on high, or age or whatever - then people understandably resent it."
When I told fellow journalists I was interviewing Irons, they gave me knowing looks. He does not have the easiest reputation. When Lynn Barber interviewed him in 1989, at the height of his Brideshead fame, she wanted to boil him in oil, citing his arrogance and general contempt for other people. And when he filmed Damage with Juliet Binoche (whom he considered miscast in the role), the actress described it as one of the most uncomfortable working experiences of her life.
So, yes, I am on the alert for bad behaviour. But Irons has learnt his lesson. Throughout our interview, he is utterly charming and self-deprecating. If anything he has an air of a slightly controlling Boy Scout. On shoots, he says, he is always the first to change the fuses. "I love solving practical problems. I hate being cotton-woolled. I've always said I could be a window cleaner, and be really happy doing that."
He compares film acting to making a patchwork quilt. "You cut a piece of material that you like, and then you sew it really carefully into a shape" - he mimes delicate sewing - "maybe a star, then you put it to one side. Gradually you join the pieces together, but you never stand back and look at the finished thing until right at the end."
Irons is arguably our greatest living movie actor. He won an Oscar and a Golden Globe for Reversal of Fortune (1990); a New York Film Critics Circle Award for Dead Ringers (1987); a Tony for The Real Thing on Broadway (1984) and last month he picked up a Best Supporting Actor Emmy for Elizabeth I opposite Helen Mirren. Surprisingly he has played few romantic leads - preferring to work with auteurs such as David Lynch, Bernardo Bertolucci, Louis Malle and David Cronenberg. "He has such a magnetic quality on screen, and he has a kind of melancholy about him," says Michael Radford, who directed him in the recent movie version of The Merchant of Venice.
When we meet, Irons has just completed an acclaimed run in Christopher Hampton's Embers (Irons' first play in the West End in 18 years). At the age of 58 and a veteran of more than 60 films, Irons is sanguine about moving over to play character roles. "None of my movies has made a lot of money," he laughs. "The studio can look up on computer what my past five films have made." You sense he acts to live, rather than lives to act. He rides, sails, and for the past few years has been restoring a medieval castle on an island in West Cork.
He's also recorded an episode of the BBC's series, Who Do You Think You Are?, tracing his family tree back to the 18th century. Getting Irons was quite a coup for the BBC. He famously guards his privacy - not surprising when the Daily Mail is comically obsessed with monitoring the state of his marriage to the Irish actress Sinead Cusack and sneering at his castle (which they insist is painted salmon pink, even though the local council have upheld his claim that it's a traditional shade for the area). But on the show Irons comes across very well: enthusiastic, practical and just the right side of batty - as he bombs around the country on a motorbike, his two dogs riding pillion.
Irons is no flirt. What he does have is charisma in buckets. You can't helping noticing how the female historians on the show get a bit fluttery around him. Tall and elegant, he cuts a fine figure in jodhpurs - a cigarette dangling from his fingers. The voice is very English - deep, gravelly. Even the beard (grown for his role as a 74-year-old general in Embers) gives him gravitas. "I usually dress so scruffily that most people think, 'That looks a bit like him, but it can't be him'," he laughs.
An ex-public school boy, Irons seems a natural conservative (apart from the castle and a family home in Oxfordshire, he has a house in Notting Hill). But actually he's quite left wing. In his Emmy acceptance speech last month, he blasted Margaret Thatcher for dumbing down British TV. At the 1991 Tony Awards, he became the first celebrity to wear the red Aids ribbon. And in Who Do You Think You Are?, he is touchingly keen to track down his great-great grandfather, a Chartist who, according to family legend, rode into the house of Commons on a donkey.
"What I did find from studying my close relatives - in the last three generations - is that I was trying to get away from that middle-class, conventional Victorian-ness. And of course, being a child of the 1960s, I was very lucky because everything was changing then. And being the second son was lucky because no one expected anything of me."
Born in 1948, Irons grew up in Cowes, Isle of Wight. It was an "idyllic" childhood full of boats and ponies. He attended Sherborne School where his academic career was undistinguished. He did well at rugby, and the officer training corps and in his last year dazzled in the school play.
His grades weren't good enough for university, so he spent a year working for a charity run by two priests in Peckham, southeast London. As well as visiting the elderly and the sick, he had to interview people who wanted to get married - all of which he found a bit overwhelming at 17. But in his spare time he busked around London, then got a job as an assistant stage manager in a theatre in Canterbury.
"Now looking back I see what I was doing was finding a way not to have to be stuck with any of the sort of people I'd been educated with, but finding a way of creating the life of a gypsy."
He got into drama school, supporting himself by working as a builder. "I wore clothes well, I decorated the stage well," he says dryly. But he applied himself and was accepted by Bristol Old Vic where he ended up playing juvenile leads, then moved to London.
He played John the Baptist opposite David f Essex in Godspell, and met and fell in love with Cusack. They married in 1978 and have two sons, Sam, 28, a photographer, and Max, 20, an actor. At first Cusack was the more famous of the two (she had dated George Best). Irons found it difficult to get work because he had such an aristocratic look. The fashion at the time was for leather-jacketed working-class actors, so he spent time building bathrooms and cleaning people's houses. "The principal of my drama school said, 'You know, Jeremy, it's a real shame you weren't born 30 years before because you have a perfect face for that period. And then, of course, what happened was we did Brideshead and the fashion for that sort of Englishman came back."
Playing Charles Ryder in Brideshead Revisited was the role that put him on the map. But it very nearly didn't happen. He was due to follow filming of the TV series with the lead in The French Lieutenant's Woman, opposite Meryl Streep. But then a strike delayed Brideshead and Granada wouldn't release him. "I thought, 'You're being very British about this, Jeremy. If that's the way you're going to manage your life then fine, but don't expect too much.' I sat down, had a couple of martinis and wrote a long letter to the chairman of the television company telling him that I was off unless by six o'clock the following day he would agree to release me to make this film." Irons knew he was risking his house, even his livelihood, but he held firm and Granada caved in. It taught him a valuable lesson.
He says he never wanted to get stuck playing the archetypal Englishman, so after Brideshead he played a Polish builder in Moonlighting. In fact Irons has always been attracted to disruptive, even creepy characters - from his icy portrayal of Claus von Bulow, who was tried and acquitted of trying to murder his wife in Reversal of Fortune, to the dual role of mad twin physicians in Cronenberg's Dead Ringers. "I like to try to get the scent of a character. I rehearse in different colours every day." In 1997 he took the lead in Lolita and dared to see the sadness in Humbert Humbert. "It was a real millstone round my neck, really unhelpful to my career, and I sort of knew it would be, but I had the arrogance to think I could get through it." To date, he considers it his finest work.
Irons can be solitary, insular. He was an angry young man, he admits, but anger rarely solves anything. Today Ireland is his refuge. "The Irish just take you as they find you. They're pleased to see you because they know who you are. It's only the American tourists who go, 'Woooa!'. I have very private places that I can go to with a great group of friends, and I live a normal life." There's a lovely moment in Who Do You Think You Are? when he discovers several of his ancestors also married Irish women.
Does he think the public will regard him with more affection after the show? "I know one's on a hiding to nothing trying to explain to the press how one is. Even if you do feel, with a one-to-one, that you're actually talking sense and understanding each other, there will still be commentators who will put their own spin on it, just because it sells newspapers. My instinct has been to do the publicity I need to do to support the work I do, and for the rest of it, avoid the flak and keep below the parapet. Because if you keep above the parapet ... well, one looks at, well not Diana anymore, but David and Victoria, and you think, 'Yeah, yeah, OK, but you're going to get it'. It must put a terrible strain on your relationship."
Irons had described his 28-year marriage as "dysfunctional". They have huge rows, he says, because they are both such strong people. The red-tops love to paint it as open marriage. In 2001 Irons was photographed embracing his co-star, the French actress Patricia Kaas (though it was not the kiss that attracted comment so much as Irons's shiny canary yellow jacket). Cusack's closeness to the playwright Tom Stoppard has also been the subject of gossip. Earlier this year, Irons observed, "Have I been unfaithful? I never talk about these things, I sometimes make jokes. Sinead says, 'Don't talk about it at all.'"
It's clearly a grown-up relationship, but having interviewed them both, what's noticeable is the huge pleasure they take in each other's success. Of Sinead he says touchingly, "I find her more beautiful now than I ever have. It is extraordinary when you have been with someone that long, you become part of them, they become part of you - you have been through so much together."
But then Irons likes strong women. Glenn Close and Streep are friends and he loved working with Mirren, who kept him on his toes on Elizabeth I. "It wasn't a koochy, koochy relationship. I had known Helen, although not well, for many years, but never worked with her. She is a consummate actress and I feel she is my senior as far as the business is concerned. She is a more experienced actress than I am actor. She is a very sexy lady, and when we sat down to read through, from that moment on, I was using all that for Leicester [his part in the drama]. I was flirting with her, I was a bit frightened of her, all the right things. All through shooting, I felt I was being quite naughty."
In Who Do You Think You Are?, Irons treats everyone with the same puppyish enthusiasm, from academics to second cousins and barmaids. "There are days when somebody comes up to you and you know you're looking like a tramp, and they say, 'Can I take your photograph?', and you say, 'No, but I'll give you an autograph or a kiss.' But I don't let it get me down because - for heaven's sake - it's a very simple way to give pleasure. I don't understand it because I don't collect autographs, but on the other hand I remember being knocked over when I first met Paul Newman when he walked into my dressing room in New York and said, 'Hello, I'm Paul'. I said, 'Christ, you are!'
"You mustn't let it attack the life you want to have," he continues. "I remember meeting [Robert] Redford outside my stage door in New York and he was frightened to come in because he had too big a group [with him]. He was sort of cowering on the pavement, surrounded by his minders or whatever, and I thought, 'Save me from that.'"
Irons is a fund of anecdotes. He filmed some Pinter pieces in Turin with Michael Gambon and ended up having a conversation in the back of a taxi about body piercing and tattooing. "I adore Michael. He said, 'Yeah, I've never had a piercing but I've got "Laddo" tattooed on my cock. When it's erect it spells Llandudno!'"
Irons still has powerful erotic charge on screen. Does he fear ageing? "I had a wonderful friend who died at the age of 95. I met her when she was in her early eighties and she was always throwing lunch parties, surrounding herself with young people and fresh ideas, and I thought, 'That's the way to grow old'. It's so easy for our minds to stultify; we get stuck in our own groove and like our own music, and have our own political opinions, and that's so boring."
Jeremy Irons appears in 'Who Do You Think You Are?' on 18 October, BBC1, 9pm
Register for free to continue reading
Registration is a free and easy way to support our truly independent journalism
By registering, you will also enjoy limited access to Premium articles, exclusive newsletters, commenting, and virtual events with our leading journalists
Already have an account? sign in
Join our new commenting forum
Join thought-provoking conversations, follow other Independent readers and see their replies