Jesse Hughes & Josh Homme: 'He lifted me out of the pool I'd been thrown in'
The Queen of the Stone Age founder and the Eagles of Death Metal frontman met at a pool party in the 1980s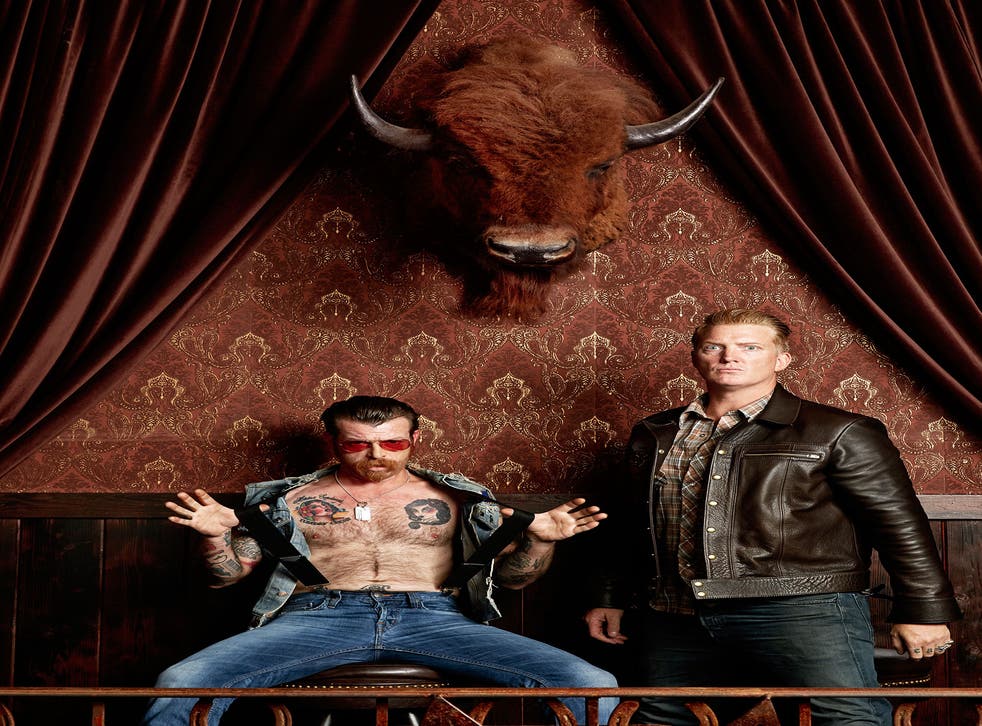 Josh Homme, 42
An American musician, Homme (right in picture) is the founder of the multi-Grammy-nominated rock band Queens of the Stone Age. He also regularly plays with other bands including Them Crooked Vultures and Eagles of Death Metal. He lives in California with his wife and two children
Jesse is a hyper and loveable guy – though he was too smart for his own good back when we were growing up [in Palm Desert, California]. I'd seen him around at school but the first time we hung out was at a high-school pool party. When I arrived, I noticed the school bully was baiting someone he'd thrown into the pool and wouldn't let out. So I came up behind this bully, put my arms under his armpits and said, "So we're pushing people into the pool now, huh?" And I held him over the edge. After we exchanged a few words, I looked down at Jesse, helped him out and got him a towel.
We started to hang out together, going on Friday-night outings into the desert: when there's nothing to do where you grow up, you go to the middle of nowhere to do something.
He used to want a straight life – to get married, become a dad, all that. So he was in trouble mentally when everything he wanted got crushed in a bitter divorce [in 1998]. It brought us closer, as I felt terrible for him. And I knew music would be an analgesic.
We made up the idea of Eagles of Death Metal as a prank, making up the name in a bar and wondering what it would sound like: dance rock'n'roll. After that, though, he started making demos. Jess has a wonderful sense of the sonic, so I said to him, "If you can do 50 tracks, and 15 are good, we can take Eagles to the next level."
His transformation from Jesse to Boots Electric [the pseudonym under which he released his first solo album, in 2011] can be seen in his moustache. It was like soft dirt before; now it's this majestic signature.
Over the years, things have been rough for the both of us [Homme suffered severe depression in 2010] and Eagles became our cure for pain. One of our songs, "Now I'm a Fool", is about when Jesse had this love interest, a tattoo artist, which all went south: he felt he'd had a rug pulled from under him. You exorcise the demons through songwriting, so you don't carry it around.
With Eagles, Jesse brings the raw ideas and I add to them, and play bass and drums. It's wonderful to be part of something that's always just him and me, never anyone else.
If there's slack on the rope, I'm the kind of guy who'll pull it, but Jesse is footloose and fancy-free. I understand who he is, so I don't make unrealistic expectations, and I wouldn't want him to change. Critical to success is a kind heart – and not to turn into an asshole. And as we're the same two kids who've grown up together, we're always honest with one another – which helps stop you from falling into certain traps in this [rock'n'roll] world.
Culture news in pictures

Show all 33
Jesse Hughes, 43
Hughes is the frontman of Eagles of Death Metal, who have recorded four albums, and has been involved with Queens of the Stone Age. He has also produced several solo albums, under the pseudonym Boots Electric. He lives in California
Josh is the kind of person who will always be of greater benefit to you than you will be to him. I'm not calling the man God, but he is carved out of stone by God; he's a 6ft 5in living Excalibur who doesn't need anything from anyone.
We met when I was 15, at my first pool party, in the late 1980s. I was being humiliated after I'd been thrown in the pool. Josh intervened: he lifted me out and said, "Next time stick up for yourself." I thought, "I'm going to stick close to this dude."
I was a sensitive, lonely child with a hillbilly accent, but when I got a spot on the soccer team, which Josh was on, it became my social outlet. We had long bus rides to other schools and our friendship took root. I could relate to him: we both liked America and didn't think corporations were evil. And we shared an incredibly weird sense of humour.
Music was always a big part of our friendship: we'd talk about how much we liked Gerry Rafferty and what a shame it was that Edie Brickell was such a hippie.
After we graduated high school, Josh got into his first band, but he always felt I should be in a rock band, too. So one night when we were in a bar together we came up with the name Eagles of Death Metal. We laughed about it till we left. I thought nothing more until Josh came around the next day. He'd been up all night and I said, "What's up?" And he said, "Dude, what would the Eagles of Death Metal sound like?" I said, "Are you kidding me – you've been thinking about that all night?" I said it would sound like hillbilly on top of hip-hop, with stripper beats, and we went to the garage and played hillbilly riffs.
Josh was my only friend during my divorce – people looked at me as a pariah. He was motivated to see Eagles through, as he wanted to give me something to think about.
The only time I'm afraid of Josh is when I'm wrong: Josh does not suffer fools. He's a Viking monster and he can be fierce.
I think our biggest difference is that I have an inherent cruelty. Often it's Josh who talks me into forgiving someone. When we were discussing if someone deserved to be ejected from the [Queens of the Stone Age] gang, I was the one to say, "Josh, get him out!" Josh took a lot of heat for being an egotistical, power-hungry ass when he kicked out [drummer of 10 years] Joey Castillo. But I won't let anyone say anything bad about him: I had my nose broken once as I refused to allow someone bigger than me to say anything bad about him; without him, I wouldn't be here right now.
Eagles of Death Metal's latest album, 'Zipper Down', is out now
Join our new commenting forum
Join thought-provoking conversations, follow other Independent readers and see their replies