Jimmy Bullard: Regrets? I've had a few...
The 33-year-old's story of perceived greed and indiscretions with drink reads like a cautionary tale but instead it's a sad case of a talent ruined by injury
Jack Gaughan
Saturday 06 October 2012 21:39 Comments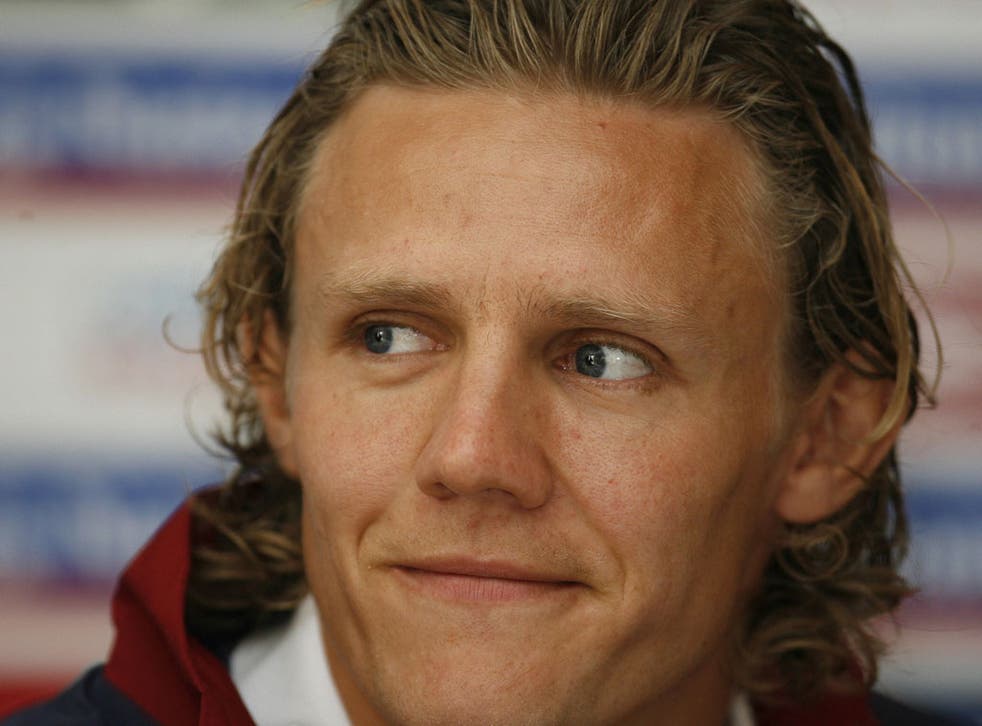 On Monday night Jimmy Bullard lounged on his sofa and switched on the TV ready to watch his beloved boyhood club, West Ham United. A huge game away at Queens Park Rangers, crucial viewing, but he turned it off immediately.
Earlier in the day his club, MK Dons, issued a statement confirming that the 33-year-old had retired due to "ongoing problems with his troublesome knee". So to watch the London derby in the knowledge he would no longer play professionally was an experience too far.
"I tried to watch, but because of the rawness of the decision I couldn't bring myself to keep it on. This has hit me like a sledgehammer," Bullard said. "I'd played against some of those players. I'd played for that club. It was a horrible feeling that people are still playing, football goes on, but I've stopped. It is the only thing I've known, and now it's over. When I turned the TV on, it was a big shock."
Bullard accepts that not everyone will wish him the fondest farewell. A career that began with plaudits after his astonishing rise from non-League Gravesend & Northfleet to the fringes of the England team came to epitomise the ever-widening gap between supporter and player as he fought a bitter battle with one club, Hull City, over the terms of his contract, and then got kicked out by another, Ipswich Town, after a boozy night out.
He has made his millions, but how about regrets? There may be a few. "Fulham was the pinnacle of my career, where I played my best stuff. But…" – there is always a "but" with Bullard – "I got injured."
A temperamental right knee, always liable to give way, stopped him fulfilling the potential nurtured in the lower divisions at Peterborough United and Wigan. Just to play in the Premier League was the realisation of a dream, but he soon began dictating matches. Fulham's manager at the time, Lawrie Sanchez, said he was the best £2 million the club had ever spent.
"I set a benchmark to play in the top flight and I managed to do that for a number of years," Bullard said. "The next step was to play for my country, which I never did, but I got very close. I'll take that."
But there were lengthy spells out, and fitness concerns were growing. It came to a point where a move up to Hull seemed the best choice – the four-and-a-half-year deal offering obvious monetary gain – although he regrets the manner of his exit from Fulham. They stuck by Bullard through injury. Now he was upping sticks. Where was the loyalty?
"Leaving Fulham was an absolute nightmare. I was left with no other option though I had 14 months left [on his contract]," he explained. "They offered me a [new] contract two or three times but pulled it away. That is what had upset me. Then Hull offered me a life-changing contract. I had to take that. I wasn't going to play for a club who didn't really want me, whereas Hull did. People don't hear the ins and outs of situations, but that was made easy for me.
"I was meant to have meetings and then the [Fulham] manager wouldn't turn up. I wish they'd just been a bit straighter with me and said they were a little bit scared of my knee. From my point of view, I was thinking, 'If I play this Saturday and get banjoed in my knee what am I left with? Nothing.' You have to look after yourself."
The fears of Hull's £5m record signing were realised minutes into his debut: "The first thing I wanted to do was give something back to them. I was devastated – the first game I got chopped and had to have surgery again." The 23 matches he ended up playing for Hull cost them some £220,000 each, and he was paid £45,000 a week. Unsurprisingly, the fans heaped vitriol upon him.
"They had money problems when I went there," Bullard said. "If you're a big-money signing earning a lot and the club goes down, you're going to cop some of it. I understand that, especially if you're not playing."
After indiscretions on a pre-season tour of Slovenia, Hull sacked him in disgrace and Bullard, claiming £2.5m in compensation, accepted an out-of-court settlement in March. An old boss from Wigan, Paul Jewell, came calling at Ipswich. But another misdemeanour, a boozy night out in Newcastle with Michael Chopra, was the beginning of the end again.
"Paul taught me a lesson by suspending me. I apologised for that and it was fine. The only thing I disagreed with was Paul telling me two weeks before this season that I could leave. It was my first full pre-season in four years. I thought I could bring some of my old stuff back."
This is a sorry story. Not because Bullard is another off-the-rails case like Paul Gascoigne, but because without the recurring injuries he might have stayed at Fulham, or continued a glitzy run of form at Hull.
Redemption was sought at MK Dons, but after just five weeks it was time to call it quits. The knee wasn't working, he was damaging it more, but those 34 days might be the most important of his 14-year career.
Asked about whether he would be taking his coaching badges, Bullard replied: "I'd never really thought about it too much until I met the manager, Karl Robinson. The way he does things is exactly how I would like to.
"The way he goes about his job and what he knows about the game is unbelievable. I wouldn't mind having what he has.
"Karl sees it how I see it. I'd rather lose 1-0 and have the ball 90 per cent of the time, because I've enjoyed that football match. Then we'll go on and win the next two or three. That's me, I want to improve footballers; that has been lacking from English football and its managers."
Maybe now, without the worries of a failing body, Bullard's pain relief can be to develop the quirky ball-players of tomorrow.
Register for free to continue reading
Registration is a free and easy way to support our truly independent journalism
By registering, you will also enjoy limited access to Premium articles, exclusive newsletters, commenting, and virtual events with our leading journalists
Already have an account? sign in
Join our new commenting forum
Join thought-provoking conversations, follow other Independent readers and see their replies