John Giddings & Sharon Corr: 'I said 'can you believe we're in the O2?' He said 'of course I can. I put you in it''
Sharon and John met in the early 1990s when Giddings offered his services as The Corrs' agent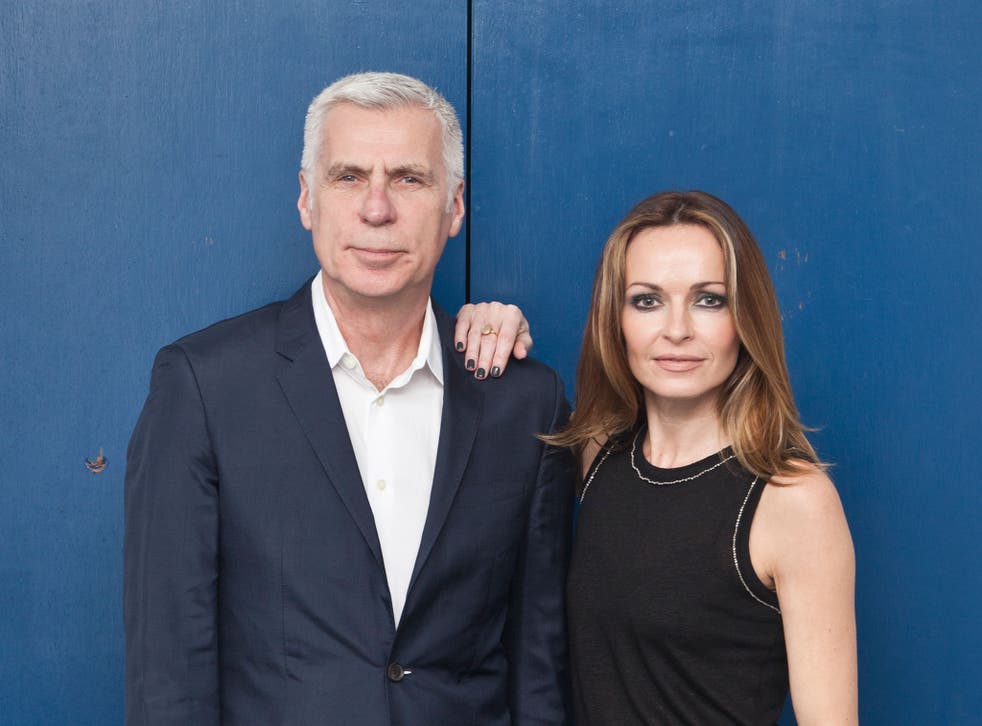 Sharon Corr, 45
One-quarter of the Irish folk-rock group The Corrs, Sharon Corr sings and plays violin. She released a solo album in 2013 before the band got back together at the end of 2015. She lives in Spain with her husband and two children
John took a risk on us back in the early days. He was representing Celine Dion, who was touring the UK in the early 1990s, and René, Celine's husband and manager – who sadly died recently – wanted us as the support act. It was a super big deal for us; we were like cherubs in this massive industry, a machine we still didn't fully understand. John had never heard of us, but when he played the music, he just thought, "Oh my God!" He loved it, he loved the Irish twist, he got us. And so he became our agent, too.
Culture news in pictures

Show all 33
It took us a long time to properly break the UK. We were doing wonderfully in Australia, Denmark and other countries, but not the UK. We'd released a couple of albums, but it still wasn't really happening. Our manager thought it might be a good idea to make a statement. Being Irish, he said that St Patrick's Day was probably the best day to make it. So we asked John to book us a gig somewhere. He said, "Fine, leave it with me." He then came back to us saying he'd booked out the Albert Hall! Crazy, but that's how brave John was.
I got on with him like a house on fire pretty much from day one, and it grew into a firm friendship: years of going out, having drinks and a big laugh but also getting a great job done very well.
I think our friendship was fully cemented a few years after the Albert Hall. We'd just done Glastonbury, it must have been 1999, and I needed to get to the airport to fly to Dublin to see my boyfriend, who is now my husband. John was driving back to London and offered to give me a lift. We got stuck in the Glastonbury traffic jam from hell, but we chatted endlessly, for four hours at least. He told me all about his career, his life. He was so full of passion, so full of a genuine love for music and artists. I had such respect for him.
Our families socialise regularly – I went to his wedding, which was wonderful, and there are birthday parties and summer parties – and we still work together. When the Corrs got back together last year, of course we called John. We had no idea there would be any appetite for us 10 years after our last album – magic doesn't always happen twice, does it? – but the music just came naturally, and now we are back out on the road. We filled out the O2 in London recently. I was backstage and I turned to John and said, "Can you believe we're in the O2?" And he smiled and said: "Yes, of course I can. I put you in it."
John Giddings, 62
Giddings has spent the past five decades in the music industry as an agent and live promoter; his clients include U2, Madonna and the Corrs. Married, with four children, he lives in south-west London
I don't always become friends with my clients. The bigger groups tend to come with a lot of people, but I knew Sharon, and the Corrs, from early on. I watched them grow.
It was the early 1990s, and I had just signed Celine Dion. She was over here for an arena tour. I called René, wanting to put on a particular support act, but he told me he already had one in place, this new Irish act. He sent me an unmarked cassette, which sat in my car for a month before I played it. When eventually I did, I really liked it. I immediately contacted their manager, asked if they had a live agent, and offered my services.
I still remember turning up to the show to see them for the first time. I knew nothing about them at this point, just that there was a female singer involved. I went backstage and was confronted by three of the best-looking girls you've ever seen. It was like Christmas come early! That's why, I think, I was the best agent to represent them: I'd judged them on their music first, not their looks.
We all bonded really well. They were so humble, so down to earth and lovely – though they could all drink you under the table. They were sweetly naive, too. The first time we flew long-haul together, they turned up dressed to the nines, complete with vanity cases, convinced that that was how you travelled.
Over the years, Sharon and I became really good friends. We've attended parties together; had dinner in restaurants around the world. We love to talk about music: Pink Floyd, The Who, Led Zeppelin; I think she likes that I lived through the punk years.
We've always laughed a lot, never really argued, though there have been occasional issues with management. When we played Wembley Arena for the first time, their manager wanted them to go straight back into the studio and make a second album; I wanted to take them to Australia to tour. So I wrote a cheque to each member for £20,000 and told them they had two choices: turn left, and go to the studio; or turn right, collect the cheque, and come with me to Australia. We had a lot of fun Down Under…
While the Corrs were on hiatus, I got to work with Sharon and her solo tour, which was wonderful, as she got to prove that she was so much more than just the violin player.
My wife is a lawyer, like Sharon's husband, so they get on like a house on fire. When we all meet, they talk legalese for hours on end down one end of the table, and we sit at the other, talking music. I've always felt very fatherly towards Sharon. I suppose that's unusual in this business. I also represent U2 and Madonna; U2 don't need me to be fatherly. I'm not sure Sharon does, either – she has always been very grown-up – but it's been lovely to watch her grow, and flourish.
The Corrs' new album 'White Light' is out now. The group will play the Isle of Wight Festival, 9-12 June (isleofwightfestival.com)
Join our new commenting forum
Join thought-provoking conversations, follow other Independent readers and see their replies