John Myatt: The artist and convicted forger on life and art in and out of prison
Adam Jacques
Friday 01 August 2014 15:14 Comments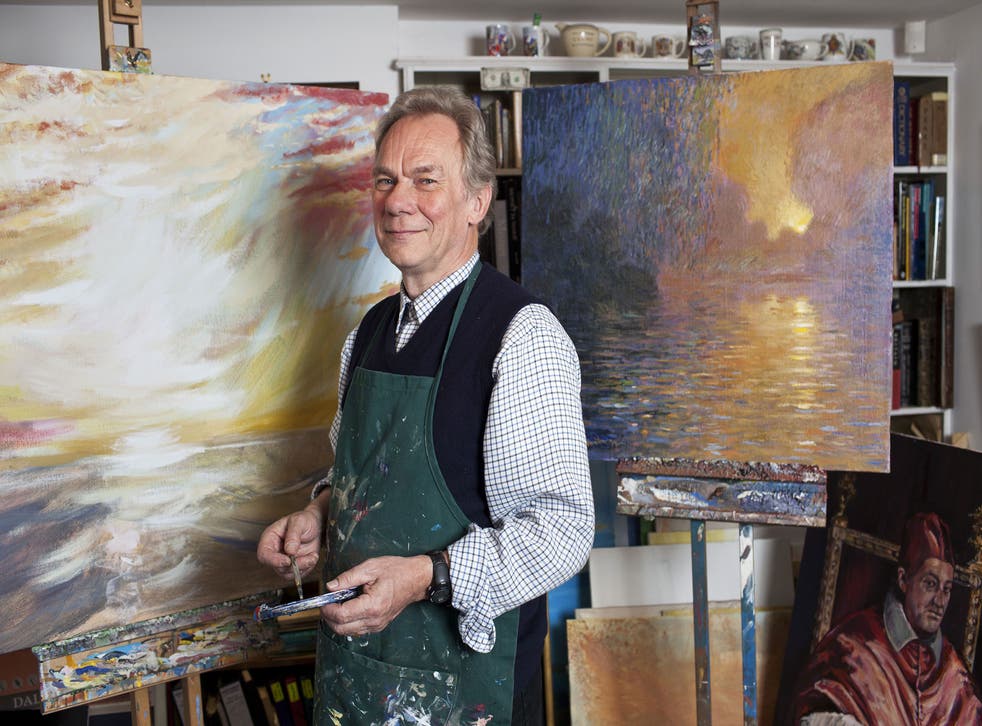 I'll always be known as the perpetrator of the biggest art fraud in history I'd go along to the Birmingham Art Gallery, study a painting by, say, Monet, then come back and invent my own hitherto-undiscovered Monet painting, using acrylic paint and mixing it with KY jelly. [Commissioned by his conspirator John Drewe, Myatt went on to sell more than 200 forgeries of famous 19th & 20th century painters between 1986 and 1994.]
Some people don't think art fraud is a crime At first I thought I wasn't doing anything wrong. I was barely making a living selling "genuine fakes" through adverts in the back of Private Eye, for £150 a piece. I worried all the time about feeding my children, so when Drewe [after buying a fake Albert Gleizes painting from Myatt for £150] came back and said, "I've just sold it to Christie's for £25,000 – here's £12,500," it was the answer to so many problems. It wasn't until Drewe came back again and suggested this could become a profitable criminal endeavour that I thought I was doing anything wrong.
You are different people at different times of your life I'm 69 now and I would not do [the fraud] again that I did when I was 49. Back then I was at a particular point in life, with particular circumstances. In any other circumstances I think I would have found Drewe particularly off-putting rather than compelling. The worst part was that I'd given up the crime 18 months before they caught me. [Myatt was arrested in 1995 and sentenced in 1999.]
Money doesn't get you anything in prison It's a barter economy and the principal currencies were drugs and tobacco, but I didn't do either. The only way I had of making money inside was doing prison portraits; I charged two phone cards for one pencil drawing, which was good money.
A lot of people were interested in my work after I got out The arresting officer commissioned me to paint his family portrait, and the barristers who ran the case against me wanted me to paint for them, too, as a memento of the case. By the end of that year art galleries and TV people had started calling me. Now I find it difficult to come to terms with the fact that, were it not for having been part of this crime, I wouldn't be as successful as I am today.
I will never identify any of my remaining 120 fakes That's the number the police believe are still out there. If some of them have been acquired by a pension fund or a granny and I say, "I painted that," I can't see who gains.
The art industry has been nodding through paintings with extremely dubious histories It's been colluding with galleries and auction houses for 50 to 60 years and I know the Police Art & Antiques Unit even went to one museum with evidence of fraud and they weren't interested – they said they were happy that the contagion [of fakes] had now been removed from their archives.
'Girl with a Pearl Earring' is hard to copy I tried several versions while preparing for a TV programme [re-creating masterpieces on Sky Arts' series Fame in the Frame]. Vermeer was phenomenally gifted as a painter and the effects he achieved were incredible; you've only got to move the top or bottom of the eye by a fraction of a millimetre for the whole look to be lost. But it was a lot of fun exploring how he'd done it.
John Myatt, 69, is a British painter and former art forger. His new exhibition of paintings inspired by the Masters, 'Fake by John Myatt', is showing at Castle Fine Art, London W1 (castlegalleries.com), until 10 August
Register for free to continue reading
Registration is a free and easy way to support our truly independent journalism
By registering, you will also enjoy limited access to Premium articles, exclusive newsletters, commenting, and virtual events with our leading journalists
Already have an account? sign in
Join our new commenting forum
Join thought-provoking conversations, follow other Independent readers and see their replies