Jonny Marray: Reliving the year he struck gold
Doubles specialist was considering giving up the game a year ago – then he gelled with his new partner and won Wimbledon. He tells Paul Newman about his annus mirabilis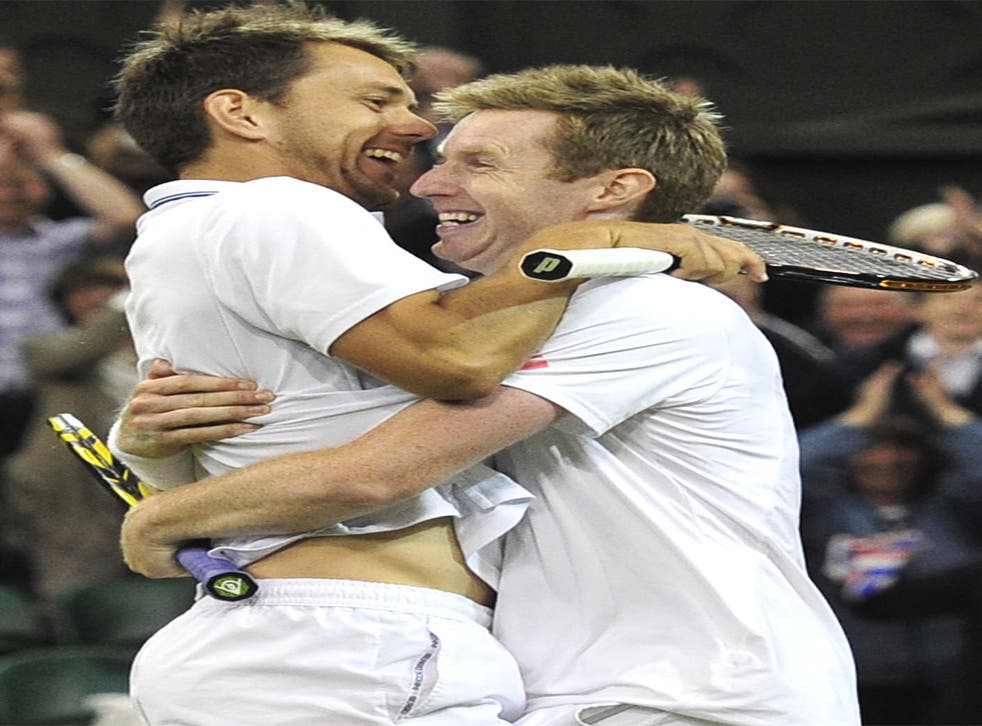 With the start of a new season just around the corner, December is usually the time for tennis players to forget the triumphs and disasters of the past year and to focus on the challenges ahead. For Jonny Marray, nevertheless, an appearance on the BBC's Sports Personality of the Year extravaganza before Christmas provided one last chance to bask in the glory of his extraordinary triumph this summer in the men's doubles at Wimbledon alongside Freddie Nielsen.
"Going on the programme was a fantastic experience," Marray said last week during a break from training at the National Tennis Centre at Roehampton. "It was obviously the first time I've had an opportunity to go to it. It was good to rub shoulders with all the other athletes. So many people had great years. I was actually over in the States during the Olympics, so I missed all the excitement back home. Going to Sports Personality of the Year was a good chance to catch up with everything that went on during the Games."
Marray, who almost doubled his career earnings in the course of the year, followed up his Wimbledon triumph by reaching the semi-finals at last month's season-ending Barclays ATP World Tour Finals in London. Only 12 months ago, however, he had been pondering his future. After a mediocre end to a 2011 season in which he had earned just $48,311 (less than £30,000) in prize money, the then world No 86 in doubles was questioning where his partnership with Jamie Delgado was going.
The Britons scraped into the Australian Open in January – they were the lowest-ranked pair to make the main draw of the year's opening Grand Slam event – but lost their only match in straight sets. Two first-round defeats later they parted company. Marray had spent 11 years toiling away on the Challenger and Futures circuit, barely making enough money to break even, and, aged 30, had started to wonder whether it was time to find "a proper job".
However, consultations with Richard de Souza, a mental coach in whom Marray had put his faith, helped to restore the Liverpudlian's self-belief, and by the time he had joined forces with 29-year-old Nielsen to reach the final of a Challenger tournament in Nottingham in the build-up to Wimbledon, he was feeling much better about himself.
"I think it was the first time I had gone into Wimbledon feeling that good, even though leading up to it I didn't really know who I was going to be playing with," Marray said. "Then Freddie and I gelled really well a couple of weeks beforehand. Obviously I never thought that we would go and win Wimbledon, but I felt like we could do well there."
The pair did not have high enough rankings to go automatically into the draw at Wimbledon but went on to become the first wild cards to win the men's doubles title at the All England Club.
They did it the hard way, too. Four of their six matches went to five sets and they beat four of the world's best doubles pairs. A victory over Mike and Bob Bryan, the most successful doubles team of the Open era, took them into the final and gave them the chance to make their first ever appearance on Centre Court. They went on to beat Robert Lindstedt and Horia Tecau 4-6, 6-4, 7-6, 6-7, 6-3.
"On the morning of the final we had a walk down the corridor and down the stairs that we would take to go on Centre Court just to get a feel for it," Marray recalled. "Just having the chance to play there was a massive thing. It's the home of tennis, the most famous court in the world. To get that opportunity after playing on other courts at Wimbledon for so many years, especially in a final, was amazing."
With Nielsen wanting to focus on his singles career, Marray has had to find a new partner for 2013. He will play with the 35-year-old Brazilian, Andre Sa, who reached a career-high No 17 in the world doubles rankings in 2009 but has since dropped to No 57.
"He's a great guy and I like the way he plays," Marray, the current world No 17, said. "I think it will suit the way I play, so hopefully we can do well together."
Marray, whose winter training has been restricted by a groin injury, will play with Germany's Dustin Brown in Doha in the first week of the new season because Sa is unavailable, but the new partners will play together in Sydney or Auckland as a warm-up for next month's Australian Open.
What they do thereafter could depend on how they fare in Melbourne, but unless Sa can improve his ranking quickly Marray will have to seek different partners for Masters Series tournaments. At present Sa's ranking is not high enough to get him into the field with Marray.
It will be Marray's first year playing at all the biggest events, but the Briton is a refreshingly down-to-earth character who is clearly not going to change. Despite having earned $347,492 (about £214,000) in prize money this year and secured new endorsement deals, he has not been tempted to upgrade his Ford Fiesta. "It gets me from A to B and as I'm not really in the country a lot I don't think there's much point spending lots of money on a nice car," he said.
However, he was able to afford the repairs to his replica Wimbledon trophy, which had been damaged after it was dropped when his sister took it to a fund-raising event. "I got it back the other day," Marray said. "I sent it back to the manufacturers and they've sorted it out. It was only a little dent and a scratch, but it actually cost a few hundred quid to get it mended."
Marray's magic 12 months
February Ends partnership with Jamie Delgado after 11th first-round defeat in previous 16 tournaments
April Wins Rome Challenger title, his second of year in partnership with Germany's Dustin Brown
June Reaches final of Nottingham Challenger after teaming up with Freddie Nielsen of Denmark
July Wins Wimbledon doubles with Nielsen. The first wild cards to win the title, they each leave with cheques for £130,000
September Ends run of five successive defeats post-Wimbledon but loses in second round of US Open
November Reaches first Masters Series semi with Australia's Paul Hanley in Paris and reaches same stage of World Tour Finals in London with Nielsen. Ends season as world No 17
Doctors advise Nadal to delay his comeback
Rafael Nadal has been advised by doctors to pull out of what was to have been his first comeback tournament after a seven-month hiatus nursing a knee injury.
The 26-year-old said on his Facebook page that a fever caused by a stomach infection has forced him to pull out of the exhibition tournament which starts tomorrow in Abu Dhabi.
"I am very disappointed that I will not be able to compete this year," he said.
Register for free to continue reading
Registration is a free and easy way to support our truly independent journalism
By registering, you will also enjoy limited access to Premium articles, exclusive newsletters, commenting, and virtual events with our leading journalists
Already have an account? sign in
Register for free to continue reading
Registration is a free and easy way to support our truly independent journalism
By registering, you will also enjoy limited access to Premium articles, exclusive newsletters, commenting, and virtual events with our leading journalists
Already have an account? sign in
Join our new commenting forum
Join thought-provoking conversations, follow other Independent readers and see their replies