Jordan Rhodes: Taking the fast lane in race of the forwards
Clash at top of League One pits two prolific strikers against each other but Huddersfield's marksman is keeping his feet on the ground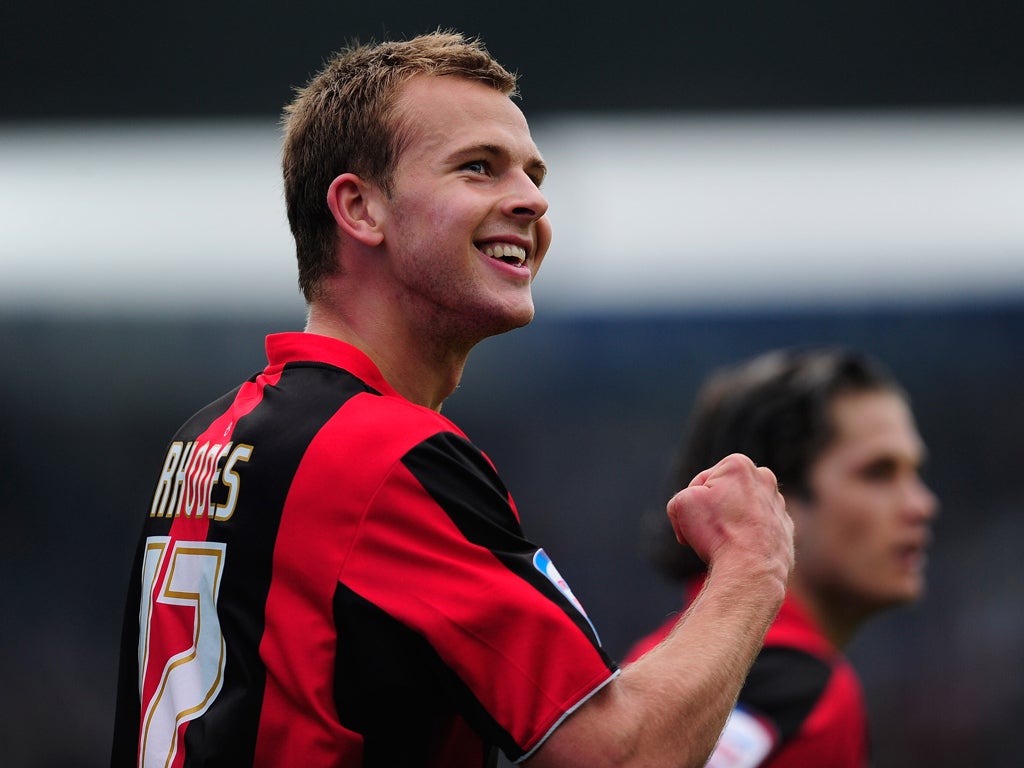 Jordan Rhodes entered this weekend as the season's joint-leading scorer in English football, yet it sums up his endearingly unassuming manner that the young forward from Lee Clark's upwardly mobile Huddersfield Town had no idea.
"It is the first time anyone has said that, I didn't know," says the 21-year-old on hearing that his 21 goals for club and country – 15 for Huddersfield, the "New Invincibles", and six for Scotland's Under-21s – are the equal of Robin van Persie's total for Arsenal and Holland.
Rhodes' exploits, which earned him a senior Scotland debut against Cyprus this month, include the double against Notts County last week that created a piece of Football League history by extending Huddersfield's unbeaten run to 43 games.
Yet, with a level head belying his boyish looks, he knows only too well their record will count for nothing if last May's beaten League One play-off finalists miss out on promotion again. "It is something that's great to have but let's remember the big picture, which is promotion."
Hence the significance of second-placed Huddersfield's visit tomorrow to leaders Charlton Athletic, a fixture that pits League One's top strikers against each other. Bradley Wright-Phillips's 14 League goals – Rhodes and Van Persie are on 13 – are unmatched in any division. "He's been doing tremendously well for Charlton," says Rhodes. "They are the pacesetters at the moment, they are flying and it is going to be up to us on Monday night to match them."
Goals are not the only common ground between Rhodes and Wright-Phillips, the son of Ian Wright and brother of Queens Park Rangers winger Shaun. Rhodes has football in his blood too: his father Andy was goalkeeper in the Oldham Athletic side that reached the Littlewoods Cup final in 1990; his oldest child attended at just two months old. "My granddad had to put cotton wool in my ears because it was too loud at Wembley."
If scoring goals is in Wright-Phillips's family, Rhodes's recollections underline his own paternal influence. His first memories are of his father's days at St Johnstone and Airdrieonians in Scotland, where Jordan and younger brother Lewis, now head analyst at Stoke's academy, would "have a kickaround on the pitch" after matches. "I quite fancied being out on the pitch, but not the goalkeeper," he smiles.
Even today Rhodes, a self-confessed homebody, is "always going out to games" with his father, who is now goalkeeping coach at Sheffield Wednesday, and has evidently heeded his advice. "I am less outgoing than my dad but from a football perspective he has been there and seen it all, and seen all the pitfalls and people that do get carried away. He drums it into me and I drum it into myself: once that game is gone, it is gone, no matter how good or bad, and it is the next one that is the focus."
His senior career started at Ipswich, where he made his debut aged 17 having joined from Barnsley at 14 when Joe Royle, another big influence, made his father goalkeeping coach. "He is a genuinely lovely fellow and you don't get many like that in the game," he says of Royle, known in his playing days as Cadbury for his "soft centre"; given his own lack of swagger, it is easy to think something similar of Rhodes but he has a steely desire for self-improvement. His manager Clark describes him as being "like a sponge" for his desire to learn and he has not looked back since Roy Keane's decision to let him leave Ipswich in 2009 without a single first-team start. Rhodes appreciates the "genuine family feel" created by Clark and his staff. "Everybody's got someone to talk to if they are struggling. I think that is good. He has no bad eggs at the club."
Forty-eight goals in 98 League games are testament to his scoring instincts and, unlike last season, Clark is entrusting him with leading the line in away games. Rhodes wants more. "I certainly feel I can get a lot stronger, maybe gain a yard of pace and just improve on general movement."
Fittingly, in a lounge at the club's Canalside training ground there is a photo of a young Denis Law in his Huddersfield days, for Rhodes is Town's first Scotland forward since Law, qualifying through his schooling north of the border. The accent, he jokes, "got beaten out of me" on arriving in Barnsley. "I am Scottish at heart."
Law's beloved Manchester United were apparently among several teams monitoring Rhodes but while playing in the top flight "would be an honour and a privilege, ideally it would be with Huddersfield Town", he says, straight bat at the ready. Clark and his ambitious chairman Dean Hoyle intend that Rhodes's goals take Huddersfield a step closer to that dream, and the striker concurs: "My sole focus is on getting out of this League, starting with the game on Monday."
Striking comparison: Jordan Rhodes v Bradley Wright-Phillips
Going into this weekend Jordan Rhodes has scored more goals than anybody in English domestic football in 2011-12 – 15 in League One and the Carling Cup. Robin van Persie's tally for Arsenal is 13 excluding Europe.
Rhodes struck nine in four games in October including successive hat-tricks against Exeter and Preston, which earned him the League One Player of the Month award.
Bradley Wright-Phillips's tally of 14 League One goals for Charlton is the highest in all four divisions. He has scored in 11 out of 18 appearances this term, including seven in his last six.
Wright-Phillips's father Ian Wright got the better of Rhodes's dad, goalkeeper Andy, scoring two second-half goals for Crystal Palace in a 3-2 win at Oldham in the Second Division on 30 December 1988 – Palace's first win at Boundary Park in 64 years.
Simon Hart
Charlton Athletic v Huddersfield Town is on Sky Sports 1 tomorrow, kick-off 7.45pm
Join our commenting forum
Join thought-provoking conversations, follow other Independent readers and see their replies