Jorgen Rasmussen: Right time for change of tactics? Probably...
The Business Interview: Carlsberg's chief executive tells why a change of slogan and a big footballing summer may just put some fizz back into beer sales
James Thompson
Thursday 08 December 2011 01:00 Comments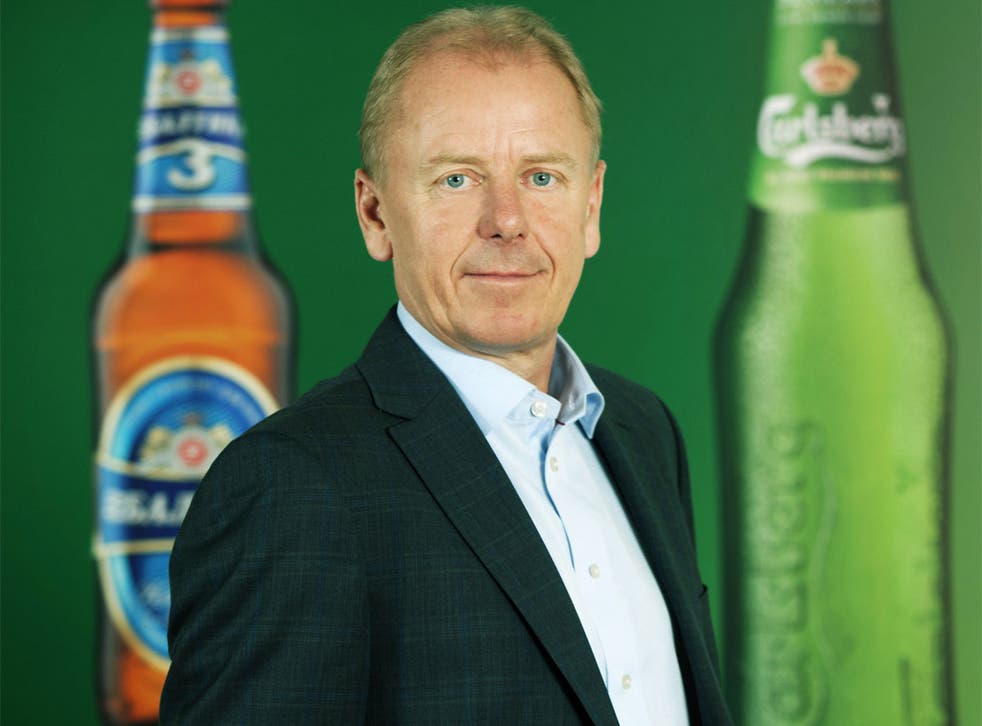 For Jorgen Rasmussen, the chief executive of Carlsberg, selling beer and lager in more than 150 markets globally brings a plethora of challenges from dealing with painful hikes in alcohol taxes to geo-political unrest. These challenges extend to it accommodating the vagaries of different cultures globally, which convinced the Danish brewer to take the momentous decision to introduce a new global marketing slogan – That calls for a Carlsberg – in April.
While it remains committed to its famous "Probably the best lager in the world" message – which was invented by Carlsberg's brewery in Northampton in the mid-1970s – in certain countries, notably the UK, Mr Rasmussen says the older one was somewhat lost in translation for Asian consumers.
He says: "With 'Probably the best', the challenge we had in some parts of the world was that 'probably the best' did not work." Mr Rasmussen explains that if you say "probably" to consumers in China, it means definitely not the best. The new slogan will be at the heart of Carlsberg's sponsorship of football's European Championship in Poland and the Ukraine next summer, which Mr Rasmussen describes as a "huge opportunity" for the brand.
However, beyond its marketing message, Carlsberg must also address the huge variables in demand for its 500-plus brands, including Tuborg, Baltika and Kronenbourg 1664, in places from Shanghai to Sheffield.
Carlsberg continues to power ahead in the emerging markets of Asia, with beer sales up by 10 per cent in its third quarter. But in many of its mature markets, such as the UK, sales of beer by volume have been flat or in decline for more than a decade, if not longer.
Sitting in his top-floor office of Carlsberg's headquarters in Copenhagen, Mr Rasmussen has strong opinions on the current state of the beer market in Western Europe, including the UK – where it also operates the Tetley's, Holsten and Skol brands.
He lays part of the blame at the door of this and previous UK governments for introducing higher taxes on beer than wine, for example. He says: "We have been hit by a lot duty and tax increases and sometimes the difference between the increase on wine and beer is not always balanced. And for some reason, there is a different perception of wine, despite it being a lot stronger in terms of alcohol percentage."
However, Mr Rasmussen – an Anglophile who previously worked in the UK for Gillette and Duracel before joining Carlsberg in 2006 – says: "We still need to work more on the whole image of beer. It is based on natural ingredients and has a low alcohol percentage, compared with many other beverages, so it should be quite attractive. In fairness there was not a lot of innovation in this category between the 1990s and [before] 2005."
Excluding the impact of the economic downturn, Mr Rasmussen expects the wider UK market to continue to be in "slight decline" for the foreseeable future, but "not forever". He adds: "I am not sure if that point will be in four, five, six or eight years' time but I am pretty convinced that we – and many others in the industry – will get better at improving the image of beer. It is a matter of time before we suddenly become a very appealing category again." Carlsberg itself has tried to attract more female drinkers by introducing the Copenhagen brand in Denmark and other Nordic countries earlier this year. Mr Rasmussen says the "bottle is quite trendy" and it has a "lighter, less bitter taste" that appeals to more women.
But he remained tight-lipped on when, or if, Copenhagen will be launched in the UK.
However, Carlsberg – whose head office is located close to its laboratories, tourism centre and former brewing facilities on a huge site overlooking the centre of Copenhagen – has no such growth problems in Asia, Latin America and Africa.
While Mr Rasmussen says China is its fastest-growing country, with its Wusu beer the most popular, he also says Cambodia has been "growing nicely". Indeed, Asia is the key region for future acquisitions for Carlsberg and its latest deal in October saw it acquiring the remaining 50 per cent of the Hue Brewery in Vietnam.
Mr Rasmussen says: "Our acquisition focus is on growth markets primarily in Asia, so 'yes', we will always be out there monitoring and looking."
Despite the growth in Asia and other regions globally, Carlsberg saw profits tumble by 20 per cent to 3.28bn Danish kroner (£377m) in its third quarter to 30 September, hit by higher costs and marketing spend in key markets, as well as falling sales in parts of Eastern Europe. In particular, it has suffered from falling sales in Russia – which accounts for more than 40 per cent of group revenues – after the government there significantly raised alcohol taxes in 2010.
Carlsberg also announced a restructuring last week, which will lead to up to 150 head office job losses in Denmark, Poland and Switzerland.
However, the company, which employs 41,000 staff worldwide, is far more upbeat about the European Championship next year. In addition to the global marketing deal, supplying the beer at the stadium and the fan park, Carlsberg also sponsors England, which means it can use the players on its merchandising in supermarkets, for example.
The tournament's official beer sponsor since 1988, Mr Rasmussen declines to quantify the impact on sales for Carlsberg. But says: "It does give a significant uplift." And revealing his cheeky side, he says: "The uplift depends on if we have a sunny, warm June in Europe and if Denmark, England and Russia get to the semi-final, which would be fantastic."
But he is far less ebullient about the impact of the eurozone crisis on consumers. "We can only see that from a macroeconomic point of view it will get worse not better for the foreseeable future. But that will also influence the way that consumers think about what they purchase and how they behave."
With Europe in such poor shape and Asia being so appealing, it is perhaps easy to see why Carlsberg sought to alter "probably" the best advertising slogan in the world this year.
The CV: Jorgen Rasmussen
* Following three earlier research and product roles in Denmark, the Dane became the Nordic marketing director at the battery company Duracel in 1987. He then took his first job on these shores, as general manager of Duracel UK and Ireland in 1993. He then rose to become Duracel's area director for Northern Europe but joined the razor firm Gillette as president of Northern Europe in 1997. Four years later he was promoted to become Gillette's president of Africa, Middle East and Eastern Europe. He became Carlsberg's executive vice-president in 2006 and got the top job in 2007.
* He lives in Copenhagen but still has a flat in England's Guildford. Mr Rasmussen is married and has two boys. In this free time, he likes to do spinning classes at the gym, go running and play tennis. "I feel bad if I don't exercise."His music extends from Bruce Springsteen to Dire Straits. His favourite beer is Carlsberg and he admits: "I am always a man for a party and of course, beer at the party."
Register for free to continue reading
Registration is a free and easy way to support our truly independent journalism
By registering, you will also enjoy limited access to Premium articles, exclusive newsletters, commenting, and virtual events with our leading journalists
Already have an account? sign in
Join our new commenting forum
Join thought-provoking conversations, follow other Independent readers and see their replies