Judd Trump: 'I love fast cars but please don't call me a playboy'
He has enjoyed himself after reaching last year's world snooker final. But his fun will be limited to the table next week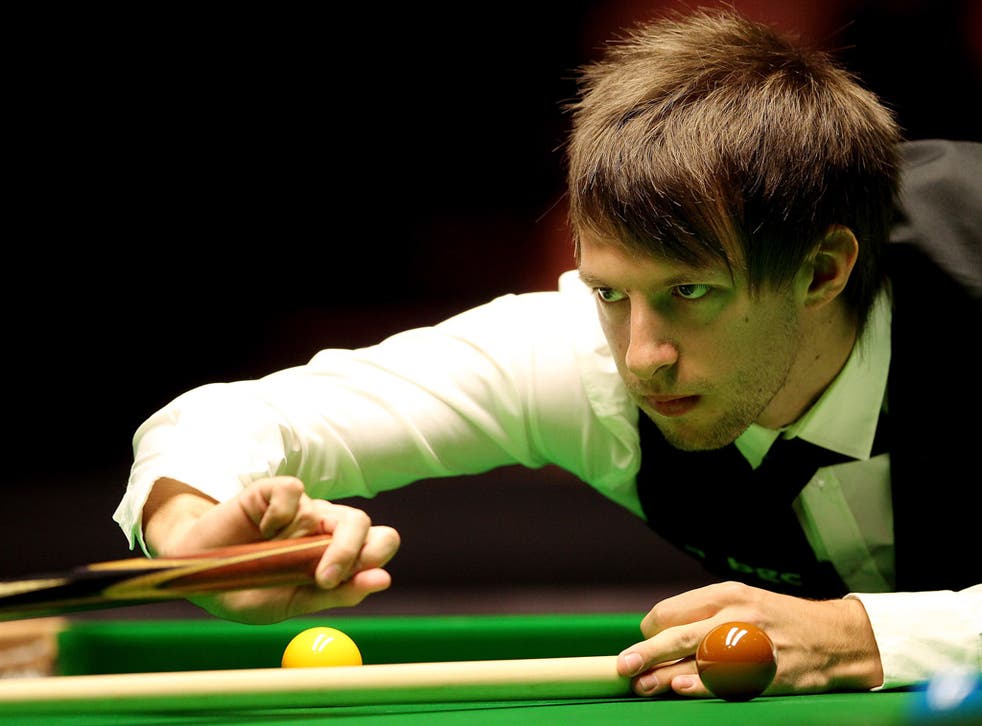 He may be as well known for his daft hairstyle and his love of fast cars but Judd Trump, the 22-year-old from Bristol who shot to fame when he reached last year's world snooker final, has laughed off claims that his playboy lifestyle will derail any hopes he has of winning the title.
The world No 2, who kicks off his title challenge against the Welshman Dominic Dale next Tuesday, recently splashed out £100,000 on a Ferrari 430 Spider. He also owns a top-of-the-range BMW, although he has reluctantly sold the Audi R8 sports car he bought himself as a gift after losing last year's final 18-15 to John Higgins – but only to make way for the Ferrari...
However, Trump, who won this year's UK Championship, insists he wants to dominate the sport for years to come and cannot understand any criticism he receives for splashing out on flashy motors. "I treated myself to a Ferrari after winning the UK Championship. It's amazing," Trump said. "I really like my cars. The way I see it, if I work then I can treat myself to these presents. Anyone thinking me treating myself affects my snooker doesn't know what they're talking about.
"I feel I work as hard, if not harder, than anyone. I'm always practising because I enjoy it. I am dedicated, but you've got to live your life and enjoy yourself at the same time. I'm going to let my snooker do the talking because too many have been talking about my lifestyle. I've not had any distractions this season and hardly been out for a drink apart from the Easter weekend. A lot of people have tried to put a lot more attention on me, but I don't need that. I do tend to keep myself to myself.
"If I end up losing in the first round then I've got no excuses. I will only have myself to blame. But nobody remembers you if you get knocked out in the first round, so I'll be doing everything I can to make sure that doesn't happen."
Barry Hearn, the World Snooker chairman, has issued an ultimatum to the sport's leading players, warning them that there was no time for "part-time" playboys. Hearn said: "Next year we'll announce more events, so you've got to decide whether you're part-time sportsman or part-time playboy. Part-time playboys lay in bed and go skiing. Professional sportsman make money for their families and their future."
But Trump claims that Hearn is struggling to know what he wants from the players, having seemed to change his mind on several occasions during the last season. "Barry Hearn has said there's no time for playboys, but I'm not a playboy. My Twitter account status used to say 'part-time playboy' on it, but I've taken that down now," he said.
"I don't think Barry knows what he wants, he's always changing his opinions about what he wants in snooker. One minute he wants loads of young players, the next he wants grafters.
"But there are a lot of young players coming through. Jamie Jones makes his Crucible debut this year, as do Luca Brecel and Cao Yupeng. It is nice to have other people my age on tour, but it will be tough for all of us in Sheffield. Even on my third time at the Crucible, I will be a bag of nerves.
"The atmosphere is second to none, it will be just as nerve-racking, and you don't get that feel at any other tournament. Yes, I've treated myself to a Ferrari, but you only live once, I want to make the most of it while I can, as you never know what's round the corner.
"I am just enjoying myself but practising hard, ready to win tournaments, you just need that little bit of luck sometimes. But anyone who is having a pop, it's just jealousy. If they were in my position they would do exactly the same thing. It's not like I have taken my foot off the gas, I practise, have gone up the rankings and have the No 1 spot as another target. That would be hard this event as [current world No 1] Mark Selby is a long way out in front, but a world title would be enough for now. All the greats have won at the Crucible, apart from Jimmy White.
"It is the one that makes people sit up and acknowledge you. This tournament changed my life last year, it is as simple as that, it was an amazing couple of weeks."
And even Hearn, with his ever-changing ideas to grow the game going forward, acknowledges that Trump is now a box-office star in his own right, just like fellow crowd favourite Ronnie O'Sullivan or White in his heyday.
"Judd is a great image for the game, he's done great for snooker. He's very important," Hearn said. "But perhaps more importantly he plays exciting snooker and he's very entertaining to watch. He could be a major beneficiary of working hard. He's exactly the image we want for snooker, but he's got to keep doing it."
Trump cannot wait for his opening match against Dale, and is desperate grace snooker's "Theatre of Dreams" again. "I'm just hoping that I win my first game and all the great memories from last year come flooding back. It would be unbelievable if I won the title this season, but to do that you've got to play well 60-70 frames. It's a very long tournament and you've got to be mentally strong. It's so hard because it's so draining, but I know what it's all about now and I'll be ready."
Register for free to continue reading
Registration is a free and easy way to support our truly independent journalism
By registering, you will also enjoy limited access to Premium articles, exclusive newsletters, commenting, and virtual events with our leading journalists
Already have an account? sign in
Register for free to continue reading
Registration is a free and easy way to support our truly independent journalism
By registering, you will also enjoy limited access to Premium articles, exclusive newsletters, commenting, and virtual events with our leading journalists
Already have an account? sign in
Join our new commenting forum
Join thought-provoking conversations, follow other Independent readers and see their replies