Judy Murray: More than a tennis mum
Whether or not her son finally wins Wimbledon, the new mentor of our women's game has made her mark
Brian Viner
Friday 29 June 2012 23:17 Comments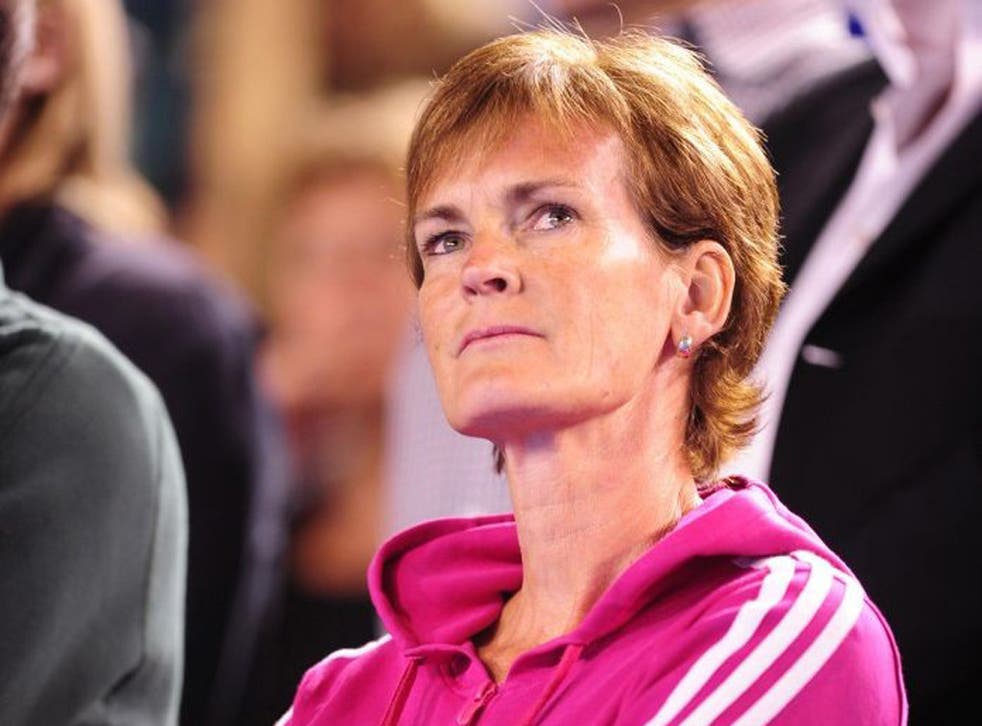 The British, and perhaps more especially the English, have a confused attitude towards their sporting stars, especially those who operate as individuals, and not as part of a team. We love them to win, but only if they do so with decorum. Better they should lose politely than win aggressively. And when in striving to win they seem a little too single-minded, like the golfer Nick Faldo in his pomp, we issue a kind of collective wince. It is this odd national characteristic that explains why as a nation we have never wholly warmed to Andy Murray, and by extension to his mother, Judy.
As the mother of not one high-achieving tennis player but two, 52-year-old Judy Murray has done an exemplary job. She was a fine player herself, who briefly turned professional, and an esteemed coach in Scotland, but in encouraging her two sons, Jamie and Andy, to take up the sport, she did not deny them a normal childhood. In short, she was not, is not, a control freak, and yet I have heard her described as just that, and as a hatchet-faced harpie, and worse.
If Andy's enduring crime, in the eyes of dispiritingly large swathes of the tennis-watching public, is not to be Tim Henman, then Judy's is not to be Jane Henman, the genteel Home Counties solicitor's wife in the flowery frock, who looked like jolly nice next-door-neighbour material, and who sat for the most part impassively through her boy's career.
By contrast with Mrs Henman, Mrs Murray shouts. Sometimes screams. She looks as if, as a next-door neighbour, she might be prepared to go to war over the leylandii, and would probably win. She is not unattractive, but unlike the fragrant Mrs Henman, her features can sometimes appear hard. And from the Players' Box on Wimbledon's Centre Court, she eyeballs her second son with laser-like intensity, clenches and pumps her small fists at moments of triumph, appears to die a thousand deaths at moments of despair.
At least she does when she's watching him. This Wimbledon, she has so far been conspicuously absent for much of the time Andy has been on court. During tight tie-breaks, such as the one that yielded the second set to his second-round opponent Ivo Karlovic on Thursday afternoon, the BBC cameras in previous years would have moved repeatedly between Andy and Judy, her heart in her mouth and his on his sleeve. But this time there was no Judy, leaving only Andy's girlfriend Kim Sears, and his coach Ivan Lendl, to fill the frame.
The reason for her absence is that, as captain of Great Britain's team in the Federation Cup, the female equivalent of the Davis Cup, she no longer attends tournaments predominantly as Andy's, and Jamie's, mum and supporter-in-chief. Instead she is there effectively as mentor to Britain's leading women players. So when their matches clash with Andy's, her professional duties come first.
It was a job – coincidentally vacated by Nigel Sears, Kim's father – to which she was appointed last December, and tennis insiders were unanimous in their approval. Judy Murray is a popular figure in the game; forthright to be sure, and tough, but also warm and charismatic, with a sense of humour appreciated by more than 23,000 followers on Twitter, whom she treats to some wry one-liners.
It would be overstating her impact to credit her with the comparative success of British women in the first week of Wimbledon 2012 – comparative, it has to be said, with not very much – but she, and they, certainly appear to be heading in the right direction. And they all praise her to the skies. Heather Watson, who on Wednesday became the first home-grown female for a decade to reach the third round at Wimbledon, has enthused: "Judy is great. All the British girls are close to her. She's always supporting us. She really does extra. She's there when she doesn't have to be."
Not everyone in the tennis world offers unstinting praise, however. The former Wimbledon champion Boris Becker implied last year that Judy smothered Andy with her presence, and that he would need to cut the apron strings if he was to mature into a player capable of winning Grand Slams. This was reported as Becker accusing Andy of being a "mummy's boy", and the story was received as enthusiastically as it was related, positively lapped up by all those who felt that there was something not quite right, not quite British, about Judy's courtside demeanour whenever Andy was playing.
She responded feistily, denying – a little disingenuously – that she was always there supporting him, and insisting that she was in no way pushy. Andy loyally ventured the opposite, that it was her lack of pushiness during his childhood that had kept him going, when more parental pressure might have made him want to jack it in. Her own assessment of Andy's boyhood development revolves around her first-born son. "I think Andy has a lot to thank Jamie for," she has said. "He was just a bit older [15 months], and a bit better, and Andy was always striving to keep up."
Whatever, the brothers' natural sporting talent – which extends to football and golf – flowed mainly through the maternal line. Judy's father is Roy Erskine, once a professional footballer with Hibernian, which explains why both her boys are devoted Hibs fans. Her ex-husband is Willie Murray, from whom Judy was finally divorced in 2005, after many years of separation, and who sometimes appears to have been airbrushed from the family history. But not by his sons, who cite him as an inspiration, too.
It was Willie Murray's retailing job which, shortly before Andy was born, took the family to the small Stirlingshire town of Dunblane. Following the arrival of a second son, Judy gave up her own job, and to cope with the long days in charge of two small, energetic boys, devised endless games, requiring them to throw, or catch, or run, or balance. It was those games, she asserts now, that set them on the road to tennis stardom. Plainly, native ability and a highly advantageous gene pool also played a part, but she remains evangelical about the importance of engaging in active games with young children, indoors if necessary, with not much space but plenty of improvisation. Last year she launched a campaign, Set4Sport, to promote the idea, and there was an accompanying book explaining the games she had invented.
About another dimension to their lives in Dunblane, she is less forthcoming. On 13 March 1996, Jamie and Andy were both in class at Dunblane Primary School when Thomas Hamilton burst into the building and massacred 16 children and a teacher, Gwen Mayor. It is not a subject any of the Murrays like to talk about, understandably, although Judy, in Andy's 2008 autobiography, related how she drove frantically to the school after hearing there had been a shooting. She waited seemingly for an eternity until finally somebody asked to see the parents with children in Mrs Mayor's class. It was then that she almost collapsed with relief, but soon after was stricken with guilt on realising that a friend, one of the mums she had been waiting with, had a daughter in Mrs Mayor's class.
The trauma of that terrible day and its aftermath are unimaginable, although that hasn't stopped people from speculating on what psychological effect it might have had. More likely, though, it was the fissures in the Murray marriage, opening up at around the same time, which had a more profound and lasting impact on the two boys. In 2007, Andy gave an interview that was much more candidly personal than anything he might say now, admitting: "I would get stuck in the middle of their arguments. I would get really upset, and one of the things I would have loved to have more than anything was a family that worked better together, although I love my mother and father to bits."
Happily, it is the fruit of Judy and Willie's union, not its disintegration, that we must dwell on, as we wait for a British man to win Wimbledon for the first time since 1936. As the tennis writer Steve Bierley wrote: "Judy Murray should be held personally responsible for the ills of British tennis; she stopped producing children after she had Andy."
A Life In Brief
Born: Judy Erskine, 8 September 1959, Bridge of Allan, Scotland.
Family: Daughter of Roy Erskine, a professional footballer for Hibernian, Stirling Albion and Cowdenbeath, and a keen tennis player.
Career: Qualified as a tennis coach aged 17. Studied French and business at Edinburgh University, worked in retail management. Became a full-time tennis coach in 1994, going on to coach her sons, Andy and Jamie.
She says: "I think that anybody who knows me knows that I'm not a pushy mum."
They say: "Ninety-nine per cent of the time she speaks to me like anyone's mum would. And then there are times when I decide that I want to talk to her a bit about tennis, about the guys I'm working about, how I'm feeling. And she's there to listen and understand." Andy Murray
Register for free to continue reading
Registration is a free and easy way to support our truly independent journalism
By registering, you will also enjoy limited access to Premium articles, exclusive newsletters, commenting, and virtual events with our leading journalists
Already have an account? sign in
Join our new commenting forum
Join thought-provoking conversations, follow other Independent readers and see their replies