Julie Christie: Beauty that never fades
On the surface she can be forthright. But there is vulnerability glistening in her peerless eyes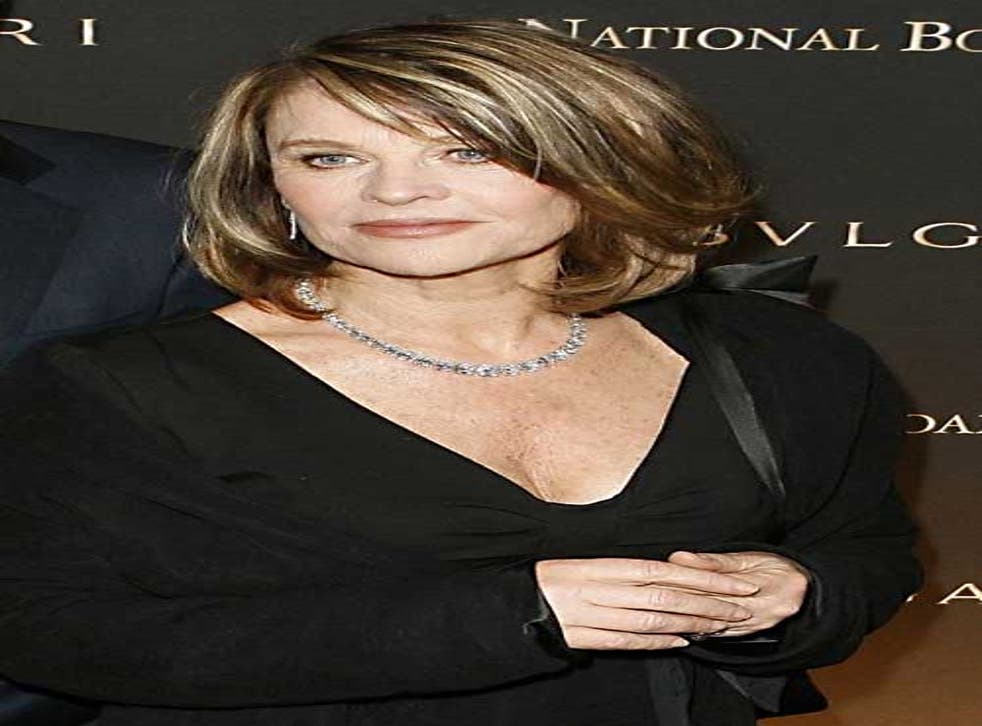 It is one of the great movie title sequences of the Sixties. Over a torn charity advertisement of starving African children, a bill-poster, with ladder, brush and paste bucket, hangs a 12-sheet image on a hoarding. It's like a big jigsaw. The corner of a wide, sensuous mouth appears, then a huge mascara-ed eye, then a necklace. As each feature is brushed into place, Julie Christie's face is gradually revealed – a beautiful girl/woman, flagging her imminent confessions in Ideal Woman magazine.
It is the opening of Darling and, although it wasn't Christie's first appearance on film, it nailed her status as the Face of the Sixties. The year was 1965, half-way through the self-consciously "swinging" decade, and she was flagged as the Ideal Woman of the new groovocracy: gorgeous, independent, ambitious, sexually uninhibited. The fact that these attributes coincided with the character of the film's minxy heroine was a happy coincidence.
Though its Frederic Raphael-scripted story of a manipulative model who sleeps her way to the top of the fashion scene was badly reviewed at the time and has dated (the apex of the fashion scene turned out to be a cabal of Martini-generation, Eurotrash jet-setters wearing avant garde slacks and playing saucy parlour games) it brought Christie her first best-actress Oscar. The attendant hoo-hah brought her global fame at 24 and the beginning of a lifelong loathing for the limelight.
Forty-something years later, she may have to endure the ordeal all again. She has already won a Golden Globe, and has now been nominated for an Oscar, for Away From Her, an unbearably moving study of a 45-year marriage threatened by the onset of Alzheimer's, directed by her friend Sarah Polley. When Fiona Anderson (Christie) realises she is on a slide to dementia, she checks herself into a care home, to the alarm of her husband Grant (Gordon Pinsent). Once incarcerated, she forgets who Grant is and falls for another patient in his place – leaving Grant to find a way of rescuing his stricken Euridyce from this centrally-heated Underworld.
Despite its glum premise, the film created a buzz from its debut at the Toronto International Film Festival a year ago. When it was released in the US last summer, critics swooned. "Julie Christie is transcendent," cooed The New Yorker; "Christie's performance is a true marvel as her character moves in and out of lucidity, there one moment and gone the next, holding on to old betrayals and then forgetting them completely," said the LA Times. Away From Her is the most substantial role she has played in decades. "I think I work, actually work, every 10 years," she says.
She was drawn back, she told Variety, "because this film is about being alive, and being alive means many things. Like illness and love. The film is really about love enduring through immense difficulty and a bond that persists despite mammoth negative oppositional forces." Mostly, she came out of semi-retirement because she was persuaded by Polley, an actress and close friend, to star in her directorial debut. Typically, she says she dreaded being nominated for an Oscar, and now dreads leaving her Welsh farmhouse for Hollywood. "I get a deep anxiety about it," Christie told The Daily Express. "It's like you have to go to Mars and pretend to be a Martian."
The only thing that makes her go through with it, it seems, is fear of press reaction. "I don't care about pissing off 'Hollywood' because it doesn't really exist any more. But pissing off the media? It was difficult when I was a girl and they're not any kinder now. I just hate not being strong enough." In fact, inner strength is something the press has always appreciated in Christie: strength, determination, boldness, virtues sometimes undercut by the inconvenience of falling in love. On the surface, she can be forthright and businesslike, but you can see vulnerability glistening in her peerless eyes.
She began her career on television in 1961, playing a foxy alien in A For Andromeda. Her first two films, Crooks Anonymous and The Scarlet Lady, were both feeble romps in which Christie gamely played girlfriend to Leslie Phillips and Stanley Baxter. Her real debut came in Billy Liar (1963), where she made a spectacular entrance. It still looks good: she is filmed walking through town in a white blouse, jacket and short skirt, swinging a bag and smoking a cigarette while her fingers run along metal railings and her face registers a succession of smiles, frowns, grimaces and little bursts of song.
John Schlesinger's camera follows her like a lover, watching her across the street, through shop windows, filming not just her beauty but the procession of her moods and thoughts. "She goes where she feels like," breathes a smitten Billy to a male pal. "She's crazy." What Christie represented was a quintessentially Sixties dream of freedom. She offers Billy an escape to London from his provincial northern trap. But eventually she goes and he, pathetically, stays.
Christie's amazing face, her rock-chick hair, her sad spaniel eyes abruptly lit up by her crinkly smile, her unfeasibly wide mouth – lots of women explained she could never be called "beautiful" with a distorted gob like that; lots of men, especially teenage youths, begged to disagree – and her warm London delivery made her the Swinging Sixties' favourite dream girlfriend, the unpindownable chick who might just let you into her perfect life. In 1967, a photo-book of Sixties faces, sexistly titled Birds Of Britain, called her "the very incarnation of the new British girl".
After Billy Liar and Darling came David Lean's box-office-bursting Doctor Zhivago, in which she looked unhappy as Lara, plaything of Rod Steiger and lover of Omar Sharif, in an unbecoming Russian hat. She was reunited with Schlesinger for a prettified version of Thomas Hardy's Far From The Madding Crowd. Her Bathsheba Everdene was a no-nonsense farmer who turned down the advances of Alan Bates but fell, disastrously, for the phallic "sword exercise" of Sergeant Troy, played by Terence Stamp.
The 1970s saw her best work, when she put away her dazzling smile and let her intelligence and inner control shine through. In McCabe & Mrs Miller, she was barely recognisable under the hat, poodle hair and steely demeanour of Constance Miller, an unsmiling, Cockney brothel madam. In Nicolas Roeg's stunning chiller Don't Look Now, playing the bereaved Laura Baxter in wintry Venice, she was a marvel of pathos. The moment when she sees her dead daughter in her husband's arms, and her face shatters into an eldritch shriek, is a harrowing coup de cinema.
Midway through the 1970s, Christie decamped to Hollywood, where she and Warren Beatty became a power couple. (Apart from McCabe, they starred together in Shampoo and Heaven Can Wait – he once called her "the most beautiful and the most nervous person I have ever known."). But when they split up, Christie made a life-changing decision. She had to leave. "I thought I was going mad," she told the press. "You do fall into Hollywood. You slip into it."
She moved to a farm in Montgomeryshire (a throwback to the days spent with her mother in Wales after her parents divorced) and accreted around her a kind of commune. She remained there for the next two decades, turning down, inter alia, the lead roles in They Shoot Horses, Don't They?, Anne Of The Thousand Days and The Greek Tycoon. It was if she'd put a sign over the door of her film career, saying "closed for the foreseeable future".
Friends came, stayed for a while and departed, families with children joined the commune and moved on. Some fanciful journalists dubbed her "the British Garbo". Christie embedded herself in the countryside, went for long walks with friends and became radicalised. She has campaigned for years against nuclear waste, for animal rights and is a staunch supporter of the Medical Foundation for Victims of Torture.
After her early romances with dashing co-stars (Terence Stamp, Donald Sutherland, Warren Beatty), she has enjoyed a long relationship with the journalist Duncan Campbell, whom she met in the 1970s when he was a crime correspondent in LA. They now live in north London and, according to Andrea Galer, costume designer on Don't Look Now, "they are just very down-to-earth, grounded people – not easy for anyone when you are surrounded by fame."
Christie herself calls it "a wonderful relationship", saying: "We've got closer and closer over the years. It's a bit like in the film [Away From Her]; now we just have to hope that neither of us goes bananas." They have no children. Refusing any surgery to deal with the onset of age, she is startlingly beautiful at 67. She had to be comprehensively aged and de-beautified by the make up department to play Fiona as a convincing Alzheimer's victim.
In the intervening years, Christie has emerged to play bit-parts (she admitted taking one role "to pay for my roof to be fixed") but she did nothing of note until Kenneth Branagh persuaded her to play Gertrude in his Hamlet in 1996. A year later, her performance as the put-upon wife in Afterglow, Alan Rudolph's comedy-drama, brought a second Oscar nomination. She turned up in the third Harry Potter movie, and was chillingly bitchy as Kate Winslet's mother in Finding Neverland, telling Johnny Depp (as JM Barrie) to cut the crap.
Next month, she will learn if the Indian summer of her career has been climaxed by a second Oscar. It is one of the great pleasures of the season to see the Ideal Woman of the 1960s still causing a stir, 45 years after she swung so emblematically through the streets in Billy Liar, and still radiating the troubled, mesmerising glow that once drew the eye, as if magnified, to her perfect face. Al Pacino, asked by Playboy which actress he would most like to work with, said: "Julie Christie, because she is the most poetic actress." You can see exactly what he means.
A Life in Brief
Born 14 April 1941, in Assam, India.
Education Convent school in India; Wycombe Court boarding school in Buckinghamshire; Central School of Speech and Drama in London.
Career Got her big break in 1961 in the BBC science-fiction series A For Andromeda. She won her first Oscar for her role in Darling (1963). Further Bafta and Oscar nominations arrived, most notably for Doctor Zhivago (1965) and McCabe & Mrs Miller (1971). More recently, Christie won acclaim for roles in Afterglow (1997) and Finding Neverland (2004). She has just been nominated for an Oscar for portrating an Alzheimer's disease sufferer in Away From Her.
Family No children and has never married. Her long-term partner is the journalist Duncan Campbell.
She says "I was born with a need to be the centre of attention and, of course, you are the centre of the world when you're acting."
They Say: "Julie is captivating, magnetic and stunningly beautiful. She's full of life, wonder and curiosity. It's impossible not to fall in love with her." - Sarah Polley, director of Away From Her
Join our new commenting forum
Join thought-provoking conversations, follow other Independent readers and see their replies