Keith Tyson & Anita Zabludowicz: 'She texted me to say 'Put your trainers on, I've entered you in a marathon today''
The artist and the art collector first met in the 1990s at Tyson's London studio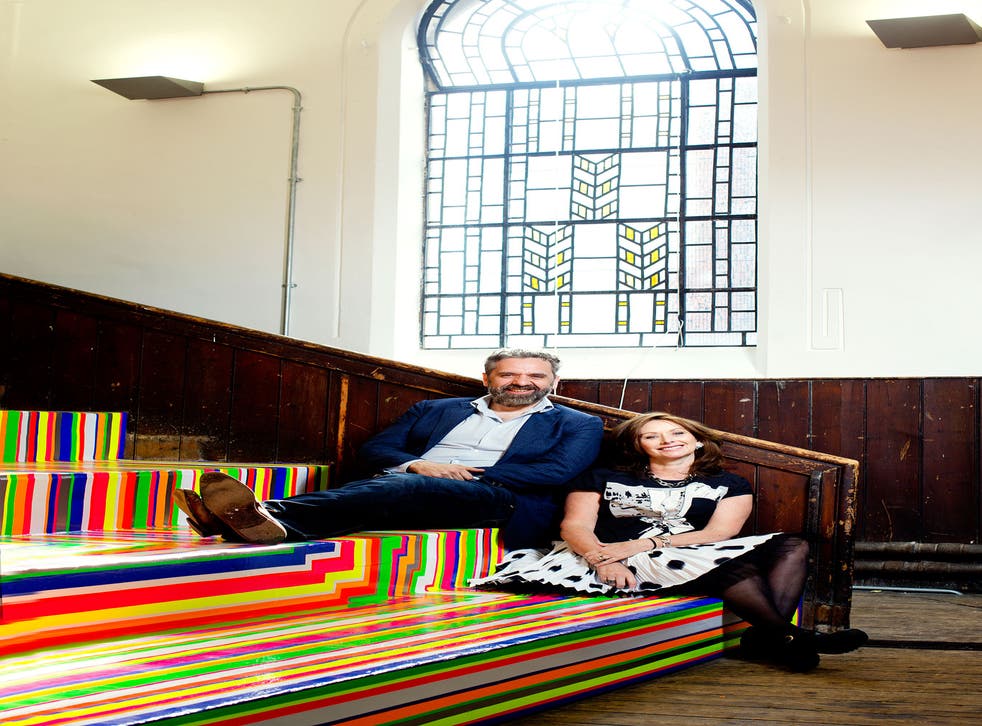 Keith Tyson, 45
A conceptual artist and sculptor, Tyson uses an array of scientific theories to help generate his work, which includes 'Supercollider', for which he won the Turner Prize in 2002. He lives in Brighton
No one had heard of Anita and her husband Poju when we first met, in the early 1990s. I was an unknown artist working at the Anthony Reynolds Gallery, when I heard from the gallery that this couple wanted to visit me at my studio and see my work.
The first thing she ever said to me was, "I thought you were black!" because I was called Tyson. She was so enthusiastic and her husband wanted to know about the ideas behind my work; I'd made these intense maps and diagrams of complex scientific things that I was interested in. I was surprised that, after a while of looking at them, they weren't bored – which is the normal response – but instead got progressively more excited.
They kept turning up to my exhibitions, and started buying my work. I was doing all sorts: paintings, sculptures, computer programs. Anita wasn't interested in one particular piece so much as the way I saw the world.
She is a great supporter of artists, in a philanthropic way – trying to help them forge their interest by supporting them – and that kind of concern for my creativity struck me. A lot of people collect because they want the things that everyone says are important, such as needing a Warhol or Lichtenstein on their wall. But I was unknown: I'd not yet won the Turner Prize. When you're in a studio making work, it helps to know that a handful of people do care about what you're doing.
I think it was winning the Turner Prize that brought us close. I had a bad time in my life after winning – I had emotional problems and I got incredibly fat. And Anita was a big help; I was struggling to accept coming from a tough, working-class upbringing to being a well-known artist, and she was so supportive. She'd tell me that I didn't need to fit in or please people, but just to follow my own path.
I got a personal trainer who got me fit and Anita and Poju invited me and my children to stay with them at their summer house in Finland, where Poju is from. I started to get to know them better over a few summers in their beautiful place: there's a natural lake on the archipelago to swim in and we'd exercise a lot.
She's so spontaneous and enthusiastic. I remember on one trip to Finland, as soon as I arrived at the airport, I received a text from her which said: "Put your trainers on, I've entered you in the Suvikunta Marathon [on the island of Sarvisalo] today." I thought it was a joke! But she'd entered me along with a hedge-fund manager friend of Poju.
She's more thick-skinned, with a sunnier disposition, than me, but in many ways we are quite similar: we follow our instincts even when others think that enthusiasm is extreme.
Anita Zabludowicz, 54
An art patron and collector, Zabludowicz owns more than 2,000 works by more than 500 artists, including Damien Hirst, Tracey Emin and Keith Tyson. She divides her time between London and Finland, living with her Finnish industrialist and art collector husband
I first went to Keith's studio in the late 1990s with my husband. He showed me his "Art Machine", which looked like something from 2001: A Space Odyssey: this black pillar in the middle of the room – he'd programmed it [through a series of flow charts and computing systems] to blurt out amazing ideas for him to create works at random.
He was so brilliant at deconstructing his work into layman's terms for us that, by the time he'd finished, I wanted to fill my house with his work. I thought he was wonderful.
After we'd bought our first work from him, we wanted to follow the projects he'd done, and we've been collecting his work ever since – and our relationship built up through that.
I'm a Geordie, and we don't mess with words up there; we say what we mean, and Keith speaks his mind as well.
He had a tough upbringing: he had a tough dad, his stepdad was tough, too. And he often called me with his problems: he used to call me mum, though not so much any more!
There was a time when he was really unhealthy and needed a personal trainer to sort his life out. They got him into shape and it has changed his life. Now, even if he's miserable, you can bring out his cheery side.
Watching Keith win the Turner Prize was one of my happiest, most exciting times. We were so excited as he really deserved that moment. We took him to his favourite hotel, Claridge's, for drinks afterwards: he loves it there, as a lot of his art friends stay there.
Keith has been to visit us in Finland quite a few times, with his kids and his trainer, who Poju and Keith share: they do a lot of running and gym things; I imagine them doing star jumps together. When Keith visits, we have a lot of fun: our kids used to paint rocks and sell them at the local market, so on one visit I told Keith to make one to sell in the market, too. It had a lot of hexagonal patterns on it, with symbols in between; it was so lovely. In fact, I thought it was so nice that we kept it.
Keith is a wonderful person: his kindness comes through in the way he shares his family with us and the way he gives himself to us: we have such a great time that now he's part of our family, and he's lovely to my kids.
I always tell everyone that he's my favourite artist and that he's the most important artist in our collection. But I actually think that he's also one of the best artists living – and I knew that from the moment I first saw him.
The Zabludowicz Collection: 20 Years, an exhibition of the collection's first two decades, is running at the Zabludowicz gallery, London NW5, to 16 August (zabludowiczcollection.com; keithtyson.com)
Register for free to continue reading
Registration is a free and easy way to support our truly independent journalism
By registering, you will also enjoy limited access to Premium articles, exclusive newsletters, commenting, and virtual events with our leading journalists
Already have an account? sign in
Register for free to continue reading
Registration is a free and easy way to support our truly independent journalism
By registering, you will also enjoy limited access to Premium articles, exclusive newsletters, commenting, and virtual events with our leading journalists
Already have an account? sign in
Join our new commenting forum
Join thought-provoking conversations, follow other Independent readers and see their replies