Kevin Costner interview: Dances with Hollywood
Kevin Costner has a new thriller – and he's going to have to pay for it himself
Gill Pringle
Thursday 08 May 2014 15:07 Comments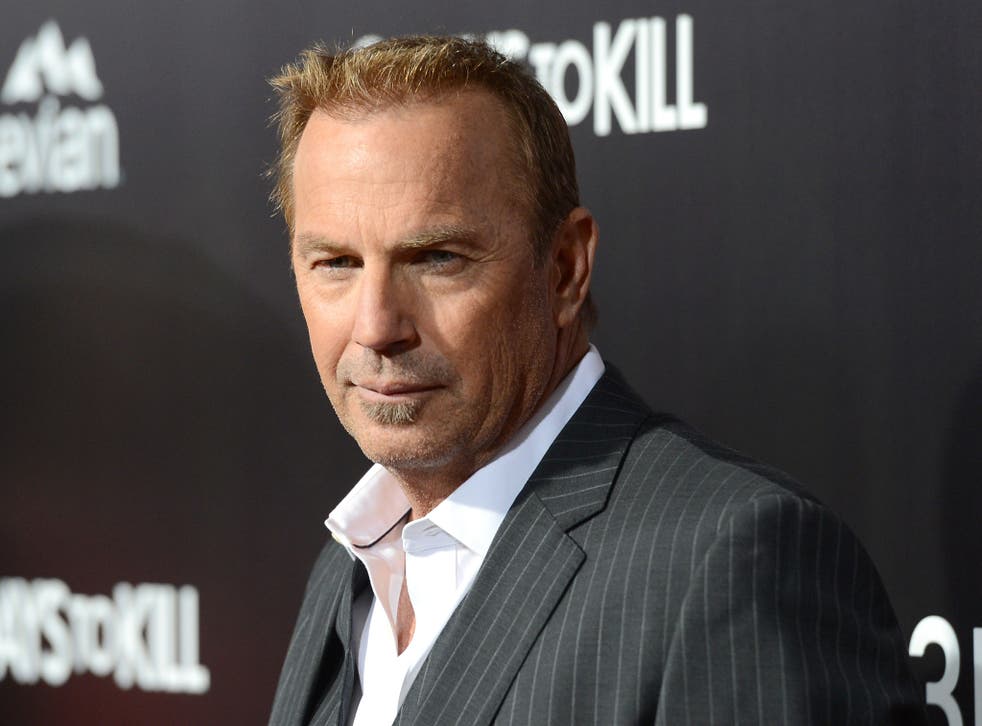 Almost a quarter of a century ago, Kevin Costner held his Oscar statuettes aloft, triumphant after winning Best Picture and Best Director for his epic Western, Dances with Wolves.
Made on a low budget during an arduous five-year shoot, using Native American dialogue, untamable wolves and running at three hours long, detractors were quick to dub it "Kevin's Gate". But still the movie roared, defying expectation to net seven Oscar wins and taking $424m at the box office. Costner would be credited with revitalising the Western genre and was promptly made an honorary member of the Sioux nation.
But Hollywood executives have short memories, and he was unable to get financing to make an as-yet unreleased film about race called Black and White, forcing him to bankroll the movie himself. It's in sharp contrast to the days of his notorious 1995 film Waterworld, which had a budget of $172m.
"To me, it's the same movie as Dances with Wolves," Costner says during a Las Vegas interview where he was recently honoured with the 2014 Cinema Icon Award at CinemaCon.
"I think its a powerful movie, I think it's very commercial. I think it smells like everything that studios want, which is money – and that's not bad. I don't think artistic and financial things are mutually exclusive," he says of Black and White, which was partly financed by his Treehouse Films.
Portraying a widower who has raised his granddaughter since his daughter died in childbirth, Costner's character's world implodes when the child's African-American grandmother, played by The Help's Octavia Spencer, insists the girl live with her drug-addict father, whom Costner's character blames for his daughter's death.
"I couldn't get anybody to see what I saw in it", Costner says. "I literally walked into my own den and looked at my wife and said, 'I think I'm gonna pay for this movie', and she said 'Really?' and then she said 'If you think that's what you should do, then that's what you should do'. '
"And I do feel that it's a movie to be seen, and a movie to be talked about – without trying. It doesn't preach, but its quite humorous and ultimately very poignant," he says of the film, which stars Jennifer Ehle and Andre Holland.
Directed and written by Mike Binder and shot in New Orleans, the film is ready to go. But there's one hitch. Nobody will distribute it.
"We all operate in a world with rules," he sighs. "The world is what it is and [it] has turned toward these giant movies. That's the thing that scares everybody and has created a lot of haves and have-nots, but that doesn't mean I have to stop. It doesn't mean the rock is easier to push uphill.
"I think if you can make a movie, not just about racism, but make it about human beings who are having difficulty with this very difficult subject and you find the humour in it as well as the angst; you find the poetry in it as much as you find the vulgarity of it, then suddenly you have a movie."
During the 1980s and 1990s, Costner was the consummate leading man, starring in blockbusters The Untouchables, JFK, Robin Hood: Prince of Thieves and The Bodyguard. If Westerns were always a passion – he starred in Wyatt Earp and Silverado and will now act in western TV mini-series, Hatfields & McCoys – then he never met a sports movie he didn't like either, taking on baseball in Bull Durham, For Love of the Game and Field of Dreams, golf in Tin Cup and, more recently, American football in Draft Day.
"The best sports movies are obviously not about sports. They're about boys and girls who do get along, and sometimes don't get along, and have just a strong desire to be together and sometimes don't have the words to figure out how to do that," he says wryly. Slowly replaced as a leading man by new, younger actors, Costner, now 59, was forced to redefine his career and, after featuring in The Company Men in 2010, took time out to focus on his second wife and new family.
After returning to Hollywood, he took on more character-driven roles, starring as Superman's adopted Earth father in Man of Steel last year and as a CIA recruiter in Jack Ryan: Shadow Recruit and now as a critically ill CIA agent in upcoming action thriller, 3 Days To Kill.
"Yeah, well I had three children and my wife said she wasn't going to have any more, so you have to go out there and make this work!" he smiles, "but I did take time out with the children. I've been married twice and I'm really happiest about not looking back on my first time and thinking, 'God, I wish I had given more time with my children'. I know a lot of guys have that little regret: 'I was so busy doing my career, I let that time slip by and this time I'm gonna do it right'. I'm not saying I did it right but I have no regrets," says the actor who has three grown children – Annie, 29, Lily, 27, and Joe, 25 – from his 16-year marriage to childhood sweetheart, Cindy Silva, plus an 18-year-old son Liam, from a brief relationship with socialite Bridget Rooney.
While his 10-year marriage to former model Christine Baumgartner, 39, has survived a few rocky patches, he says he has found happiness today. "In the first half of my career, I spent so much time with my children – that was probably my biggest worry being married a second time: Can I give as much to my children this time as I did the first time? Just to be around them. My children don't really know I'm an actor – they're six, five and three. They think I live in a trailer," laughs Costner who, in fact, resides in a 17-acre oceanfront Santa Barbara ranch where the skilled equestrian raises his own horses. He also owns a 165-acre ranch outside Aspen, a beach house in Hawaii and a casino in Deadwood, South Dakota. The youngest of three sons born in Lynwood, California to an electrician father and welfare-worker mother, he's come a long way.
"When I decided that I was going to be an actor, no-one gave me a chance. I certainly didn't know how it worked. I used to drive my truck in every day to La Brea and Sunset, and park by a phone booth and just go to sleep in my truck because I didn't know what else to do. I knew I needed to come into Hollywood every day – I just didn't know where to go. I would curl up into a fetal position and sleep, just trying to dream about how to get started. And I stayed next to the phone booth because we didn't have cell phones back then. I didn't really know what I was doing, I just knew what I wanted to do."
Going on to make his mark as director, actor and producer, he holds enormous reverence for the art of movie-making, but an even greater respect for the script-writers who put the magic on the page, describing his success as the result of great scripts.
"My wife thinks I'm charming and my kids kind of do too, but you can't do that for two hours on film, you have to be armed with something that moves people in the dark."
'3 Days to Kill' opens on 20 June
Register for free to continue reading
Registration is a free and easy way to support our truly independent journalism
By registering, you will also enjoy limited access to Premium articles, exclusive newsletters, commenting, and virtual events with our leading journalists
Already have an account? sign in
Join our new commenting forum
Join thought-provoking conversations, follow other Independent readers and see their replies