Kyle Eastwood: Honkytonk man and boy
He has carved his own groove in the jazz world – with another album out tomorrow – but he's still best known for his famous father. Nick Duerden meets Kyle Eastwood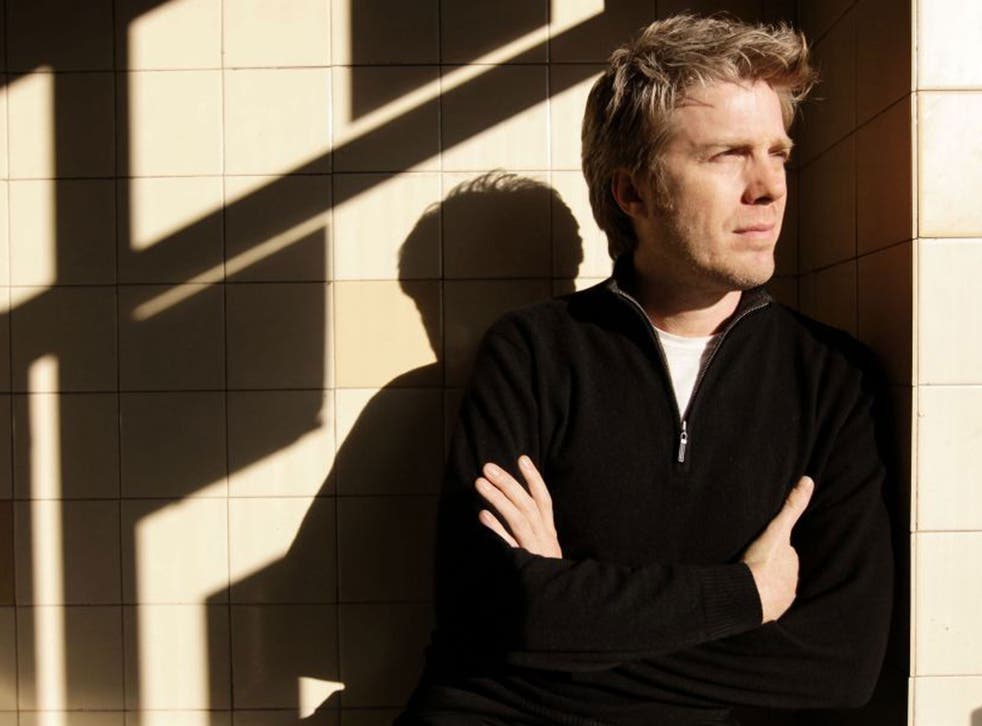 They say you can't judge a book by its cover, but this is nonsense – not least when judging, in this case, a CD by its sleeve provides a fitting intro for an article I would otherwise still be struggling to start. The sleeve to The View From Here, the new album from Kyle Eastwood, speaks volumes about the man himself.
It pictures, the dapperly dressed 44-year-old holding on to his double bass with his right hand and looking down towards his feet, thereby casting half his face in shadow and rendering him not merely enigmatic, but ensuring it's impossible to discern any similarity between him and his father, the movie icon Clint. The famous surname is inescapable, of course, but Eastwood, unlike many progeny of exalted, celebrated parents, has gone off and determinedly carved out his own identity. He is a jazz musician, double bass and electric bass, and has spent the past 20 years immersed in the genre. It has brought him a cult status, he says, with which he is perfectly satisfied.
"The name has always gotten me attention, obviously," he tells me as we sit in the 15th-floor bar of a central-London hotel where, when not looking at his feet, he does indeed look remarkably like his father did forty years ago. "But then I guess it depends on the kind of attention you really want to get. It's nice to be appreciated for what you do, and that's all I ever wanted. But did I have a desire to be world-famous? No, no I didn't. I'm just happy to have a job and be able to earn a living from it. You know, if you like your job, then you never really have to work a day in your life. That's me. I've been lucky."
Eastwood is the son of Hollywood's most enduring actor/director and the model Maggie Johnson. He was born and raised on America's West Coast, and though his parents separated before his 10th birthday, his father remained a firm presence in his life. "He lived just a few minutes down the road from us," Eastwood says, "and I was always visiting him on film sets."
He made his acting debut aged 14, playing his father's son in Honkytonk Man, and though he enjoyed the experience, he wasn't overly keen to repeat it.
"It was fun, sure," he concedes, "but I quickly came to the conclusion that directing interested me more than acting." And so, when a subsequent acting opportunity came his way – the lead role in The Karate Kid – he passed. Nevertheless, by 18, he was studying film at university.
"Like my father, I had two passions in life – film and music – so I decided to study film to see where it took me." But the musical itch soon became the overriding passion, and a year into his course he left to pursue it.
"I grew up surrounded by music," he says. "My father loved jazz, and played the piano a lot, and my mother was always playing records at home: Motown, R&B, and jazz from the Fifties, Sixties and Seventies." '
The first concerts he attended were of proper jazz legends: Ella Fitzgerald, Count Basie, Sarah Vaughan, Buddy Rich.
"And I grew up with the Monterey Jazz Festival just down the road. I was spoiled. I was lucky."
At 23, he became a jobbing session musician. At 30, married and with a daughter, Graylen, he was fronting his own band. His father, he says, couldn't have been happier, a shared obsession for the genre maintaining a tight bond between them. Increasingly, Clint asked his son to contribute songs to his movies, then to score them.
But film soundtrack scoring is a very specific discipline, and often lacks the freedom so associated with jazz. I suggest he must have felt somewhat compromised here, a little restricted. He addresses his shoes while answering, an unreadable smile on his face.
"Yes, perhaps, but my father is a good boss. He has very specific ideas about what he wants, but he also gives me freedom."
This is about as much as he will say on the collaboration process between father and son, but then Eastwood is far more loquacious behind the double bass than he is in person. In person, he is nice and humble and unfailingly polite, but he is wary with it, antennae all too clearly twitching. He rarely meets your eye, and he answers each question in a single succinct sentence that relies more on fact than it does on emotion. He gives precious little away. But then who can blame him? Now approaching middle age, and widely established in jazz circles, he still largely attracts media interest because of his lineage, because people want to know what it's like to have such an iconic father. Presumably this rankles?
"Oh, no, I don't mind. I don't. It's always been that way, and I really don't think there is any way around it.... If I didn't want to be associated with him, I guess I wouldn't keep working with him. But I do. The films we've collaborated on [including Mystic River, Million Dollar Baby, Letters From Iwo Jima and Gran Torino] are among some of his best. He's 82 now, and still going strong. I'm proud of him. I sense he will go on working until the very end."
In the recent US presidential race, Clint Eastwood was drafted in to give a speech at the Republican convention. A script was provided, but a Hollywood auteur doesn't need anybody writing him a script. And so he ad-libbed, spending much of his 11 minutes on stage talking to an empty chair. He has later claimed that this was his attempt to raise a laugh. To many watching, he came across as potentially senile. The press had a field day.
This must have been difficult for his son to watch?
"Actually, I thought it was kind of funny. He just didn't want to read whatever it was they had on the teleprompter, so he free-formed a little." A very jazz thing to do, I suggest. Eastwood smiles. "I guess so, yes."
And do they share political affiliations? "Um, we don't really talk about politics that much, but I have a feeling we're probably not on the same page, that we don't have quite the same political outlook."
Eastwood is about to embark on a world tour in support of his new album, including a week-long residency at Ronnie Scott's in London. He is happy most, he says, when on the road. He has spent time recently in northern and southern Africa, soaking up the music there, and looking for new influences. "I love the idea of mixing styles," he says. "I'm definitely not a jazz snob."
Eastwood divorced in 2004, and lives in Paris, though he regularly returns to the US to visit his 19-year-old daughter, now at university studying music. He won't be drawn on whether he has personal ties in Paris, a girlfriend perhaps, but simply says he's perpetually drawn to new climes. "I love exploring," he says, "and soaking up the atmosphere."
Interview over, he smiles tightly again, perhaps in relief. It's been a long day. It's night now, and me, him and his double bass ride the lift 15 floors to ground level in companionable silence. I leave him in the hotel's forecourt, where he methodically attempts to fit his double bass into a waiting taxi. For a while, it doesn't look like he'll manage it. But he persists, and succeeds.
The View From Here is released on 11 March. Kyle Eastwood tours the UK in May
Curriculum vitae
Born 19 May, 1968.
1982 Aged 14, he appears in the film Honkytonk Man alongside his father.
1984 Was in discussion to play the lead role in The Karate Kid, but his father ends up passing the script to somebody else. The actor Ralph Macchio subsequently plays the part.
1986 Attends university to study film, but drops out by 1987 to become a musician. Kyle spends the next decade as a session player.
1994 Becomes a father. His wife, Laura Gomez, gives birth to a daughter, Graylen. He and Gomez split in 2004.
1998 Releases his first album, From There to Here, a collection of jazz standards and original songs.
2000-2012 Begins to contribute music to his father's films: Mystic River; Million Dollar Baby; Flags of Our Fathers; Letters from Iwo Jima; Changeling; Gran Torino; Invicta.
2013 Releases a new album The View From Here.
Join our new commenting forum
Join thought-provoking conversations, follow other Independent readers and see their replies