Lars Mikkelsen interview: The Danish actor on playing a Putin-like president in House of Cards, and facing-off against Sherlock
Mikkelsen reveals there's only one person stopping him from becoming TV's go-to bad guy - his brother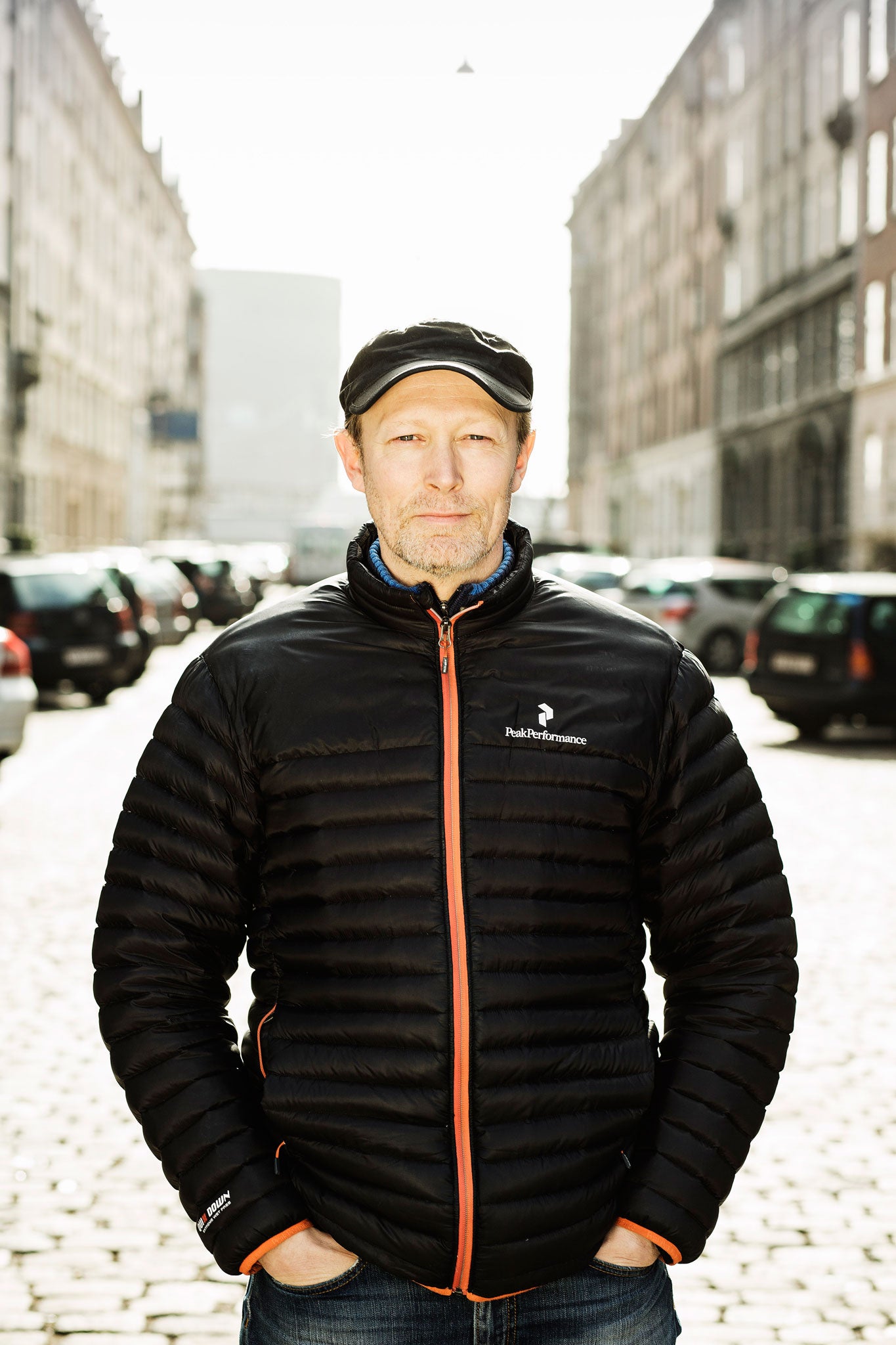 Lars Mikkelsen, the Danish actor best known in this country for The Killing, Borgen, Sherlock and now House of Cards, is waiting for me (I had managed to get off at the wrong metro stop) outside his local café in a former meat-packing district of Copenhagen. Like every former meat-packing district in every Western capital city, it seems, this is now being stealthily gentrified. "It's getting more and more that way," says Mikkelsen, neutrally.
It's a cold morning but he wants to sit on the terrace to give us some privacy but also, I suspect, so that he can smoke, lighting up four cigarettes during our interview. Despite being submerged beneath a puffy jacket and flat cap, Mikkelsen doesn't seem too bothered about anonymity, cheerily greeting passers-by. "I'm part of the furniture," he says. "Here in Denmark you can easily just be left alone, this is my 'hood, and people leave me alone, it's nice."
Nice, or "hygge" as they say in Denmark – a state of mind that loosely translates as 'cosy'. It's a country where leading actors can lounge around drinking coffee in public without being approached for a selfie (that said, when we started taking photographs for this article, a local kebab-shop owner – a friend – asked to be in a picture with Mikkelsen).
One of two brothers, his elder sibling is Mads (pronounced Mass) Mikkelsen, weeping blood as Le Chiffre in Casino Royale and now Hannibal Lecter in American TV series Hannibal – and until recently the more famous of the two. Are they competitive? "Of course... we're only one and a half years apart [Lars is now 50] so everything was a competition. But we're also really close; we did everything together."
Best Netflix originals to watch in 2015
Show all 12
While Mads was filming Hannibal in Toronto and Lars was shooting House of Cards in Baltimore, they didn't bother to meet up. Why would they want to schlep across North America when they live round the corner from each other in Copenhagen? "And I wanted to focus on what I was doing," says Mikkelsen. "I needed to stay focused. I just stayed within the text; it's a lot of work being a Dane trying to do a Russian accent."
Which is something I hadn't really thought about. Danes have a better grasp of English than some English people – and Mikkelsen can also converse in Swedish and German – but having to speak English in a Russian accent? "I had a coach, Adrienne – we met up on a daily basis and went through it so many times," he says. "That security you have with your own language is still not yet where I'm at, even with English. I don't want to spend too much energy on set thinking language... I want to connect with the other actors." And he did, especially with the show's star, Kevin Spacey. "A lovely man... what a lovely guy," he says. "We just hit it off so well. Him having theatre in his blood, it was fairly easy for us to connect."
Season three of House of Cards, despite some lukewarm reviews, has brought Mikkelsen to the attention of Americans who never got to see the original version of The Killing (instead, as usual, that series was re-made in a US setting, transposing an overcast Seattle for an overcast Copenhagen) or in Borgen. The episode of BBC1's Sherlock in which he played blackmailer Charles Augustus Magnussen, finally snagged the attention of House of Cards' producers, who were casting for a Putin-like Russian leader, Viktor Petrov, to lock horns with Kevin Spacey's President Underwood. Did he study Putin?
"No, not really; of course it is inspired by him, but it's not him," says Mikkelsen. "Petrov's much more suave, his English is much better... Putin's English is horrible. Of course I looked at Putin – that callous, KGB type – but I didn't really spend energy on trying to do him. I'm six-foot-three, he's short – I'd never be able to imitate him and anyway it's not really interesting imitating him."
Mikkelsen is back speaking Danish in a new drama called The Team, although this new cop drama – the product of the European Broadcasting Union (the organisation whose foremost gifts to the world have been It's a Knockout and the Eurovision Song Contest) – is multi-lingual. It follows the officers of the national police forces of Belgium, Denmark and Germany, working through the framework of Europol as they try to solve cross-border murders. Each nationality speaks to each other in their own languages, and there are endless scenes of them conversing with their cross-border colleagues in stilted English. A bit of a Euro-pudding, I suspect a British audience would find it quite heavy-going.
"It's a plot-based crime story, so it's not new in that sense," says Mikkelsen. "But what's new is to keep these languages running, and then when we talk to a German or a Belgian we speak English. Most people in Europe do that anyhow. Of course, you guys, English being so predominant..." We can be lazy? He chuckles and waves his hand. "I've always felt Anglophile," he says, before rattling off the titles of old TV shows. "Lord Peter Wimsey, the old Marple, Frost, Morse... I eat it all up. Monty Python, Blackadder – the humour of the Brits is unsurpassed in the world."
In fact, the Mikkelsen brothers first picked up their English listening to Monty Python records. Their mother, Bente, was a nurse, he says, and their father, Henning, was a banker. A banker? "Not like that... he was a cashier... it was sort of a working-class background," he says. "Nobody really did arts in that sense. My grandfather painted a bit; I remember that smell of oil paint and Benson & Hedges."
After his averagely aimless school days, he joined the army ("The first time in my life that somebody said they could actually use me for something... yes I fell for that... but at least I got some discipline"), he enrolled in university to study biology. "For half a year," he says, grinning. "I bought all the books and then my girlfriend at that point – she's my wife now [the actress Anette Stovelbaek] – came home after two days on a juggling course and could juggle. And I was there with chemistry and mathematics – no contest. So I went along to that juggling course and was hooked.
"I started street performing. I remember my first show, I was in the main pedestrian street in town and there were two people watching and I was there with a red nose doing a horrible knife-throwing act and they left after two minutes. It didn't work at all but I felt immediately that here was something I wanted to do, which is so weird when you connect to something."
For five years he did the lot – juggling, fire-eating, riding a unicycle – and then Mikkelsen was introduced to Shakespeare. "Someone suddenly handed me some text at some point – it was The Tempest; I didn't understand it, but I felt very connected somehow." He was 27 by the time he enrolled at the National Theatre School of Denmark, and he is fully aware that he belongs to a lucky generation. "Times were good," he says. "We could have a look around; we didn't have to hurry with our education. If we'd been hurried more I don't think I would have become an actor."
Mads graduated from his theatre school a year after Lars, earning a name playing a drug dealer in the internationally successful Danish movie Pusher and its two sequels. Lars concentrated on the theatre. "Years and years I did," he says. "I didn't really understand what you did when you went in front of the camera. And then suddenly I just understood it. When you're in a play, you carry the story, but you don't have to do that in film."
His domestic breakthrough came in 2002 with the TV series Nikolaj og Julie, a romantic comedy written by Borgen creator Adam Price and with the future star of The Killing, Sofie Grabol, in one of the title roles. And it was the first series of The Killing – the 20-part whodunit that really kick-started the UK's obsession with Scandi-noir – that brought Mikkelsen to the attention of a wider public. He played suave but dodgy Copenhagen city politician Troels Hartmann – long-time prime suspect, whose storyline (spoiler alert for extreme laggards) ultimately turned out to be something of a red herring.
He then played Soren Ravn in the third series of Borgen, while his most recent Danish TV series, the history drama 1869, reunites him with The Killing's Soren Malling, Borgen's Sidse Babett Knudsen (prime minister Birgitte Nyborg) and Pilou Asbaek (Borgen's spin-doctor, Kasper Juul). "It's a fairly small country and of course you'll have some sort of repetition with who goes into a production," he says, when I mention a British newspaper article that asked 'Has Denmark run out of actors?'. "But a new generation is coming along. In fact, I just came back from a premiere yesterday on a film called April 9th – about when the Germans invaded [in the Second World War] – and that whole cast is newcomers, except for me, and I'm just in it for two scenes."
His role in 1864 is also – for reasons I won't go into (BBC4 has bought the series to show later this year) – fairly limited. A colourful, unusually expressionistic Danish TV drama, 1864 takes its title from the year of Denmark's catastrophic defeat at the hands of Bismarck's Germany, when the Danes lost forever a sizeable chunk of territory. "If people think they're going to see a Scandinavian thing in the manner that they've seen before, this will certainly be different," he says. "It's more epic and it's got bigger feelings."
1864 has been the most expensive drama to date from Danish state broadcaster DR, who also made The Killing, Borgen and The Bridge – opening it up to criticism from predictable quarters. Right-wing politicians and newspapers attacked it for a lack of historical accuracy and the suggestion that Denmark bought the war on itself thanks to over-zealous nationalism. "Yeah... it was just horrible," says Mikkelsen. "That is politics at its lowest. These television shows that we make here, we get a third of the nation actually watching, so if you oppose it as a political party, you get the attention of a third of the population. It was a bit sad because a lot of money and a lot of effort went into it and in a lot of ways it was really interesting, but it never got a chance."
British viewers will get a chance to judge for themselves whenever BBC4 gets around to showing it, but on the day after we meet, Mikkelsen is starting a new film, There Will Come a Day, set in a 1960s Danish boarding school in which he plays an authoritarian headmaster opposed by a liberal teacher played by (wait for it) Sofie Grabol – The Killing's Sarah Lund. And then he's going back to clowning – or rather playing a washed-up circus performer in The Knife Thrower.
In the meantime, a Mikkelsen acting dynasty is in the offing – his 19-year-old son having just been accepted (one of 24 out of 900 applicants) for drama school. A spot of nepotism, perhaps? "That nepotism thing is rarely true," he says. "It's actually harder to carry that name around."
Is it true that Mikkelsen has been knighted? Should we be calling him Sir Lars? "Yes, I'm a knight... Sir Mikkelsen... No, we don't do the knight thing; we just get it... no title," he says. "You just get a session with the queen [Margrethe II], you just talk with her – she's lovely, she's very interested in the arts. If she weren't, we'd be in an awful place because it's rare to find a politician who is interested." Was the knighthood for anything specific, or for services to acting in general? "Oh, no, you know," he says, lighting up another cigarette. "Just that I've been around a while".
'House of Cards: Season 3' is on Netflix now
Join our commenting forum
Join thought-provoking conversations, follow other Independent readers and see their replies