Life after The Killing: Sofie Gråbøl is set to star in new Sky Atlantic drama Fortitude
After 'The Killing', Danish actor Sofie Gråbøl became a superstar. But soon after the show ended in 2012, its star was diagnosed with breast cancer. Now, healthy again, she's back on the small screen
Gerard Gilbert
Saturday 10 January 2015 01:00 Comments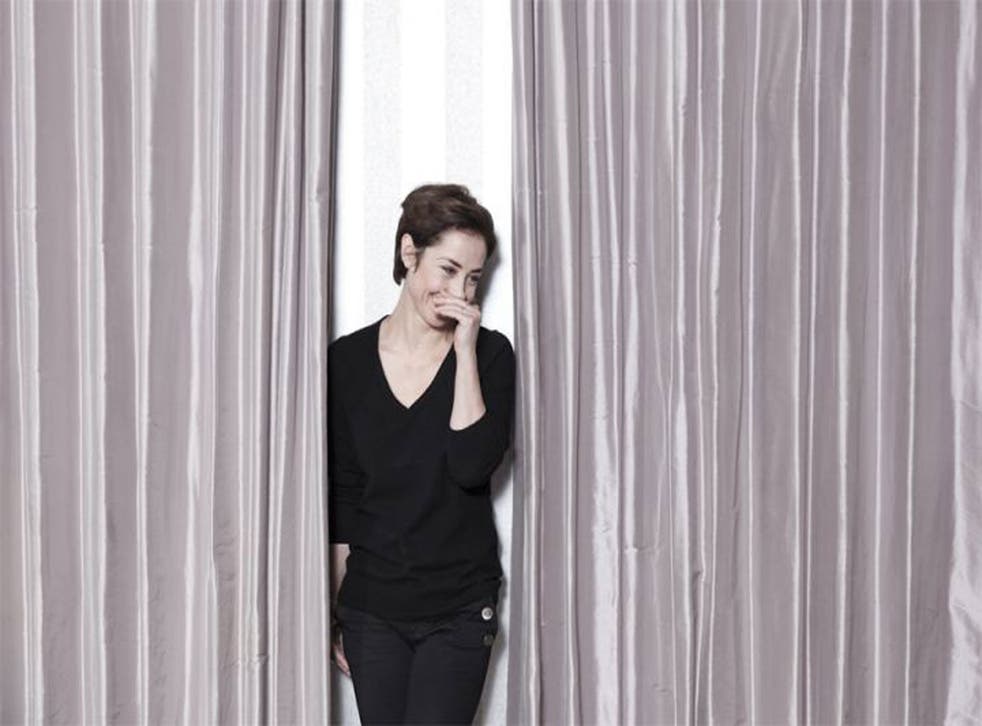 The last time I interviewed Sofie Gråbøl, which was also the first time, was in the autumn of 2012, soon after the final series of The Killing had finished production and she had already begun shooting an independent Danish movie, The Hour of the Lynx, in which she swapped Sarah Lund's weirdly famous sweater for a priest's dog collar. Lund mania was still at fever pitch in the UK at the time, but Gråbøl herself was busy shaking off the character that had made her a star for Britain's subtitled-drama-watching classes. We spoke then near her home in Copenhagen and although she was perfectly friendly and attentive, she also seemed drained. "Yes, I remember," she says now. "That was just before I became ill."
Gråbøl spent the following 12 months being treated for breast cancer, and now, after spending most of 2014 in London (playing Margaret of Denmark in The James Plays at the National Theatre and filming Fortitude, a big new drama for Sky Atlantic), she seems far happier and – yes – more alive. "I'm fine now... I hope I'm fine," she says. "You wish you could say 'over and done with' but it is kind of a shadow that is there. The fragility of life is something you have to live with.
"But this year has been amazing for me. It's been so intense working in London... it's been like a marathon. I always felt a bit puzzled by why people who've had cancer always seem to doing Iron Man things and climbing mountains and doing marathons; I was always, 'What is that?'. And then it suddenly hit me: this is what I'm doing this year. This has been my marathon or mountain climb."
Did she come to any conclusions about why people feel the need to challenge themselves following a life-threatening illness like cancer? "Actually, I've been thinking about this a lot and, this sounds odd, but there is this almost shame connected to getting ill," she says. "I think it's almost an animalistic feeling that you're weak, you're not suitable for life, and maybe somewhere deep down I'm trying to prove to the rest of the flock... is that the word?... that I'm still valuable to the rest of them.
"But it's also, maybe, proving to yourself, because when I was very ill I almost felt like a ghost. I was suddenly living this parallel life outside of the real life, in this limbo existence... not being sure whether I am going to have a rebirth or not" – all of which sounds like as good a description of what it's like to be sick as any I have heard. "So I think there's also a positive aspect of appetite for life that makes you want to climb that mountain or run that marathon."
The best TV to watch in 2015

Show all 13
Gråbøl's own marathon began just three weeks after the last operation for her cancer, when she was flown to the remote east of Iceland to begin filming her role in Fortitude. Set on an island off the Arctic coast of Norway, hitherto the preserve of mining companies and scientific researchers, Gråbøl plays the local mayor who is, controversially, hoping to encourage tourism. "In this place things can come at you from nowhere... monsters," says someone near the start of Simon Donald's 12-part drama – and the frozen milieu brings to mind both Fargo and the polar denouement of Mary Shelley's Frankenstein, while at the same time being entirely its own thing. A large, mainly British cast also includes Stanley Tucci, Michael Gambon, Christopher Eccleston, Johnny Harris, Jessica Raine and Richard Dormer.
"There are more than 25 main characters," says Gråbøl. "We were just dumped in Iceland in a hotel in a small village out in the middle of nowhere, and for me that was the most... violent... violent is the wrong word. The thing is that I was scared, actually – scared just to start working again. Just how do you work, how do you act? And starting again without one single person that you could, like, feel familiar with was very, very frightening."
But also, she thinks in retrospect, therapeutic. "It corresponded with my inner landscape somehow, because I felt that everything in me was rearranged, and then to be put into an equally new outer landscape with an unknown group of people... In fact, I couldn't imagine just picking up from where I left off, just doing another play in Copenhagen or a film or TV series. There was something very nice about being an explorer on all levels."
The cast bonded quickly over shared meals, long walks on days off, and Michael Gambon's apparently hilarious story-telling. Gråbøl admits to being star-struck when meeting Gambon. "I remember seeing The Singing Detective when I was a teenager, it made a huge impact on everyone in Denmark," she says. "And it made me think this is what acting can do. It's not like I formulated I wanted to be an actor or anything, it's just that, you know, the revelation of his performance."
By now, hopefully it's clear that Gråbøl is not only a deep thinker – in the manner that BBC4 viewers fondly assume that all Danes are – but that she can articulate these thoughts in English better than many English people. "It's interesting that whole language thing," she says. "I don't know what happens in your brain when you speak a foreign language, but it feels like it is a different part of your brain. So for me, this year has been almost like I've had two parallel lives. Whenever I have three days off, I fly home to my kids and obviously we speak Danish and stand in the kitchen cooking dinner and sometimes I go, 'I can't be on stage in three days doing that play in English... I don't think I can do it'."
Gråbøl then suggests a remedy for trauma that might be beyond the budget of the NHS. "Go to another country and learn a different language, it's like being a baby again; you're one big question mark and you learn new words and you learn new etiquettes and customs."
Put up in flats in Notting Hill and Chelsea and commuting to work by Tube (she thinks the London Underground is "awesome"), Gråbøl has been liberated by meeting new people and seeing new places and ways of being. "In England you are very polite, civilised, you have manners," she says. "Danes are direct-slash-rude, but we mean it as straightforwardness. You have so many polite ways of asking and it took me a while to crack the code and realise, OK, they're not really asking. And people are not really sorry – they just say they are."
Gråbøl's mother, an architect with a fascination with Chairman Mao and all things Chinese (Gråbøl and her brother could handle chopsticks from an early age), separated from her biological father before her birth in 1968 – and Gråbøl learnt English from her American stepfather, who in turn separated from her mother when she was 11. At which stage the family joined a commune. "I did not want to go and I actually threatened to kill myself," she says. "Really seriously contemplating doing that because I felt the prospect was so frightening. I went to a big state school with 600 kids and there was one kid in that whole school who was, like, a hippie kid who lived in that commune and everyone knew who she was and I just wanted to blend in.
"However, I didn't get my way and it was a brilliant thing. There were lots of teenagers like me, and we might actually be made for that [communal living] and not be made for sitting in our little units. Just imagine all the time we spend on cooking every day. In the commune, the grown-ups had to cook twice a month. The first meal I ever cooked was burgers for 30 people."
It was her mother who suggested the teenage Gråbøl audition for her first part, opposite Donald Sutherland and Max von Sydow in a Danish biopic of French artist Paul Gauguin – a role she won despite never having studied drama. And she's been acting ever since, gaining a reputation particularly for romantic comedy – before The Killing came along and changed her life.
"I straighten my back when people talk about The Killing because I'm proud of it," she says. "It really blows my mind that it's not forgotten here. I wouldn't imagine that you could come back here after three years and people ask whether you are going to make any more. I think it's incredibly touching really."
To be touchingly, if predictably, British then: will Gråbøl ever slip back into Sarah Lund's sweater, a trophy currently residing at the back of her wardrobe? "You can never say never... that's what I've learnt these last years. Who knows what will happen in life? A year ago I would have said 'Never, ever', and there aren't any signs, to be honest, and it wouldn't feel dignified. Why would we do another? When I finished, I felt both exhausted and also a feeling of a job done, but [the reaction here] has actually made me miss the project, whereas I felt very finished with it when we finished."
This is another difference between the British and the Danes, she says – and something that may help explain the current fruitfulness of Danish TV drama. "In Denmark we have this fear... if you have a good thing, then leave it. I understand why in England they keep asking, 'Will you do more of The Killing?', because in Denmark they don't. They just want something new and different."
For now, she's just looking forward to spending more time with her two children – 13-year-old Bror ("it means brother in Danish") and 10-year-old Gudrun. "Very Nordic names," she says before repeating something she said to me in our first interview when spelling out her surname, with its crossed 'o' and ringed 'a'. "Gråbøl is not a name that travels easily... I'm not made for the world. I have to be able to go home to my kids... I've learnt that I'm very homebound."
The interiors for Fortitude were filmed on sets in Hayes in Middlesex, conveniently close to Heathrow airport. "I actually sometimes flew in in the morning on the first flight from Copenhagen. You gain an hour and I was in make-up at eight, then filmed a whole day, and then at midnight I was back in my own bed in Copenhagen thinking: 'Did I just go to work in London?'.
"I'm still a nervous person and I have to overcome something in myself every time I throw myself into a challenge," she says, returning to the subject of her illness. "I'm not a warrior in that sense, but it has made me more aware that if I let fear keep me from doing things then I might regret it someday, lying on a deathbed. So that was one of the reasons that I took the jobs of this year."
After The Killing, it is tempting to write, Sofie Gråbøl is reborn. And for a multitude of reasons, she seems re-energised, a sunnier and more tactile person than I met two years earlier in Copenhagen. Gråbøl, however, is careful to stress that what happened to her body was not in any way a blessing. "It's not like I'm a different person, in no hallelujah way or any other ways," she says. "It's not like I've seen any light, which I think some people expect you to have, especially with cancer which has so many myths attached to it; it makes me sick really. There are so many ideas about that particular illness, and one of them is that you have to be almost considering it as a gift, that you've had realisations you wouldn't be without. I would definitely be without this experience"
'Fortitude' begins on Sky Atlantic later this month
Register for free to continue reading
Registration is a free and easy way to support our truly independent journalism
By registering, you will also enjoy limited access to Premium articles, exclusive newsletters, commenting, and virtual events with our leading journalists
Already have an account? sign in
Join our new commenting forum
Join thought-provoking conversations, follow other Independent readers and see their replies