Mark Cavendish: Why I'm happy I rode away from Team Sky
Exclusive: In a remarkably open interview, the cyclist tells Alasdair Fotheringham in Qatar why he had to quit last year's Tour de France winners and how he's delighted to get all the support he needs at his new team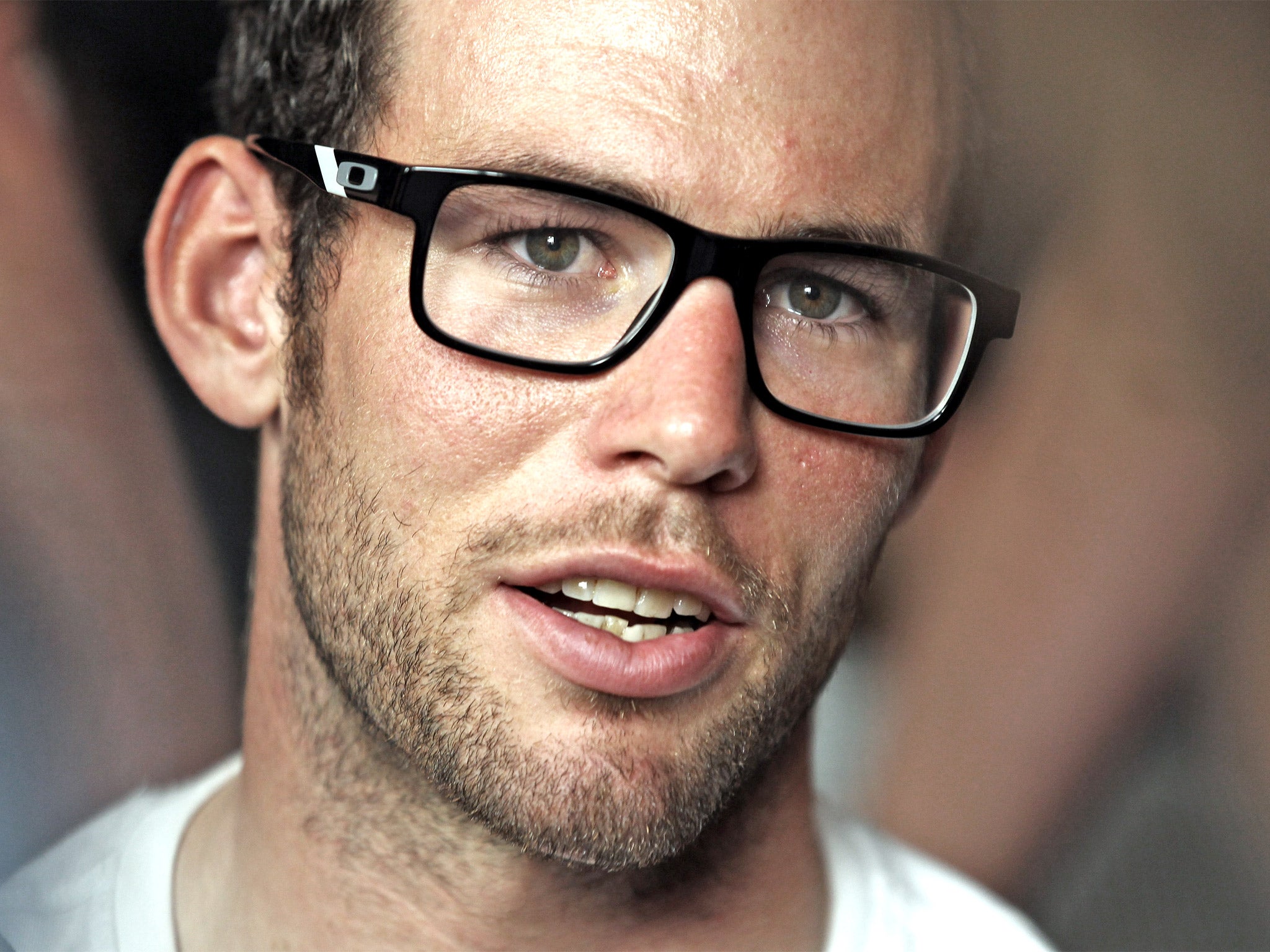 Mark Cavendish gives the impression that he has moved on and is happy with his choices. The team he joined earlier this year, Omega Pharma-Quick-Step, are successful, based in the cycling heartland of Belgium and have delivered him a heightened level of popularity he feels completely at home with. His blistering start to the Tour of Qatar tells its own story about how well he has settled in.
But Cavendish still questions the way things turned out for him at Sky – the team who courted him for so long – and the reasons he had to leave behind his friends after just one season. As he reveals the decisions which prompted his unhappy departure, it emerges his diminished status at the Tour de France was a blow.
"I did know we were going for yellow," he says as he remembers the position Sky took on team-mate Bradley Wiggins. "But in my eyes we were going for yellow and green."
After Cavendish had joined, Sky then prioritised the bid for the overall lead over the points jersey. Even then, and despite having to miss out on some stage wins as a result, Cavendish stayed on board and contributed to the effort to bring home Great Britain's first ever yellow jersey.
But the decisions of sports director Sean Yates – no longer with Sky after retiring for health reasons – rankle.
Yates left Cavendish unsupported on one relatively straightforward stage which seemed made for a sprint. The fact it came immediately before a rest day, which meant there was time to recover any extra energy expended working for Cavendish, added salt to the wound. Then Yates's decision not to keep support riders with Cavendish on another occasion when he suffered a puncture, rubbed it in.
"That had never happened before, and especially as a [reigning] World Champion," he says as we chat in Qatar following one of his stage wins. "That was a big thing. It wasn't just that I didn't have a team built around me, because I knew I wasn't going to have one there."
Cavendish insists his relationship with Sky and his former team-mates now is "absolutely fine".
But he adds: "I realised my whole focus each year is about the Tour de France," and that left him with only one option: to leave. "Ironically Yates has left now," Cavendish adds. "It was always going to be a difficult decision, but once I took it, there was only one team I wanted to join."
Switching teams again meant leaving behind his good friend and closest support rider Bernie Eisel, with whom he had ridden for six years since his Tour de France debut in London in 2007.
Eisel opted to stay with Sky and it left an uncharacteristic seed of doubt. "I asked Peta [Todd, Cavendish's partner] the other day, what am I going to do in the tour without Bernie, and she said 'you'll have six guys with you now.' So I was like 'fair enough.'"
Team Sky may be the newest members of cycling royalty, but Omega Pharma-Quick-Step have been on their own particular throne for well over a decade.
In a country so crazy for his sport that Cavendish is quizzed by their passport control officers about his form, the Manxman points out their glorious history.
"Omega Pharma was the most successful squad in the world apart from the grand tours," he said. "They won week-long stage races, the world individual time trial and team time trial and they dominated in the classics. My speciality is grand tours and the Tour [de France] is where I fit in."
Cavendish is relatively relaxed about the decision he made to leave Sky now and that is partly because it has turned out far better than expected at his new team. Going to a Belgian squad is like a return to his cycling roots.
"I was really nervous about joining somewhere new," he says. "I wasn't disheartened [at the prospect of changing teams] but... I don't think anybody in the history of cycling has done this, won what I've won, world champion and so on, and pretty much had to start from zero again.
"But my fears were a bit overblown. I know a lot of guys from here from the past, from [former team] HTC, riders and staff, so that was good. And the other guys I didn't know, they were so welcoming. There really are no egos here. You take a legend like [multiple classics star and team-mate] Tom Boonen, he's just an ordinary, nice guy, and it's a really relaxed atmosphere."
The Belgian environment helps create a happy squad, too. "The Belgian people, they're so happy," Cavendish adds.
"You can't just help but smile when you're around them, you know? But it's all about bikes, too, we go out to training camp and we're racing in the training rides, it's something I really, really enjoy."
Cavendish describes Omega Pharma as being "probably the team left out there who are most steeped in cycling history...what they've won, every young rider, particularly the classics riders, would aspire to ride for them. And that's a big thing."
So, too, is their appliance of science. After all the fractions of percentage points that Dave Brailsford tries to wring out of his team at Sky, the Omega crew seem a bit more relaxed.
"It was a very old-school team," says Cavendish. "But they've had a big new influx of people from HTC and that and now it's become a mixture of both. They don't just go for the scientific, new world stuff or get stuck in the past, they're merging both. It's still merging, but it's really coming together."
Like the start of Cavendish's season, in which he has won two successive stages and claimed the overall lead of the Tour of Qatar.
But the Tour de France is never far from his thoughts.
"The Tour is the biggest thing," he says. "That's the thing the season is based around, although obviously I'll be wanting to win along the way whether it be in a stage race or a one‑day race."
So what about the prospect of taking the yellow jersey on the first day of the Tour de France as the route, for the first time since 1966 and the introduction of the Tour prologue, provides a tempting target for his ilk?
"It is exciting and we've got a good team for it," he says. "There will be breakaways, every man and his dog trying to get that win, you know, so it's not a given.
"It is a very difficult Tour route this year. Very, very difficult, because it's the centenary edition and unfortunately for me, mountains have made the majority of the history of the Tour so it has got a lot of mountains in there.
"But it's bookended by those two stages, in Corsica and on the Champs Elysées, where I've got a good chance and it's going to give me real motivation to finish. I've won there four times and I'd love to win there for a fifth."
Also on the radar for Cavendish is the Giro d'Italia, the race targeted by Wiggins as his priority this year, which he will compete in with the objective of both leading the race for a third time, should he be victorious in the first stage, and winning stages.
Cavendish believes the racing shape he has worked himself into bodes well for a promising year and a win on his first stage of his first race of 2013 in the Tour of San Luis is a good omen.
"My condition is good," he says. "And I've never won a race on my first day of the season. So I can be really pleased with that."
The signs are already there that there will be a lot more to applaud in 2013 and then Sky, not Cavendish, will be left with regrets.
Join our commenting forum
Join thought-provoking conversations, follow other Independent readers and see their replies