Martina Hingis: 'Forget burn-out. Laura Robson must play more Slams now'
Former World No 1 tells Paul Newman about retirement, failing a drugs test, appearing on 'Strictly' and relaxing the rules to help Britain's teen sensation
Sunday 10 October 2010 00:00 BST
Comments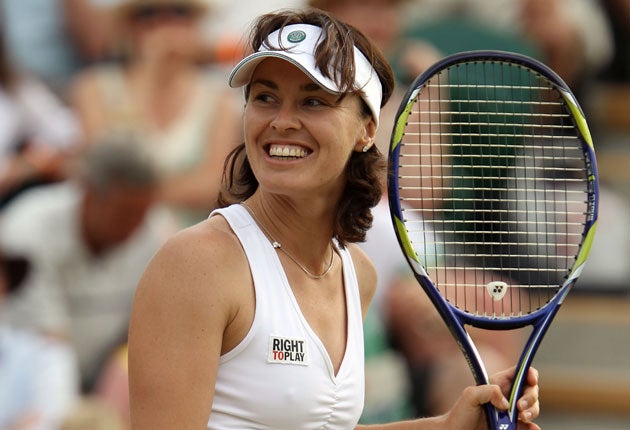 You learn never to be surprised by the scheduling of matches at the US Open. No other Grand Slam tournament routinely plays its men's semi-finals and final on successive days, and who else would think of staging an opening ceremony several hours after the tournament has started?
Yet as the year's final Grand Slam event headed towards its climax last month, even those who have become accustomed to the foibles of Flushing Meadows raised an eyebrow or two. The men's quarter-final between Rafael Nadal and Fernando Verdasco was an obvious choice for the showcase night session in Arthur Ashe Stadium on the second Thursday, but the other match, remarkably, was an exhibition in which Pat Cash and Mats Wilander took on Martina Hingis and Anna Kournikova.
Although they regularly infuriate the purists and traditionalists, the schedulers in New York at least know what the punters like. With all due respect to Cash and Wilander, there was no doubt who the crowd in Arthur Ashe Stadium wanted to see. The glamorous Kournikova has inevitably remained an attraction, despite the fact that a career in which she never won a singles title ended seven years ago, but there was even more interest in Hingis, who won her first Grand Slam title at 16 and enchanted fans withthe grace and invention of hergame before the sport came to be dominated by big hitters.
It is now more than three years since Hingis played her last tour match, her career having been brought to a premature end when she failed a drugs test for cocaine during Wimbledon. Hingis, who celebrated her 30th birthday last month, always denied taking any banned substance, but a mandatory two-year ban was imposed. Having also been suffering with a hip problem, she decided it was an appropriate time to announce her second retirement, having already made one successful comeback after taking a three-year break from the game following an ankle problem.
Talk of another return is inevitable, particularly after Hingis signed a new long-term racket deal with Yonex last month, but the chances of her playing singles again are remote. The "Swiss Miss" may well play some doubles on the main circuit – perhaps with Lindsay Davenport, who has asked her to be her partner – but her time on the singles court has surely come and gone.
She found it much tougher second time around, failing to go beyond the quarter-finals of any of the Grand Slam events, and acknowledges how physical the game has become, even if she enjoyed watching Francesca Schiavone win the French Open this year. The Italian is three months older than Hingis and stands just 5ft 5in tall.
Hingis enjoys the fact that people appreciated the intelligence and skill she brought to the court. "I hope that's the way people remember me," she said. "Even now people come up to me and say: 'We miss you. Thanks for being around. We loved watching you play. It was different.'
"I think today that it's harder to have this type of game unless you're really, really quick. You see so many players like Justine [Henin] come back and play this kind of style, but I think because of the power it makes it a little bit harder, though it's still possible. I always had to find a way to win because I was playing more physical players."
In her later years Hingis struggled to cope with the power of big servers like Serena Williams and Davenport. She also talks with her mother, who was her coach, about the high number of first serves that the top players now put in court. "That's definitely the key today," she said. "My mum says that I used to get away with it, but later on it was harder. Maybe today she would change some of the things on my serve, but she was always afraid that I might get a sore shoulder."
Hingis said Serena Williams was her toughest opponent: "I couldn't read her serve. It was hard to get her into play. At her best she didn't really have a weakness. Even Steffi [Graf] had a weakness, you could play on her backhand. It wasn't like you were shot off the court. Serena and I had close matches, but at times she would hit a great serve or forehand and you didn't really get to play."
Named after Martina Navratilova, Hingis's talent was recognised at an early age. She won the Australian Open, Wimbledon and the US Open before her 17th birthday, but had won her last Grand Slam title before her 19th. The emergence of the Williams sisters in particular thwarted her chances of maintaining her early run of success. In order to avoid "teenage burn-out", tour rules have been changed since Hingis broke through, restricting the number of tournaments younger players can enter. "Today you're not given quite the same chance to play because of age-eligibility rules," Hingis said. "I was free when I was 16. Maybe it would help the girls today if they could play more events a bit sooner.
"I got to play at least some of the events at 14. That way you get a taste of what it's like out there, playing against the top players. Then you go back home and you know what you have to practise. Once you're 18 it gets a bit harder. You don't learn as quickly. You see today that players are a bit older when they start to win Grand Slams, though Maria [Sharapova] was only 17 when she won."
Hingis is impressed by Britain's Laura Robson, who won the Wimbledon junior title two years ago and is still only 16. "I think she has a lot of talent and great potential to make it big on the stage," Hingis said. "It helps to be left-handed as well. You don't see that many left-handers in the women's game. I played her a year ago at Wimbledon. Her serve and her forehand are big, so that can help her to get far in the game. It would be nice to see her play a little more at the bigger events so that she gets the experience and plays those top players so she knows how to adjust and how to beat them."
As for Hingis, the Swiss has loved being on the court again. Playing in exhibition matches in England this summer, including a doubles alongside Kournikova at Wimbledon, reminded her of how much she had missed playing. She went on to play team tennis in the United States and her diary has been filling up with exhibitions. Last week she was in Kuala Lumpur, partnering Goran Ivanisevicagainst Cash and Kournikova.
Hingis also "loved every minute" of her appearance on Strictly Come Dancing last year, even though she was the first to be voted off. "I'm playing tennis, riding my horses, enjoying life. I feel I deserve it. I've been full on for so many years and sometimes it's nice just to be able to relax."
Join our commenting forum
Join thought-provoking conversations, follow other Independent readers and see their replies