Mary Beard: Meet the gladiator
She brought classics to the masses. Then an appearance on Question Time exposed her to the evils of the web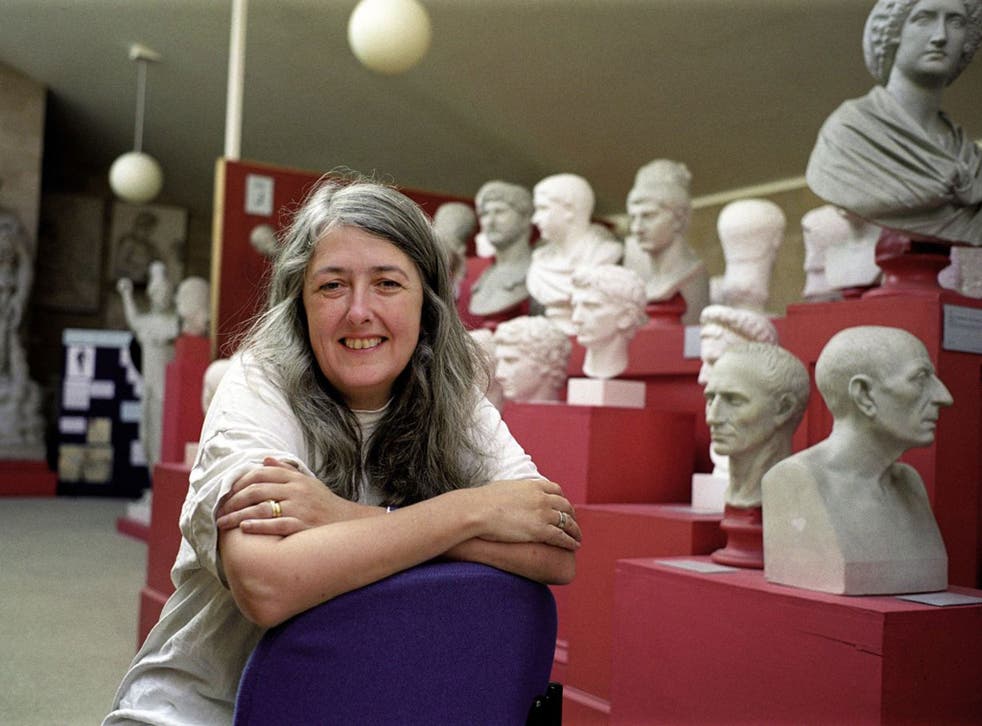 Mary Beard has a taste for Roman sauce. Whether on her entertaining "A Don's Life" blog, in books that wed intellectual rigour to narrative panache, or TV history series in which the silver-maned scholar deciphers the graffiti of a Pompeii tavern or the brags on memorial stelae in Rome, the professor of classics at Cambridge University rips into the ribald and even obscene side of ancient culture with infectious glee. Yet nothing in her career as this generation's finest populariser of the classical world will have prepared her for the online Cloaca Maxima of bile and filth that engulfed her last week.
A dispute with an audience member, heated but short, over Eastern European immigration during BBC1's Question Time in Boston, Lincolnshire, not only triggered controversy. That she knows how to handle, gladly accepting her role as "the academic who argues". Beard herself admits to tweeting "rudely and inadvertently". But the torrent of psychological sewage that flowed over her from internet trolls, notably on the "Don't Start Me Off" abuse site (which then shut itself down), was something else again. As she wrote in a blog commentary on the posts' "gobsmacking" misogyny, with their "brutal sexism" and "classic signs of vile playground bullying", the trolls "discussed my pubic hair… whether I need rogering… the capaciousness of my vagina, and the plan to plant a d*** in my mouth". Welcome to the brave new world of "democratic" online media, in which the anonymous potty-mouthed sociopath is king.
In 2000, Beard wrote a biography that focused on the early career of Jane Harrison, the Cambridge classicist-archaeologist who influenced T S Eliot. Harrison's work a century ago had pioneered the social and anthropological turn in classics that, for millions of viewers of her BBC series Meet the Romans, Beard now embodies. Like Beard, Harrison saw passionate flesh and blood beneath the ancient marble, detecting that "somewhere underneath the calm, shining, rational exterior of the classical world is a mass of weird, seething irrationality". What's the Latin for plus ça change? As in the days of Julia Augusti Filia, only daughter of the Emperor Augustus, a witty and forthright woman visible in public life must brace herself for an avalanche of sexual slurs.
Born in 1955, the daughter of a "raffish" Shrewsbury architect and a headteacher, Mary Beard went to Cambridge to study classics at the (then and now) all-female Newnham College. Her previous education came at the single-sex, direct-grant Shrewsbury High School: ie, a partially state-funded selective school with a variable mix of fee-paying and "free" places, the now-defunct sector that provided a disproportionate source of Oxbridge high-fliers. In the mid-1970s, only six Cambridge colleges accepted female undergraduates; only three of those were mixed. By 1988, the last all-male bastion had fallen. It sounds medieval, but in that era much of Cambridge student politics consisted not in improving gender equality within the university but in trying to give women the chance to come at all. Having to fight such basic feminist battles will leave an indelible mark.
For most undergraduates, Cambridge life in the mid- to late-1970s had nothing to do with the boaters-and-Bollinger "Oxbridge myth" that Beard has so effectively debunked. Earnest discussions of the latest earthquakes in academic or political life took place in austerely furnished college rooms, either drastically under- or overheated, in scruffy street-corner pubs, in cheapo Greek eateries – and, often enough, in dank Victorian terraced houses which their occupiers nonetheless campaigned noisily to save from the developer's wrecking ball.
Plain living and high thinking, according to the somewhat puritanical Cambridge ideal? Up to a point: Professor Beard, and those of us who were more or less her contemporaries, matured intellectually in an era of across-the-board crisis and reform within politics, culture and education. It felt, at least in the sort of circles within which she moved, like a pretty politicised student body: keen on social activism and institutional renewal; desperate to dodge the cliché charge of ivory-tower elitism. Such a grounding might well impel a scholar with a conscience not only towards the Times Literary Supplement (where Beard has been classics editor since 1992) and the broadsheet review pages, but TV documentaries and – as we saw, in spectacular fashion last week – the high-impact pulpit of a show like Question Time.
In the sphere of ideas, fresh breezes blew in from the Continent and changed the direction of study across the humanities – even in classics, then the most conservative discipline of all. Beard's books, such as the outstanding Pompeii: the Life of a Roman Town in 2008, embed in their approach a bottom-up vision of history and society; an attention to everyday life and its complex rituals; a presiding concern with the experience of outsiders (women, slaves, migrants), and a focus on language and its relation to politics, family and social customs. At the leading edge of British academic life, these theories and methods of the "moderns" rapidly trounced the "ancients". Fairly quickly, they achieved hegemony – even in the scholarship of Rome and Greece, for centuries the domain of the gentleman-pedant but now (as Beard notes) a fiercely meritocratic field.
In her Harrison biography, Beard observed: "People's lives look different at the start of their career." Equally, successful people often carry the climate of their youth into eras in which the wind has changed. The progressive tendencies that became second nature to Beard – and many of the rest of us – in late-1970s Cambridge conquered many British institutions. In universities, public-sector bodies, parts of the media, the radical outsiders became insiders. Beard herself returned to Newnham in 1984 after four years at King's College, London. She became professor of classics in 2004 (and was awarded an OBE in the New Year honours list). In 1985, she married, and her experience of bringing up two children as a professional woman in a sometimes backward institution gave rise to a frank handbook-cum-polemic. The Good Working Mother's Guide (1989) was her first solely authored book.
Her role at Cambridge has involved a long-haul effort to widen access and improve transparency. This push to "normalise" the image of her university has continued through decades during which – for many educationalists – the loss of grammar and direct-grant schools loaded the dice even more heavily against the Oxbridge prospects of smart kids from modest families. Yet, as many such "elite" institutions slid slowly leftwards, mainstream politics after 1979 moved the other way.
The radical dons (and pundits and editors) captured some of the commanding heights – but not enough of the plains beneath. Hence, perhaps, the historic genesis of the moment on Question Time in Boston on 17 January, when Beard offered a mild remark about the ability of public services in such a town to cope with an influx of migrants from Eastern Europe. A local woman, Rachel Bull (herself the descendant of Polish incomers), made an impassioned denunciation of Beard's optimism, arguing that social services had been stretched to breaking point. Beard has written that she is "very OK with Ms Bull", who has equally made clear that she has no personal quarrel with immigrants. The subsequent row has little to do with her challenger.
It stems not merely from the pathology of internet trolling, but from the perception of a gulf between the intellectual leaders of "liberal Britain" and those who feel alienated by their pieties. Now, we mustn't mistake the trolls for the territory. Hopeless apologies for men have always felt threatened by confident women who speak up in the agora. More serious is the belief, or the illusion, that a progressive minority thinks and speaks against the grain of popular opinion. Fatefully, Beard's Question Time spat took place on the ground where these cultural schisms emerge most bitterly: Europe, and immigration. The EU referendum promised for 2017 means that we face years more of such rhetorical sniping. For her peers, Beard's place at the eye of this storm prompts some knotty questions, however grotesque the abuse she has suffered. Yes, from seminar room to TV studio, we won plenty of battles. But will we lose the war?
A life in brief
Born: Winifred Mary Beard, 1 January 1955, Much Wenlock, Shropshire
Family: Only child of Roy, an architect, and Joyce, a headmistress. She married art historian Robin Cormack in 1985; they have two children.
Education: Shrewsbury High School, Classics MA, then PhD, at Cambridge.
Career: Has written more than 10 books on ancient history. Since 1982 she has been classics editor of the TLS and became professor of classics at Cambridge in 2004. Her TV series include Pompeii: Life and Death in a Roman Town and Meet the Romans with Mary Beard.
She says: "Isn't intellectual life about having an argument?"
They say: "A heroine for women." Clare Balding, TV presenter
Register for free to continue reading
Registration is a free and easy way to support our truly independent journalism
By registering, you will also enjoy limited access to Premium articles, exclusive newsletters, commenting, and virtual events with our leading journalists
Already have an account? sign in
Register for free to continue reading
Registration is a free and easy way to support our truly independent journalism
By registering, you will also enjoy limited access to Premium articles, exclusive newsletters, commenting, and virtual events with our leading journalists
Already have an account? sign in
Join our new commenting forum
Join thought-provoking conversations, follow other Independent readers and see their replies