Matt Bowden: The drugs lord who's strictly legal
He is credited with inventing legal highs. So why is the man who made a fortune evading the law now calling for the authorities to step in? Jeremy Laurance meets him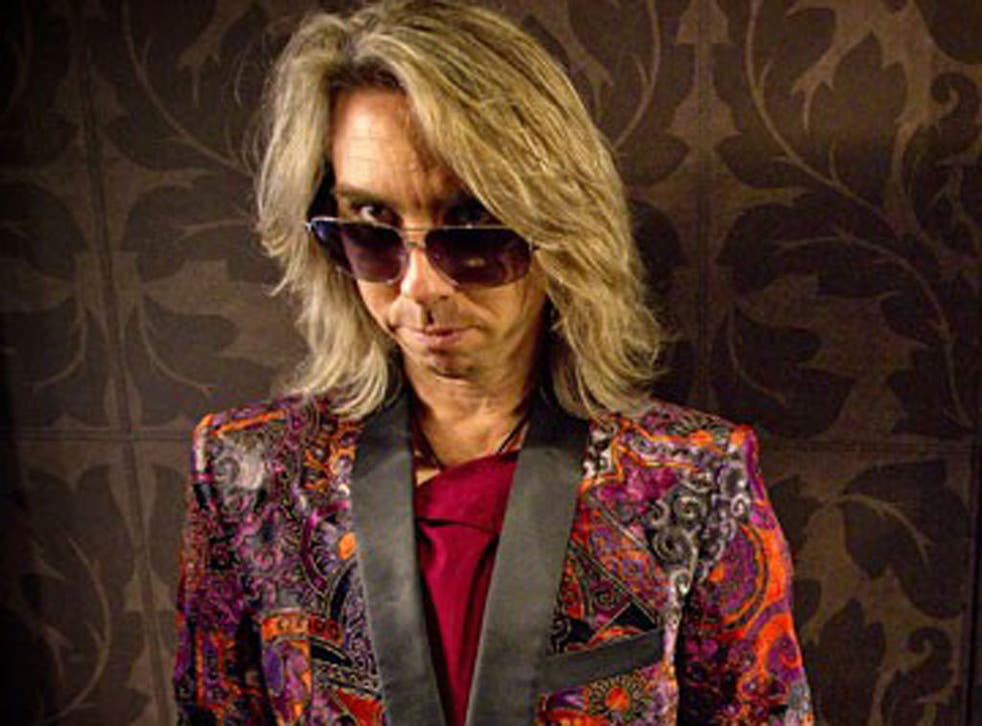 It is a remarkable statement - the rock musician and drugs activist credited with spawning the global legal highs industry is now calling for new laws in Britain to protect the millions of young people who take the substances.
Legal highs are synthetic chemical substitutes for illegal recreational drugs such as cannabis, cocaine and ecstasy which often sell at a lower price. The industry has grown dramatically in the past decade in response to demand from clubbers and festival goers, but it has proved difficult to regulate, and some products have proved lethal.
Matt Bowden, 42, is known as the godfather of the legal highs industry. He was a user of crystal meth – a highly addictive form of amphetamine – in the 1990s until he teamed up with a pharmacologist in New Zealand to find a safer, synthetic alternative. Two family members had died from the effects of drugs and he concluded better substitutes must be developed.
The resulting product, called BZP, sold so well that it was noticed beyond New Zealand's borders. Soon budding chemists everywhere were busy tweaking the molecular structure of existing drugs such as cocaine and cannabis and selling them as "legal" alternatives for large amounts of money.
Dealers found that instead of negotiating an illegal supply of cocaine from dangerous south American thugs they could buy a kilo of mephedrone from a nice man from China with no questions asked.
Now Mr Bowden says that new regulations are needed to protect consumers from the products he helped spawn.
"The goal should be to encourage development of progressively safer alternatives to alcohol and the other drugs," he said, as figures were released showing an explosion in the number of new chemical substances coming on the market and in the number of online shops selling them.
The number of new chemical entities is growing each year and has increased threefold since 2008. Figures from the European drugs monitoring centre in Lisbon show 49 new substances were identified in 2011 up from 24 in 2009 and 13 in 2008.
There has also been a boom in online shops selling legal highs, up fourfold in the UK since 2010. Similar increases have been seen across Europe. Mr Bowden, speaking from Paris where he is on holiday, said the legal high industry should be regulated like the drink, food or medicine industries. He had "stepped back" from running his company Stargate and now acts as a consultant on the industry to the New Zealand government.
"It is clearly possible to regulate. The level of regulation should be commensurate with the level of risk, and the majority of these drugs carry a level of risk far lower than the risks associated with many other normal daily activities including driving a car, swimming off the beach and drinking alcohol.
"However, given the political pressure on the consumption of drugs (other than alcohol) and the availability of technology and screening systems for risk analysis of new drugs developed for the pharmaceutical industry, it seems prudent that parallel systems be implemented for regulation of new psychoactives."
At a briefing in London this week organised by the Science Media Centre experts warned the growth of the industry posed an increasing risk.
Dr John Ramsey, a toxicologist from St George's Medical School, University of London, said: "There are 50 new compounds emerging each year. There were 49 in 2011 and 29 so far this year. What can we do about it? It is clearly not right that young people should be able to buy and use recreational drugs that have never been tested."
Dr Ramsey said it was "always possible" something would be produced that was "really toxic". A drug called MPTP caused symptoms of Parkinson's disease – tremor and stiffness – in every user who took it.
"We haven't had a drug that causes that level of harm since. Drug-related deaths usually involve more than one drug – it is impossible to say which caused it. In very few cases can we say this drug caused this death. But the potential is there for long-term chronic harm."
The appeal of legal highs is based on their price, availability and effectiveness. When supply problems with cocaine, a class A drug attracting the maximum penalty for possession, led to a drop in the purity of the drug available on the street and a rise in price, dealers stepped in, offering mephedrone which was cheaper, purer, Class B and had much the same effect.
In April, the Government banned methoxetamine, also known as Mexxy, under a temporary class drugs order, the first time the new power has been used, giving the Advisory Council of the Misuse of Drugs 12 months to assess its harms.
But the effect of removing it from the market has been to make the advisory council's job in assessing it more difficult because there is less user experience to go on.
Dr Ramsey said: "Controlling this market by restricting supply is pretty much doomed to failure. The only way is to reduce demand. We need to persuade young people taking these drugs is a stupid thing to do."
New drugs: How legal highs beat the law
Anyone who paid attention in their organic chemistry classes will remember compounds being illustrated by a series of carbon, oxygen and hydrogen atoms joined together by little lines. Manufacturers of legal highs pay close attention to these diagrams. The difference between a legal high and an illegal one is often a hydrogen atom here, a carbon atom there.
Over recent years there has been an explosion of compounds which mimic the effects of popular drugs such as cocaine, ecstasy and cannabis but are chemically different enough to avoid falling into the illegal category. Chemical compounds are effectively legal until they are banned, meaning the Government has to be reactive once the chemicals hit the market.
According to the European Monitoring Centre for Drugs and Drug Addication, the number of online shops offering at least one psychoactive substance or product rose from 314 in January 2011 to 690 in January 2012.
Laboratories in countries with less strict laws on manufacturing chemicals are churning out new compounds at a rate of knots. One example which caught media headlines two years ago was mephedrone, a chemical with similar properties to ecstasy, which was shipped primarily from labs in China and marketed as "plant food".
The Government banned mephedrone. But replacements soon filled a gap in the market. Methoxetamine, a popular alternative to the tranquiliser ketamine, was recently put on a temporary ban list. No doubt in a lab somewhere someone is fiddling with a couple of carbon atoms to find an alternative.
Register for free to continue reading
Registration is a free and easy way to support our truly independent journalism
By registering, you will also enjoy limited access to Premium articles, exclusive newsletters, commenting, and virtual events with our leading journalists
Already have an account? sign in
Register for free to continue reading
Registration is a free and easy way to support our truly independent journalism
By registering, you will also enjoy limited access to Premium articles, exclusive newsletters, commenting, and virtual events with our leading journalists
Already have an account? sign in
Join our new commenting forum
Join thought-provoking conversations, follow other Independent readers and see their replies