Meera Syal: 'I didn't want to reach 50 and be full of regrets'
Growing up as part of the only Indian family in a West Midlands mining village meant the actress and writer was always an outsider. And that, she says, was a very good thing. Jonathan Owen meets Meera Syal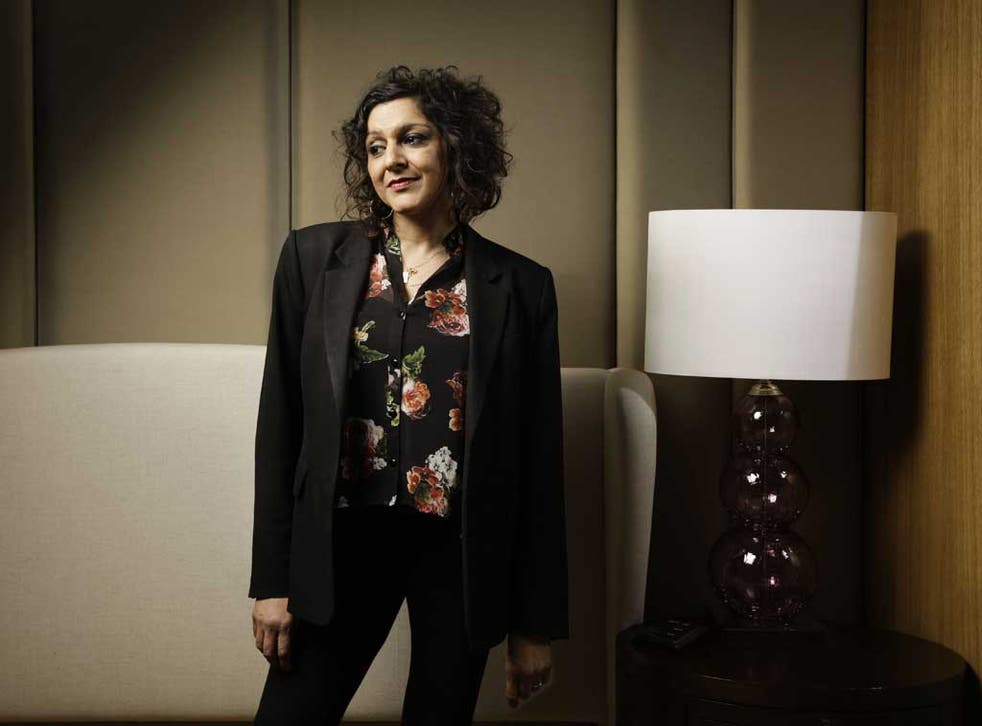 She is the undisputed queen of Asian comedy. She has a spot in the National Portrait Gallery and puts in guest appearances at royal parties. She even has an MBE, for goodness sake. Yet Meera Syal – household name, successful novelist and scriptwriter, award-winning actor on stage and screen – gives the impression that something is lacking.
One of Britain's best-loved performers, more than anything for her success in Goodness Gracious Me and The Kumars at No 42, she rankles at the way she and others are corralled together as "Asian". "It's one of those awkward umbrella terms that's increasingly losing relevance," she says. "We're not just one homogenous lump."
Sitting in the five-star Corinthia Hotel in Whitehall, London, Syal is dutifully promoting her latest film, All in Good Time. In the bitter-sweet comedy-drama, released on Friday, she plays the mother of a son whose marriage gets off to a disastrous start. While the young couple survive their rocky beginning, there is no happy ending for Syal's character when her husband realises that their son is the result of an affair she had with an old friend.
The role is an "homage to my mother's generation, really, and all of those women who have lives full of regret, missed opportunities and sacrifices they've made for their families".
The actress "plugs into disappointed women" very well: "I grew up surrounded by these incredibly vibrant, all-powerful women, or so I thought – until you just scraped the surface and you found out about the lives they had had in India and what they had left behind, the sacrifices they had made. You know someone who was a poet in India who ended up in a factory here, all that kind of thing."
Aware of the danger of becoming a "bitter, disappointed woman" herself, she recalls how she "picked up the smell of it really early on, and it frightened me, and the one thing I thought was I don't want to reach 50 and be full of regrets."
She grew up in the small mining village of Essington, in the West Midlands, where the Syals were the only Indian family. With masterful understatement she describes it as "challenging". Nevertheless, "it was the making of me. Unlike a lot of my Asian contemporaries I didn't live in a heavily Asian-populated area. We were the odd ones out and so I didn't have that 'policing' that a lot of them have, so I had real independence".
The racism she experienced was "really obvious, like '70s-sitcom obvious, like, 'Hey, Paki!' – that kind of thing, not the kind of polite, smiley 'don't sell your house to them' kind of stuff you have now."
The resultant isolation, she believes now, proved her salvation: "Because I was always the outsider, it forced me to look at the bigger picture, and I think that every creative person is somewhere an outsider... you are always having to ask yourself the big questions, like who am I? Where do I fit in? Where do I belong? I realised early on: well, nowhere, actually, but that's not bad, that's good."
She deflected the obvious racism by making people laugh, staved off isolation by focusing on her studies, and won a place at Manchester University, from where she graduated with a double first in English and drama. Then came what she refers to as a "sliding doors" moment. Spurred on by winning the National Student Drama Award for her play One of Us – a semi-autobiographical story about an Asian girl who leaves the Midlands to become an actress – she abandoned plans to do a master's degree in drama and psychotherapy.
She chose the right side of the doors. Professional success followed success, as performer, writer or both – from the film Bhaji on the Beach, and the musical Bombay Dreams, via novels such as Anita and Me, to TV's The Real McCoy, Goodness Gracious Me and The Kumars at No 42.
Her personal life didn't match up. In her twenties she embarked on a relationship with the newspaper journalist Shekhar Bhatia; they married in 1989. "I think I took on the pressure that was all around, really, about being married by a certain age... I was too young in some ways, I was immature."
The marriage didn't last and she was a single mother by 2001, with a daughter, Chameli. Four years later she married her long-time collaborator Sanjeev Bhaskar. The couple live with their six-year-old son, Shaan, in London.
Now 51, but looking 10 years younger, she reflects: "I don't feel I have to prove anything the way I did before. I suppose, I'm much better at compromise, but that comes with being older and wiser. I'm more patient." She fends off questions about the return of The Kumars. Referring to the news as being "outed", she muses: "The chance to reinvent it now and keep it fresh is wonderful... we are keen to reflect the fact that Britain's really different now. I'm not sure how much I'm supposed to talk about this – we're filming it quite soon and all I can say is we'll see."
I ask why the series ended in 2006. "We didn't pull the plug, I think it was just one of those things that often happens when regimes change at channels ... it wasn't on anyone's remit any more."
Although best known as Granny Kumar, the role that won her a Bafta nomination, Syal maintains: "I've never called myself a comedian: I'm an actor who does comedy occasionally." And, before my eyes, she slips "outside" again, bemoaning the fact that Asian comedy has been "incredibly invisible over the past few years" on TV. When asked why that is, she is blunt: "I don't know. Well, when you have a prime minister saying, quite openly, multiculturalism is dead, you sort of know you're in trouble slightly, don't you?" What she describes as a "willingness to embrace new voices and new comedy" in the Nineties was replaced by "a feeling like we've done that; we've now done that, and now we are all equal".
Broadcasters, meanwhile, have failed to nurture Asian talent. "Our stories have been seen, I suppose, as not mainstream still", while black actors have moved on further in terms of escaping labelling "because they've had America fighting their corner earlier than we did, paving the way."
There is light on the horizon, she thinks, "because India is the place where everybody wants to go: everybody is courting the Indian rupee." But subtle barriers remain. "No one would think of possibly putting a black or Asian person into Pride and Prejudice, but, if you delve into history, we were here."
There's a "big difference" between reality and what is depicted on television, she says. In a profession that "prejudges and pigeonholes", Syal believes writing and performing offers her "some kind of variety and control in my career".
She is a consummate interviewee, with limitless one liners, her conversation punctuated by giggles and arched eyebrows. But there is also a steely coolness if pressed on personal matters. Asked what it's like to live with a comedian, she is jokily dismissive: "We're sooo hilarious, we start the day with quickfire jokes in the kitchen!" before deadpanning that they don't work together often and like watching TV.
She interrupts before I can finish a question about allegations of assault against her 19-year-old daughter, who was cleared by a jury in a court case last year. She flatly refuses to discuss it "out of respect" for her daughter, who is "trying to rebuild her life."
Moving gingerly on, I ask if she would still call herself – as she once did – a "miserable git". The gamble pays off: she roars with laughter: "No, I've never been like that. I suppose I'm a nice mixture of Pollyanna and pragmatist. You can't grow up in an Asian family and not be a pragmatist."
The pragmatic part of her recently finished filming a role as a politician in a BBC/ HBO series, Hidden. And, ironically, given her comments about labelling, she will play Beatrice in the RSC's Much Ado About Nothing, opening in Stratford in July.
So, a creature of contrasts: brilliant, yet dissatisfied; bubbly and steely both. I get a final glimpse of this alchemy – and the reason why, eventually, she will resolve what is lacking – as her publicist looms to shoo me on my way. Syal fixes me with her implacable gaze, arches her eyebrows and jokes: "Just say I was really rather wonderful!"
Curriculum vitae
1961 Born in Wolverhampton to Surendra and Surrinder Syal; one younger brother, Rajeev.
1973 Attends Queen Mary's High School, a girls' grammar in Walsall.
1983 Graduates from Manchester University with a first-class honours degree in English and drama. Co-writes play One of Us, which wins the National Student Drama Award.
1987 Appears in Sammy and Rosie Get Laid.
1988 Member of short-lived girl band Saffron, releases a bhangra cover of 'Then He Kissed Me'.
1989 Marries journalist Shekhar Bhatia.
1991 Writes and performs in the BBC's The Real McCoy.
1992 Writes screenplays for My Sister-Wife and Bhaji on the Beach; takes The Oppressed Minorities Big Fun Show to the Edinburgh Fringe. Her daughter, Chameli, is born.
1996 Her first novel, Anita and Me (now on the school curriculum), is published.
1997 Made an MBE.
1998 Writes and stars in the BBC comedy series Goodness Gracious Me.
1999 Second novel, Life Isn't All Ha Ha Hee Hee, is published.
2001 Divorced from Bhatia. Plays the role of "Ummi", the granny, in BBC's The Kumars at No 42. The show runs for seven series.
2002 Writes script for Bollywood musical Bombay Dreams.
2003 Wins Bafta nomination for best comedy performance in The Kumars at No 42.
2005 Marries Sanjeev Bhaskar, her long-time comedy collaborator, and the couple have a son, Shaan.
2010 Plays lead in West End production of Shirley Valentine, winning best solo performance at the Whatsonstage.com awards.
2011 Becomes visiting professor of contemporary theatre at St Catherine's College, Oxford.
Join our new commenting forum
Join thought-provoking conversations, follow other Independent readers and see their replies