Mike Brown: Mister Angry reunited with the Dean
England's new star on the prospect of going up against the coach who shaped him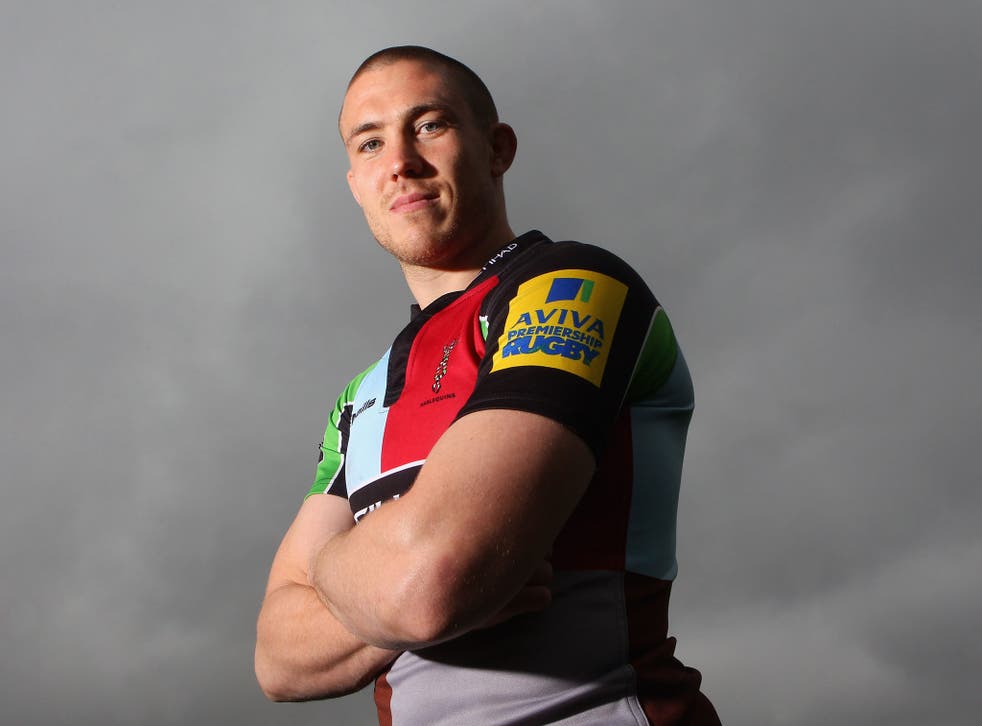 When Dean Richards arrived as head coach at Harlequins in the summer of 2005 with a remit to reverse their fortunes after relegation, it coincided with the emergence from the club's academy of a full-back named Mike Brown. If not yet an angry man – that would come later – Brown was certainly an uppity teenager. "We'd play a stupid game in the team social room," he recalls, "where we'd sit in a circle and you were allowed a one-inch punch on the guy next to you, either to your left or your right. Us academy boys thought we'd be Billy Big Balls and try and do it with Dean. Then he smacked out one of the young props and we thought 'hmm, we'll stay out of that business'."
It should be noted immediately that this is a favourite anecdote, not a cry for retribution. "For what Quins needed then, Deano was brilliant, perfect; he gave us a hard edge," says Brown, 28, who today meets his old boss in competition for the first time since Richards, now making a good fist of another restoration job at Newcastle Falcons, left Harlequins amid the "Bloodgate" fiasco four years ago. "And Dean helped get me my England under-21 cap, because he knew the coach Dorian West and made sure he was aware of me."
Brown in turn is enjoying a resurgence after his own occasional slip between cup and lip: principally when he was fined and reprimanded by England after a boozy night out on a tour of New Zealand in 2008. He had to wait until February 2012 before being capped again, and then it was out of position on the left wing all last season, with Saracens' Alex Goode picked at full-back.
A snarling tendency to show his feelings landed Brown with the "angry man" monicker; he admits coaches, including England's kicking assistant Jon Callard, advised him to "rein it in". But he regained the England No.15 jersey in Argentina in June and it was in his favourite position (his Twitter address is mikebrown_15) that he was voted "man of the series" for the recent autumn internationals comprising wins over Australia and Argentina, and the titanic 30-22 loss to New Zealand.
"If it means we win the World Cup, I'll play on the wing," Brown says, as we chat at Harlequins' impressive new training headquarters at the Surrey Sports Park. "I'm just passionate, and I want to win for whatever team I'm in. The "angry" thing can only be negative if I let it be. As long as I'm not cheap- shotting the opposition or doing anything negative towards my own team… I've never done that. Owen Farrell has the same attitude, and I love seeing it. I know Stuart [Lancaster, the England coach] likes it. If I think I'm getting under someone's skin and putting them off their game, I don't mind. I'm not there to be their pal." Brown is continuing to work every week with the hard-nosed sprint coach Margot Wells, improving his power, strength and running action. Any other alterations? "First of all, I thought I played really well [for England] even when I was out of position. That gave me a lot of confidence that I could step up to the next level.
"Stuart pitched it to me that he wanted his best players out there and there was no way I was going to see that as a negative. But mainly it was about being ready to grab the opportunity when it came."
In the recent matches Brown was excellent in the back field, catching high balls, beating the first man when he ran, or achieving distance and accuracy with kicks to touch. So was it frustrating that we saw little of him in the opposition half, considering his club statistics of 44 tries in 145 Premiership appearances?
"England's defence is one of the best in the world now; our set-piece and breakdown work also," Brown says. "We're still trying to work on our attack, we're still on a journey. There were a lot of personnel changes, which obviously doesn't help.
''But we've got some great runners in the team – and also in the guys who are waiting to play. I don't think you see many strike moves nowadays; it happens more when you get through a few phases. We have got to be better creating opportunities, as New Zealand showed with their offloads."
The backline for England's next match in France remains a matter of guesswork, with Marland Yarde, Manu Tuilagi, Brad Barritt, Joel Tomkins, Ben Foden and Christian Wade injured. But with Brown a mainstay at full-back, Harlequins – put together by Richards but now led Conor O'Shea – won the Premiership in 2012 and are chasing the play-offs again. Newcastle in the league today, followed by Racing Metro home and away in the Heineken Cup, then a trip to Bath should sort the men from the boys, angry or otherwise.
Brown clearly relishes any kind of competition: he has been to three recordings of The X Factor thanks to a relative of a friend who is Simon Cowell's PA. And he was fuming on George Groves' behalf at the "injustice" of the boxer's stoppage against Carl Froch last weekend. "It should have been allowed to go on longer," says Brown, while knowing that his career has never looked rosier.
"Now the hard work really starts," he says, "to make sure I stay in that position."
Register for free to continue reading
Registration is a free and easy way to support our truly independent journalism
By registering, you will also enjoy limited access to Premium articles, exclusive newsletters, commenting, and virtual events with our leading journalists
Already have an account? sign in
Register for free to continue reading
Registration is a free and easy way to support our truly independent journalism
By registering, you will also enjoy limited access to Premium articles, exclusive newsletters, commenting, and virtual events with our leading journalists
Already have an account? sign in
Join our new commenting forum
Join thought-provoking conversations, follow other Independent readers and see their replies