Molly Parkin: 'Jesus would've slept with everyone in the Sixties'
The artist, writer and sexual adventurer turns 80 this week and she's celibate now. Well, apart from the occasional surfer, she tells Matthew Bell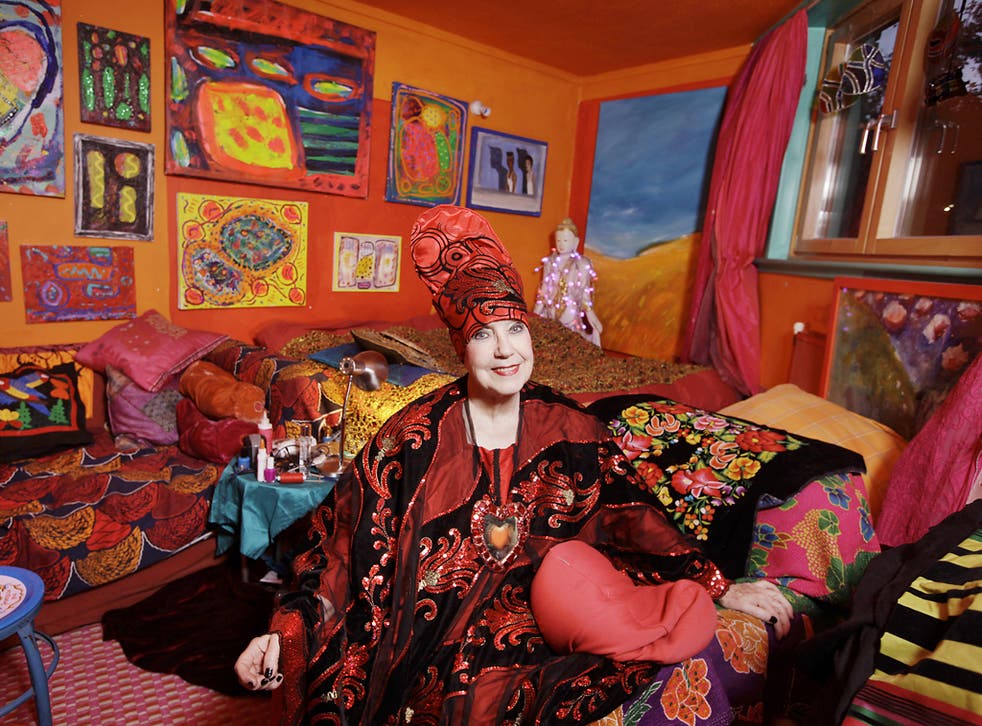 Molly Parkin is a painter, writer, and award-winning fashion editor, but she's just as famous for sleeping with 365 men a year, give or take, during the Sixties and Seventies. John Mortimer; George Melly; Louis Armstrong; John Thaw; Bo Didley – her lovers were as varied as she was energetic, though she's been celibate for 20 years. Well, almost. There was a knee-trembler with a surfer in the disabled loo of Las Vegas airport a few years ago: she was 74, he was 23.
On Friday, she turns 80, and is being feted with a big night at the Chelsea Arts Club, in London. They're painting 20 portraits of their longest-serving member (54 years) on its whitewashed façade, and Barbara Hulanicki, Bob Geldof and Manolo Blahnik are flying in to blow some streamers. The club is paying – just as well – as Molly went bankrupt 10 years ago, and lives in a one-room council flat on the King's Road.
Not that this description does justice to the scarlet boudoir in which I find her, decorated like the inside of a bonfire. "Barbara Hulanicki asked if she could do a shoot in here," Molly yells across a giant heap of purple fabric. "I said, of course you can't fucking shoot in here. It's tiny and I don't want 36 assistants traipsing through."
Molly shouts because of a childhood mastoid infection, and speaks in an endless monologue of "Welsh valley verbal diarrhoea". It's like listening to Elizabeth Taylor read the Arabian Nights, each anecdote leading, unfinished, to the next. In the end, I just shout over her. About the sex, I bellow. Don't all those one-nighters leave you a bit empty?
"No! In the world of bohemia, sex was like shaking hands. It mattered very little. Sex is like giving gifts to each other." But isn't it a special gift, for the person you love? "You can love more than one person. If your heart is open. Look at Jesus – he gave love to the multitudes." Well, he didn't make love to them. "He would have if he'd lived in the Sixties."
Molly has presided over orgies in New York, and written bestselling erotic novels, but she wasn't always promiscuous. Born in 1932, she grew up in a humble chapel-going family in south Wales, and was a virgin until the age of 22. By 1962, she was happily married to the Oxford-educated art dealer Michael Parkin, and they had two young daughters. But one day she discovered he was having an affair and divorced him. Her new freedom coincided with the start of the sexual revolution. Thanks to the milkman, she embarked on a 30-year bender. "Before the divorce came through, I was pregnant. I didn't know by which of the men I was by then sleeping with. It was the milkman who initiated me. I opened the door in my nightie, he came to me and the next thing ..." I leap in: did your husband's infidelity make you hate men? "No! I didn't know how much I loved them until then!"
Parkin then married the artist Patrick Hughes in 1968. She described her many lovers in gleeful detail in her recent memoir, Welcome to Mollywood: from exploits with a strip light to spanking John Mortimer – "I got tired of slapping his botty." But the main benefit of writing it, she says, was to excise the ghost of her father, who abused her as a girl. She told nobody until she was in her 60s, and vomited as she wrote about it. "I had buried it so deep down. Nobody knows unless it's happened to them how it can be with you, you know, all the way through. So it's gone now, and I think of him with total compassion; total love for a damaged person."
Creatively, her first divorce was more damaging. Until then she was a successful painter, exhibiting in Liberty's and selling her work as fast as she could make it, but afterwards she was unable to paint for 25 years. "That's why I went into fashion – to make money. I've always earned more money than any man I know, anyway. But I'm not proud of my decade in fashion. I can hurl together an outfit, but it's a sideline."
She gave up drink in 1987, and the 100 cigarettes a day, which is probably why she's alive and Francis Bacon and other Soho friends aren't. But then Molly is a survivor: an extraordinary life force beams out of her eyes, as she talks about art and the importance of creativity. She won a place at grammar school, scholarships to Goldsmiths and Brighton art colleges, and has always worked and paid her way.
As I leave, she speaks of one of her briefest encounters. On a train with a friend, the inspector gave her a wink, and off she went. "When I got back, my friend looked at me and said I was 'disgusting'. Maybe, I said, but which of us has the wider grin on our face?"
Register for free to continue reading
Registration is a free and easy way to support our truly independent journalism
By registering, you will also enjoy limited access to Premium articles, exclusive newsletters, commenting, and virtual events with our leading journalists
Already have an account? sign in
Register for free to continue reading
Registration is a free and easy way to support our truly independent journalism
By registering, you will also enjoy limited access to Premium articles, exclusive newsletters, commenting, and virtual events with our leading journalists
Already have an account? sign in
Join our new commenting forum
Join thought-provoking conversations, follow other Independent readers and see their replies