Mona Eltahawy: Egypt's angry young woman
Sexually assaulted in Tahrir Square, she fought back by denouncing Arab men's attitudes to women – and starting a storm. Laurie Penny meets her
Laurie Penny
Thursday 17 May 2012 11:00 Comments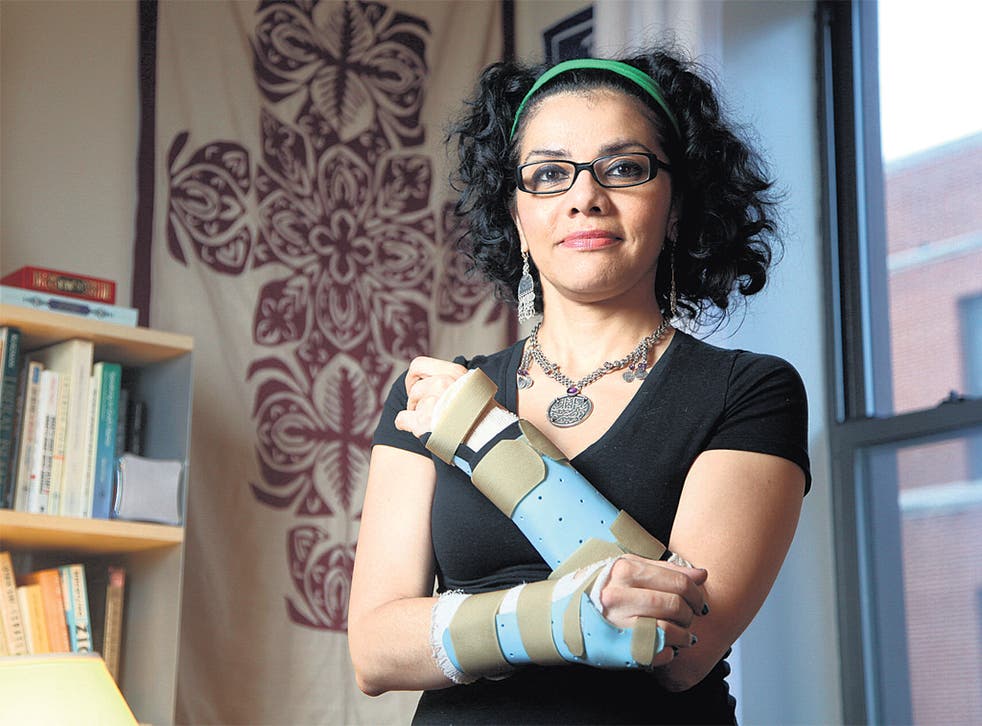 The scars on Mona Eltahawy's forearms have faded to thin white slivers. Six months ago, the journalist and outspoken supporter of the revolution was brutally beaten and sexually assaulted by Egyptian police in a side-street off Tahrir Square. They targeted her arms, her hands. "I thought it was a random attack, but human rights activists told me they knew exactly what they were doing," she says, the silver jewellery on her arms clattering gently. Physically, Ms Eltahawy is still incapable of expansive gestures, but she more than makes up for it in her writing.
We meet soon after the publication of her article for Foreign Policy magazine, entitled "Why do they hate us?", which paints an uncompromising picture of misogyny in the Middle East. Hatred of women, Ms Eltahawy writes, runs like a dark thread through the politics of the Arab world, from driving bans in Saudi Arabia to sexual violence, child marriage and female genital mutilation in Egypt, Afghanistan, Sudan.
To call the piece controversial would be an understatement. Feminists and radicals from around the world have joined the anticipated chorus of disapproval from conservative Muslims, decrying the piece as simplistic, neo-colonialist, offensive to Muslim women – the piece was illustrated with crass pictures of a naked, terrified women wearing "hijab" bodypaint – and damaging to the Arab Spring.
Many of those responses, however, chose not to mention Ms Eltahawy's assault. "I'm really p****d off," she says. "I was at the receiving end of a beating and a sexual assault, so when I talk about misogyny and hatred of women, I've experienced it personally on my body. It's central to my rage. I know I wrote the piece with rage, but I feel it's a justified rage," she says. "Instead of challenging my facts, the reaction has been: 'How dare you make us look bad?'
"When women march, like we did on International Women's Day to parliament, we had to be surrounded by a cordon of men, to protect us. And when I call out the patriarchy that is outside of that cordon of men, I'm told, you don't know what you're talking about, I'm told, you're making us look bad. But it's them that are making us look bad. I'm a survivor. I'm a messenger."
There is arrogance here, certainly, and fierce pride – and you can't help wonder if the same pride would come in for as much condemnation from a male radical journalist in his mid-forties.
We meet in a little restaurant in Harlem, New York, where Ms Eltahawy, 44, now lives, after a brief marriage to an American in 2000. Everyone in the café knows her, and she is greeted ecstatically by the waiters when she breezes in, all wild black hair and bright blue scarves.
Ms Eltahawy grew up in Egypt, London and Saudi Arabia, and has been working as a journalist in the Middle East since the age of 21, reporting for Reuters and The Guardian, and writing columns for Asharq Al-Awsat, before the Saudi publication fired her, she claimed, for being too critical of the Mubarak regime.
"Writing against the regime has been a focus of so much of my work, so I consider myself a part of this revolution from the start," she says.
Ms Eltahawy was hailed as a hero after her assault, but condemned as an Uncle Tom after she blamed misogyny, not just state oppression, for her attack. Ironically, the public is more comfortable with Mona Eltahawy the brave, dignified victim of state sexual violence than Mona Eltahawy the loud, pissed-off survivor, using 10 newly-healed fingers to "poke the painful places" of what she calls "the misogynistic structure of our society".
"A lot of people have looked at my essay and said, well, you've just made Arab women seem like helpless victims. I haven't done that," she says, "To say that there is patriarchy in Arab culture is not denying women agency." Nor is it justification for Western wars of intervention – although many neoliberals have used women's rights as a modesty veil for that precise agenda. Indeed, the same issue of Foreign Policy that ran Ms Eltahawy's latest article features a call for the United States to use "advocating for women" as a weapon in its "smart-power arsenal" – which includes the use of military force.
"Where in my article did I say, come and save us?" Ms Eltahawy asks, her voice rising so that people on nearby tables turn to look. "What I was saying to the outside world was: okay, outside world, here's what I want you to do now. When they tell you that this is our culture, stay out of it, listen instead to the voices of the women in the region who are fighting. The region is going through an incredibly exciting time, and if we don't have this conversation as the revolutions are happening, then once again women will lose."
Perhaps the biggest criticism of Ms Eltahawy's article has been her choice to focus exclusively on Arab misogyny, in a world where the sun never sets on patriarchal brutality.
When I put this to her, Ms Eltahawy gets angry, again.
"Of course there is patriarchy everywhere else," she says. "But, for once, can I focus on my part of the world without having to deal with everyone else's problems first?"
In fact, Ms Eltahawy is adamant that whilst Muslim women may face special obstacles, "across the globe, fundamentalists of all religions are on one side, and their attitudes towards women and towards female sexuality are almost identical."
"In America, there is a Christian brotherhood, just as in Egypt there is a Muslim brotherhood," she continues.
Although she took American citizenship last year, Ms Eltahawy maintains "very strong relations with Egyptians on the ground" and goes to Egypt several times a year. "Since I was attacked I've been going back almost every month," she says. "There's no fucking way [they're] going to keep me away from my country of birth."
"When I get this titanium plate removed, I'm going to get tattooed on this arm the name of Mohamed Mahmoud street, where I was attacked, to forever honour the martyrs of that street," she says, with a naughty smile, like a wise daughter who knows the family secrets and is going to tell. "Then on this arm, I'm going to get Sekhmet, who is the ancient Egyptian goddess of retribution and sex. She has the head of a lioness."
Register for free to continue reading
Registration is a free and easy way to support our truly independent journalism
By registering, you will also enjoy limited access to Premium articles, exclusive newsletters, commenting, and virtual events with our leading journalists
Already have an account? sign in
Join our new commenting forum
Join thought-provoking conversations, follow other Independent readers and see their replies