Morgan Spurlock: 'I was doing funny walks around the house aged six'
With his TV show on Britain starting tomorrow and his film in cinemas later this week, the 'Super Size Me' film-maker is never off our screens. Genevieve Roberts meets Morgan Spurlock
Genevieve Roberts
Saturday 31 March 2012 22:48 Comments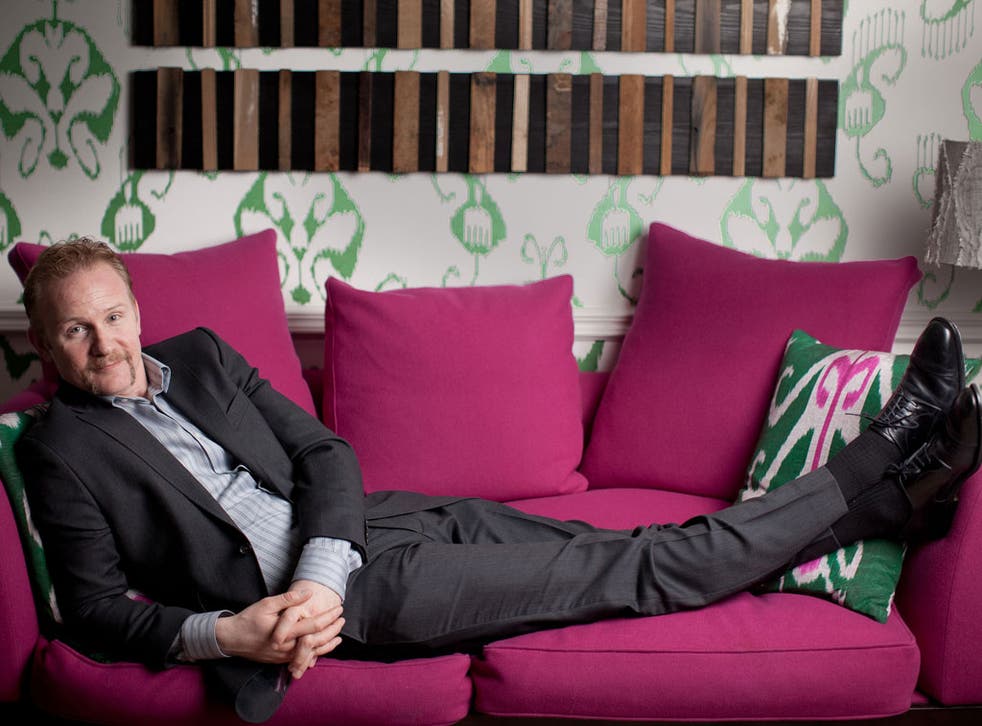 There is almost nothing Morgan Spurlock will not do for public attention. His obsession with the limelight cost him his health – including temporary loss of liver function – a public savaging over his search for Osama bin Laden and, most painfully, his marriage to his childhood sweetheart.
A less driven person might have retreated from the public eye to lick his wounds. Not he. From tomorrow night, and for the next eight weeks, the American film-maker will be back on our television screens as he brings his particular take on life to Britain.
He grew up appreciating Anglophile humour: watching Fawlty Towers, The Young Ones, Blackadder and Monty Python. "I was doing funny walks round the house at six or seven."
This is apparent in New Britannia, a show highlighting the eccentricities of British culture. Spurlock tries making black pudding, speed-hating (you bond over things you abhor), and challenges Brits to take a citizenship test. Almost invariably, they fail.
Whether the series – which tackles, among other things, love, class, foreigners and food and starts tomorrow – is successful remains to be seen. But if sheer, relentless passion could guarantee success, Spurlock would have little to fear. It's no surprise to learn he has been friends with Jamie Oliver since his Super Size Me days: "The thing I love about Jamie is it really matters to him. He walks the walk every day, and he's still just that same guy I met eight or nine years ago that goes out and howls at the moon."
Both lobby for healthy eating, with Super Size Me still shown in health classes in the US. "I'll be that guy till I die," he says. But he's happy with that. In a way, the film represents his essence, the peak of his near-obsession and determination.
But such passion exacts a price. His marriage to Alex Jamieson, a vegan chef who appeared frequently in Super Size Me, ended in divorce – and he believes any blame lies firmly with him. "We split up because I didn't make my relationship my priority," he says. "I was not valuing her the way I should. You have someone who's there to support you, and you take it for granted. I didn't make her as important in my life as I should have. It was all me."
Jamieson – who wrote a successful detox book off the back of Spurlock's super-sizing experience – was pregnant while he was filming Where in the World is Osama bin Laden? and was unaware of the danger he was in, risking gunfire in Afghanistan. When she found out, she felt betrayed.
The film itself was panned by critics. "Everybody hated it," he admits. "They attacked me and attacked the film." But he says that after Bin Laden was killed, news companies rushed to invite him on to their programmes, as he had concluded the jihadist was in Pakistan, albeit hidden in tribal border areas rather than in Abbottabad. Since then, he has directed The Simpsons 20th Anniversary Special, was one of the directors of Freakonomics, based on the best-selling book, and last year released The Greatest Movie Ever Sold, examining – and funded by – product placement.
Spurlock, 41, describes his new partner, a film producer, as "amazing", but says it is hard being away from his son (he has joint custody). It is clear that five-year-old Laken is where his priorities lie. "I just want to be present – it's so easy not to be," he says. "I see my son every chance I get. When I was over here shooting I was flying back every Friday night so I could see him for the weekend."
While his priorities may have shifted, Spurlock is still a busy man. At the end of this week, his new film documentary, Comic-Con Episode IV: A Fan's Hope, with Spider-Man creator Stan Lee and Buffy the Vampire Slayer writer Joss Whedon, is released. "It's like the old and new guard of geekdom," he says.
And his movie Mansome, about the male grooming industry, premieres at the Tribeca Film Festival in mid-April. It's a subject he identifies with, having spent the past eight years shaving around what he refers to fondly as his "ridiculous moustache". He's intrigued by "manscaping" products. "This guy in Utah came out with a product called 'fresh balls'. The name pretty much says it all. It's turning into a mass-market product," he says.
On top of that, he's currently preparing his first scripted movie "about a guy fighting the civil wrongs of the world". Spurlock rails against flaws in US culture. He has travelled to every state, so feels in a position to criticise.
In the same spirit, he has explored a good deal of the UK for New Britannia, though he has yet to go to Wales or Northern Ireland. He's hoping for a second series to rectify that. He likes the North-South divide: a bit like the US, but without the slavery background. "Here, it's divided in ideology and outlook. People in the North think everyone in the South is citified, and everyone in the South thinks people in the North are a load of country bumpkins. This tiny place is so divided!" British politicians are "pale and pasty", and, like the Sex and the City stylist Patricia Field, he thinks David Cameron "isn't in that good shape".
He is a strange mixture of contradictions: proud of the American Dream, but not the US prison system, where he spent 25 days for his series 30 Days. "We have privatised prisons, so we have corporations lobbying for more people to go to prison." A self-confessed liberal, he has no problem with firearms: "I own guns, I grew up hunting deer. The first thing I ever hunted was a squirrel with my grandmother. Then we cooked it up and ate it."
The biggest flaw of his home country, he believes, is xenophobia. "Only 25 or 30 per cent of people even have a passport." But he sees similar problems in the UK: "France is a three-hour train ride, but still people don't go there. You're mentally landlocked. I think we got that from you," he says.
Though highly political, he believes humour is the most effective way to engage, finding many British documentaries unnecessarily dry. However, he admits to an admiration for even more full-blooded car-crash television than he purveys. It's not that he hasn't tried. As the architect of the reality TV show 30 Days, he put a devout Christian into a Muslim family and filmed as he asked around the dinner table whether there was any "sleeper cell activity around here".
I ask if he dislikes being thought of as a Michael Moore Mini-Me. "I'm hoping some of that cash rubs off on me somewhere along the line."
He insists he sees himself as a fan rather than a celebrity and still hangs out with childhood friends. Three or four times a week, he calls his best friend who he's known since he was five. "I've known him so long, there's no pretence. It's great to have friends like that."
I leave him as he is about to embark on a traditional night in a pub. "I drink pints the British way," he says.
Curriculum vitae
1970 Born Morgan Valentine Spurlock in West Virginia on 7 November.
1993 Graduates from New York University's Tisch School of the Arts with a Bachelor in Fine Arts in film.
1994 Works as a production assistant on Leon: The Professional, and Bullets over Broadway.
1999 Wins award for his play The Phoenix at New York International Fringe Festival.
2000 Hosts music festival show TV Fusion and launches web series I Bet You Will.
2004 Academy Award nominated fast food documentary Super Size Me thrusts Spurlock into the limelight. Costs $1m (£625,000) and grosses $30m worldwide.
2006 Marries Alexandra Jamieson, who helped him detox from his infamous McDiet. They have a son, Laken, now aged five, but subsequently divorced.
2007 Makes his on-screen acting debut in slasher flick Drive-Thru.
2008 Goes on the hunt for (then) public enemy No 1 in his second feature documentary Where in the World is Osama Bin Laden?, which is panned by critics.
2011 Releases The Greatest Movie Ever Sold – exploring the world of movie product placement, which is funded entirely by companies and advertisers.
2012 New Britannia launches on Sky Atlantic HD tomorrow.
'New Britannia' airs on Sky Atlantic tomorrow at 10.10pm
Register for free to continue reading
Registration is a free and easy way to support our truly independent journalism
By registering, you will also enjoy limited access to Premium articles, exclusive newsletters, commenting, and virtual events with our leading journalists
Already have an account? sign in
Join our new commenting forum
Join thought-provoking conversations, follow other Independent readers and see their replies