'My classmates came to the rescue when I was threatened with deportation'
Children can be cruel, but when the Government tried to deport Lorin Sulaiman to the land that killed her father, she saw her classmates in a very different light...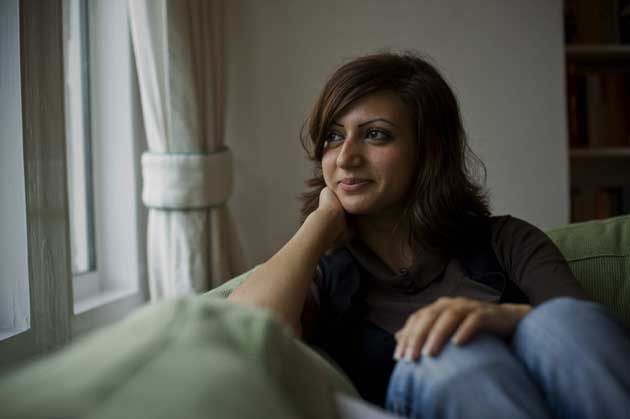 Lorin Sulaiman clasps the prosp-ectus for her university course excitedly. The pretty, dark-haired 18-year-old is as thrilled as any other British teenager about to embark on their degree course. "This is a dream come true," she says. "I can't believe I'm actually about to go to university to study the subject I've set my heart on."
But while Sulaiman has the same sense of anticipation as any other student, her route to university could not be more different. Just four years ago, she could barely speak English. As a 13-year-old Kurdish girl, she had always longed to go to school. She and her family fled persecution in Syria and claimed asylum in the UK in November 2002. They were given emergency accommodation in Birmingham but Sulaiman was told she could not attend school there as the relevant Home Office paperwork had not been processed.
As a Kurd she hadn't been allowed to go to school in Syria like her Arab neighbours' children. She had envied their right to education and was frustrated to find that, on arrival in the UK, she was still denied a school place.
Lorin, her parents and her six elder brothers and sisters, had experienced severe discrimination back home. Her parents were human-rights activists for the political party Yeketi, which campaigns for Kurdish human rights and full citizenship in Syria. As a result of these activities her father was jailed when she was four years old and is believed to have been murdered in prison. Her mother was jailed for five years and tortured. She was released only after extensive bribes were paid to government officials. She had been forced to sign documents giving the government permission to arrest any member of the family involved in human-rights activities on behalf of Kurds, so following her release the family paid an agent to smuggle them out of Syria to a safe country.
The family endured a long and perilous overland journey through Europe, hiding out in safe houses for months at a time. They became separated from one of Lorin's brothers in Istanbul when Turkish police arrived just as they were climbing into a lorry. He didn't have time to jump into the vehicle before it slammed its doors and drove away. "We just have to hope that the police didn't catch him and that he's made a life for himself in Turkey," says Sulaiman sadly.
In the UK, there was a television in the flat the family was given, but the only programme that made any sense to Sulaiman was Teletubbies, because it used such simple language. By watching the programme religiously, Sulaiman taught herself basic English.
In July 2003 the family were moved to Portsmouth and to Sulaiman's delight a school place finally became available, starting that September. Her English improved in leaps and bounds and, although she was almost 14 when she went to school for the first time, she very quickly became a top student – and was even placed on the gifted and talented register for her language skills and chosen to represent her year on the school council.
"I was so eager to learn now that I at last had an opportunity to go to school and I wanted to work as hard as I could to make my English perfect. Teletubbies helped me to communicate with other pupils," she says.
She was the only asylum seeker at the mainly white school and some of the other pupils there came from families sympathetic to the BNP – whose anti-asylum movement was then, according to the headmaster, particularly active in the area. "Some of them wouldn't talk to me," says Sulaiman. They just walked past me and gave me dirty looks. I didn't tell people I was an asylum seeker because I wanted to fit in and be normal."
But one day some of the girls with BNP sympathies started to criticise Sulaiman and a white South African girl at the school. The South African girl had just returned from hospital where her arm had been bandaged after an accident. "Why have you come here to take our money and use our hospitals," said one of the girls. "She was addressing her remarks to both of us. I got very angry and said to her, 'What are you on about? We haven't come here to take your money. I came here because my life was in danger.'"
In November 2004, disaster struck. The Sulaiman family were arrested in a dawn raid and taken to Tinsley House, an "immigration removal centre" near Gatwick Airport. Sulaiman got in touch with her friends and teachers and begged them to do something to get the removal halted.
The school responded swiftly by mounting a huge campaign. In art lessons, they made "Free Lorin" posters and received local media coverage. To her joy, Sulaiman and her family were released from detention a week later. When she returned excitedly to school, a lot had changed. "Some of the BNP kids who'd ignored me and given me dirty looks were coming up to me and saying, 'We'll keep you here, we'll make sure you're not sent back. Don't worry. We had no idea that asylum seekers could go through the kind of things you've been through.' I became friendly with a lot more of the kids after my release."
The teachers had begun raising awareness in lessons. "Some of the pupils were shocked that asylum seekers could be innocent people," says Sulaiman. "Even though some were sympathetic to the BNP, they just wanted to help me. One girl said she'd even go to the prime minister to make sure I wasn't deported. That really touched me."
"While we were in detention we were treated badly but had no power to do anything about it. I know that in this country, unlike in Syria, there are laws to protect people and I decided there that if I could become a human-rights lawyer I could make a difference. It felt like an impossible dream, though. I was a 14-year-old girl who was about to be forced on to a plane back to Syria."
Sulaiman's threatened removal stirred up a great deal of emotion among the students – but the repercussions are perhaps surprising. Derek Trimmer, Sulaiman's head teacher, said that he'd had to arrange counselling for the children with BNP sympathies who'd campaigned on behalf of Sulaiman. "Some of our older students whose views on race were a bit hostile needed counselling because they had very strong feelings about what was happening to Lorin and had difficulty bringing their two views together," he said.
Following their spell in detention, the Sulaimans were given temporary permission to stay in the UK and Sulaiman continued to study, gaining eight GCSEs. In August, she passed her A levels with flying colours and later this month will be taking up a place at university to study law and human rights.
"In Syria, as Kurds, we were considered lower than other people but there should be no difference between a Kurd, an Arab or an English person. Freedom should be a right for all. If my dad, who campaigned so hard for human rights, could see me now, I hope he'd be proud. I want to carry on the work he wasn't able to complete."
Join our commenting forum
Join thought-provoking conversations, follow other Independent readers and see their replies