My Secret Life: Kid Rock, Musician, age 37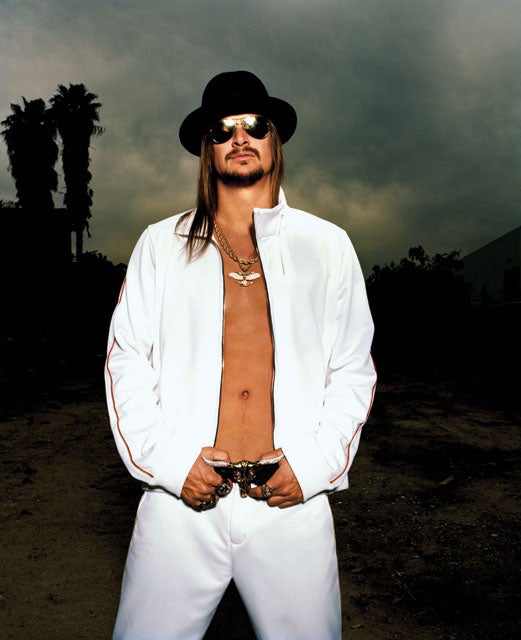 The home I grew up in... was a beautiful, very middle-class American colonial house. It was set over six acres of land and there was an apple orchard out the back. My dad got me selling the apples to our neighbours at an early age.
When I was a child I wanted to be... a performer, ever since I can remember. My spirit has always been in rock'n'roll; and, yes, it is everything I thought it would be.
The moment that changed me for ever... I was riding a tractor when I was young – about five years old – and my brother fell off. His injuries resulted in him losing one of his legs. I think everyone has a definitive moment at some point, when you decide you must live every moment to its fullest.
My greatest inspiration... My son, in every way. He inspires me to get up in the morning, and in some regards he has made me more careful. Children can balance you out sometimes, which is something I was seriously in need of.
My real-life villain... Oprah Winfrey, she rubs me up the wrong way. I just don't believe her. Maybe it's because I'm not one of the 150 million brainwashed women who heed her every word.
My style icon... John Lee Hooker.
If I could change one thing about myself... I'd change the bimbo attractor chip that God must have placed in me at birth.
At night I dream of... In my last dream, my friend [the American hip-hop legend] DMC taught me how to clean my tennis shoes. He explained that he could teach me things about life that I need to know.
What I see when I look in the mirror... My father. And my mother (without the boobs).
My favourite item of clothing... My hat collection would definitely be up there, but to be practical, I might take my belt buckle over the hat.
I wish I'd never worn... a whole lot of things. I know exactly why I did wear them – I was drunk and not thinking properly.
It's not fashionable but I like... free hotel strippers (I mean slippers).
You wouldn't know it but I'm very good at... giving good advice.
You may not know it but I'm no good at... taking good advice.
All my money goes on... slow cars and fast women, which might be why I still have all my money in the bank.
If I have time to myself... I'm not very good at being alone. Maybe I'll sit around listening to music, with a cigar – but really I just enjoy being with people.
I drive/ride... pretty much everything with an engine. I collect cars and bikes. One of my most special rides is a black 1930s Cadillac V16, and then I've got a few West Coast choppers. These are up there with my favourites.
My house is... a colonial-style, southern American farmhouse, set over 50 acres. It has big wrap around porches at the front and a barnyard out back for horses. I wanted to keep it very classic.
My most valuable possession is... I'm not a greedy man, there really is nothing I couldn't live without. But if there was a fire, and I saved my child and my pets, I'd be happy.
My favourite building... The Motown Museum in Detroit.
Movie heaven... would probably be a comedy, watched in a theatre with some character, not one in a strip mall. But the most important thing is who you're with; whatever you're doing in life, it's not where you're at, but the company you keep.
A book that changed me... I don't read books. I like to read newspapers and magazines, but I've never learnt to enjoy books or novels.
My favourite work of art... I like the early graffiti writers, the work of the New York cats from the Seventies and Eighties, which I remember from being a kid.
The last album I bought/downloaded... I downloaded Southern Rock's Whiskey Falls to my iPod, and I'm also a DJ, so I collect vinyl. There's this big jazz shop in Chicago where I bought a John Lee Hooker record just the other day.
The person who really makes me laugh... Chris Rock is a good friend of mine, and he is hysterical. Then there's [the comedian] Dave Chappelle and [the actor and comedian] David Spade; he's king smart ass, he has a retort for everything.
The shop I can't walk past... Gruhn Guitars in Nashville, Tennessee.
The best invention ever... Electricity, or condoms. It's a toss up.
In 10 years' time, I hope to be... alive. I haven't even decided what I'm going to have for tonight's dinner yet.
My greatest regret... She knows who she is.
My life in seven words... Sneezy, Sleepy, Dopey, Doc, Happy, Bashful, Grumpy.
A life in brief
A singer, songwriter and musician, Kid Rock was born Robert James Richie in Detroit, Michigan, on 17 January 1971. He plays several instruments, including the banjo, harmonica and drums, and has sold more than 23 million albums, as well as having an occasional acting career, appearing in CSI: NY and The Simpsons. He hit the headlines in 2001 when it emerged he had been dating Pamela Anderson, whom he later married in 2006, and divorced five months later. The acrimonious split supposedly charged the lyrics in his latest album, the number one hit Rock N Roll Jesus. The first single, "All Summer Long", is out now on Atlantic Records. He lives with his 15-year-old son in Charleston, Michigan
Join our commenting forum
Join thought-provoking conversations, follow other Independent readers and see their replies