Noel Gallagher: Love is... lending your best trainers
When the Oasis guitarist gave up drugs he need something else to obsess about - and began collecting adidas trainers
Jonathan Owen
Saturday 13 July 2013 20:40 Comments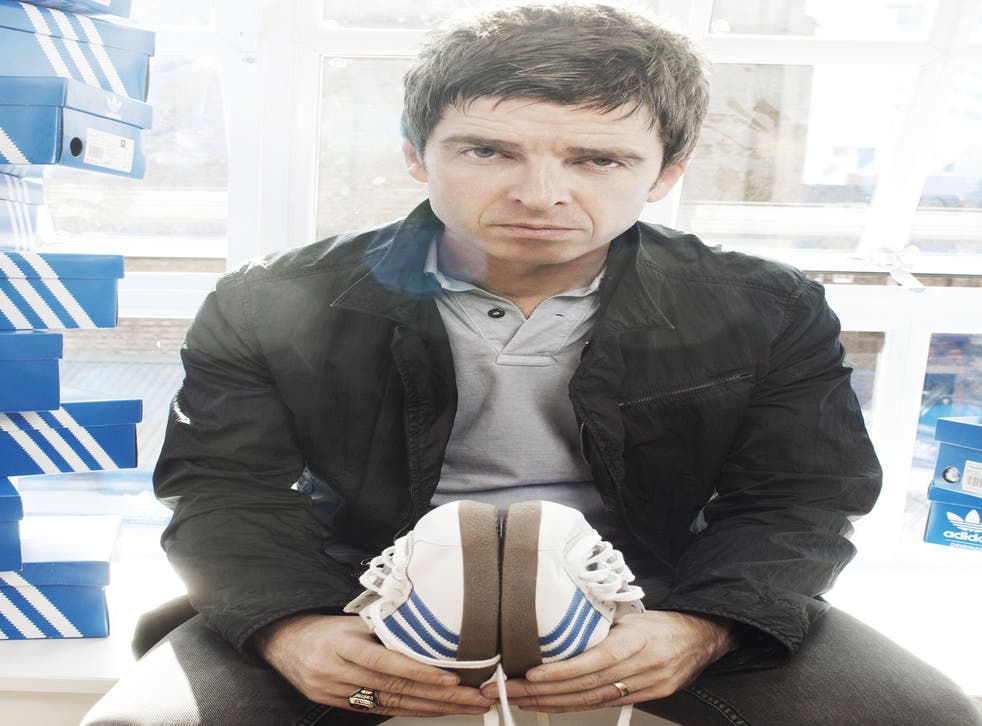 What do you give a millionaire rock star who wants for nothing? The answer, it would appear, is a pair of trainers. And Noel Gallagher likes trainers. A lot. So much, in fact, that they helped fill the void when he kicked his drug habit more than a decade ago. The singer spent years, and a small fortune, on cocaine before quitting the drug in 1998, replacing it with a new fix.
"When I gave up drugs I had to obsess about something, and I'm not into cars, not into jewellery and all that kind of thing, and I had loads of guitars, so I set off on a quest to collect adidas trainers." Adidas was a central part of the Oasis look, along with a Beatles mop of hair and Lambretta jackets. For the young Gallagher brothers, the sports brand symbolised youth culture.
And for Noel and Liam, growing up in Burnage, Manchester without much money meant resorting to crime. "We weren't really in the market for the good gear when we were lads. We were on the dole. We had nothing, so what we had that was nice was mostly shoplifted."
Years later, with the pair selling millions of records and playing to sold-out stadiums as Oasis, Gallagher admits he would spend hours scouring sports shops for trainers instead of sound-checking and doing interviews. "I had silly amounts – you couldn't open a cupboard without 20 pairs of adidas trainers falling out." And he laughs as he admits trying to hide his trainers from his wife by having two pairs in each box.
He ended up with more than 100 pairs of trainers, but several years ago decided to scale back his collection. "I kept the best ones back, I've probably got about 20 or 30 real vintage pairs, and I put the rest back out there – I gave them to charity shops. Funnily enough when I go to Camden market I still see some of my pairs there and I've been very tempted to buy them back."
We are talking ahead of an adidas Spezial exhibition organised by his friend Gary Aspden, a consultant to the company. Opening at the Hoxton Gallery, London on Friday, the exhibition will feature more than 600 pairs of trainers – from the late 1960s to today. Gallagher has lent some of his collection, including his most prized pair of "adidas holiday" trainers.
Surely he must be inundated with free ones? Wrong. "I like buying them. It's like getting shoes, or getting owt for free, like downloading, it's wrong." But at 46, he says his trainer days are numbered. Gallagher once spent a drunken night with Paul Weller when the pair "scientifically worked out that the cut-off age is 50 for wearing trainers".
It is not just fashion that Gallagher dwells on. Institutions like the NHS and welfare system were created "when England had a massive empire and the country was rich," he says. "Our country is not rich any more." New Labour "killed politics" and there is "nothing left to vote for," he adds. "They proved themselves to be the same as the Conservatives, they killed politics in a way."
The former Oasis star has played with his High Flying Birds since Oasis broke up in 2009. After more than a decade together he married Sara MacDonald in 2011. The couple have two young sons, Donovan and Sonny, and Noel has a teenage daughter, Anais, from his first marriage to Meg Mathews.
There's no sign of reuniting with his estranged brother Liam but he seems happy. The singer agrees. He is "writing all the time" and says this is "one of the happiest" times in his life. "1995 to '97 would take some beating but yeah, it's good, man."
Register for free to continue reading
Registration is a free and easy way to support our truly independent journalism
By registering, you will also enjoy limited access to Premium articles, exclusive newsletters, commenting, and virtual events with our leading journalists
Already have an account? sign in
Join our new commenting forum
Join thought-provoking conversations, follow other Independent readers and see their replies