Orlando Cruz: The gay boxer who is breaking barriers
Puerto Rican can make history by becoming the first openly gay world champion on Saturday. He tells Steve Bunce about coming out in the macho world of boxing
Steve Bunce
Wednesday 09 October 2013 12:38 Comments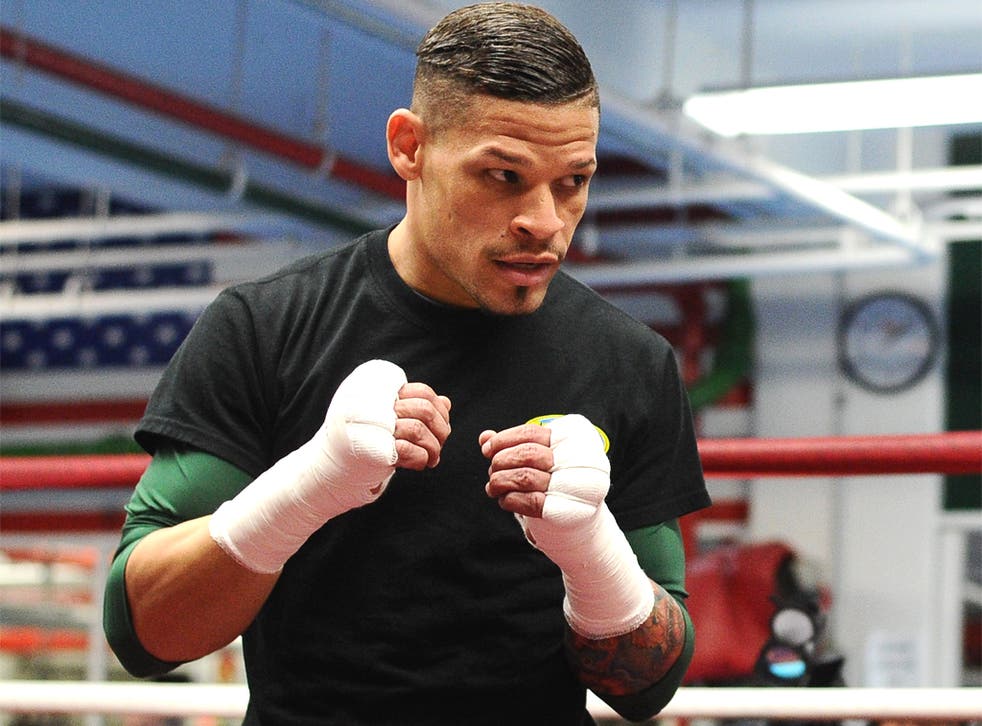 A few years ago there was a boxer on the white-collar circuit in London known as the Pink Pounder and he had a loyal following and a good sense of humour. He was gay and like all boxers, at all levels, he was judged on whether he could fight and not on his sexual preferences; the Pounder, who wore pink, was a nice guy but not much of a fighter and nobody held that against him.
This Saturday in Las Vegas, Orlando Cruz, which is his real name, will become the first openly gay boxer to win a world title if he can overcome the odds and beat Orlando Salido for the vacant WBO featherweight title. Cruz announced he was gay last year, never lost his promoter, never lost his ranking and never lost a single friend from inside the ugly business of boxing.
"I now feel free to just get on with the boxing," said Cruz, who is from Puerto Rico and is based in Florida. "I'm not fighting two opponents any longer and that is a great relief. The nights of staying awake and crying are over."
Cruz fought for Puerto Rico at the Sydney Olympics in 2000 and has been a fringe contender for a couple of years and gay for a lot longer. "I'm a boxer first, I want to be a world champion and remembered that way and not as a gay boxer," he says.
In the Nineties, Christy Martin, another boxing pioneer, said something similar about women in the sport: "I fight for Christy Martin and not for women's rights to box." Martin, who has since survived a murder attempt when her husband shot and knifed her, is now retired and involved in a gay relationship.
"Boxing can be a macho sport and I have heard some gay slurs," says Cruz. "When two guys are in the ring you can hear people calling one a 'faggot' because he's getting beat. It's common and that will change; I can be a part of that change."
However, Cruz, who is 32, is not a campaigner for gay rights just yet and he has politely refused all attempts to crusade on behalf of other gay athletes, men like him struggling to come to terms with telling the people they compete with, or for, that they are gay. However, in private he has obviously spoken to other boxers facing the same dilemma he did last year.
"Perhaps there are other gay boxers and perhaps they are too scared to say anything," Cruz says. "I was scared and it was not an easy decision to make and, like me, they will make the decision when the time is right." Hopefully, there will not be a reverse witch-hunt in boxing, like there is in other sports, where people on the outside become fixated on outing more gay athletes; the people in boxing simply don't care.
"Gay, so what?" replied Salido, when repeatedly asked about Cruz's sexuality. "We are just two fighters and we both want to win the world title." All boxers in world title fights have to undergo and pass a routine HIV test and plenty, none of whom said they were gay, have failed the test.
Cruz has dedicated Saturday's fight to Emile Griffith, one of the greatest boxers in history, who died this summer after admitting late in his life that he had slept with both men and women. Griffith won and lost world titles at three different weights, had 24 world title fights over a 15-year period and was a boxing icon before confirming his sexual preferences. He was from a time when homosexuals were not called "gay" and he hated the word once it was used to describe him when he finally ended three decades of speculation. Griffith had been told not to admit that he slept with men during his career, which is something that Cruz says never happened to him.
Sadly, Griffith was involved in a truly ugly death fight with Benny "Kid" Paret at Madison Square Garden in 1962, when the pair met for the third time. It was, like all great contests, ruthless and in round 12 Paret was trapped on the ropes and Griffith just kept throwing punches until his opponent was unconscious. The Cuban never recovered and died a few days later.
It emerged later that Paret had called Griffith a maricon, the Spanish word for homosexual, and had touched him inappropriately when the pair weighed for the fight; Paret was naked at the time, which is not uncommon for a title fight. In the sixth round of the fight Griffith had been dropped and Paret had laughed, put his hand on his hip and minced his way to a neutral corner just to add a bit of extra edge. There has always been a debate about whether Paret meant it or was just saying it to get under Griffith's skin; Griffith told me that Paret had been made to say it, but that it was heartfelt and meant, which is good enough for me.
Griffith had struggled with his sexuality throughout his career and retirement and in 1992 was left for dead after five thugs on a "fag-bashing" rampage attacked him with baseball bats outside a gay club in New York. "This fight is for Emile because he never had the backing and support that I have had," added Cruz.
On Saturday Cruz starts as a heavy underdog against former champion Salido but will still leave the ring as the first openly gay male boxer to fight for a world title. Win or lose, he is planning a wedding in December with his partner Jose Manuel, probably in New York as same-sex marriages are banned in both Florida and Puerto Rico. He proposed to Manuel on Facebook earlier this year and, it has to be said, if he was thinking of making the transition to gay fighter low-key, then planning a same-sex marriage was a bold move. Cruz was also a first-year inductee into the National Gay and Lesbian Sports Hall of Fame in Chicago this summer, alongside Greg Louganis and Martina Navratilova.
He can also really fight and in the ruthless business of boxing, a sport that has not really changed in 150 years, that is all that matters; it makes no difference if you are black, white, gay, straight, male, female, nice, unpleasant, Christian, Muslim, ugly or handsome, as long as you have guts and can have a fight. I think that is pretty refreshing and Emile would be very proud.
Out and proud: Gay sportspeople
Jason Collins Since coming out as gay, US basketball player has been unable to find an NBA team.
Robbie Rogers Former Leeds and Stevenage footballer who currently plays for LA Galaxy.
Kate Walsh and Helen Richardson GB Olympic hockey players who married in September.
Anton Hysen First active footballer to come out since Justin Fashanu. Plays in Sweden.
Steven Davies Surrey and England wicketkeeper.
Nicola Adams Olympic gold medal-winning boxer at London.
Carl Hester British equestrian rider won dressage gold in 2012.
Register for free to continue reading
Registration is a free and easy way to support our truly independent journalism
By registering, you will also enjoy limited access to Premium articles, exclusive newsletters, commenting, and virtual events with our leading journalists
Already have an account? sign in
Join our new commenting forum
Join thought-provoking conversations, follow other Independent readers and see their replies