Patricia Cornwell: The woman who made crime pay
Kay Scarpetta is back for her 18th adventure, but her creator, the queen of the forensic science thriller, is just pleased both of them have survived. James Kidd meets Patricia Cornwell
Sunday 05 December 2010 01:00 GMT
Comments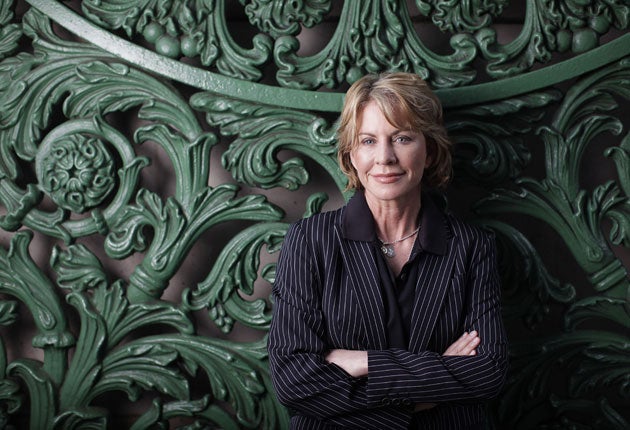 Not many writers can get away with wearing cream-coloured cowboy boots with a dark pin-striped suit. Fewer still would attempt this combination at London's Lanesborough hotel. But then Patricia Cornwell didn't get where she is today by adhering to convention.
She is in London to promote Port Mortuary, the 18th instalment of her Kay Scarpetta series, and her best book for years. Looking fit and younger than her 54 years, Cornwell seems every inch the global literary superstar. So it comes as a surprise when she begins describing what sounds remarkably like a mid-life crisis.
"In my forties, my optimism was boundless. I had really good health and tremendous success which allowed me to do anything I wanted. The world was wide open and I thought everything would only get better. Whatever advance I was paid, I thought I would only get paid more. If I was number one, then there must be some number higher than that." She pauses. "I had no idea that things could go the other way."
Most of Cornwell's problems sound like the stuff of all mid-life wobbles: self-doubt, fear of ageing and worries about health. Others are the sort that would only afflict a high-profile crime writer. Her position as the world's foremost forensic science entertainer was threatened by all manner of CSIs. Hardcore fans complained that recent novels weren't a patch on her early adventures: they were especially disappointed when Scarpetta's first-person narration was ditched for a broader, omniscient point of view.
Cornwell's personal life also came under pressure. In 1996, she was outed as a lesbian in the American press. In 2007, she sought an injunction against a cyber-stalker who accused her of anti-Semitism, murder and killing his cat (honestly). And last year, she discovered that approximately $40m of her personal fortune had gone missing, including a Ferrari that vanished into thin air.
"It's quite sobering," Cornwell says with understatement. "You get into your early fifties, and find you have to wear your glasses all the time. Your workouts don't create the same effect. Everyone is doing forensics. You don't dominate that stage the way you did. Nobody cares that you did it first. You get disappointments."
Cornwell faced down these challenges as she had always done: with a combination of tenacity, adaptability and showmanship. "I shifted gears. I had this idealistic view. It's not necessarily true now, but I'm not a has-been. I'm not writing books that nobody's buying. I work really hard. I refuse to sit on my laurels. I refuse to take things lying down."
In 2005, she married a Harvard neuropsychologist, Staci Gruber; two years later, she told the world. Signs of ageing were dealt with swiftly. "I won't decompose because I've gotten as much cosmetic stuff done as possible. I'll just lie out there in the body farm and look the same for 100 years." Finally, Cornwell took her accountants and stalker to court.
Other parts of her life were reimagined: if the world wouldn't change for Patricia Cornwell, then Patricia Cornwell would change for the world. Having accepted that her readers might have a point, she went back to the first-person narration that made early works such as Postmortem such vivid, if disquieting page-turners. "I think the people who were upset that I left Scarpetta's point of view were right. It wasn't the best thing to do. All I can say is I'm a better writer for having done it."
Nevertheless, Cornwell is glad Scarpetta is back. "She's holding up a hell of a lot better than I am. She doesn't run to the dermatologist all the time and say, 'Fix me, fix me'. I'm jealous. I'll keep her around 50 while the rest of us struggle."
In person, Cornwell is an intriguing mixture of opposites. She can sound insecure and self-possessed almost in the same breath. She says she has learned to listen to her readers: having been contemptuous of the internet in the past, Cornwell is a recent convert to Facebook. "My fans want me to talk to them. And even if they want to be critical, I want to hear what they've got to say."
Displaying the passion of a true convert, she dispenses some sage advice to Barack Obama about the pitfalls of internet social networking. "People don't want to be talked at any more in brilliant, eloquent rhetoric. Why aren't you talking to us, telling us why it was OK to bail out the banks or send troops to Afghanistan?" Cornwell mentions the vacations-gate furore that engulfed the first family in the summer. "Maybe there's a really good reason, but, if I'm paying for it, don't you think [Obama] might want to explain why his family goes to Martha's Vineyard for nine days, costing the taxpayers millions of dollars? I don't want to hear, 'Yes we can', I want to hear why."
Cornwell may have lost some faith in President Obama, but she is convinced he is far better than the alternatives. "There's a scary froth in the States with the Tea Party and these ridiculous Mother Grizzlies, or whatever Sarah Palin calls these women who apparently are today's feminists. They're not today's feminists – they are savage creatures who want to protect their young 'uns. And what are their young 'uns? Any drum they can beat to perpetuate their discriminatory ideas."
Cornwell takes a breath, and cites the US military's "don't ask, don't tell" policy, which excludes openly gay men and women from active service. Declared unconstitutional in September by a federal judge, the law was effectively upheld by the Court of Appeals last month. "You could not get away with that if it was any other group of people. You are saying, it's OK to get your legs blown off, or to be killed, but just don't tell anybody who you are or we will dishonourably discharge you. The message that sends out is that being gay is shameful and wrong."
This tone of reforming zeal is a far cry from Cornwell's conservative heyday. During the 1990s, she was a vocal and financially generous supporter of the Republican Party, not to mention a personal friend of the Bush family: Cornwell refers to the presidential father and son as Big George and Little George. "People don't seem to get it," she says today, with a sigh. "I'm not friends with the Bushes any more. They haven't invited me to Kennebunkport in quite a while."
The immediate cause of the break with the Bushes was Cornwell's criticism of the US invasion of Iraq. When I interviewed her in 2007, a sample quote ran: "[George W Bush] is the worst president we've ever had." The transformation in her political affiliations was driven by changes of a more personal nature: 2007 was also the year she publicly revealed her marriage to Gruber of two years previously. Sexual and national politics have become intimately linked.
"Maybe the good thing about my being gay is that I wouldn't care as much if I wasn't. Maybe I could sit nice and pretty in my fancy hotel room and think I've got life by the tail. But I'm in a high-risk group. I really believe that gays in America right now are today's blacks. People don't want me around. In their minds, Staci and I are going to hell."
It is tempting to interpret Cornwell's entire life in similar terms: that keen awareness of her vulnerability has driven her to succeed. Born in Miami, she had exactly the sort of unhappy childhood that Hemingway believed necessary for a successful writer. Her father walked out on the family on Christmas Day, leaving Cornwell and her two brothers to be raised by their clinically depressed mother.
Left to run wild around her local neighbourhood, five-year-old Cornwell was sexually molested by a local patrolman. "My dad had just gone. My mother was missing in action. This patrolman started chatting and being friendly." Eventually, he enticed Cornwell into the car. "He started being physical – kissing. And I remember thinking, Why is he talking dirty? A little red flag went up in my head about the time his hand went in the pocket of my red shorts. I was just paralysed."
Cornwell was saved by her brother, who rode up on his bicycle at that precise moment. "He saw what this guy was doing, screeched on his brakes and the man fled. I went home and told my mother. Next thing I know there are cops everywhere. It ended with me going before a grand jury and seeing my red shorts passed around the courtroom."
It turned out the patrolman had a criminal record of paedophilia, but no one had done a background check. Cornwell is certain he pleaded guilty and was sent to prison, but has been unable to find the police records. "I want to know his name. I can still see him. He had rotten teeth. Black hair. Real thin haggard-looking, skinny kind of guy. That's what I remember."
The memory might explain Cornwell's sympathy for victims of violent crime in her work. Her need to know the identity of the man who molested her could describe the plot of every novel she has ever written: it is interesting that more than one story involves a perpetrator connected to law enforcement.
Perhaps it also gives an insight into Cornwell's survival instinct. When I ask if she ever regrets becoming famous, her answer is immediate. "No, that would be like wishing I wasn't born. The person who is sitting in this chair was created by this career. I would not trade that for anything. The most important thing for me now is preserving my reputation. Maybe I'm not as successful as I was, maybe I don't look quite the same, but I'm a decent person. I tell the truth. I'm still here."
Curriculum vitae: A life in books
1956 Born 9 June in Miami, Florida. Grows up in Montreat, North Carolina, where the family moves after Cornwell's father walks out on Christmas Day 1961.
1979 Graduates from Davidson College with a BA in English and begins working at The Charlotte Observer, rapidly moving from television listings to writing feature articles to being a crime reporter.
1983 Publishes her first book, a biography of family friend Ruth Bell Graham, A Time for Remembering, which wins the Evangelical Christian Publishers Association Gold Medallion.
1990 Her first crime novel, Postmortem, in which Dr Kay Scarpetta is introduced, is published by Scribner, after being rejected by seven major publishing houses. It is the first novel to win the Edgar, Creasey, Anthony, and Macavity awards, as well as the French Prix du Roman d'Aventure, in a single year.
2002 Publishes the controversial Portrait of a Killer, in which she theorises that the painter Walter Sickert was Jack the Ripper.
2010 Publishes the 18th Scarpetta book.
'Port Mortuary' is published by Little, Brown, price £18.99. The 20th anniversary edition of Postmortem is also out now, £7.99
Join our commenting forum
Join thought-provoking conversations, follow other Independent readers and see their replies