Patti Boyd: My life as a muse
Immortalised in song by lovers Harrison and Clapton, Patti Boyd was the 1960s 'It Girl'. She shows her remarkable photo album to Stuart Husband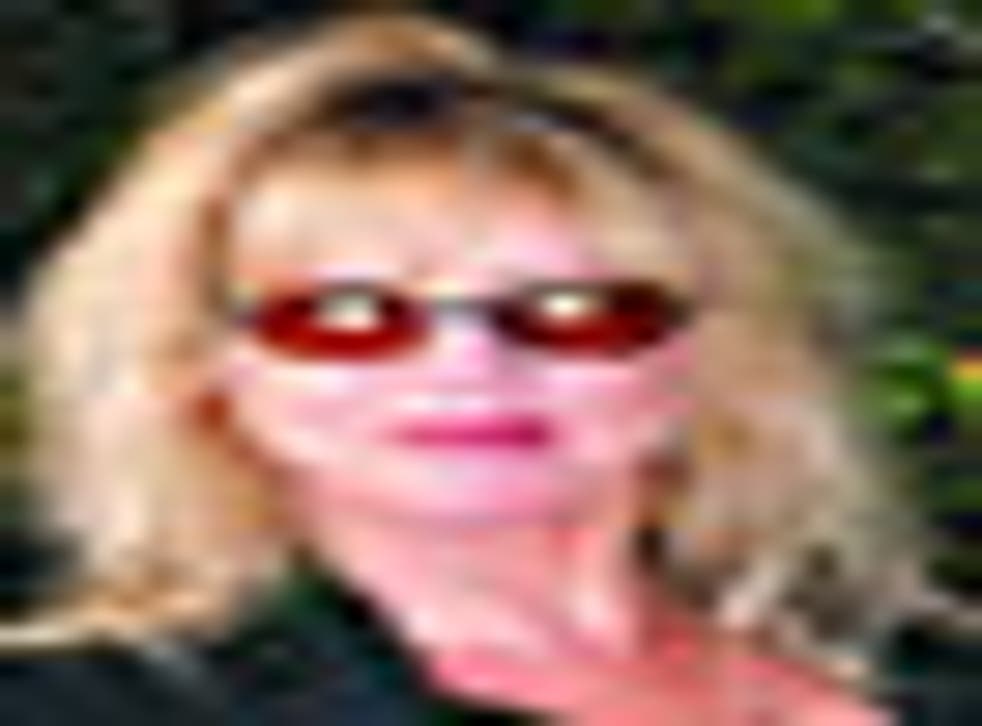 Snapshots of rock royalty - George Harrison, Eric Clapton, Ronnie Wood, even Kate Moss - are displayed in the downstairs loo. A stone Buddha gazes serenely across the lawn toward the distant South Downs, while another plays peek-a-boo through a nook in a box-hedge. And Boyd herself - well, there's something in the way she moves. As she alights from her black Saab (she's just returned from a Pilates class) you're struck by her limber physique, her rock-grand-dame outfit - all layered-black and insouciantly knotted neckwear - and her cascade of mussed-up blonde hair. Then it strikes you: this is the no-way-is-she-62-year-old woman for whom three of rock's most enduring devotional tributes - The Beatles' "Something", Derek & The Dominoes' "Layla", and Eric Clapton's "Wonderful Tonight" - were written. She's passed into pop-culture legend.
"I have led an exceptional life in some ways, yes," she says in clear, measured tones as we settle under an arbour. "I mean," she continues, widening her eyes, "I've been very lucky. I seem to have had a gift for landing in the right place at the right time."
Boyd was one of the original 1960s "It Girls" - a cross between Kate Moss and Nicole Richie without the attendant substance abuse or dietetic drama. Embarking on a modelling career in her late teens, and serially shot by the likes of masters she refers to as "Bailey and Donovan", she was hired by director Dick Lester to star in promotional campaigns as the "Smith's Crisp Girl". When Lester went on to helm The Beatles' movie A Hard Day's Night, he cast her in less-a-cameo-more-a-miniature-role; however, her one line - "Are they looking for prisoners?" - was delivered in a schoolgirl's outfit, which brought her to the attention of George Harrison. The two were wed in 1966, in matching Mary Quant fur coats, and it was Boyd, and her growing interest in Eastern philosophy, that inspired The Beatles' subsequent exploration of transcendental meditation and 1968 visit to the Maharishi Mahesh Yogi's Indian ashram.
Harrison and Boyd divorced in 1977, blaming "divergent interests", and Eric Clapton, who had long carried a torch for Boyd - his "Layla" the ultimate paean to their unrequited love - stepped in. They married two years later, and Boyd was with Clapton through his alcohol and heroin addiction, before they split at the end of the 1980s. The two are still friends; Boyd also remained close to Harrison until his death in 2001.
Boyd has documented these happenings with what she calls "my little snaps" since the late 1960s. Now, an exhibition of some 50 of her photographs is due to open at London's Proud Galleries, and provides an intimate look at some epoch-making lives and times, seen through the eyes of an ultimate insider. There's a barefoot George, John and Paul, hanging out and zoning out; Eric, doggedly plucking at his guitar or posing in what looks like a Bentley/ T42 tank hybrid; mellow Indian and Caribbean landscapes, with passing natives and kneeling camels; and Patti herself, looking like Gwyneth Paltrow's guileless younger sister. Boyd may have learnt about photography before the lenses of the classic 1960s portraitists, but her own work aspires to the ingenuous quality of Doisneau or Cartier-Bresson.
"None of the photos are 'staged' as such," she says. "I just snapped when I thought the time or the light was right. I like their unself-conscious quality; I never felt I was creating a historical archive." She glances over at the impassive Buddha. "I didn't keep a diary in those days, so the pictures form a sort of record, I suppose. They'd all been in boxes and (omega) cupboards for decades until I had my first exhibition in San Francisco last year. Up to then, I thought I might only have three or four of interest." She grins. "I was as surprised as anyone at what I found."
Nevertheless, Boyd professes herself nervous at the prospect of the London show, not only because her life will be writ large on the walls, but also at the judgment of her peers. "I mean, photography is my job now," she stresses. "When Eric and I split up, I knew that I had to do something to make some money, so I did a serious photography course and actively tried to find work. Today, I shoot for magazines and I'm commissioned to do portraits for friends." This has included a 1990s collaboration with Rolling Stone Ronnie Wood; he was commissioned by Andrew Lloyd Webber to paint a large-scale mural triptych of 50 noted celebrities; to help him, he asked Boyd to record each subject photographically. "I have built up a good contacts book over the years, yes," she concedes. "Again, I've been lucky in that way."
Boyd was born in Taunton, Somerset, the eldest of six children of "impeccable middle-class stock". Her father, an RAF pilot, moved the family to Kenya when she was three. Back in London by the early 1960s, she was on the scene in her late teens, living in a cottage in Chelsea along with her younger sister Jenny, who is also immortalised in song via Donovan's "Jennifer Juniper" (and had a brief tenure as Mrs Mick Fleetwood). Boyd wrote the "Patti's Letter From London" column for 16 Magazine ("fashions are free and easy in London... trouser suits are very in... as for fads in words, 'super' is replacing 'fab'''). In Chris Stoddard's book Swingin' Chicks of the 60s: A Tribute to 101 of the Decade's Defining Women, he says she is "an adorable buck-toothed British bird," and a prime example of the era's "innovators and instigators, the models and the mentors, who led the fashion revolution."
"My abiding memory of the 1960s?" muses Boyd. "There was an incredible sense of freedom and space that there doesn't seem to be now. Money wasn't a huge issue then; no one was financially ambitious. Creativity was the thing. It didn't matter where you came from as long as you had something new and different to offer. It was very exciting, and there I was in the thick of it."
It was inevitable that she would eventually be drawn into the orbit of The Beatles, though she confesses that she was only dimly aware of them when she appeared in A Hard Days' Night: "Bailey encouraged me to listen to them. Then when I met them, I was struck by how witty, quick and smart they were. And with these strange Liverpool accents. I'd never heard such a thing before." She blushes. "I'd really had an incredibly sheltered upbringing. I was so naïve."
When Harrison first asked her out, she turned him down: "I had a boyfriend at the time," she says, suddenly rather prim. "But I relented after a couple of months or so and dumped him. It sounds awful, but we were growing apart anyway."
Her life as a Beatle wife sounds, in her telling, not unlike that of her mother's as a forces wife with its mixture of periods of agitation and suspended animation; she got a lot of hate mail, but spent most of her time at their house in Esher while Harrison was on tour, behind a high wall and big gate, "sort of isolated and cotton-wooled."
Boyd describes herself as "quite matter-of-fact, I don't let my head get turned too much." Perhaps for this reason, she's an atypical 1960s child when it comes to drugs - pot was OK, she allows, though she didn't like it that much, but she didn't touch the hard stuff apart from one occasion when she and George's drinks were spiked with LSD during a dinner party at their dentist's, "and we drove down the A3 terrified, thinking we were going to dematerialise at any moment." On the other hand, perhaps she had too much time to think behind those high Esher walls - she was the driving force behind what she calls "the Indian thing".
"I suppose it was the establishment of the hippy trail, though we didn't realise that at the time," she says. "I was the first in our circle to start meditating," she continues. "I guess I just knew that there had to be a more spiritual aspect to life, and I saw a little ad for meditation classes in the back of The Times. That's how it started. To me, it's about plugging into my essence, and calming myself down. We need it even more these days, with email and text anxiety and all of these things we have to keep up that are supposed to make our lives easier. And then India was a real third-eye-opener," she grins. "It was the opposite to England at the time, a real spiritual society."
And the Maharishi - was he a fun guy? "Well, (omega) actually, he does love laughing," she says carefully. "He finds life amusing, but it's from a higher level that perhaps we don't have access to. He'd laugh at things and we'd be baffled. But he was a great speaker. Very wise."
It's comments like these that have led some to compare Boyd with Edwina, Jennifer Saunders' monster of ossified hippy delusion in Absolutely Fabulous. In fact, Boyd, while retaining a childlike openness, often undermines her more portentous pronouncements with self-deprecating giggles; the occasional long pauses she leaves between answers are more a matter of careful deliberation than lost vagueness. One of these ellipses occurs when the question of Clapton's prolonged torch-carrying, and whether there might have been three people in her marriage to Harrison, is broached. "That wasn't the case at all," she says firmly. "George and I had been growing apart and it was only toward the end of our marriage Eric declared his love for me. It wasn't an ongoing situation."
Whatever the ins and outs, the songs Boyd inspired are an awesome legacy. "Something" was described by Frank Sinatra as the greatest love song of the past 50 years; Rolling Stone magazine ranked "Layla" 27th in its list of the 500 Greatest Songs Ever; and "Wonderful Tonight" is up there with Chris De Burgh's "Lady In Red" as a slow-dance staple. Boyd is tickled - she recalls hearing "Something" coming out of a radio (omega) halfway up a mountain in Kashmir, and just resisted the temptation to shout that she was its subject - and yes, she did used to ask Clapton how she looked, and he replied that she looked, well, wonderful.
"But it was only because I was taking too long to get ready," she says, throwing up her hands. "It's less a tribute to me, more a 'yes, you look great, come on, we're late' kind of thing while he's standing impatiently at the bottom of the stairs. Anyway, I think if it had been up to Eric, he'd have stayed in and played his guitar every night," she concludes brightly.
This probably wasn't the only point of contention with Clapton; he himself has said he was "hell to live with" during his strung-out years with Boyd. At one time, he also blamed their marriage break-up on Boyd's inability to have children; something that also lurks in the background of her break-up with Harrison. "It's so disappointing, yes," is Boyd's painstaking response. "One grows up thinking you will naturally be able to have children, and when it doesn't happen it's a shock. But I just feel that it wasn't meant to be."
Boyd puts this lack, and everything else in life, down to fate. What does she mean by that? "I think there's a path cut for us, a destination mapped out," she muses slowly. "Everyone ends up where they're meant to be, and how they got there doesn't really matter." So, to follow Boyd's logic, she's now "meant" to be living on her own for the first time ever, which she's sure is probably good for her, though at times "I have a real wobbly and feel lonely and upset." Still, she reacts to the prospect of her friends attempting to pair her off with some passing silver fox with appropriate horror. So does she have regrets? "A few," she replies, smiling.
There's a very long pause. "I'm not going to tell you what they are," she resumes. "They're mainly about the decisions I made when I was younger and had no understanding or knowledge of life. But you have to cut yourself a bit of slack in the end, I think. I certainly wouldn't have lived through any other era. People blame the 1960s for just about everything these days, but it was the decade when all that post-war furtiveness and small-mindedness was finally blown open and opportunity really came knocking."
That sense of possibility is enshrined in her photos; it seems appropriate, before leaving, to ask which is her favourite. She considers; her face suddenly lights up. "There's one I took of George in south India, just after we'd been meditating in the Himalayas for two months," she says. "He just looks so relaxed and calm and spiritually nourished... and sexy." She shakes her head, and grins. "It was a good moment to capture."
Proud Galleries, in association with Raj Prem Fine Art Photography, presents 'Through the Eyes of A Muse' from 9 June to 23 July at Proud Central, 5 Buckingham Street, London WC2 (www.proud.co.uk). Open Mon-Thurs 10am-7pm, Fri-Sun 11am-6pm, free entry
Join our new commenting forum
Join thought-provoking conversations, follow other Independent readers and see their replies