Paul Kaye & Bertie Carvel: "We'd listen to a record over and over again like kids, squatting on the floor in our pants, eating meatballs"
The two actors met while working on Midsomer Murders and will appear together in the BBC's 'Jonathan Strange & Mr Norrell' in 2015
Holly Williams
Sunday 02 November 2014 01:00 Comments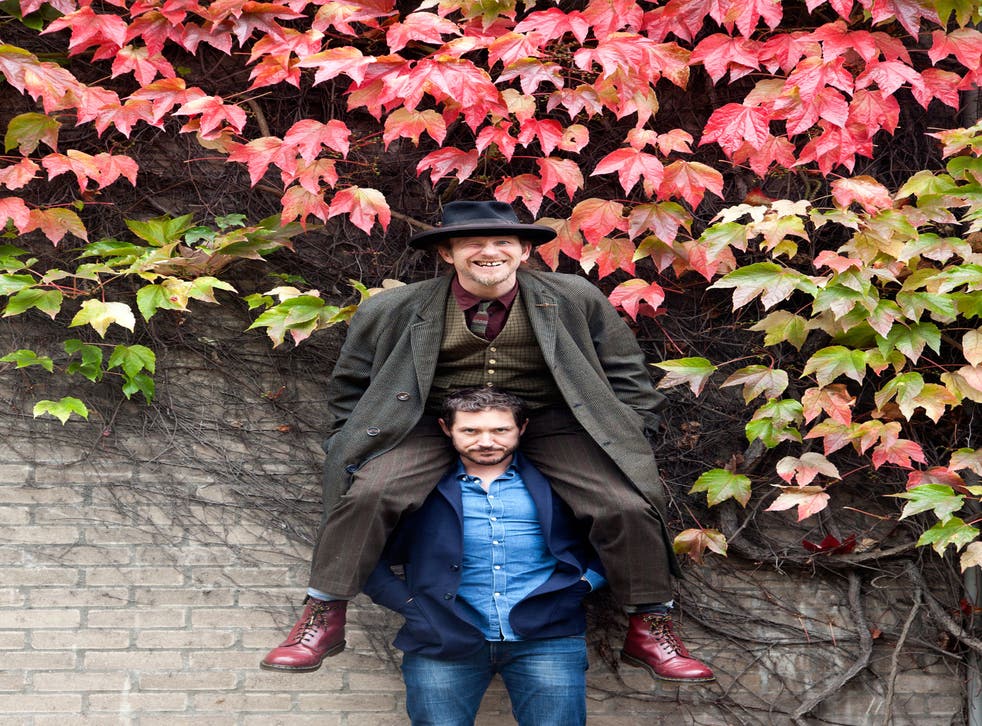 Paul Kaye, 49
After attending art college and playing in punk bands, Kaye (top in picture) became an actor and comedian, known for his Dennis Pennis persona. Nominated for an Olivier Award for his Mr Wormwood in the RSC's 'Matilda the Musical' in 2012, he has also acted in TV series including 'Game of Thrones', 'Pulling' and 'Stella'. He lives with his family in north London
Bertie is in my phone as Gert Stonkers. When I see him, I scream "Stonkers!" at the top of my voice. I think he secretly loves it. He always used to lift my spirits – I'm prone to getting a bit down here and there, but as soon as he bursts into a room, it's a scene-changer. He's just got an invigorating personality. So Gert Stonkers encapsulated that energy, somehow.
I met Mr Stonkers for the first time about five years ago, working on Midsomer Murders. We were love rivals in an idyllic Oxfordshire hamlet. I got my throat cut. When our paths crossed again a few years later in a rehearsal room, to start work on Matilda the Musical, his smile and energy were unmistakable.
I became fascinated by his scrupulous attention to detail and I think he became a little intrigued by my entropic nature; the connoisseur meets the scruffy gatecrasher. What we had in common was our physical approach to performing: "They don't like it up 'em!" was our rallying cry before a show.
I love Bertie's inner rage. He's a real enigma, with a ferocious intensity fused with a beautifully boyish innocence. The night we opened, Bertie became the first person I ever cried tears of happiness with. There's no manly way of saying that.
Stratford-upon-Avon [where Matilda started its run] had transformed itself into something like Narnia in the winter of 2010 and we spent one beautiful weekend with my young son, Geffen, aboard Bertie's barge, navigating our way slowly through the narrow crystallised waterways, with mugs of tea and a sense of wonder about everything. It's a day I'll remember fondly on my deathbed.
Our transfer to the West End the following year took us up and away. Our dressing room at the Cambridge Theatre was our playroom, bedroom, therapy room, fruit-squashing factory, locker room, disco, sanctuary and sanatorium. We'd sit and listen to Natacha Atlas's version of "You Only Live Twice" over and over again like two kids with a new record, squatting on the floor in our pants, eating my wife's meatballs. That sounds unsavoury, but in fact the opposite is true. That time with Bertie will always represent to me the best that life can plonk in your lap.
We're always emailing and texting, and we're like little boys when we meet up. It's like the sort of friendship you remember from your childhood – you don't often get to make such good friends later in life. I'm open to telling him absolutely everything I think and feel – that's what makes it such a special relationship. We've talked about all our life experiences, relationships, everything. I've completely unravelled in front of Bertie many times and it felt shameless and great!
Bertie Carvel, 37
A Rada-trained stage and screen actor, Carvel has starred in the Royal Court's Olivier award-winning show 'The Pride' and Damon Albarn's opera 'Dr Dee' at the Manchester International Festival. In 2012, he won an Olivier for playing Miss Trunchbull in 'Matilda the Musical'. He lives in north London
I met Paul doing Midsomer Murders. We were rivalling for the affections of Nancy Carroll – as any sane man would. I was a not-that-sinister potter and Paul was the much more obviously dodgy handyman, who clearly would have won in a fight.
Who would win in an actual fight? Well, Paul would probably fall over. I don't think I've even seen Paul not throw himself at something and then fall over. I always think he looks like someone who's been drawn in ink, so I'd try to snap him in two, but he's probably extremely hard to kill… He's one of those people who has nine lives. He's got an amazing energy, he's very alive, fizzing with something.
We really got to know each other during Matilda. We shared a dressing room in Stratford and the West End for 18 months. The Stratford part was magical: we were up there in the dead of winter, and I was living on a houseboat on a completely frozen canal. The first time we really got very close was when Paul and his youngest son came out, and we rowed down the canal when it thawed a bit, and I got them totally lost. It was enchanted – snow was falling, swans were flying past…
West End dressing rooms aren't exactly palatial: Paul's room was basically the toilet, I was in the "sitting room" – there was sitting, but no room. We had an electric juicer which I brought in and would use to make various wild concoctions to keep us going through the long, dark months. Between the matinée and evening show, Paul's wife would send in some chicken wings or something, and we'd squat and tear at the bones like Neanderthals, to psych ourselves up for another show.
Often actors make friends, but those friendships don't always survive. But I knew after Stratford that Paul was an exception. It's a bit of a bromance. We live close to each other, and I feel a sense of being welcomed into his family, and being close to his boys.
He's a real family man – unexpectedly, I suppose, because he seems so rock'n'roll, but he's a real sweetheart. He's had his days of punk, but now he's a very thoughtful man. He's gentle – I think of him like a warm bear hug. I've never had an older brother but if I did, I would like one like Paul.
Carvell and Kaye will appear together in the BBC's 'Jonathan Strange & Mr Norrell' in 2015. Bertie Carvel is in Danny Boyle's TV drama 'Babylon' on Channel 4 this month and the second series of 'The Wrong Mans' at Christmas
Register for free to continue reading
Registration is a free and easy way to support our truly independent journalism
By registering, you will also enjoy limited access to Premium articles, exclusive newsletters, commenting, and virtual events with our leading journalists
Already have an account? sign in
Join our new commenting forum
Join thought-provoking conversations, follow other Independent readers and see their replies