Phyllida Lloyd: Prime mover
With Mamma Mia!, she directed the most successful British film of all time. Can she bring the same magic touch to her portrait of Margaret Thatcher?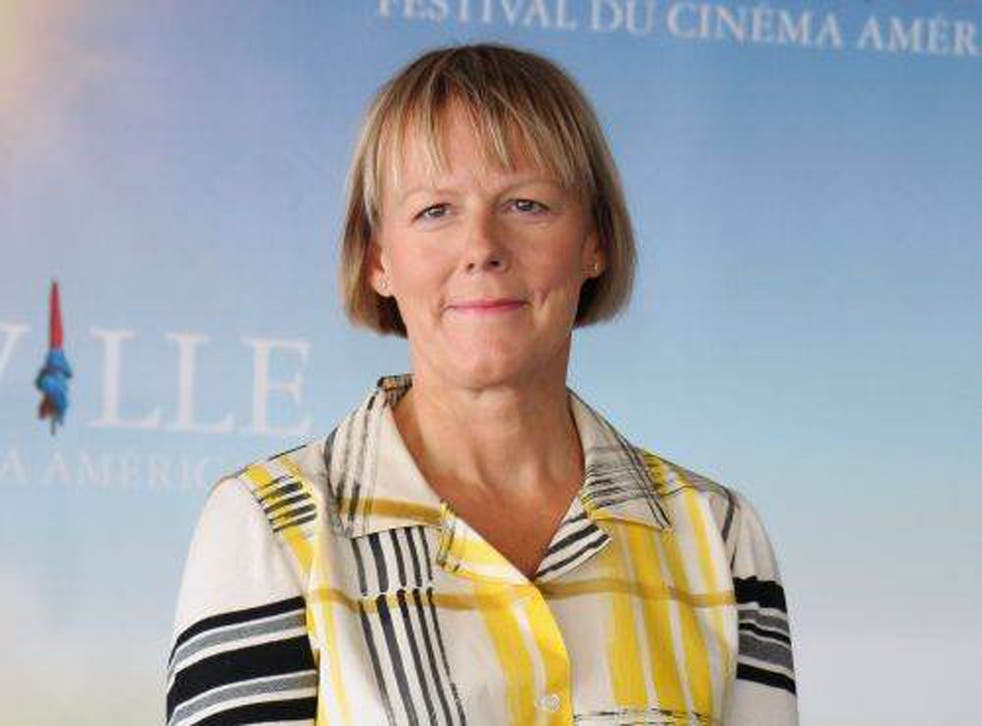 It's a key moment in Phyllida Lloyd's new film. "Gentlemen!" cries an imperious Margaret Thatcher (Meryl Streep) to her cabinet colleagues at a state banquet. "Shall we join the ladies?"
In it, we hear an echo of the popular view that, in her years of power, Thatcher was as tough as any man. But in The Iron Lady, much is also made, cinematically speaking, of Mrs T's feminine isolation amid a power cabal of men. There's an overhead shot of her sky-blue jacket amid a sea of charcoal suits in the corridors of Westminster. There's a floor-level shot of her ladylike cream court shoes, walking beside a herd of black Church's brogues. In the cabinet room, as she hisses "Treachery!" at the quaking ministers around the Power Table, her red/magenta coat isolates her like a bloodstain on a pavement.
It's tempting to draw parallels between the film's director and her subject – the tough, indomitable woman who storms the barricades of a men's club (film direction, Parliament) and triumphs by force of individual will. Tempting but hardly the real story. Phyllida Lloyd is undoubtedly a major figure in British theatre and filmland, a freelance who has directed rapturously received plays in all Britain's major theatres and who confidently helmed the most successful British-made film of all time. But she seems to have succeeded by her unique powers of empathy with collaborators, especially with women.
The Iron Lady is unusual in having four women in key positions of power: scriptwriter (Abi Morgan), director (Lloyd), editor (Justine Wright) and lead role (Streep). Cameron McCracken, managing director of Pathé, the film's distributor, is airily referred to by Streep as "an honorary girl".
Lloyd and her formidable team had surprisingly little trouble persuading Thatcher's former colleagues to talk about her. "Everybody we approached was happy to talk to us, given that they hadn't read the script, had no idea of what we were doing or of our credentials," she told The Spectator, adding that Norman Tebbit has actually complained because he hadn't been asked to give his two penn'orth. Had the MPs seen the film, they might have been dismayed by the sight of a senile Thatcher ("I wouldn't want to see my own mother portrayed in that way," was Michael Portillo's reaction) but couldn't have faulted its political neutrality. Lloyd isn't concerned with the fate of the miners' unions or of the Belgrano, but with the more Shakespearean theme of public power and the agony of feeling it fade.
Thirteen years ago, Lloyd was part of a similar (and similarly unusual) all-women collaboration, when the British producer Judy Craymer commissioned the British playwright Catherine Johnson to write the script for a musical based on the songs of Abba, and asked Lloyd to direct it on the London stage. It opened in 1999 and is still in the West End, having transferred to the Prince of Wales in 2004. Lloyd went to Canada to direct its transfer, and later opened it to rapture and acclaim in San Francisco, Los Angeles, Chicago and Broadway, New York, in 2001.
It's ironic that her gender, in a man's world, never bothered Phyllida Lloyd until three years ago, when she came to direct Mamma Mia! the movie. "I didn't realise I was a woman director," she told The Hollywood Reporter, "until I walked on to the set at Pinewood studio; everybody was calling each other 'Governor' or 'Sir' – and then looking at me [and saying] 'Well ... good morning'."
Despite this unpromising start among Pinewood's unreconstructed sexists, the film grossed £390m, the most successful British-made film of all time, the highest-grossing musical of all time – and when the DVD came out in November 2008, the biggest-selling DVD in the UK ever. (Despite receiving awful reviews. The Guardian's critic said it made him feel sick. The Daily Telegraph called it "a total shambles", while an online reviewer called the film "so base, so shallow and so hinged on meaningless spectacle, it's amazing it wasn't made for men".)
For those scanning Lloyd's CV, Mamma Mia! seems an excrescence, an anomaly, a lowbrow barnacle on a spectacularly highbrow career as a theatre and opera director. What on earth, one might ask, persuaded a woman of serious artistic intent to turn her back on Shakespeare, Aeschylus and Brecht and go all Hollywood? How could a director who'd overseen Wagner's Ring (for God's sake) bear to direct the karaoke warblings of Pierce Brosnan and Colin Firth? Others might claim it was just one more golden arrow in Lloyd's amazing quiver. Over 25 years, she has tried her hand directing many forms of drama and, as Dr Johnson said of Oliver Goldsmith, has touched nothing that she hasn't adorned.
Born and raised in the village of Nempnett Thrubwell (immortalised by the Wurzels) near Bristol, she initially aspired to be an actress but, after taking her degree in drama and English at Birmingham University, felt happier instructing others in how to act, walk, emote and declaim. Awarded an Arts Council grant to be a trainee director in Ipswich's Wolsey Theatre while still at the BBC, she was appointed associate director at the Everyman in Cheltenham in 1986 when she was 29. A year later, having worked at the Bristol Old Vic, she mounted her first Shakespeare play, The Comedy of Errors.
Her rapid rise took her to Manchester's Royal Exchange (for The Winter's Tale, The School for Scandal and Medea), then to the RSC, where she boldly launched two barely known plays by unfamiliar playwrights, Thomas Shadwell's The Virtuoso and Alexander Ostrovsky's Artists and Admirers. The critics sat up and took notice.
Lloyd's 1992 production of Six Degrees of Separation at the Royal Court transferred to Shaftesbury Avenue. Her Pericles at the National and Threepenny Opera at the Donmar completed a full hand of productions in the country's major theatres. In the early 1990s, she was encouraged to direct opera and made an effortless transition to Opera North with a piece of wilful obscurity – L'Etoile by the composer and pianist Emmanuel Chabrier. A succession of opera successes culminated in a complete Ring cycle at the ENO, while she kept a hand in drama: a notable success was Schiller's Mary Stuart, about the relationship between Mary Queen of Scots and Elizabeth I starring Janet McTeer, which started at the Donmar in July 2005 and ended up on Broadway in 2009, with seven Tony Award nominations. Among other themes, Lloyd fascinatingly explored the trauma of women in high office, isolated from the world around them. Sound familiar?
Part of the secret of Phyllida Lloyd's success has been her collaborations with artists she uses again and again. "It's Phyllida's extended family," said her long-time theatre designer Anthony Ward in 1997, "a jigsaw puzzle of people, all connecting at certain times in different ways." Along with Ward, they include Gary Yershon, the composer, Rick Fisher, the lighting designer, and Jonathan Lunn, the choreographer. Yershon and Lloyd go back to the Everyman in Cheltenham in 1986 – when she moved to the Bristol Old Vic in 1989, they came with her. They and Ward formed a design-music-direction troika that produced a string of hits – The Comedy of Errors, A Streetcar Named Desire, Oliver Twist, Dona Rosita – at the Almeida. "Perhaps we celebrate the same kind of theatre or we're aspiring to a common, indefinable something," Lloyd said in the late 1990s. "It's very rare for one of us to recognise something and the others to go, 'I don't get it'. If a moment has a particular meaning, all our eyes light up."
Now 54, she is garlanded with honours, from her own profession and beyond. In 2006, she became the Cameron Mackintosh visiting professor of contemporary theatre, and was awarded an honorary degree by Bristol University. In the 2010 New Year Honours List, she was appointed a CBE. She's currently No 22 in The Independent on Sunday's Pink List of 101 "most influential gay and lesbian people in Britain today". If, as seems a racing certainty, the performance she extracted from Meryl Streep in The Iron Lady wins an Academy Award, she will be lionised in Hollywood. And she will inspire a new generation of women directors. Asked if she had any advice for them, she said: "You will get there if you are determined, and you don't have to be a gorgon to do so... Have confidence that directing is a very suitable job for a woman – with our gift for collaboration, listening and reading the nuance of things."
A life in brief
Born: Phyllida Christian Lloyd, 17 June 1957, Bristol.
Family: Parents are Pat and Margaret; her partner is Sarah Cooke.
Career: After Birmingham University Lloyd worked at the BBC before becoming associate director at the Everyman Theatre Cheltenham and Bristol's Old Vic. She went on to direct several productions at the Royal Exchange Theatre in Manchester and in 1991 made her directorial debut at the RSC. She is also renowned for her direction of operas. In 2000 she directed the made-for-TV film adaptation of the opera Gloriana. In 2008 she directed the film version of the hit Abba musical Mamma Mia!. Her latest film, The Iron Lady, is released week.
She says: "Movie making is an extreme sport on many levels. It requires stamina such as I had never imagined."
They say: "Smart, truthful, organised, no bullshit." Meryl Streep, actress
Register for free to continue reading
Registration is a free and easy way to support our truly independent journalism
By registering, you will also enjoy limited access to Premium articles, exclusive newsletters, commenting, and virtual events with our leading journalists
Already have an account? sign in
Register for free to continue reading
Registration is a free and easy way to support our truly independent journalism
By registering, you will also enjoy limited access to Premium articles, exclusive newsletters, commenting, and virtual events with our leading journalists
Already have an account? sign in
Join our new commenting forum
Join thought-provoking conversations, follow other Independent readers and see their replies