Raymond Briggs: Seasonal torment for The Snowman creator
Though he doesn't enjoy Christmas, his creations have become an indelible part of it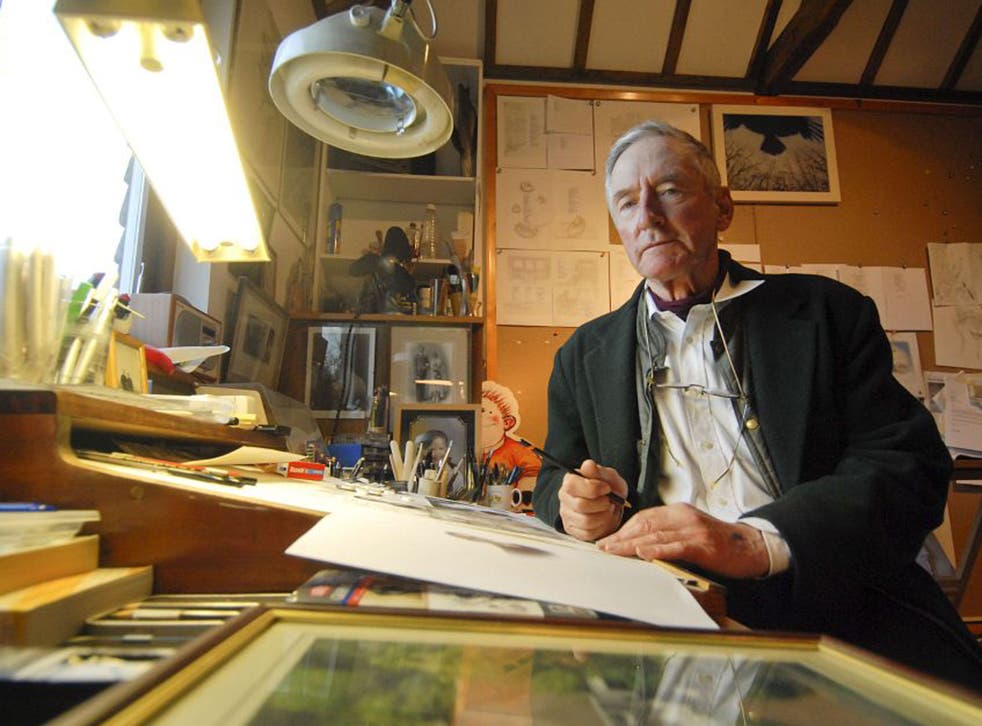 He has done for snowmen what Walt Disney did for mice. He's brought to children's literature the trashiness of the comic strip and the vulgarity of Rabelais. He's shown us amazing sights – a nuclear explosion, a close-up of bear fur, a bogeyman in love, Father Christmas sitting on the lavatory. And he has dealt in one activity seldom seen in books for young readers: grumbling. Raymond Briggs is the poet laureate of British grumpiness.
His finest creation, Father Christmas, is very British and very dissatisfied. He complains all through the book, about the cold, the rain, the rooftops, the physical strain of delivering gifts all night. The magic and wonder associated with the white-bearded philanthropist are scaled down until his work becomes just another job carried out by a grumbling, working-class geezer, looking forward to nothing more than dozing by his fire with a Scotch.
Grumbling is a favourite activity of the author, too. For years, he has cultivated an image of himself as a purse-lipped, fun-hating, put-upon malcontent. Ten years ago, answering questions on Blue Peter, he described himself as a "miserable git". On Desert Island Discs, he told Sue Lawley that he didn't enjoy Christmas: "I don't know anyone who does, except maybe small children." On Christmas Day, he said, "I'd like to go down into an Anderson shelter and wait for it to blow over." Childless himself, he claims not to enjoy the company of kids; when relatives visit with their adorable offspring, his main emotion is to wonder how long they'll stay. He doesn't like travelling, he says, can't stand jetting around the world. After his wife died, friends persuaded him to join them in visiting Paris, New York, Scotland. It was all, he says, "fairly ghastly".
This strenuous curmudgeonliness is the default setting for a certain kind of Englishman, from Samuel Johnson to Victor Meldrew via Philip Larkin – men who distrust enthusiasm, scoff at optimism, refuse to be taken in by talk of love, duty or virtue. Though rumoured to be a kind and generous man, Briggs is part of this gloomy company. One of his favourite subjects is death. It's there on the last page of The Snowman when the boy comes out in the morning, after a night of adventure, to find his exciting new friend has melted. When The Snowman was taken up by the animator Dianne Jackson, extended to take in a visit to Santa Claus, given a lush score by Howard Blake, screened on Channel 4 in 1982 (repeated every Christmas since, as reliable a seasonal fixture as the Queen's speech) and nominated for an Oscar, Briggs was probably the only viewer who didn't like it.
He recently told The Independent that the story is a fable about death, to introduce children to the concept of mortality. "I don't have happy endings," Briggs told the Radio Times. "I create what seems natural and inevitable. The snowman melts, my parents died, animals die, flowers die. Everything does. There's nothing particularly gloomy about it. It's a fact of life." Dragging in Christmas, he said, was "a bit corny and twee". And now, to spoil his December this year, a 24-minute sequel, The Snowman and the Snowdog, will be screened on Christmas Eve, to celebrate the 30th anniversary of the original. The animation has been done the old way, using 200,000 drawings and no CGI. This week in an interview, Briggs told Jon Snow that he was grudgingly impressed, despite having been against the idea of a sequel for "a few decades".
This may suggest that Briggs is all about nostalgia for the past, conservatism and the comfy-cosy school of fuzzy-line illustration. Nothing could be further from the truth. A subversive love of the downmarket comic strip enlivens his books, speeding the reader's eye through a succession of images, like a film playing at 24 frames a minute. His books are essentially graphic novels, crammed with detail of life in the 1950s (the novelist and critic Blake Morrison said of Briggs's memoir, Ethel and Ernest, that if it hadn't been non-fiction, it could have been a contender for the Booker prize) and their author takes remarkable risks in achieving his ends. In When the Wind Blows, a nuclear explosion is signalled when the reader turns the page and is confronted by a double-page spread of pure, apocalyptic white. In Bear, the girl is enfolded into the bear's embrace until we can see hardly anything but soft, pelty whiteness.
And Briggs is politically sensitive, his books a series of statements about the dignity of the common man, ground down by work from which he can't escape, his fate decided by the whim of others. When the Wind Blows in 1982 was a domestic drama about the nuclear holocaust, a satire on the stupidity of the government's warnings about how to survive it. The Tinpot Foreign General and the Old Iron Woman (1984) was a crushingly sceptical response to the Falklands War. And you could argue that Fungus the Bogeyman is another fed-up working-class man, mired in degradation, wondering what the point of life is supposed to be. His responses to both the political hierarchy and the class war can be laid at the door of his strongest influence – his parents.
Briggs was born on 18 January (also AA Milne's and Arthur Ransome's birthday) in 1934 in Wimbledon Park. His father was a milkman, his mother a former lady's maid in Belgravia. They were hard-working, respectable people. Pictured in her son's books wearing fluffy slippers and a pinny, his mother thought herself refined and worried about what the neighbours thought. His father delivered milk in the early morning, working in cold, dark and lonely conditions like Father Christmas.
When Raymond was evacuated to the countryside, he drew little pictures in the margins of letters home. He won a scholarship to Rutlish Grammar School and was given elocution lessons, but hated the school's snobbishness and sport obsession. Applying to Wimbledon College of Art, he announced that he wanted to do cartoons, like the ones in Punch, whereupon his interviewer exploded with contempt.
After national service, he joined the Slade and tried oil paintings but knew they weren't his forte. In 1957, aged 23, he left the Slade (and the parental home) and began to illustrate, but was shocked by the quality of the books offered to him. He began to produce his own: story, pictures, even a new typeface. His 800 illustrations in The Mother Goose Treasury won the Kate Greenaway award, in 1966. Jim and the Beanstalk followed in 1970 (featuring a perma-grumbling, but poetry-loving giant).
But these were standard-issue children's picture books in a traditional 32-page format. Father Christmas (1973) was the first to use comic strip to speed up the narrative and allow a range of emotions – including boredom and wistfulness – to seep from the pictures. Brigg's wife, Jean Taprell Clark, a painter, whom he married in 1963, died shortly after Father Christmas came out. She'd been diagnosed as schizophrenic, and died of leukaemia. Briggs wrote movingly: "Schizophrenics are inspiring people. Her feelings about nature and experiences of life were very intense."
Four years later, Fungus the Bogeyman startled the publishing world, with its joyous plunge into the world of bodily fluids, zits, corns, snot, mucus, slime and every other excrescence of embarrassing humanity. Reviewers were ecstatic, parents less so.
After years of immersion in the septic tank of Bogeydom, Briggs wanted to do something "clean, nice and silent": that became The Snowman (1978), an instant bestseller. By now, the visual media had come a-calling. First television, then film, then stage embraced Briggs's cantankerous toy-maker and his flying snowmen. His works went multi-media. By 2006, dramatisations of The Bear and The Snowman appeared in London theatres, and the unlovely visage of Fungus the Bogeyman appeared on postage stamps.
Briggs has lived in Sussex since 1961, when he took a part-time teaching job at Brighton Art School. His partner of 30 years is called Liz; she has children and grandchildren, about whom Briggs is still exasperated. Thinking of Christmas, he said recently: "The anxiety starts in October: how many are coming? Are they bringing grandchildren? How long will they stay?" He and Liz live semi-apart because his house is too cluttered with work to accommodate them both. He lives a simple, frugal life, buying his clothes in charity shops, refusing to travel, working at his imaginings of flying through the air with bears and snowmen, or recalling his parents' small, decent lives in loving detail.
In 2006, a three-year-old surrogate granddaughter looked at him across the dinner table and said: "He's not a normal person." You can see what she meant.
A Life In Brief
Born: Raymond Redvers Briggs, 18 January 1934, Wimbledon, London. Only child of Ethel and Ernest Briggs.
Family: Married to painter Jean Taprell Clark (died 1973). Lives now in Sussex with Liz, his partner of 30 years. No children.
Education: Attended Rutlish Grammar School, then Wimbledon School of Art, Central School of Art and the Slade.
Career: Became a commercial illustrator in 1957. Published Father Christmas (1973), Fungus the Bogeyman (1977), The Snowman (1978), When the Wind Blows (1982), The Tinpot Foreign General and the Old Iron Woman (1984), Ernest and Ethel (1999).
He says: "I wish I could be a proper writer, having to do only the words. Proper writers can start at the beginning, go on till they get to the end, then stop and hand it in. Luxury."
They say: "Social historians have said much less at much greater length, and with much less warmth and affection." Nick Hornby
Register for free to continue reading
Registration is a free and easy way to support our truly independent journalism
By registering, you will also enjoy limited access to Premium articles, exclusive newsletters, commenting, and virtual events with our leading journalists
Already have an account? sign in
Register for free to continue reading
Registration is a free and easy way to support our truly independent journalism
By registering, you will also enjoy limited access to Premium articles, exclusive newsletters, commenting, and virtual events with our leading journalists
Already have an account? sign in
Join our new commenting forum
Join thought-provoking conversations, follow other Independent readers and see their replies