Rich Ricci: Most of those blamed for the credit crisis have gone to ground, but not this Barclays investment banker
Share and share alike – or not. It was business as usual for one of Barclays' bosses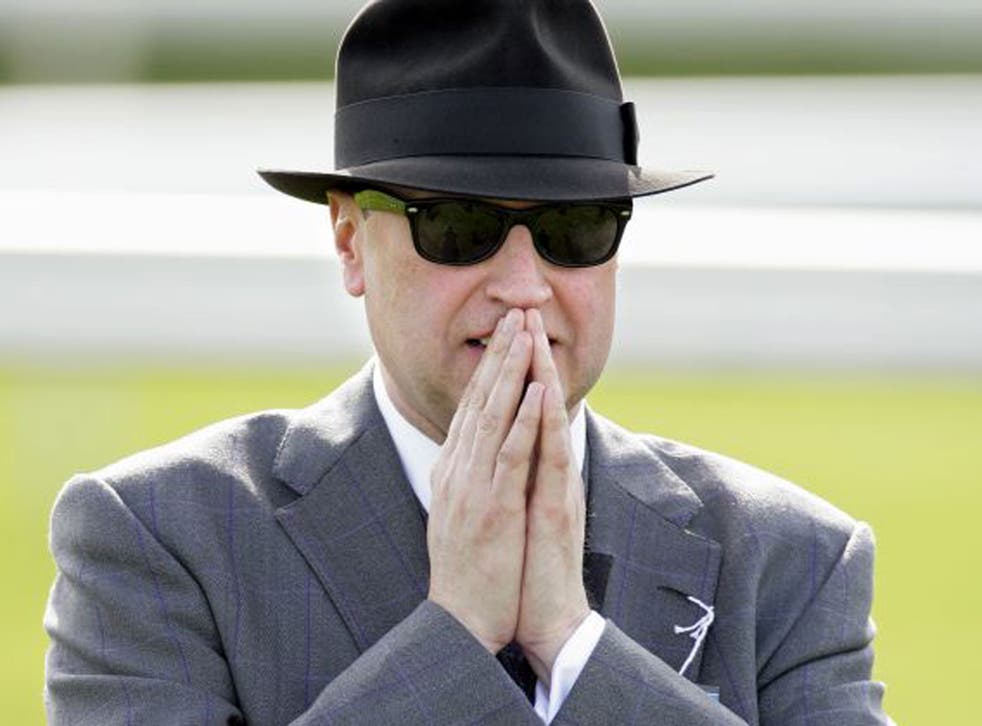 He's become the poster child for the excesses of the investment banking industry. Rich Ricci (the name is just too perfect) courted national infamy when, on the day of another austerity Budget, Barclays revealed that it had handed its investment banking chief £17.6m in shares, all of which were sold.
It wasn't the first time Ricci had found himself at the centre of a storm. The revelation came barely a week after one of the flamboyantly dressed banker's horses lined up at the Cheltenham Festival under the name "fatcatinthehat". That undiplomatic moniker was actually suggested by his wife Susannah – in whose colours the beast ran to a disappointing 18th place in the Fred Winter Juvenile Hurdle – after seeing a headline about her husband in this newspaper.
Her intent was jocular, and in an attempt to draw some of the sting from the gag, it has emerged that all of the horse's prize money of €23,466 (£20,000) to date has been donated to charity, and that this will be the case throughout its career. But a population wilting under the burden of rising prices, falling incomes, steep cuts to public spending and an economy barely off life support understandably failed to see the funny side.
Pictures of Ricci in his trilby, designer shades, and bespoke three-piece suit living it up trackside, coupled with details of his Kent mansion culled from the website of upscale estate agency Savills and gleefully splashed all over the tabloids, made an already negative caricature even more grotesque. And yet, curiously, outside his very public displays at Britain's premier jumps racetrack, Ricci remains a fiercely private individual, who rarely gives interviews and is, in fact, something of a mystery.
He was born on the eastern seaboard of the United States (he won't say exactly where) to parents of relatively modest means, and was educated at Creighton University in the state of Nebraska, a private Roman Catholic school set up by the Jesuits. The order's most prominent member is, of course, the now famously frugal Pope Francis who has spent the early days of his papacy demanding that his fellow clergymen focus their attention on the plight of the poor.
All the Queen's horses and all the Queen's men

Show all 6
In contrast to the other two members of the American triumvirate that used to dominate Barclays before its recent scandals resulted in their defenestration (Bob Diamond and Jerry del Missier), Ricci has failed to retain ties to his alma mater. Both Diamond and del Missier are active donors to their former universities; Ricci isn't even listed as a prominent alumnus. The university has merit awards and other citations on far lesser lights.
After completing his degree in finance, Ricci went into banking, not in a glamour field such as trading or deal-making, where fortunes can be made relatively early on in a career, but in the back office. He specialised in technology and operations, taking on a variety of roles at the rather obscure Bank of Boston and the Bank of New England rather than one of America's powerhouses. These smaller and, particularly in the case of the latter (which failed), relatively unsuccessful institutions were both eventually subsumed into Bank of America.
When Ricci joined BZW, the name under which Barclays investment banking division traded in 1994, it was a similarly second-tier (at best) operation and much of it was sold in 1997. The rump was handed to the ambitious young Diamond who had joined two years after Ricci and had big plans, but was in sore need of a nuts and bolts man. He was to find that man in Ricci.
The old, more traditional part of Barclays watched in horror as Diamond and Barclays Capital began their relentless rise. Ricci, however, is viewed in a more favourable light. "Of all of Diamond's acolytes, Ricci was the most grounded," one former colleague says. "He wasn't one of the ones who went raping and pillaging, so to speak."
The "bald guy who gets things done" is apparently much more down to earth than his caricatured public image would suggest. Most investment bankers wouldn't be seen dead at a dog track, for example. But Ricci, an avid gambler, was as at home in the earthier confines of the now-defunct Walthamstow dog track as he is now at Cheltenham. He would attend meetings there with colleagues.
Flamboyant he may be – and this extends to the office as well as the racetrack where his boldly monogrammed shirts (RR, of course) are hard to miss – but he is not grand. He eschews an entourage and is quite willing to queue for his own sandwiches rather than sending a flunky to stand in line as many senior colleagues do.
This lack of airs and graces and willingness to run his own errands led to another of his many PR "issues", however, when he managed to get himself photographed buying a ticket for a EuroMillions rollover lottery draw. This led to accusations of greed, but can perhaps be as much put down to his love of a bet – even a bet where the odds of winning are as long as they are in the lottery. (You stand a better chance of being struck by lightning.)
Friends speak of his loyalty to those he trusts and who meet his exacting standards. Ricci has talked of his deep "love for Ireland" – its racing scene and its people. But it is not as if he spreads his largesse around the many trainers on the Emerald Isle. Nearly all the other big owners, even those with close associations with one trainer such as City veteran Andy Stewart (Paul Nicholls) or J P McManus (Jonjo O'Neill), have horses with more than one handler. Ricci has a 17-strong string with just one man, the Irish champion trainer Willie Mullins. "He was introduced by a mutual acquaintance and the two just hit it off," a racing source explains. "If he decides he trusts you, that's it. He'll trust you with his life, and he trusts Willie." A friend says: "He's had success with Willie and has rewarded him by sending him more horses. That's the way he works."
In person, Ricci can be brash, wisecracking, a little overbearing. But friends describe him as good company and argue that he is relatively modest, at least by the standards of the City. He and his wife are said to enjoy entertaining at their Kent pile, but not with big parties. Instead, small circles of intimates are invited for lunch or dinner with one stipulation: conversation about his work is off the agenda.
Ricci rose through the ranks during the expansion of Diamond's Barclays Capital, taking in a highly successful stint at Barclays Global Investors along the way. He first started attracting attention outside the confines of Barclays when he handled the integration of Lehman Brothers in 2008 after Diamond piloted Barclays' buy-up of the collapsed bank's American business from bankruptcy.
Integration – putting businesses together – requires a streak of ruthlessness. "Don't be mistaken," a former colleague of Ricci's says. "He's an action man but he can be horrible, both personally and in business." Nor is he universally loved within Barclays today.
When the Barclays' chief executive, Antony Jenkins, launched his much-trumpeted new strategy and reform package, a photograph of Ricci that appeared in the promotional material was, City gossips report, rather rudely defaced.
Another City veteran who was interviewed for a job by Ricci confirms the impression of a forceful personality, of a man who will not take no for an answer. They were called back into Barclays after Ricci demanded an explanation for why they had turned down a role he had offered them after a bruising interview.
Outside Barclays, in the City, Ricci has garnered mixed reviews. Douglas McNeill, investment director at the broker Charles Stanley, says: "Barclays shareholders have lost about a quarter of their investment over the past five years, and seen the dividend nosedive from 34p a share to 6.5p. They won't be alone in wondering how on earth group performance over the period can justify whopping payouts to executives."
He adds: "In fairness to Mr Ricci, the investment bank over which he now presides has roughly doubled its pre-tax profit over the period. But it's only weeks since Jenkins embarked on his crusade to improve the image of Barclays by warning his bankers that they had become disconnected from the wider society they inhabit. Showering huge wealth on them won't help them – or the bank itself – to reconnect."
Some analysts wonder that Ricci hasn't followed Diamond and del Missier out of the door. Perhaps the surprise is understandable in the light of the fact that it was Jenkins who was hard to pin down when asked to back publicly his investment banking chief at the launch of the new strategy. "I'm confident in my team," was all he would say. "I can't predict the future." Sources close to the bank say the two held a clear-the-air conversation after this, and insist they get on well together.
Jenkins knows he needs Barclays to produce returns even as its culture is reformed. That means he needs Ricci, whose division produces the lion's share of the profits and whose staff aren't all in love with "St Antony", as some derisively call the new chief executive. Jenkins may actually need Ricci more than Ricci needs him. Perhaps that's why Ricci can say with confidence: "I'm not going anywhere." Whether his adopted home country likes it or not.
A Life In Brief
Born: Richard Ricci on the east coast of the US. Forty‑nine years old.
Family: Married to Susannah for 12 years.
Education: Bachelor's degree in finance from Creighton University, Nebraska.
Career: Held senior positions at the Bank of Boston and the Bank of New England. Moved to Barclays in 1994 before being appointed chief operating officer of Global Investors in 2002. In 2012, he became co-chief executive of corporate and investment banking. This week, it was revealed he landed an £17.6m windfall after the bank handed out share awards. He is also involved in racing and owns a number of horses.
He says: "I often get calls from trainers in England wondering why I don't have horses in training there, considering I'm based in England. But I just love Irish racing. The atmosphere is really good and the prize money is still attractive."
They say: "Extraordinarily greedy considering the number of people who have suffered because of the banking crisis." John Mann, Labour MP, on the Barclays bonuses
Register for free to continue reading
Registration is a free and easy way to support our truly independent journalism
By registering, you will also enjoy limited access to Premium articles, exclusive newsletters, commenting, and virtual events with our leading journalists
Already have an account? sign in
Register for free to continue reading
Registration is a free and easy way to support our truly independent journalism
By registering, you will also enjoy limited access to Premium articles, exclusive newsletters, commenting, and virtual events with our leading journalists
Already have an account? sign in
Join our new commenting forum
Join thought-provoking conversations, follow other Independent readers and see their replies