Richard Curtis: Twenty-five years of laughing in the face of tragedy
The creator of Comic Relief hopes that in another quarter of a century it may not be necessary. Until then, it's red noses all round. Paul Vallely meets Richard Curtis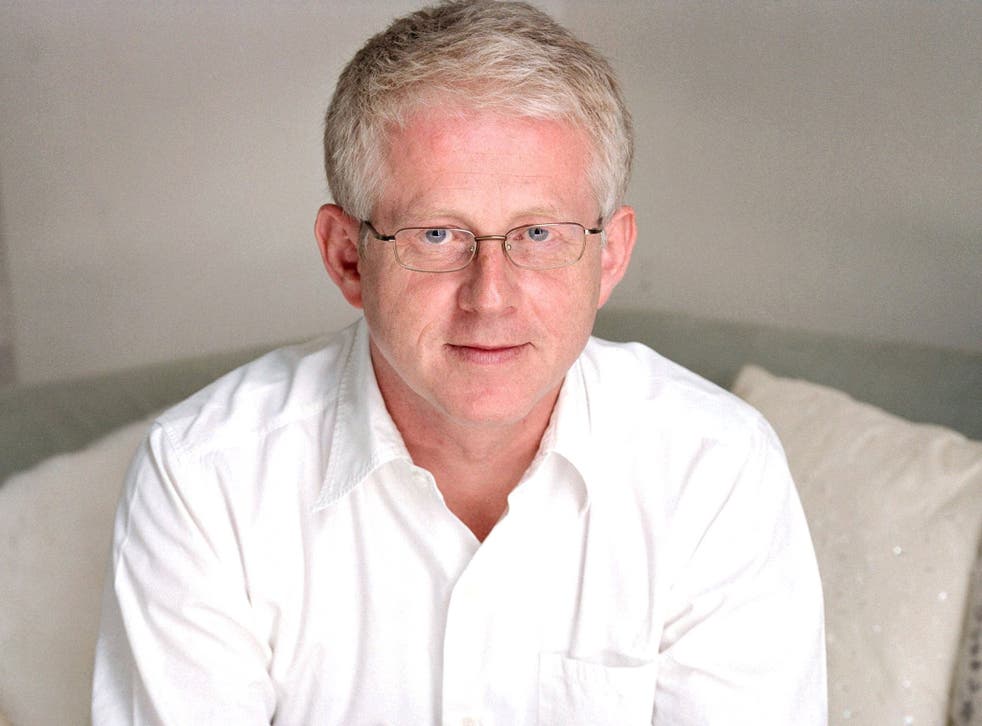 The photographs are only just recognisable. All along the corridor in the offices of Comic Relief are portraits charting the 25-year history of the charity. Those from the earliest years show a wrinkle-free Griff Rhys Jones, Jonathan Ross still looking wholesome, and Lenny Henry before he got fat and then thin again.
"When the BBC agreed to televise the first Red Nose Day," says its founder, the screenwriter Richard Curtis, "I rang Frank Muir and asked him to present all seven hours. Quite understandably he said no, so I fell back on three people I knew – Lenny, Jonathan and Griff." In those days, Curtis was a scriptwriter on the television sketch show Not the Nine O'Clock News.
Since then hehas gone on to write television comedies such as Blackadder, Mr Bean and The Vicar of Dibley as well as movies such as Four Weddings and a Funeral, Notting Hill and Love Actually. Comic Relief, whose headquarters nestle between those of MI6 and Special Branch on London's Albert Embankment, has become a national institution of a different kind.
Over the past quarter of a century it has raised over £800 million, which has been spent in more than 15,000 projects in 70 countries.
It has come a long way since 1985, when Curtis – shocked by the famine in Ethiopia in which a million people died, and inspired by the fundraising efforts of the pop stars of Band Aid – set out for Africa to see if there was anything similar he and his fellow comics could do to help.
He found the answer in the grim triage system of a refugee camp in Ethiopia. "There were three huge tents – one was people certain to die, one where they might survive, and one with a good chance of survival," he recalls. In the second tent they were weighing a child in a suspended plastic chair. "She was so thin that both her legs went through one leg-hole and she landed on the floor in a heap. All the other kids laughed."
For Curtis it was a moment of epiphany – and an answer to critics who had said it was not suitable to be making jokes in the face of tragedy. "I thought if they don't find it disrespectful to laugh, then I'm certainly not going to find it disrespectful to use laughter to raise money to help them."
That laughter in the face of tragedy was the moment that Comic Relief was born. And comedy has had staying power where pop music hasn't. Does laughter just put people in a good mood so they are then relaxed about giving money – or does it do something more profound in touching some deeper sense of common humanity?
Curtis dodges the philosophy and opts for psychology: "Part of it may be the opposite of human sympathy. If you think a person who's asking you for money is over-earnest, deeply political and po-faced, you will probably disengage," he says. "But by surrounding this stuff with comedy you are saying: 'Look, the people who are asking you for money are irreverent, disrespectful and foolish like you.' So you are willing to have a look at what they are saying."
All this has not been without its critics. Comic Relief has been called a smug pratfest and more. Dissenters say it is just a vehicle for washed-up celebrities trying to revive flagging careers. Or that it perpetuates the idea that Africa is populated only by starving black babies.
Curtis is dismissive: "My experience tells me it's nonsense. One Direction, who have done the Comic Relief single this year, are the biggest boyband in the world; they don't need more publicity. James Corden doesn't need the extra work. They are just acting out of a common human decency." And a sense of financial realism. "If I'd given away every penny I'd ever earned it obviously wouldn't add up to what I can help bring in on one night of Comic Relief."
He prefers to let the comics themselves address such criticisms, as Ricky Gervais did with the sketch in 2007 when he codded up an African slum in a television studio, or in 2011 when he and Karl Pilkington satirised the taxi-driver mentality of critics who seek to dress up their meanness over aid with ill-informed pseudo-rationalisations.
Development purists have a different line of attack. Comic Relief has been criticised for perpetuating patronising stereotypes about starving Africans and promoting a dependency relationship between rich and poor. Curtis sees a need for parallel approaches. Understanding about development is a journey, he believes. But if that ends with a complex understanding of the interactions of good governance, unjust trade structures and economic growth, it begins in a much simpler place – which may be an 11-year-old girl reading a tweet from a 19-year-old One Direction singer on his first shocked visit to an African slum.
"The people who decide how the Comic Relief money is spent are terribly sophisticated, and are aware of what the groups we support need to do to make sure that permanent change happens," he says. "But it's also important that we have stuff on the TV that enables people to take the first step on the ladder and see that a malaria net costs £5 and that it can save someone's life. It's important that amid all the complicated issues that there is still the person-to-person thing."
One of Comic Relief's distinctive characteristics is that it asks individuals to participate rather than simply give money. Just a third of the money raised comes from telethon donations. Another third comes from the sale of red noses and other merchandise. But the remainder is from activities supporters undertake in the five weeks of the run-up to Red Nose Day, which takes place every other year, alternating with Sport Relief. "Do something funny for money" is its motto.
That, Curtis believes, is what gives Comic Relief its distinctive character. "If you involve people in an activity they become more engaged with the issue," he says. "The idea of 'putting the fun into fundraising' is not a concept that people in other countries understand. But the British sense of humour – with that business of always laughing in adversity – means we don't see any contradiction between those things."
In that sense Comic Relief is a testament to British eccentricity. Office staff dye their hair red to go to work. Students collect in the streets in their pyjamas. Kids at school shave off the head's beard – 21,000 schools participated in the last Red Nose Day. With all this licensed misrule, Comic Relief has unlocked a different way of doing things.
"Now we've got the generational thing," Curtis concludes. Today when he asks young stars to contribute he finds he is pushing at an open door. "They all remember doing Red Nose Day at school and loved the day of anarchy it brought." And each year new comedians bring new perspectives and new audiences to the event. "I started out the father of the event and now I feel like the grandfather."
Twenty-five years on, he says without grandiloquence, he feels that Comic Relief might just turn out to have been on the right side of history. "The good news from Africa is not just the changes that Comic Relief has been directly party to. There's a sense of extraordinary progress in a lot of areas in the continent. I do think there's a real feeling that we might have been part of a generation that has played a part in getting rid of massive injustices in African economies, and in education and in the defeat of disease, to the point where Africa can thrive on its own.
"Perhaps in another 25 years there might not still be a need for Comic Relief. Wouldn't it be extraordinary if that were the case?"
Curriculum vitae of Red Nose Day
1988 The first Red Nose Day takes the nation by storm, bringing together comedy and charity as never before on national television. Broadcast live on BBC from 7.05pm till 3.15am, it raised a staggering £15m.
1993 Seventy-two per cent of people in the UK take part in Red Nose Day and more than three million buy a nose.
1994 On a tour of some of the world's poorest areas, Princess Anne visits a rehabilitation project in Addis Ababa that is receiving funding from Comic Relief.
1995 Hugh Grant and Dawn French lock lips on live television for a £1m kiss.
1997 The Spice Girls join forces with French, Jennifer Saunders and Kathy Burke to release "Who Do You Think You Are?", while Billy Connolly's documentary film "Reunited" memorably follows a father in Mozambique as he is reunited with his daughter.
2001 "Pants to Poverty" is the theme for the eighth Red Nose Day, in which the Beckhams get a grilling from Ali G and Connolly gets his kit off for a Piccadilly Circus streak. £55m is raised.
2007 The London Eye glows red in honour of the event.
2011 Red Nose Day breaks the £100m mark for the first time, with the final tally reaching £108,436,277.
2013 Preparations get under way for this year's Red Nose Day on 15 March.
Join our new commenting forum
Join thought-provoking conversations, follow other Independent readers and see their replies