Rita Ora interview: The singer on The X Factor, performing at the Oscars, and being an ambassador to Kosovo
She's an honorary ambassador for Kosovo, Britain's most in-demand TV talent show judge, pop royalty at its glitziest, and now muse to one of London's top restaurateurs. How does all that work? Rita Ora lets John Walsh into her world​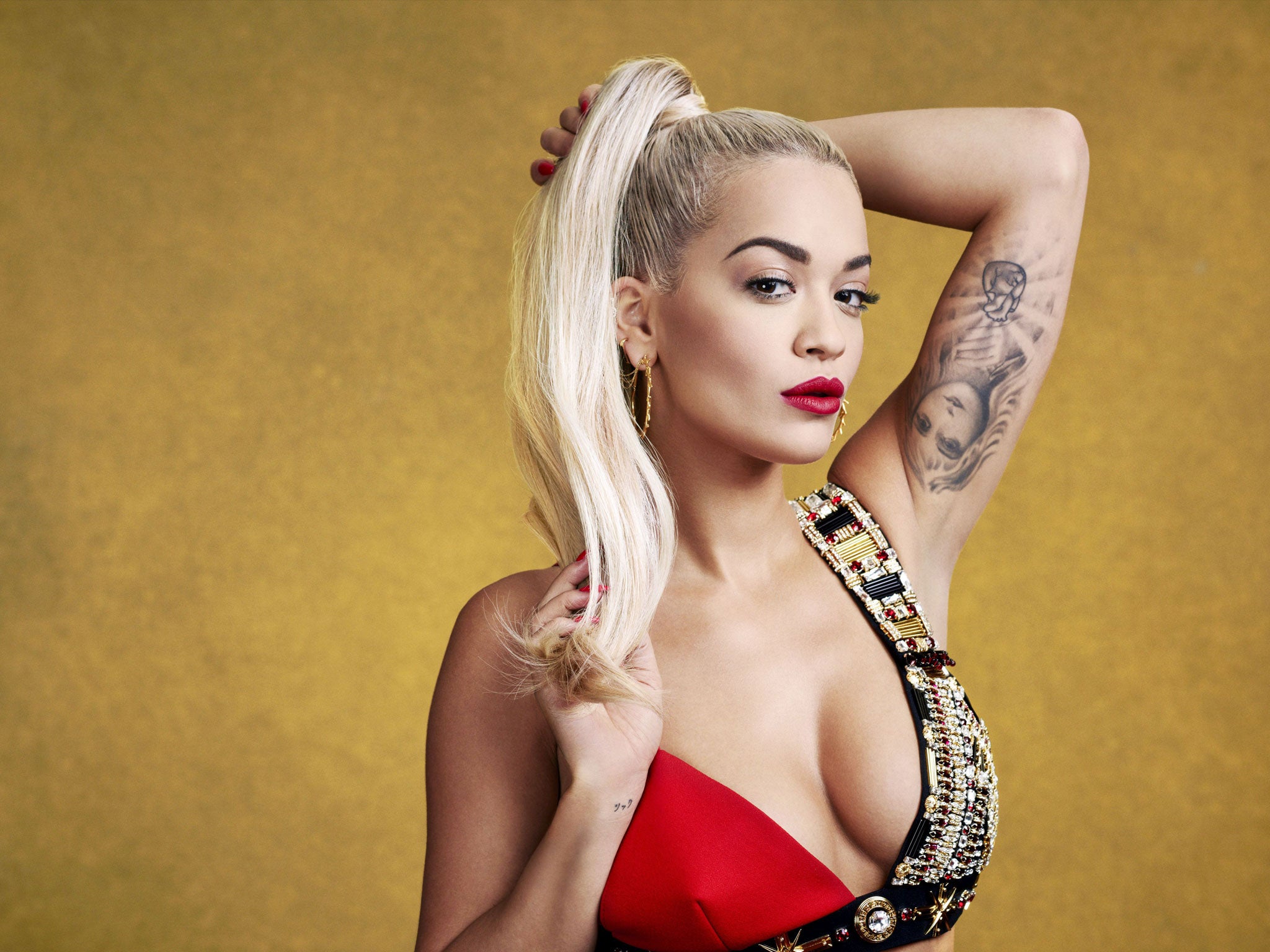 It's 6pm on a Thursday evening in Berkeley Square, and I'm in a first-floor Green Room surrounded by half-naked mermaids. To be strictly accurate, only some of the girls are got up as mermaids. Others may be sea horses or anemones, molluscs or cuttlefish, but they're certainly undersea creatures.
Their beautiful faces are witchily maquillaged as from a child's paintbox; their hair has been given long wispy extensions of green and purple sea-tresses. But it seems rude to examine them too closely. First, because they're all topless, their bodies hand-painted with shoals of fish, their nipples covered with silver doubloons; and second because they're eating their supper and you wouldn't want to disturb their dainty ingestion of beef stew and rocket salad.
Sometimes the door opens to admit some burly, half-naked male dancers, their vast, pneumatic upper torsos commanding the view like a mountain range. They help themselves to bacon-flavoured crisps and mini-bars of Snickers.
The room starts to fill up with performers at tonight's extravaganza. Ever more heart-stoppingly beautiful girls with Russian cheekbones drift in and out, greeting each other with cautious, no-touch kisses (mind the make-up!) and taking selfies. Beside me, Michael the media co-ordinator takes a step back and collides with one of the girl hoofers, dressed only in a beige thong.
"You've got paint on your suit," she says. "How you going to explain that later on?" "I'll just be honest," he replies. "I'll tell the wife, 'I wasn't looking where I was going, and I backed into this mermaid…'"
Rita Ora for Roberto Cavalli
Show all 5
The reason for this frenzy of ocean-floor showbizzery is the official launch, this evening, of Sexy Fish, a new restaurant in the Square built on the site of the old Barclays Bank. I say "restaurant" and "built," but the words seem inadequate. This is a fantastical sub-aquatic folly magicked into life by combined mega-tranches of cash and creativity.
The cash comes from Caprice Holdings, the restaurant chain, owned by Richard Caring, that occupies the stratosphere of classy British dining – Scotts of Mayfair, J Sheekey, Le Caprice, The Ivy – all in the heart of London. The creativity is provided by Parnassian figures from the art and fashion worlds. Damien Hirst has supplied a pair of lively bronze mermaids, posing in a cobalt-blue finish at either end of the bar, above which float a number of Fish Lamps softly bobbing about. They're the work of American architect Frank Gehry, the man behind the Guggenheim Museum in Bilbao, a chap who cannot be commissioned by any Tom, Dick or Harry to help design their restaurant, no matter how fashionable.
Later tonight, a slew of famous guests – Lindsay Lohan, Kate Moss, Goldie Hawn, Sir Philip Green of Top Shop and Matthew Williamson – will tuck into baked Alaskan crab, tartare of tuna belly and hot and sour octopus in this ritzy dining room, while watching the cabaret (featuring the half-naked mermaids and musclemen from the Green Room) and waiting for the star of the evening to come on stage and sing three songs dressed in a fabulous gold Nereid frock.
Rita Ora has already been seen online in a pre-launch video, swimming underwater dressed in a luxuriant mermaid costume, surrounded and entwined by gauzy silks, probably the only sea nymph in history or mythology to be sporting crimson lipstick. "I don't know how I did it," says Ora when we meet. "I'd never done an underwater shoot before. I just jumped in and went with the flow. There was a professional underwater photographer there, she calmed me down a lot. All that matters are the pictures, and we got them."
Why sign up Rita Ora to headline your grand launch? Because right now she is the hottest thing in UK entertainment-meets-fashion circles, not so much a brand as a ubiquitous, multi-platform, poly-pulchritudinous department store of attractions. Her records top the albums and singles charts. Her face, alternately sultry and friendly, gazes from the nation's hoardings to advertise DKNY perfume, Rimmel make-up, Superga sneakers, Material Girl clothing, Adidas sportswear, Coca-Cola and Samsung Galaxy. She's never out of sections of the press, as they speculate relentlessly about her "snubbing" Rihanna or Cheryl (or vice versa) in public, or her dating the drummer from Blink 182 in private.
She is starting to turn up in Hollywood movies, most recently in the Harvey Weinstein-produced Southpaw with Jake Gyllenhaal. Her appearances on The X Factor and The Voice have shown her to be an articulate and (mostly) encouraging figure in the emotional snake-pit of TV talent shows. And she's just been made an honorary ambassador to Kosovo, her native land. And she's still only 24.
In the flesh, she's shorter than you'd expect (on The X Factor she seems to tower over Cheryl Fernandez-Versini) and wholly un-diva-like, as she sips green soup, chats to her older sister Elena, 26, and fondles her yapping curly-haired puppy which she calls "Monkey". It's hard to get a sense of her physical presence because she's wearing a voluminous black leather-and-horse's-mane coat. Her face, though, is amazing – her skin creamy, her eyes huge.
It's three hours to go before showtime – is she nervous? And how does it compare with singing at the Oscars this year? "You can't compare anything to the Oscars," Ora says. "It was like being thrown into a volcano. It was by far the scariest thing I've ever done in my life. I mean, the people in that crowd…" She shakes her head at the memory.
"You've got the most renowned and respected composers, all these music geniuses. And the actors! If the A-List had a zoo, it would be the Oscars. The energy coming from every single person there makes you feel you're suffocating."
How did she stay calm? "I tried to approach it as if I was doing a gig in London – trying not to think about the millions of viewers all over the world. Luckily I didn't have a lot of choreography, I just stood there and thought, how'm I going to get through the next two minutes and 45 seconds? The main thing is, you have to know that there's no option. There's no NO. You just can't NOT do it."
Did she have someone by her side all the time to look after her? "Yeah, I had someone to say, 'You have to sleep now or you won't be able to do this', and 'You have to eat now or you'll feel like this.' Because you forget about normal things."
Ora has just come hot-foot from Wembley, where she's been filming The X Factor. When she first appeared on the show, in 2013, she seemed rather shy and reticent. In her present incarnation, she's far more combative. On the show broadcast on the previous Saturday, Simon Cowell tried to butt in as she was commiserating with one of her girl singers. "Mind your own business," she snapped, "until your category comes around." You could hear a collective sigh of pleasure from the TV-watching multitudes, that someone had told Cowell, effectively, to Eff Off and Die.
"Yeah," she says, smiling, "I thought, I'm already dying as it is, with all these people around me giving their opinions, I really don't need yours too, Simon."
How much pressure does he put her under? "He's been really supportive actually," she says loyally. "But he's Simon Cowell – he can come across as harsh or rude. There's obviously something right about him, since he's been doing this for 12 seasons. I value his opinions, though sometimes when he translates those opinions on the TV screen, I get a bit … agitated." When Ora moved from The X Factor to The Voice, many remarked how naturally warm and empathic she seemed with the warbling hopefuls. Did it suit her personality better, a show which is more about encouragement than negativity? And did they call on different aspects of her character?
"I've never changed my approach on either show," she says defensively. "My approach has always been to be encouraging and make constructive criticism. That's how I am. I'd hate for someone to feel uncomfortable around me."
When, on the same X Factor show, Ora was reduced to tears of indecision about which of her girl charges to boot off, she murmured, "Everyone hates me now". It was an interesting moment for a performer who's spent her career persuading the world to like her.
"Some people forget because it's a TV show, that these are real lives, and I'm there in the thick of it, in front of these girls face to face, not watching them on a TV screen," Ora said. "I don't care if people hate me for not being decisive. I just don't want the country to hate me because I've made the wrong decision. But you never know if you're right or wrong until you reach the live shows and see what they're capable of. You can't win."
Has she always been a naturally decisive person? "I've been decisive in my creative life, like about what I want to achieve as an artist, in the kind of music I want to put out, and the type of videos I like to do. But I've been very indecisive in other situations – like do I want to do this job or that. That's why I have my sister, my family, who have been with me from the start, and a very solid team of about four people whose opinions I trust. I've always kept them close, and thank God they wanted to stay close to me."
Ora was born Rita Sahatciu in November 1990 in Pristina, Kosovo. Her family are Albanian; the surname means "watchmaker". The name Rita comes from Rita Hayworth, her film-director grandfather's favourite actress. Her Catholic mother, Vera, was a psychiatrist in Kosovo and her Muslim father, Besnik, was in the pub trade. He added the suffix "ora" (meaning "clock") to Rita's name when the family moved to England in 1991, one step ahead of the outbreak of war in the former Yugoslavia.
Times were hard. Because her parents were refugees, Rita and her sister were sent straight to a children's home. When the family reunited, they lived in reduced circumstances, moving house every month. Besnik worked in a pizzeria to make enough money to rent a flat.
The family lived off Portobello Road in west London. Rita attended a Church of England school, then the Sylvia Young Theatre School, then a Catholic college in Earl's Court. Has there been Catholic-Muslim tension at home? "Our parents weren't practising," puts in Elena. "Kosovo is 95 per cent Muslim but they don't practise Islam. We were taught about morals and respecting your surroundings more than religion."
Did Ora believe in God when she was a little girl? "Yeah," she replies. "I believed in a spirit. I get off on energy and spirits." What kind of spirits? "There's no name for it. I'm just a force-of-nature type person." Later she reveals that she's interested in Sacred Geometry, the belief that God created the universe according to a geometric plan, and she has a tattoo on her back to prove it.
On reaching England, Vera discovered she had breast cancer. She recovered from it – but when Ora was 14, the cancer returned. Previously a self-confessed brat at school, Ora clicked into action. She made wigs for her mother, saw her through a mastectomy – and her career was kick-started about that time.
"There was a moment when I thought, 'Look – either I do something with my life or I just sit on this block and sell weed like all my friends,'" she told Amanda de Cadenet on the TV show The Conversation. "I felt, like, if I lose my mum, who's going to be proud of me? And now, everything I do, I do it for her."
She started singing, precociously, at open-mic nights in London. "I'd just set up camp wherever they'd take me. Once I went to a funfair and my mother put my name down for open-mic night because in the crowd was a Grammy-award-winning producer called Martin Terefe, who signed me to a production deal for two years." How old was she? "I was 14. It was illegal to sing in pubs at that age but…"
What kind of pub did her Muslim father run? The kind with no alcohol? "No, it was a perfectly normal pub. An amazingly fun pub. I loved American divas like Beyoncé, Mariah Carey and Whitney Houston, and I'd try to sing like them. But the requests from the crowd were very varied – anything from the Rolling Stones, to Nirvana to Fleetwood Mac." She sang Nirvana to a pub crowd? "I had no f****** shame, man. I was like, 'Here we go'. I really enjoyed it. I really loved singing." Ora regresses to her early teens just by talking about them. Suddenly she is full of don't-f***-with-me sass.
Her first recording was as a session singer with Craig David and James Morrison. At 18, she flew to New York, and was signed to Jay-Z's label Roc Nation within 48 hours of arriving. She did more duets – with Jay-Z himself, with Drake the rapper and DJ Fresh, the British drum 'n' bass producer – and worked with will.i.am and Chase & Status. Her first album, Ora, released in August 2012, went to No 1 in the UK, and her first singles from it did likewise. She was launched, with a bullet, at 22.
Her new single, "Body On Me" sees her indulging in an erotic fantasy scene after sharing a lift with Chris Brown, the singer most famous for beating up his then-girlfriend Rihanna in 2009. It's a raunchy three minutes, during which Ora drapes her naked body in a Union Jack. Why? Her eyes flash. "Why not? Is there a rule about how you wrap yourself in a flag?" Well, no – but what was it doing in a dream-seduction scene? "I wanted to be sexy around a British flag. And it's a gorgeous flag, and I didn't want to have my tits out, so I thought, 'Let's cover them in my British citizen flag that I've been living in for 23 years'." Patriotism, as we shall see, is a big thing for her.
The song wasn't originally written as a duet. So why have Brown's voice on it? "Because I wanted it to be an aspect of two sexualities, not just from a female perspective. I felt the song needed more depth. And I respect him a lot as an artist."
Her life, I point out, is full of duets. Her most recent collaborators have been Prince and Madonna. Does she feel less exposed doing a duet? "Yeah, it's like being in a band and having people there to support you. As a solo artist, it's all up to you. Doing a duet is awesome, because you can feel for three minutes that it's not all on you." Is there anyone she's still like to duet with? "I saw Mick Jagger a few years ago at Glastonbury. I was like, 'My God, he's such a legend. I'd love to duet with him'. I mean, you gotta shoot for the stars, haven't you?"
It's exhausting trying to keep up with the Rita Clock. She has a new album out in January; a tour in February; the sequel to 50 Shades of Grey is being shot (her part as Grey's sister is considerably larger than her don't-blink 90 seconds in the first film); she's designing clothes for Adidas… Is there anything she wouldn't try? A chat show? Appearing on Celebrity British Bake-Off?
"Look, I want to be really clear about this," she says firmly. "I don't try absolutely everything. I just like to think of myself as a 360-degrees artist. I think nowadays, in the industry we're in, our consumers and fans are so much more spoilt than they used to be. With social media and internet, with Tidal and Apple Music and things being free, you can discover everything that's going on. It's like we've got to take it up a notch at all times. I'm not an opportunist, but I work my f****** arse off. I just think of myself as a workaholic. And I don't think there's anything wrong with that."
Don't people say you're spreading the Rita brand a bit too thin? "My brand?" she asks indignantly. "The brand I've worked so hard to build?" OK, I say, it's more a department store than a brand. "Well, I'm very happy that you've acknowledged that," she says, mollified. "I'd like to sit on my couch when I'm 70 and not have to move, and still have something going on somewhere."
What an extraordinary final ambition for the driven, multi-talented Ms Ora, 25 next month and the most famous Albanian since Mother Teresa of Calcutta. But in the 45 years before the couch-sitting years, she may surprise her fans and detractors by going into politics. I ask her about the job description involved in being an honorary ambassador to Kosovo.
"What I wanna do, I want to tell my generation [of Kosovans] about the power we have to change our political system," she says. "The problem is the education system at the moment – we don't actually know what's going on in our country, which is why there's so few votes. Why get up and vote when we don't know what's happening? That's what I'd like to do with my country, change the education system, and give them some form of creative schooling." She leans forwards. Her dark eyes flash "The fact that I've achieved what I wanted to achieve is so rare in my country, I have to find a way to open this gate."
She's some girl, Rita Clock. You don't get passionate language like that every day from pop divas or face models or TV personalities. Or mermaids.
Join our commenting forum
Join thought-provoking conversations, follow other Independent readers and see their replies