Roger Allam: Lear in waiting
'The Thick of It' star is keen to take on the Bard's toughest role. But just now he's trying to recall talking balls – literally – as he prepares to play Prospero at the Globe. Susie Mesure meets Roger Allam
Susie Mesure
Saturday 06 April 2013 21:19 Comments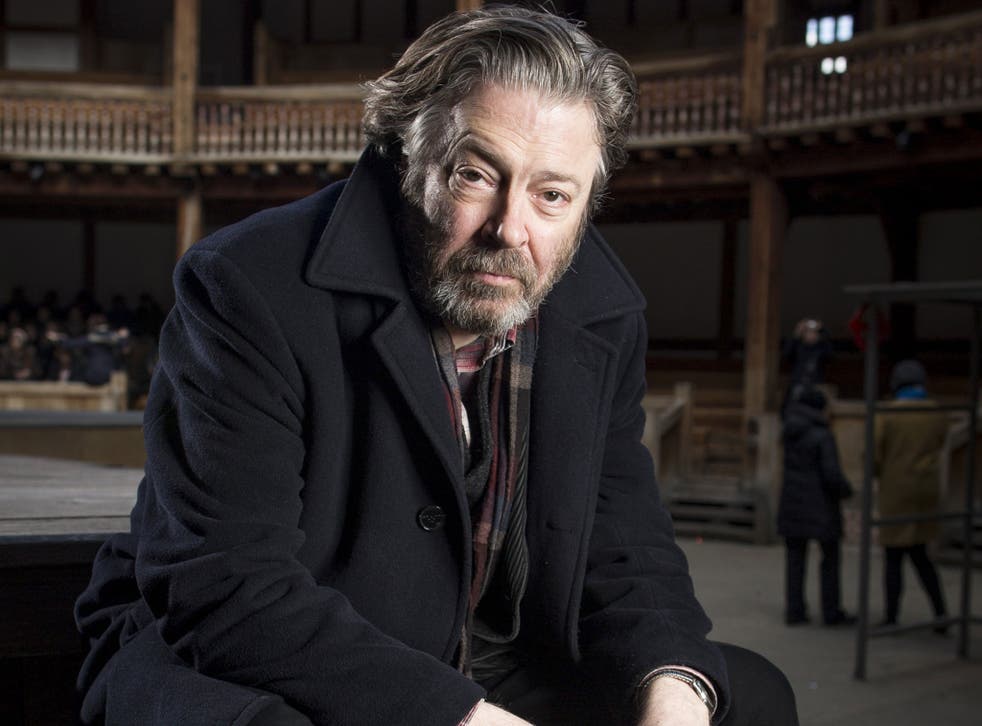 Roger Allam has promised to get back to me about his testicles. Yes, really. This is not some dubious chat-up line from a man famed for playing "louche bastards", as he puts it. He is, quite literally, talking balls in response to a question about one of his early roles: talking testicles. Or he would be if he weren't handily claiming amnesia.
He breaks into a reverie, his wondrous voice enjoying the alliteration almost in spite of himself. "My talking testicles? Doesn't. Ring. A. Bell. I'll have to track that down. I'll get back to you. On my testicles." Cue that rich, plummy belly laugh that Allam fans know so well.
To hear Allam talk, about anything, is to be instantly cast back into the thick of the show that turned the actor into the cult figure of Peter Mannion, the hapless Tory minister in Armando Iannucci's political satire, The Thick of It. Lines from the last series keep popping into my head, most incongruous given our setting: Shakespeare's Globe theatre, where we're supposed to be talking the Bard, in honour of Allam's next stage role, Prospero.
I'm half fearing that Allam, thinking little of my questioning, will suddenly stand up and push back his chair, declaring as Mannion did in one memorable moment: "I'm bored of this. I'm going for a Twix." (Which would be preferable to Mannion on the press: "Run those fuckers over. Fifty pounds for every one you maim.")
Playing Mannion, he concedes, did rather change the game for the 59-year-old Allam, who now merits stopped-in-the-street status. He gets lines quoted back at him, both by Thick of It obsessives and fans of his radio show, Cabin Pressure, who have either binged on box sets or watched something "again and again and again and again", which has the curious upshot of fans "knowing the text of [episodes] far better than me. I've forgotten it," he adds, perhaps playing up his absent-mindedness to stop me quizzing him about his private parts again.
To dwell on his current popularity is not to gloss over his lengthy – and distinguished – pedigree, which ranges from playing Inspector Javert when Les Miserables first opened to a comic turn in Tamara Drewe, which won him a Peter Sellers comedy award and convinced him that this, finally, might be his Big Breakthrough Moment in film. "I thought, 'Here we are.' But nothing. Or nothing you could call a substantial role."
Mannion aside, Allam could yet be on the verge of his defining role for a totally new audience, for he is about to play his first TV detective. At last. "I've been saying for about 20 years, 'When am I going to get my cop show?'" he grins. The part, of Detective Inspector Fred Thursday is in ITV's Endeavour, a new drama about the young Morse, which starts next Sunday. The series follows a widely successful pilot, and Allam is very excited, not least because Morse has National Treasure status when it comes to detective shows, so to be bringing it back is a Big Deal.
The young Endeavour Morse reports to DI Thursday, who "becomes like a surrogate father, teacher, friend. He sees in Endeavour an imagination and an individuality and a different kind of intelligence that would be a very good thing to have in a police station."
Cop shows, Allam thinks, are "our version of a Western. Where you can be someone striving to try to do the right thing. You can look at terrible things that people do to each other, which is always interesting, and try to solve it. It's the trying that's the important thing. Lots of those detective characters are interesting for that reason."
Morse devotees might remember a younger Allam from the original series. He popped up in an episode in the 1990s. As? "Oh, I can't remember. I think I got killed. I can't quite remember. I can't really remember the story." Again, that amnesia.
He does, however, recall the last time he played the Globe: his turn as Falstaff won him an Olivier best actor award. "The only way is down," he deadpans about his prospects as Prospero. Falstaff was also his first role at the Globe, essentially because he shunned the theatre when it re-opened in 1997. "I was always rather against the Globe really," he confesses, blaming his affinity with the RSC, which collectively saw the South Bank upstart as a pretender to the Bard's great crown. "The words 'thatched-cottage Shakespeare' were bandied around," he admits sheepishly.
Or as sheepishly as you can get with a voice like his, one that sings of authority and wisdom and never, ever being wrong. A voice I imagine Allam – who spent his early years playing on bombsites in London's blitzed East End – to have affected way back when and clung on to. Not so, he counters, insisting: "I'm not conscious of having changed my accent." That said, his parents, who were from "poor, respectable, working class backgrounds – my mother's father was a stonemason, but my father's father was very poor – were of that generation, who believed in being well-spoken. That that was a way out of class, I suppose," he adds. "They were, in modern parlance," cue theatrical emphasis, "strivers."
It took watching a play about Thomas Paine, the American revolutionary, four years ago to change his mind about the Globe. "It was wonderful. And also packed with 1,500 people. I was incredibly impressed because I thought if you put that kind of play on in the Olivier you'd probably empty the place." The Globe's magic lies in its £5 seats, which aren't seats at all. "Half the audience have to stand – but one: they have the best view. And two: it only costs them a fiver. Which completely transforms the audience and its attitude to the event."
Contrast that with the West End, where the best seats in something like The Book of Mormon go for £125. Even a seat costing half that has Allam asking: "I don't know who can constantly afford to go and see things. A play, which has five people in it and one set and it cost you 60 quid? And you're in a theatre that really hasn't had a great deal of money spent on it in the last 50 or 60 years? It's kind of weird."
Despite being married to a fellow luvvie, Rebecca Saire, not catching the latest show isn't something that bothers Allam. He's far too busy – for which, read tired – most of the time with his two sons, who, at 12 and seven, take their toll on someone who came pretty late to fatherhood. He says of the role: "It's a complete and utter radical shock to one's life. And I suppose especially so if you're a bit older, because you've got used to doing whatever you feel like."
And that, these days, boils down to some vegetable growing. He comes over a bit Tom Good as he tells me how he's dug up his front garden "because it faces south and it's quite small," adding: "It always looks a complete mess. I'm not meticulous but it's tremendously pleasing to go out and cut some beans, or kale; mine has been going all winter, it's brilliant."
Meeting Allam today is an odd mix of intensity and detachment. His replies are full and friendly but I half feel like he's just humouring me. I blame the setting, which couldn't be less inspiring: a clinical meeting room in the heart of the Globe's back offices. Oh, to be nursing a glass of Scotch in a private members' club somewhere in Soho.
But it's week one of his rehearsals for The Tempest and I'm being squeezed in, so I have to take what I can get. I console myself with the hope of a return chat when he gets cast, as he inevitably will, in the role he's hoped to make his ever since he was a stage-struck schoolboy back in the day: Lear. "You'd have to really, wouldn't you?" he says about playing the ultimate Shakespearean role. "It's really, really hard though. I've never seen it on stage to my satisfaction."
And who knows? Perhaps if I bide my time for long enough, he'll have had a revelation about what those testicles were wittering on about.
Curriculum vitae
26 October 1953 Born in Bow, east London, to William and Kathleen Allam. He was born in a rectory – his father was a vicar.
1964 Starts boarding at Christ's Hospital School, Sussex. Takes part in school productions.
1972 Studies drama at Manchester University.
1975 Founder member of theatre troupe The Monstrous Regiment. Also played guitar and keyboard during performances.
1981 Joins the Royal Shakespeare Company after time in repertory.
1985 Cast as Inspector Javert in the original West End Les Misérables.
1993 Nominated for an Olivier Award for role in the musical City of Angels.
1996 Plays the title character in Macbeth at Stratford-upon-Avon.
2000 His wife, actress Rebecca Saire, gives birth to son William. Wins first of three Olivier awards (in Money); plays Hitler at the National.
2005 A second son, Thomas, is born. Features in films V for Vendetta and A Cock and Bull Story. Then, a year later, appears in The Queen and The Wind that Shakes the Barley.
2007 Stars as Peter Mannion MP in The Thick of It.
2013 Plays alongside Merlin star Colin Morgan in a production of The Tempest at Shakespeare's Globe theatre in London (from 23 April).
Tom Warren
Register for free to continue reading
Registration is a free and easy way to support our truly independent journalism
By registering, you will also enjoy limited access to Premium articles, exclusive newsletters, commenting, and virtual events with our leading journalists
Already have an account? sign in
Join our new commenting forum
Join thought-provoking conversations, follow other Independent readers and see their replies