Ron Hill: The man who keeps on running
He has run every day for 48 years. That's 157,000 miles – or more than halfway to the moon. At this rate he might even reach it
Simon Turnbull
Sunday 09 December 2012 01:00 Comments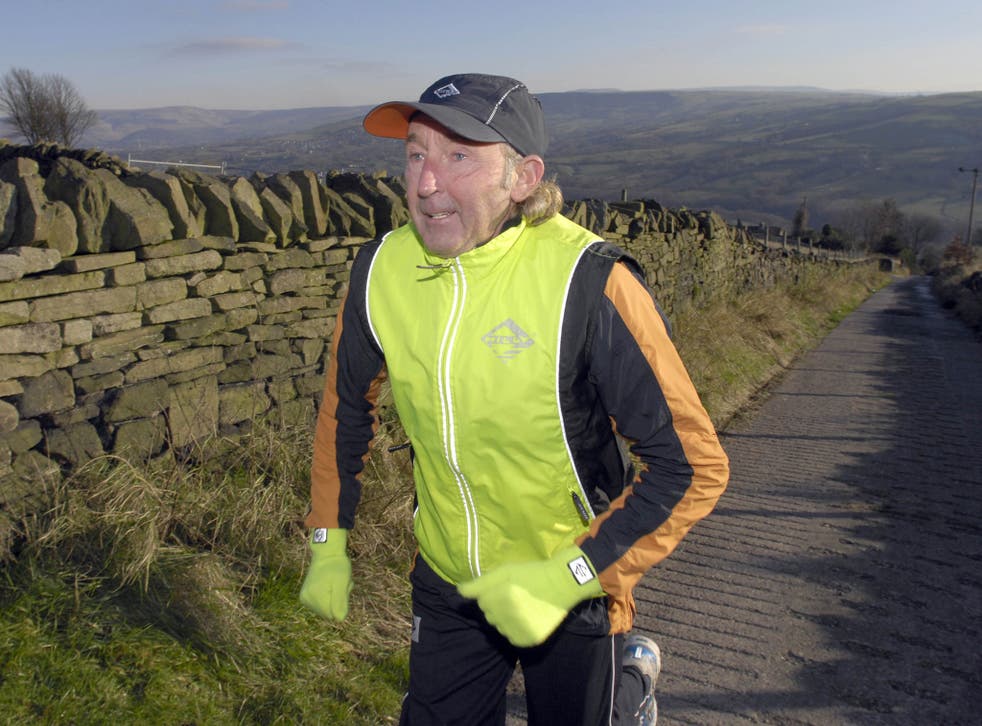 The north of England has turned into something of the North Pole. Traffic has ground to a halt and roads have been closed in several areas. "We've just had a bit of sleet here," Ron Hill says, sitting in front of a roaring fire in the living room of his home on the outskirts of Hyde in Cheshire. "I've done my run today, so I can hope for better weather tomorrow."
It will take rather more than ice and snow to stop Ron from doing his daily run. For 11 days short of 48 years now, he has run at least one mile a day.
That is every day since 20 December, 1964. The Beatles were top of the charts with "I Feel Fine". There were just the two television channels. Z Cars and Pinky and Perky were on BBC. The Saint was on ITV. The next day the House of Commons voted to abolish the death penalty.
Hill was 24 and a new Olympian when he set off on his Forrest Gump streak. Two months earlier he had run for Great Britain in the Tokyo Olympics, finishing 19th in the marathon won by the bare-footed Ethiopian Abebe Bikila.
Hill is 74 now and not quite so fleet of foot. "I've done just the four miles today," he says. "I say 'just' but it's a 47-minute effort, so it's worth doing. I have just over a mile downhill start to a disused railway line which has been tarmaced. I've got about a mile and a half along there, then I head back up towards home." Back at home, the former European and Commonwealth marathon champion and three-time Olympian has already logged the effort in his 2012 training diary. It is, he says after checking his most recent tally mark, his 17,546th consecutive day of running.
"Yeah, still going," he ponders. "And what are we now...? Well over 157,000 miles. That's just over six times round the world. It's well over halfway to the moon... I'll never get there."
You could say that Hill is something of a Forrest Gump phenomenon, but then Tom Hanks's alter ego didn't make it halfway to the moon – and he did stop running. Hill has kept going even in the most trying of circumstances.
In 1993 he crashed his car overtaking a lorry on the Woodhead Pass and broke his sternum. "Luckily, I'd run that morning and I recovered sufficiently the next day to be let out," he says. "In the evening my mother and my wife went out to do the weekly shop, so I walked to a level stretch of road, ran a mile and walked back. That's the closest I've come to the run ending. It could have been fatal, to be honest. Luckily, my legs weren't broken or anything.
"The same year I had a bunion operation. I ran a mile a day in a plaster cast in a specially adapted shoe. More recently, I had two falls in the snow, at the start of 2011 and then another a week and a half later. I put my foot in a big pothole on a downhill and went flying through the air. It took me 40 minutes to run two-and-a-half miles home. I was in a bad way but I came round."
Dr Hill – a PhD in textile chemistry who pioneered synthetic running gear as an innovative manufacturer with Ron Hill Sports and Hilly Clothing – has even had an encounter with Dr Harold Shipman. The notorious Hyde GP was not his regular doctor but once treated him for a stomach problem.
Happily, 10 months short of his 75th birthday, Hill is in the rudest of health. He tips the scales at 8st 9lb, a few pounds lighter than he was in his prime when he emulated his boyhood hero, Alf Tupper.
As a teenager brought up in industrial Accrington in the 1950s, Hill idolised the comic-book welder from the north who took on and beat the world's best runners in the "Tough of the Track" strip featured in The Rover and The Victor. According to a storyline in The Victor in 1970, Tupper won the Commonwealth Games marathon in 1970. In actual fact, it was Hill who won the race in Edinburgh, representing England.
His winning time in the Scottish capital, 2hr 9min 28sec, was the then fastest undisputed clocking on a certified 26.2 mile marathon course. The fastest marathon by a British runner this year is 2:13:41.
Hill's remarkable daily running streak is two years and 11 days short of a half-century now. "Somebody said to me a couple of weeks ago, 'Do you not think it would be a good time to stop, at 50 years?'" he recalled. "They said, 'That would be an achievement. I can't think of anything else matching that.' I just said, 'No, why should I stop? It keeps me fit. It does me good, health-wise. What's the reason to stop?'"
Register for free to continue reading
Registration is a free and easy way to support our truly independent journalism
By registering, you will also enjoy limited access to Premium articles, exclusive newsletters, commenting, and virtual events with our leading journalists
Already have an account? sign in
Join our new commenting forum
Join thought-provoking conversations, follow other Independent readers and see their replies