Ron Jeremy: The world's most prolific porn actor on his friendship with Mo Mowlam, and why he'll always be torn between sex and food
Jeremy is listed in the 'Guinness Book of World Records' for Most Appearances in Adult Films, starring in over 2,000 films
Oscar Quine
Saturday 03 January 2015 01:00 Comments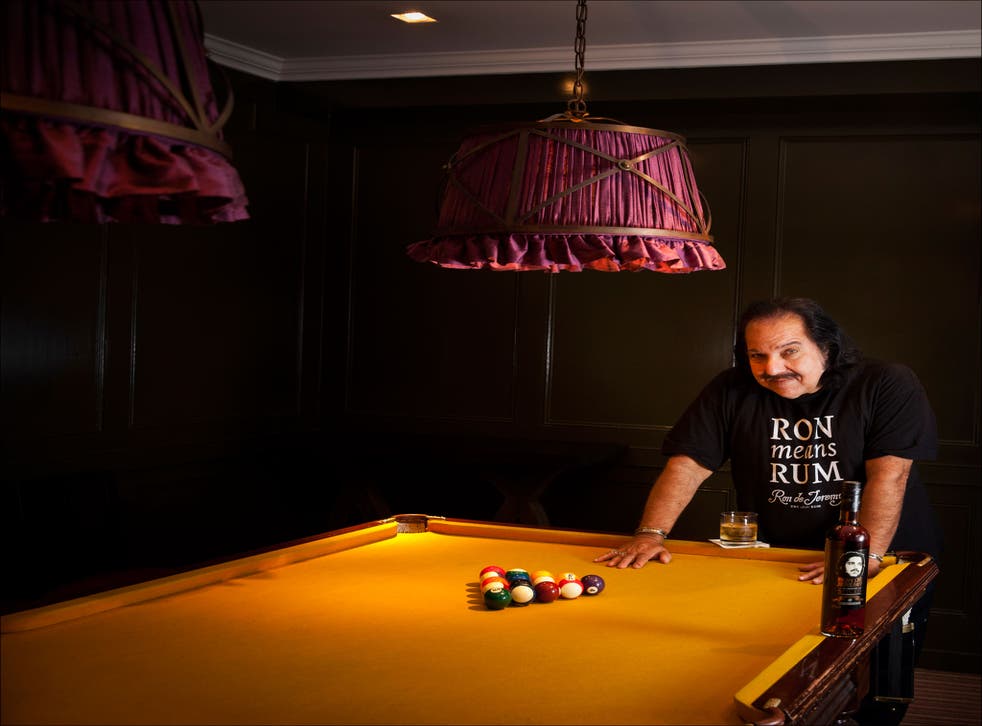 You're promoting a new rum. What's your tipple of choice?
I'm not a big drinker, I'm not going to lie. But I've had success with a lot of things I didn't do. My name is on skateboards; I don't skateboard. My name was on rolling paper, but I haven't smoked pot since college. I endorse penis pills – like ExtenZe – but I haven't tried one. When I'm at a party, a wedding or a Bar Mitzvah, I'll have a drink. It's an Amaretto Sour.
You've done so much – acting, directing, addressed the Oxford Union, released a rap single. Anything left to do?
Endorse a parachute.
You took your middle name as a surname because your grandma – who has the same initial – kept getting calls intended for you. Did she know what you were up to?
We told her "nudey movies". She would say, "Ron's getting undressed?". And my dad said, "Yeah, it's a start – he'll move on to better things". No one told her I was playing hide the bacon. Shoot the sherbet, squeeze the weasel, drain the main vein. Spank the monkey! And this is where you say, "Ron, I get the point...".
Ron, I get the point.
...And my mum – who was a spy during the Second World War – used to say, "My boy Ronnie dances to a different drum". I loved that expression. But I was a teacher before I got into porn, I got a Masters degree; so I did do the traditional.
What were you like as a kid?
Rowdy. Difficult. My mum got called into class all the time. My principal said to her, "Your son is scraping by with Bs. He's capable of As but he's not doing it. But more importantly, he's making it difficult for the other kids". And my mum said, "You should talk to their parents then, maybe".
You were friends with Mo Mowlam?
I loved her. We did The Frank Skinner Show together and we became friends. We had to sing "I Got You Babe" together. I said afterwards, "We suck", and she said "Yes we do". She was very rare: a hot firebrand of a woman.
You were a consultant on Boogie Nights. Was that an accurate representation of the industry?
It's a very accurate depiction – of a select few. It was not my crowd. I was not involved in murders or drugs. That was the John Holmes crowd. I consulted more on the porn end of things. I invited the director, Paul Thomas Anderson, and the cast, to a lot of my sets. But Burt Reynolds never came, he said, "I know porn: I don't need to see that".
Did you ever say no to anything?
Well, I never did a gay film. Nothing wrong with it. But I see some guy's hairy arse... I want to shave it – and that's all I want to do. I never did a violent film.
Sex or booze?
Well, I don't really drink. You get to a certain age and the real question is "Sex or food?". If I've got surf and turf and flaming hot lobster Cantonese to my left and a blonde, brunette and a red head to my right, I'd be torn. The old Ron would have done a double flip with a somersault and a twist right on to the girls. Now, I'd be torn.
How many times a week do you have sex nowadays?
Twice a week, maybe three times. I have a pretty good schedule. I had open heart surgery recently too, so I'm glad it all still works.
Biography
Born in Queens, New York, Ron Jeremy, aged 61, left his job as a teacher to pursue a career in acting. After his girlfriend submitted a photo to 'Playgirl', he modelled for the magazine and moved into porn films. Jeremy is listed in the 'Guinness Book of World Records' for Most Appearances in Adult Films, starring in over 2,000 films.Ron de Jeremy rum is now available in the UK
Register for free to continue reading
Registration is a free and easy way to support our truly independent journalism
By registering, you will also enjoy limited access to Premium articles, exclusive newsletters, commenting, and virtual events with our leading journalists
Already have an account? sign in
Join our new commenting forum
Join thought-provoking conversations, follow other Independent readers and see their replies