Ronnie O'Sullivan: 'I still let my demons get the better of me'
The Brian Viner Interview: As he prepares to take centre stage at the Masters, the three-time world champion explains how he has learnt to deal with a complex life away from the baize, and why the sport he loves must evolve or die
Thursday 07 January 2010 01:00 GMT
Comments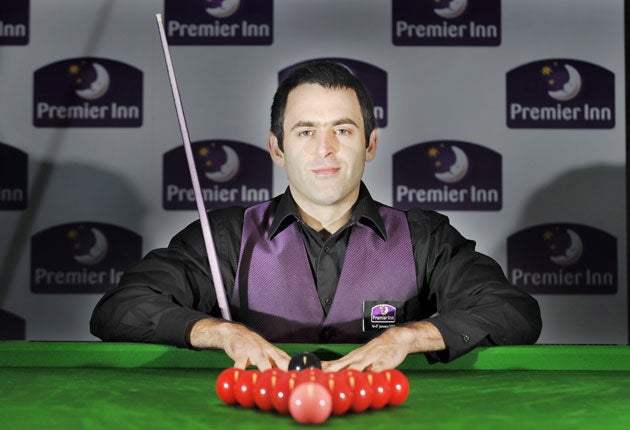 As the cameras panned round the audience at the World Championship darts final at Alexandra Palace last Sunday evening, there, among the men dressed as nuns, gladiators and bananas, sat an engrossed Ronnie "The Rocket" O'Sullivan, not quite snooker's equivalent of Phil "The Power'" Taylor, having been world champion only three rather than 15 times, but, like Taylor, unquestionably his sport's transcendent figure.
Two days later I find O'Sullivan in his own habitat, a snooker club on a small light-industrial estate in Romford, Essex. "I love watching Taylor play," he tells me. "You can't see much at the darts, but just to be there, to be part of it, was good fun. And I get that sense from him that he's striving for perfection all the time. When you're as good as he is it can be a problem just to stay that good. Looking for perfection is the only way to motivate yourself. The easy part is to play, but the hard thing is to play in the right frame of mind."
Seamlessly, O'Sullivan has stopped talking about Taylor and started talking about himself. "The relentless pursuit of perfection has been my problem over the years," he adds. "It's maybe held me back. So now, to get the longest out of myself, it's probably wiser not to pursue it. But I still have to look for things to motivate me, to keep me playing. It would be easy for me to walk away from this game."
That, of course, would be a crying shame. O'Sullivan is by a distance the most innately talented player in the history of the baize, the biggest draw at a time when snooker needs all the drawing power it can muster. A year ago, during the British Masters, he launched a withering broadside at the game's administrators, effectively accusing them of presiding over snooker's demise. He then won his fourth Masters title with typical brilliance, presenting officialdom with an all too familiar problem: should they punish the Rocket or cherish him?
As he prepares to defend his title, taking scarcely 20 minutes to take two frames off his hapless sparring partner, Brian "The Robin Reliant" Viner, O'Sullivan considers his cri de coeur of a year ago, and the appointment last month of his old mentor Barry Hearn as chairman of the World Professional Billiards and Snooker Association. "What I said was basically a cry out to Barry to come back into snooker, and now he has. I've been asking him for years, but he kept telling me it was a minefield, too much red tape. But he's the man for the job, and it's great for the game. He will create an atmosphere that players will enjoy."
But present company very much excepted, isn't part of the problem with snooker that those players are distinctly light on charisma, that there are so few characters in the game? "Yeah, but you can't leave it to the players, that's the point," he says. "It's up to Barry to take them out of their comfort zones, to force them into a different mindset. There are very few natural performers in the world, but you can make people perform by the way you set things up."
True enough. It's fair to say that Phil Taylor, the portly little former ceramic-turner from Stoke, is not one of the world's natural performers either, yet his choreographed entrance at Ally Pally on Sunday would not have disgraced Muhammad Ali in his prime. And behind darts, too, is the keen marketing brain and flamboyant showmanship of Barry Hearn.
Whether or not we'll ever see men dressed as nuns and bananas in a snooker crowd, O'Sullivan, like Hearn, wants to involve the punters more. The WPBSA's irrepressible new chairman even suggested this week that he would like to find a way of planting a microchip in a ball that, when potted, would cause one seat in the auditorium to vibrate, with £1,000 for the lucky person sitting there. And more power to his elbow, thinks the Rocket.
"We need shorter formats, shorter frames, one-frame matches, one-red games," he says. "We need to do the opposite of what snooker stands for, which is long games, and drawn-out matches. I'm not saying that should happen in the world championship, but even there we could make it first to eight or nine in the final, rather than first to 18 over two days. You don't need that long to work out who's best."
He pauses, fleetingly, to pot a near-impossible blue along the cushion, an impertinent shot that would have the spectators in raptures if only there were any. "Years ago players took five or six frames just to get into their stride," he continues. "But sport in general now is about getting out of the blocks early, literally in the case of Usain Bolt. Now there's a guy who shook up the world, like Muhammad Ali shook up the world, but they slated him, because they said he shouldn't have slowed down [in the Olympic 100m final], banging his chest and all that. They should just sit back and admire his genius. He likes having a bit of fun, and what's wrong with that? I've never been the most serious guy, either. That's why I like playing left-handed sometimes, but even that they pulled me up for."
It was at the 1996 world championship that O'Sullivan, only just out of his teens, first unveiled his ambidextrous potting ability on the big stage. His opponent, the Canadian Alain Robidoux, accused him of disrespect, to which O'Sullivan responded – rudely, but not inaccurately – that he could play better with his left hand than Robidoux could with his favoured right. Yet even without the incendiary comments, the furious snapping of cues, the petulant resigning of frames with plenty of points still left on the board, the story of Ronnie O'Sullivan would make colourful reading. In 1992 his father, Ron Snr, owner of a sex shop empire, was sentenced to 18 years for murdering an associate of the Kray brothers. A couple of years later, his mother, Maria, served 12 months in jail for tax evasion. It's hardly surprising that Ronnie has to grapple with psychological demons, as he famously does, and yet on the two occasions I have met him, he has been hugely affable, chatty and candid, the dream interviewee. I therefore risk raising the subject of the old man, who is now out of jail.
"Yeah, it's good to have him home," he says, evenly. "I'm happy for him, and it's a bonus for me. But I've always been a positive guy. People think I'm more vulnerable than I am, but the truth is that I have pretty broad shoulders. I'm in no danger, put it that way, and it's been like that since I came out of [drugs] rehab 10 years ago. The game can still torment me, though. Everything in my life is great, but I'm a little less relaxed when I'm not playing well. I do still allow the demons to get the better of me, but when I'm in the match arena that's usually all forgotten. That's why I'm setting myself challenges to keep me motivated. I'll do anything to get myself out there."
In the forthcoming British Masters at Wembley Arena his challenge, other than to win the thing, is simple. The Premier Inn hotel group is sponsoring him – hence his purple waistcoat and even a new purple cue – and he invited them to offer 147 free rooms should he bag a maximum 147 break. "If I get a perfect break, they'll give away 147 perfect breaks. That turns me on, that does, doing something nice for people. Someone might even come up to me years down the line and say, 'Me and my missus conceived our baby at a Premier Inn because you had a 147'. And then that kid might become a world champion, and someone might say, 'How did you come about?' And he'll say, 'Ronnie O'Sullivan, he's dead now, but he had a 147, and my parents got a free room'..."
Laughing, I tell him it's a nice fantasy. He looks at me solemnly. "You just don't know, do you?" he says.
You don't, and certainly there's no one to whom I'd rather pin my hopes of a free hotel room than the Rocket. He has nine official maximum breaks to his name, level with Stephen Hendry at the top of the all-time list. And he retains the record for the fastest-ever 147, compiled at the 1997 world championship in a frankly astounding five minutes and 20 seconds.
Does he think he's still capable of such a thing? "No," he says. "But, to be honest, it was one of the worst breaks I've ever made. I was out of position six or seven times. I've made 30 better breaks, and I've played better shots in the last five minutes against you." As if to prove the point, he promptly pots a difficult red, manoeuvring the cue ball off two cushions perfectly on to the black. "This cue is beautiful," he says. With characteristic generosity, he offers me a few shots with it, and sure enough, as far as any length of purple-stained wood can be beautiful, it is.
"Some of the shots I've played here were just perfectly struck," he says. "And it's those little moments of perfection that I love. It's the same if I'm watching sport. I'll only watch golf if Tiger Woods is playing, I'll only watch darts if Taylor is playing, I'll only watch football if there's a really class player on the field."
Plenty of people, I venture, feel the same way about snooker and him. "Well, I don't know because I don't watch myself. But, to be honest, I don't get it. Sometimes people get excited about shots I play, breaks I make, and I think it was terrible. I'm my own worst critic. But maybe it's the same for some of those other guys. I went to watch [Roger] Federer at the O2, and he got beat by [Juan Martin] Del Potro, but just to watch him walking on to the court, sitting down, warming up, for me that on its own was better than anything."
And with that, right-handed and then left-handed, he clears the colours. Obviously his opponent wasn't up to much, but all the same, he looks in formidable form. Next week might just see the start of an O'Sullivan purple patch.
Bad breaks: O'Sullivan's troubles
1996 World Championship
O'Sullivan was leading Alain Robidoux in a first-round tie when he switched to play his shots left-handed, claiming he was better with his left than Robidoux was with his right. His opponent refused to shake hands after the match, which Ronnie won 10-3. O'Sullivan also admitted assaulting an events officer at the tournament during a press-room scuffle. He received a £20,000 fine and a suspended two-year ban from the World Snooker Association.
2006 UK Championship
Trailing 4-1 in his best-of-17 frames quarter-final with Stephen Hendry, Ronnie missed a red before shaking hands with Hendry and the referee, then walking out. "I got annoyed with myself and lost my patience," he said. The WSA compensated fans with an extra day's ticket and fined Ronnie £20,800.
2006 World Championship
During a semi-final against Graeme Dott, with the game tied at 8-8, O'Sullivan appeared to remove the tip of his cue before claiming a 15-minute break to get it re-tipped. Officials accepted O'Sullivan's word that the tip had fallen off. Ronnie lost the tie, and gave away his cue to a fan.
2008 China Open
After a 5-4 defeat to Marco Fu in Beijing, O'Sullivan made suggestive remarks and lewd gestures with the microphone in his press conference before the local media. He later apologised.
Adam Hulme
Ronnie O'Sullivan will be sponsored by Premier Inn for the Masters (10-17 January), to celebrate their "Perfect Breaks" – one million hotel rooms available from £29
Join our commenting forum
Join thought-provoking conversations, follow other Independent readers and see their replies