Rufus Hound: One man, two monikers
The comedian – aka Rob Simpson, to the mums at his son's school – has shaved off his trademark moustache for his (very funny) West End debut. Susie Mesure meets Rufus Hound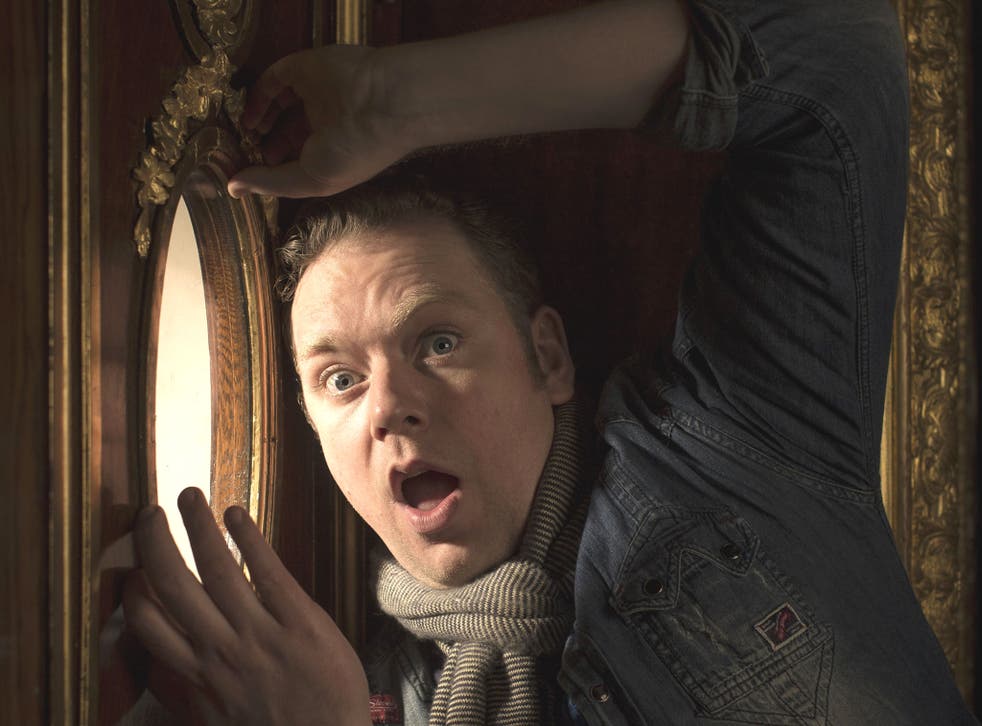 There's something rather disarming about opening the door to Rufus Hound's dressing room and not finding the man with the ginger 'tache. It's not that I'm in the wrong place, but that the facial hair has gone. Swoosh. "It's such a trademark that getting rid of it feels quite significant. The shaving of the moustache is quite ritualistic, Samsonian," says the double-denim wearing kidult in chunky zebra-striped trainers that I appear to be interviewing.
I'm doubly disarmed when he jumps on my throwaway remark about the plus-sized model I've just met and misses the chance to offend. "That Gok Wan thing, of all people: it's all about the confidence. That's it in a nutshell," he says, nailing the issue 99.9 per cent of women have with their bodies. There I am, braced to meet the abrasive comedian who advertises his DVD, Being Rude, with a rant about women who won't – forgive me please – give blow jobs, and there he is, siding with womankind in a way that's beyond even some of the sisterhood.
I feel like a mum at his son's school, where father-of-two Rufus goes by the name Rob. "It's odd to be with the other parents at the school gate insisting they call you by your showbiz name because it makes you look like a bit of a cock." So to them he's Rob Simpson, which, after all, is what his parents named him 33 years ago. He's also had to break it to his five-year-old that although his wife has "Rufus" tattooed on her left forearm (he had "Beth" inked on his shortly after their Las Vegas wedding), that's not really him.
"The thing I had to knock out of my son, I mean not literally, was he twigged early on that sometimes if people knew I was Rufus Hound they were nicer to us, and you've got to instil in him, that 'No, no, no, no, no, no, no, no!'" he laughs. "We're just people and that's not how we operate."
Have I got him all wrong? Will I have to start watching all those tedious male-centric panel shows that I've hitherto avoided precisely because Hound is one of their cocksure tribe?
Judging by what I see later that evening, when he takes his first West End role in One Man, Two Guvnors as Francis Henshall, James Corden's old part, then yes, quite possibly. After a slightly wooden entrance, Hound as Henshall, which as anyone who has seen it will know is not so much about acting as playing the stand-up, is a joy. He has me laughing – something of a first – at his quick-witted banter when he gets two audience members up on stage to help him lift a trunk. Glancing back at my jottings, it must have been in the delivery, but I promise I wasn't the only one in stitches at his gags. Later, his character moans about being hungry, and asks: "Has no one got a sandwich?" When a clever dick in the third row pipes up, "Yes", Hound-as-Henshall asks, "Did no one tell you this was a play?"
It's a far cry from earlier, back in his dressing room, when he's busy talking about the "prism of filth" he operates through as a comic. "I talked about how utterly heart-breaking it is to be male and given a male sexuality where your desire to fuck is, just so …" He pauses, choosing his words, "awful. And dehumanising. You want to think of yourself as Nelson, with this huge, oh, even that sounds phallic I suppose, proper old school, almost Victorian-gentleman-honourable nobility, and then you realise that you've spent two minutes looking at tits and you want to not be that person in a way, but you can't help it."
He adds: "I've talked about that awful business of male masturbation, where ..."– I don't know if it's my expression, but he breaks off, adding – "this feels odd, telling one person in a room. With a full audience you can kind of talk about that …. Male sexuality is dehumanising but at the same time men are inherently straightforward, whereas to men, women just make no sense at all."
This is more like the Rufus I was expecting, despite the lack of 'tache. The angry Hound who liked the soapbox qualities of being a stand-up. Liked, in the past tense, because he's somewhat fallen out of love with the medium. "I ran out of having anything that I felt was worth saying. And out of joy for doing it. Once I had a kid I got angrier, frustrated that all these people were fucking it up for my perfect child, this wonderful Messiah who had been given unto the world. And it stopped being stand-up and started being a combination of existential crisis and just irate shouting. And less punch lines and more sadness. And while I quite like that, still, I felt that stand-up, by its definition, should be making you laugh."
Hound has an old girlfriend, a comedy critic, to thank for getting into the industry. Despite a love of acting while at school (the infamously liberal Frensham Heights, in Surrey), he eschewed studying drama at university – "I realised that if I went I'd probably emerge with 30 grand-worth of debt and cirrhosis of the liver" – and instead got a job in PR. That, incidentally, prompted the facial fuzz, which the baby-faced young account exec grew to look older. But he swapped that life for the circuit after Russell Brand, whom he met while doing some "technical stuff" for a play at the Edinburgh Festival, "told me I was funny and should be doing stand-up." The name change followed, he claims because RobSimpson.com had already been bought. "I had shaggy hair, and an unkempt blond beard. I looked kinda doggy with a touch of sienna in my face fur. Rufus Hound it was."
I'm curious about comedy's need to offend, which I'm sure puts off more than the slightly squeamish, like me, and ask if it has to come with the territory. "That is a big, big question. If you think that stand-up could be used as a force for change, it is in part about offending people who want everybody to be nice. Most people who want that want there to be a maintenance of the status quo. The reason the Daily Mail writes what it writes is because it basically wants white, middle-class people to stay at the top of the chain."
There's more, always more, with Hound: "If you are a bit more leftfield there's a notion – I mean, Frankie Boyle is this through and through: a working-class Glaswegian... who thinks people who've had it a little bit easier need to have their noses put out of joint... others start off with noble principle but increasingly seem to offend because... they end up doing the sort of comedy they don't want to do. So they're like, 'fuck you' for making me be this person."
He thinks the furore that the Mail in particular likes to whip up every time it feels aggrieved by something a comic has said is utterly overblown. He's sad that the BBC kowtowed to the outcry after Sachsgate. "Now the BBC puts its weight behind shows that would be at home in 1975 because it's terrified. There's nobody there who has worked out how to make the BBC not terrified. There's nobody prepared to stand on the steps when another private media organisation decides to give it another kicking and say 'fuck off'."
Afterwards, I think long and hard about who, exactly, I met. Rufus or Rob? Hound or Simpson? His partial disrobing – and I'm talking figuratively, not literally, despite our dressing-room rendezvous – has left me wishing that I had, in fact, met him at the school gate. I'm pretty sure I'd like him.
Curriculum vitae
6 March 1979 Born Robert James Blair Simpson. Grows up in Woking, Surrey, where he attends Hoe Bridge primary school, Frensham Heights and Godalming College. His parents – an accountant and a civil servant – have two boys; his brother is 18 months younger.
2000 Swaps PR, where he was an account executive for Claire's Accessories, for stand-up. First gig is at the Coach and Horses in Hampstead. Adopts his stage name, Rufus Hound, while working at the Edinburgh Festival. Sidelines as an "Explainer" at the Science Museum.
2002 Makes the final in the annual So You Think You're Funny? stand-up comedy competition for new acts at the Edinburgh Festival Fringe.
2007 Marries Beth Johnson in Las Vegas, four months after meeting her. They have two children: Alby and Hilda.
2008 Joins the TV show Argumental as a team captain and Celebrity Juice as a regular panellist.
2010 Wins Let's Dance for Comic Relief with his performance of Cheryl Cole's "Fight for This Love".
2011 Releases his first stand-up DVD, Being Rude.
2012 Stars in The Wedding Video, his first film.
2013 Makes West End debut as Francis Henshall in One Man, Two Guvnors.
Tomas Jivanda
Register for free to continue reading
Registration is a free and easy way to support our truly independent journalism
By registering, you will also enjoy limited access to Premium articles, exclusive newsletters, commenting, and virtual events with our leading journalists
Already have an account? sign in
Register for free to continue reading
Registration is a free and easy way to support our truly independent journalism
By registering, you will also enjoy limited access to Premium articles, exclusive newsletters, commenting, and virtual events with our leading journalists
Already have an account? sign in
Join our new commenting forum
Join thought-provoking conversations, follow other Independent readers and see their replies