Rumer's new album: Her debut caused her post-traumatic stress - how will she cope as she releases her third record?
When Rumer's debut album thrust her into the spotlight, she was told to step straight back out of it by doctors who diagnosed her with bipolar disorder and post-traumatic stress. Four years on, with a new record imminent, is she ready to face the music?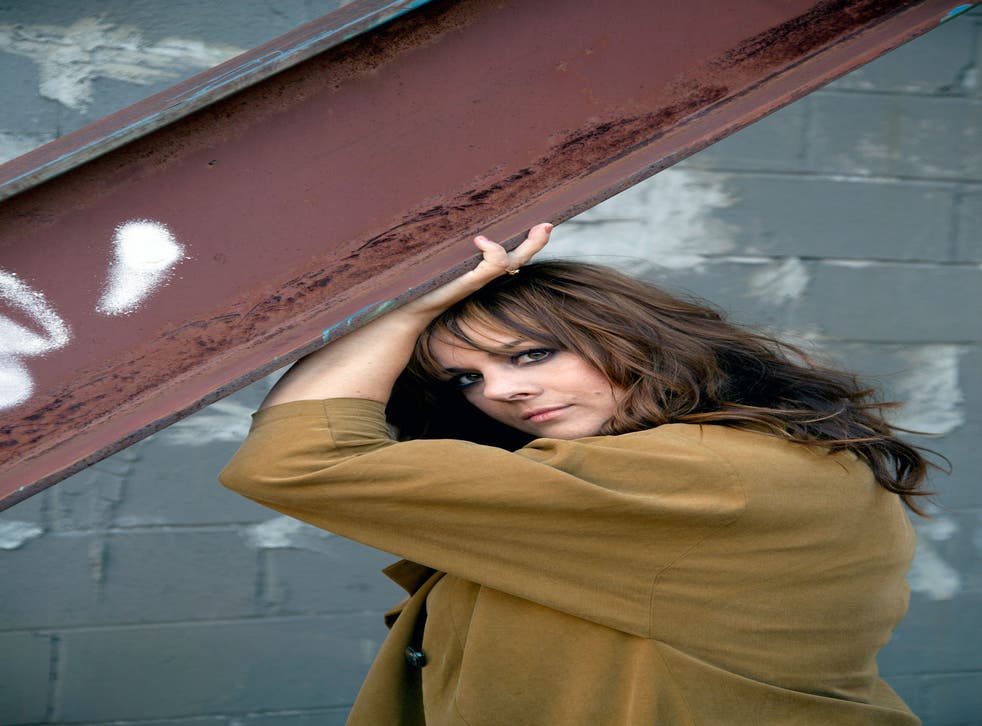 'Happy?' she says, quizzically, fork poised in the air. I've just asked the singer-songwriter which of the songs on her new album she would classify as the happiest. 'It's funny,' she begins, 'cos each one is tinged with sadness. Bittersweetness. I'm just trying to think…'
And so the woman born Sarah Joyce 35 years ago goes through the tracks on the beautiful, heartfelt and often heartbroken Into Colour one by one.
"'Dangerous' is about overcoming fears of being hurt," she says of the album's first single – a disco-pop song, for sure, but with a melancholic cast to the lyrics. "'Reach Out' is about depression but being there for someone. 'You Just Don't Know People' is about not letting just one person make you cynical about the whole world. 'Play Your Guitar' is very emotional for me cos I feel very passionate about the lack of investment in the arts and music at the grass roots.
"'You Make the World a Better Place' is an anti-celebrity song," she continues. "Let's talk about real people who do amazing things every day, who just quietly go about their business, looking after people's kids, disabled children, nurses, doctors, homeless charities… people who keep the world going. So I don't say that's happy, but it's positive."
She laughs as it dawns on her that the album she finally finished only a few days previously might be entirely devoid of lolz. "'Sam'…" she murmurs, mentioning the song about an ex- boyfriend. "'Butterfly'…" she nods, referring to the song about her miscarriage.
"'Pizza and Pinball!'" she suddenly declares. "That's a happy song! It's an interesting song. I don't have much playfulness, but that song reconnected me with that. It's about a 1970s childhood. I thought it was nice. A little fantasy scene. So, I found one!" Rumer says triumphantly through a mouthful of shrimp and flatbread.
Still, if you're going to go to anyone for the poeticism of sadness, you'd go to Rumer. Her debut album, 2010's Seasons of My Soul, was a collection of reflective torch songs. It was unashamedly middle of the road and nostalgic, but in a beguiling, authentic-feeling, Karen Carpenter/Judee Sill/Laura Nyro way.
And it struck a plangent chord. It sold almost a million copies worldwide, was met with broad critical acclaim, and saw her fêted by Burt Bacharach – the legendary songwriter invited her to his California home to play with him. The pair later visited the White House together, where Rumer performed for the Obamas. The follow-up album, Boys Don't Cry (2012), was a collection of covers of compositions by American male singer-songwriters, (mostly) from the 1970s. "Those words were much more intense than mine," she says of the likes of "PF Sloan" by Jimmy Webb and "Sara Smile" by Hall & Oates, "and I don't think I would have survived touring that kind of darker record. So Boys… was my bridge."
It was a purposefully low-key release. A stop-gap, to allow Rumer time to regroup and recover. But what was she recovering from?
Well, what you might call "the usual": the pressure that came with being, after 10 years of graft on the London singer-songwriter circuit, a hit artist who was in demand and in the spotlight. And with that pressure, a turbulent mess of mental and emotional issues, and a jaw- dropping life story that "fame" required her to discuss over and over in public.
"I was very, very unwell. I was just stressed. I went to the doctor, and she said: 'I see people like you every single day. Whatever it is that you're doing, just stop doing it.'"
The thoughtful, introspective Rumer – who'd taken her performing name from one of her favourite authors, Rumer Godden – replied that it wasn't as easy as that. She was "booked up for two years" and would be letting down "so many thousands of people. And when you're starting out as an artist and start pulling out of things, people don't forgive you."
She was also suffering from "very bad stage anxiety. Which is natural if you think about it biologically. If you're an animal and you separate yourself off from your group, and you go stand in front of a bunch of people, your adrenalin and cortisol kicks off, because you think you're gonna be eaten. We haven't evolved physically past that point. So that feeling of annihilation is real."
Animal-lover Rumer also likens her situation to being caged for public entertainment. "It's like they find you in the wild, this really interesting creature, and they put you in a zoo, so everyone can look at you. For a while your conditions are better, maybe. But there was definitely a yearning and an incompatibility with that. My spirit started to wane, being kept in captivity."
Feeling "annihilated", as if she was going to be eaten by her fans, and like some guitar-playing Mowgli-cum-Elephant Man weren't, oddly, the worst of it: Rumer was diagnosed with bipolarity, attention deficit hyperactivity disorder and post-traumatic stress disorder (PTSD). "Yeah, I was…" she says, almost breezily. "I thought it was bullshit."
Does she really suffer from all those things? "I was convinced it was a misdiagnosis… But the PTSD came from my childhood. When you have trauma, it leaves landmines in your psyche that embed themselves so deeply that you can't trace their origin, cos sometimes they start at three years old. And what I realised was that we control our lives so those emotions don't get set off.
"When your life gets taken over, you have no control over that any more. Your life is scheduled. So I couldn't stop myself from getting hurt. And I couldn't prevent the explosions."
But, she adds with a cheerful shrug, it was ultimately "healing" that all that, well, stuff was unearthed by the process of her becoming a successful pop star. "It's really interesting," she chirps, "psychotherapeutically."
It should here be noted that the woman sitting in front of me at lunchtime in a Hispanic restaurant in the quaint town square of Bentonville, Arkansas doesn't come over as a worrywart misery-Molly. For sure, she's grateful for all her success, and is at pains to not sound churlish. And certainly Into Colour is no woe-is-me dirge nor, conversely, stuffed with peppy therapy speak. Rather, it's transporting and elevating.
So while she does cry at one point, when we discuss last year's miscarriage (she lost twins), Rumer is bright, cheerful and effusive. She's comfortable with discussing her family, and the intense story thereof.
The youngest of seven, she was born in and spent her early childhood in Pakistan, where her engineer father was helping to build a dam. On returning to the UK, she discovered that her biological father was actually the Pakistani man who'd been the family cook.
When, in adulthood, she travelled back to the remote community in which they'd lived, she discovered that he had died three months previously. Now she financially supports his widow and children, although they don't know who she is ("I don't want them to be stigmatised"). Then, in 2003, her mother – who had remarried and settled in the New Forest – died of breast cancer. Rumer subsequently suffered a breakdown.
If it's not too trite to say, you really couldn't make it up.
Much to her protective elder sister's concern (she emails before the interview starts, encouraging Rumer to keep it "light and positive"), she's long used to discussing her issues in the media. Now she's tackling them head-on via a variety of mechanisms, including, but not limited to, writing the songs on Into Colour, moving to this rural seclusion with her new boyfriend, and getting a rescue dog called Alfie.
The latter, a one-year-old collie-terrier mix, is currently sitting at Rumer's feet, whining occasionally. The former, Rob Shirakbari, is en route to meet us. He's a 50-year-old Arkansas native and composer/arranger/musician whom she met when she relocated to Los Angeles after the release of Boys Don't Cry.
Moving there was part of her "healing" after those hectic four years. Shirakbari, formerly Bacharach's long-standing musical director, became both her boyfriend and her new producing partner roughly simultaneously. After she wrote the songs for Into Colour in LA, last year the pair moved back to Shirakbari's home state, in part to be nearer his parents.
She knows how it looks. "The record company at first were like, 'Oh my God, Rumer wants to make an album with her boyfriend, are you kidding me?'" she laughs. "They didn't realise how talented he was. Then they were like, 'Make sure they don't split up!'" Now the pair are getting married, though the pressure of the release of the album has necessitated moving back the wedding date from next month to May next year.
She misses the bustle of London, but being outdoors, in the "abundant nature" of small-town Arkansas, and having the peace to record her album here, has helped Rumer recalibrate and reorient. The title, she insists, says it all.
"I used to have a friend who was a poet," she begins, and it's only later I realise she referred to him in the past tense, "and one day he turned up at my door with a bunch of flowers in the pouring rain. He'd just been to a funeral. And he said: 'Ms Joyce, we're going into colour.' And it was just one of those moments," she beams at the memory. "I always liked that idea.
"So he gave me that turn of phrase. I liked it as a representation of going into something more positive. A blossoming, a transformation. When you're looking down the barrel at what could be a destructive path in terms of an illness such as depression that can be so debilitating… when you're in that state, you think: how will I ever be able to manage? Then you realise you can actually transcend that. You can recover, and you can manage your depression. You can manage it by creating a better life, a better environment.
"And now I'm in a more beautiful environment," Rumer says, and her relief is palpable. Nature helps, and an animal helps. "Alfie is so happy to be alive," she grins. "He loves to run and sniff and eat and sleep. So you can't be depressed when you have this dog whose nose is in your face when you wake up. He's like my spirit dog."
Rumer ducks her head beneath the table and buries her face in Alfie's. "Words cannot describe how much I love this dog. I love you," she coos to this grateful, skittish pup who has his own damaged background (he doesn't like sticks, nor baseball caps). "I love you," Rumer repeats to her four-legged friend. "You know that! Come here!" she says, ruffling Alfie's fur. "You know that. You know that word."
'Into Colour' is released through Atlantic Records on 10 November. For more: rumer.co.uk
Join our new commenting forum
Join thought-provoking conversations, follow other Independent readers and see their replies