Samantha Bond: From sex symbol to sozzled wife
To millions of fans she will always be Miss Moneypenny – but now she's feeling the bruises from preparing for a Joe Orton farce. Genevieve Roberts meets Samantha Bond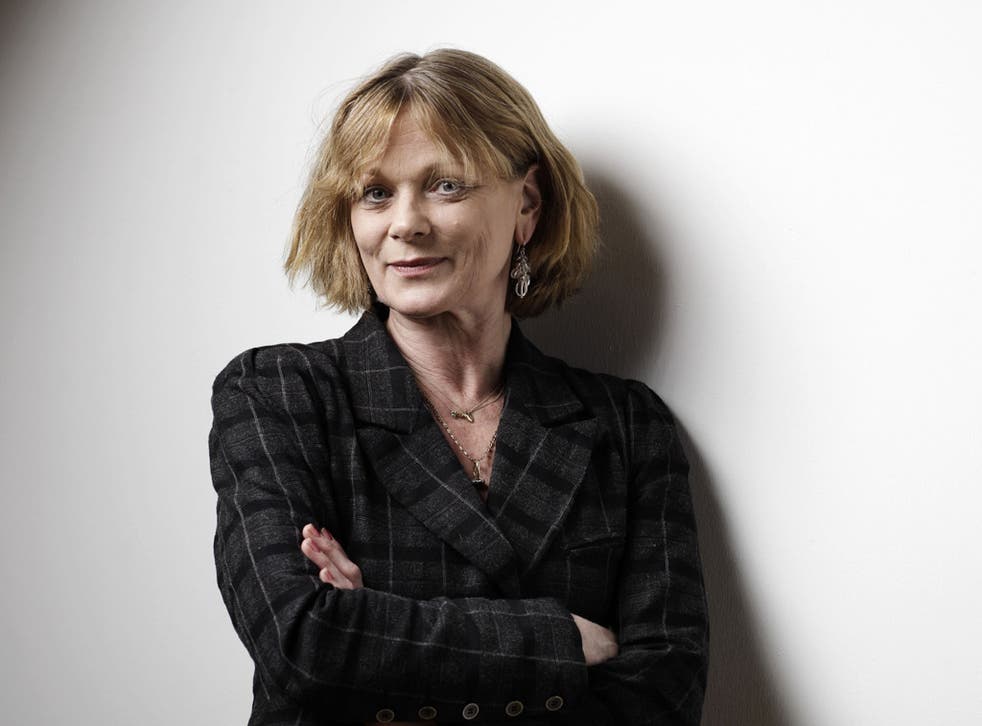 She has chipped nail polish, is covered with bruises and isn't too happy about having her photograph taken. Moneypenny – Samantha Bond to you – may be the stuff of a million male fantasies, but today this particular sex symbol is definitely off duty.
The bruises are the fruit of a day's tottering and falling about rehearsing the half-sloshed Mrs Prentice in What the Butler Saw. Her nerves are equally battered: despite what will very soon be 30 years on stage, she still suffers dreadfully from stage fright.
She may be 50 and have spent more of her life on stage than off, but she cannot shake off the pre-performance jitters and believes it is getting worse with age. "I had the children and went through a really happy 12-year period when frankly I was too busy – going to work was a bit of time off – and I didn't have time to be nervous," she says. "Then the kids got to middle-teens and you didn't have to worry in the same way, and suddenly the nerves came back. I think that as you get older, you become aware of everything that could go wrong." Her current fear is playing Mrs Prentice next month in Joe Orton's farce. "The whole thing is unlike anything I've ever done in my life: it feels very exciting," she says.
Nerves aside, she is "astonished" that three decades have passed since she started acting. Her first role was in On Yer Bike at the Belgrade Theatre in Coventry, in 1982. "It has gone so fast," she says. "I managed to slip two children out in the middle of my career and have been lucky with all the work. I played Rosalind until I was 27 weeks pregnant with Tom and played Hermione until I was about 35 weeks pregnant, and you go, 'OK, that's fair enough'. I don't know how much more I could have fitted in, except by being an invisible mother."
Ironically, it is one of her smallest roles – Moneypenny to Pierce Brosnan's Bond – that transformed her from leading actress to sex siren. "It didn't finish my career, for which I am eternally grateful, nor did it change my career either," she says. "The big thing that Moneypenny changed was the amount of charity work that I was able to be involved with."
Bond celebrates her 30th anniversary on 5 July. To get her first break, she applied to every repertory theatre in the country and went through 12 auditions. The following year she was in the original production of Denise Deegan's boarding school parody Daisy Pulls It Off, as well as a BBC adaptation of Mansfield Park. "By the time I was working for three years, I had done something like 35 professional plays," she remembers. "And kids nowadays wouldn't do that in a lifetime."
She was born into an acting family, but her first dream was to become a ballet dancer. "At 14 it seemed quite feasible, I was like a stick insect. By the time I was 15, which is when I was auditioning for senior dance schools, I was in the middle of puppy fat – I was considerably bigger than I am now – and it was just not going to work." She is sanguine about the disappointment. "If I had been a ballerina I would've been retired for about 17 years now. So there are pros and cons."
As it is, her career shows no sign of slowing down. But she finds the lack of roles for women in their fifties depressing. "The middle-aged woman is the ground bed of the audience that watches television and yet they are absolutely invisible. Invisible," she rails. "And you get to this age and our lives, my friends' and mine, are as extraordinary if not more extraordinary than the life of a 30-year-old could be. We have elderly parents, we deal with bereavement, we deal with Alzheimer's, we deal with cancer, we deal with children and drugs, we deal with these huge subjects which simply are not touched upon. I don't get it."
She says she's not clever enough to write a screenplay, but if she does come up with a plot she will take it to a writer, which was what happened to Suranne Jones and Sally Lindsay with the detective show Scott & Bailey. "The three women are sensational, and middle-aged, and sexy and funny."
That description could apply to Bond herself. Her voice draws you in; even in a blindfold you'd sense her sex appeal. And, reassuringly, without a blindfold, it's clear she hasn't been polished to perfection: it's not just the chipped nail varnish; she has an incredibly expressive face and smile lines that suggest she spends her time laughing, rather than being Botoxed. "That's a rotten way to say I'm looking old," she tells me.
She is, she says, "terribly superstitious" – she salutes magpies and asks people to leave if they mention the Scottish play in her place of work. "I can invite you back in if you go out, turn round three times, spit, swear and knock," she adds. And she won't mention the roles she would love to have a crack at, for fear of jinxing her chances.
She played Lady Rosamund in Downton Abbey, though she is not currently involved in the third series, which is now in production. "I have a wonderful time when I'm there," she says. "It is quite tricky being a character that comes in and out, though that's not to say there's no possibility of coming back. But I couldn't do this play if I was involved in that, and I do miss the stage."
She may have played Moneypenny in the Bond films, Juliet to Kenneth Branagh's Romeo and Auntie Angela in Outnumbered, but Bond counts her biggest success as her children, Molly and Tom, both of whom, despite parental misgivings, are following the family tradition. "My daughter is at the Bristol Old Vic theatre school and my son is at Rada. So I'm afraid we lost that one. Two years ago I thought I had a lawyer and a politician but now I've got two turns," she sighs.
She is married to the actor Alexander Hanson, but they have worked together only once, in An Ideal Husband, an experience she thinks they would both be wary of repeating. "It actually was tricky," she says. "He'd been on Broadway for a year and I'd been doing jetsetting visits. He literally flew home on Sunday, and on Tuesday we went to work. So from having had this sort of absentee, rather glamorous husband who I went to visit in New York, suddenly there was this man in my kitchen, in my rehearsal room, in my bedroom, and it was tricky."
She believes that coming from a theatrical family means "you really don't know what the real world does". Her father is the actor Philip Bond, and her mother Pat Sandys, who died in 2000, was an actress and then a producer. She is close to her siblings, the actress Abigail Bond and film critic Matthew Bond. "My mother wasn't ill at the time, but she said, 'When I go, nothing would give me greater pleasure than to know you three still want to know each other' – and she more than achieved that."
Her parents would host "social Sundays", a tradition she continues. "I never had a Sunday lunch with a doctor, a solicitor or a librarian, and unintentionally I have created exactly the same track for my children." She says her Sundays aren't lovey affairs, though there is some "fantastic story-telling". But she thinks that being surrounded by actors from childhood has kept her grounded. "There are fantastic highs, there are fantastic lows, but this is how I pay my bills, this is how I feed my children, this is how I fix a broken window," she says. The bruises from What the Butler Saw, the snogs with Pierce Brosnan and the dropping into "sunkissed" Downton seem a pretty good way to fix a broken window. And there is no doubt that – off-duty or not – she will remain a sex symbol for years to come.
Curriculum vitae
1961 Born into an acting family, to the actor Philip Bond, who starred in The Onedin Line, and TV producer Pat Sandys.
1982 After training at the Bristol Old Vic theatre school, she lands her first professional role in On Yer Bike at Coventry's Belgrade Theatre.
1983 Plays Alice Fitzpatrick in Daisy Pulls It Off, and Maria Bertram in the BBC production of Mansfield Park.
1986 Plays Juliet to Kenneth Branagh's Romeo at the Lyric Studio, Hammersmith.
1987 Performs as Liz Probert in Rumpole of the Bailey.
1995 Plays Moneypenny to Piers Brosnan's James Bond in GoldenEye, reprising the role in Tomorrow Never Dies and The World Is Not Enough throughout the 1990s.
1996 Takes on the role of Mrs Weston in the TV adaptation of Jane Austen's Emma, with Kate Beckinsale in the title role.
1997 Nominated for a Tony for Amy's View, written by David Hare, alongside Dame Judi Dench.
2007-11 Plays Auntie Angela in the improvised TV comedy Outnumbered.
2010 Performs alongside her husband Alexander Hanson for the first time in An Ideal Husband at the Vaudeville.
2011 Plays Lady Rosamund in Downton Abbey.
2012 What the Butler Saw will open at the Vaudeville Theatre next month, with Bond playing Mrs Prentice.
Join our new commenting forum
Join thought-provoking conversations, follow other Independent readers and see their replies