Sara Blakely: Spanx a billion
With one, simple, brilliant idea, she created clothing that made people feel better about their bodies – and earned herself a fortune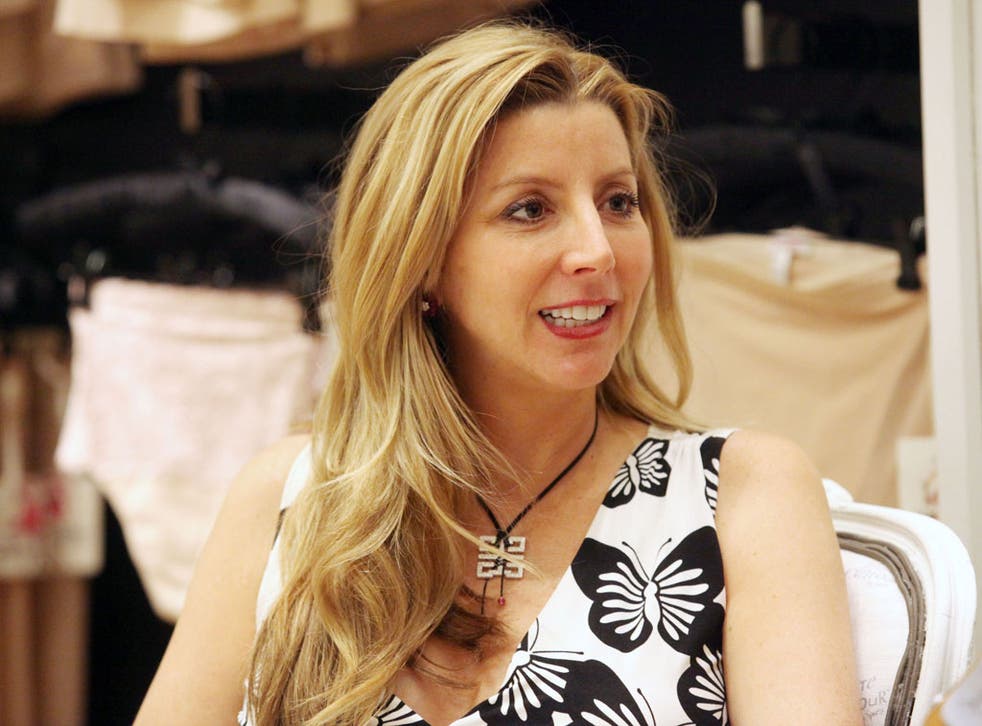 In times of tightened belts, there's big money to be made in big pants. And when businesswoman Sara Blakely this week became the youngest woman to appear on Forbes magazine's annual Billionaire List without help from a husband or inheritance, she moved from underwear drawer to top drawer.
Her ticket on to that most exclusive of rundowns is her company Spanx, most recently referenced by Oscar winner Octavia Spencer last week, who announced she was wearing three pairs under her red carpet gown.
"I'd never worked in fashion or retail," Blakely, 41, told Forbes of her "eureka" moment back in the late Nineties. "I just needed an undergarment that didn't exist."
It seems odd to contemplate a world without Spanx, given the shapewear market is now as bloated as many of its most devoted customers. A heavily elasticated, long-line undergarment that extends to mid-thigh, Spanx aims to squeeze flesh and eliminate the tell-tale tectonics of ill-fitting undies. Blakely invented them aged 27 when she was a travelling salesperson, improvising by cutting the feet off a pair of tights.
These days Spanx is one of those most prized ventures: a company which is a synecdoche for its merchandise, its identity part of the vernacular. It is valued at $1bn, according to Wall Street analysts, pocketing 20 per cent annually of almost £160m. Spanx is a private company, so figures are not exact – Blakely stills own 100 per cent of it, employing 125 people and selling her range (now 200 products strong) in 11,500 retailers across 40 countries. Her CEO Laurie Ann Goldman used to head up Coca-Cola's licensing division; when she first joined Spanx in 2002, her office was the kitchen of Blakely's apartment.
Born to a personal injury lawyer and an artist in the coastal town of Clearwater, Florida, Blakely was a rare mix of cheerleader and debate team star at school. In her early twenties, she did stand-up comedy, and her character remains split down the middle between entrepreneur and raconteur, exec and entertainer. She famously turned up to the Screen Actors Guild Awards one year bedecked in sweet-shop jewellery, having left her diamonds at her hotel. "She's 50 per cent Lucille Ball, 50 per cent Einstein," Blakely's husband Jesse Itzler, a rapper turned investor, told Forbes.
Blakely's entrepreneurial instincts kicked in early; contemporaries relate how she once tricked them into completing her domestic chores by turning them into a competition. But her first venture in 1990 was a childminding ruse on the beaches of her home town, charging $8 an hour to babysit the children of sunbathing parents. It was only when she attempted to expand to nearby hotels that she was told in no uncertain terms not to muscle in on their patches.
Part of the impetus behind Blakely's drive comes from a series of tragedies that occurred during her teenage years. At 16, she witnessed one of her best friends being run over by a car; her parents divorced the same year; and two of her high school prom dates died soon afterwards.
"I think that when you witness death at age 16, there's a sense of urgency about life," she says. "I think about [mortality] a lot. I find it motivating. It can be any time that your number's up."
Blakely's intention was to become a lawyer like her father but, having sat her law school admission exams twice and failed them emphatically, she drove to Orlando and worked the rides at Disney World; at 5'6", she had been too diminutive to be one of the costumed meet-and-greeters. "I think I wanted to postpone reality," she has since said. "It didn't work: my first day at Disney I went on a break and saw Snow White dragging on a cigarette."
Within two years, Blakely had taken a job at an office supplies company, where she was tasked with selling $20,000 worth of fax machines door to door every month – something that, she has said, taught her self-confidence and the art of approach. By 25, she had been made national sales trainer. But the idea for what would make her a millionaire had already been spawned.
"It was Florida. It's hot. I was carrying fax machines," she explains, frustrated with seams peeping out from open-toed sandals but unwilling to forgo the slimming effect of a pair of control tights. "I cut the feet off my pantyhose and wore them underneath. But they rolled up my legs. I remember thinking, 'I've got to figure out how to make this'."
What she came up with, after researching patents, investigating fabrics and cold-calling manufacturers, was an elasticated cotton blend, with flat seams, laser-cut edges and micro-fibres to wick away moisture. She moved to Atlanta with her nine-to-five job, set aside $5,000 and spent two years planning the launch of her singular product.
On, they look like flesh-coloured surgical cycling shorts; worn under clothing, they can slim the wearer by up to a whole dress size. Control pants had existed in various punitive incarnations, as so-called "liberty" bodices, but Blakely's version was an altogether more palatable one across the market, despite selling at prices that put them at the higher end of the spectrum.
"I think a number of factors have led to the popularity of the control pant," says businesswoman Michelle Mone, founder of the lingerie company Ultimo and the UK's answer to Sara Blakely. "Well-fitting lingerie has always had the power to enhance a woman's shape; no matter whether you're a six or a 16, all women benefit from the smoothing and shaping of a good control pant."
"These products are definitely ones that have a high turnover of sales," agrees Isabel Cavill of Planet Retail. "Hosiery and underwear are frequently bought, and I see shapewear being an incredibly popular category within this sector. Once you get a 'wonder' brand, it sells out very quickly – Spanx has become the brand for this type of product."
If this is the case, it's thanks to Blakely's relentless work and self-promotion. Despite her brand's success, she has never spent a penny on advertising. Instead, she sent her signature styles to Oprah Winfrey's stylist in November 2000. Winfrey then name-checked the brand on her "favourite things" segment of her show and Blakely's nascent website was inundated with orders, which she filled from home, stuffing jiffy bags all night in her apartment. From day one, Spanx has been profitable, making £2.5m in its first year and £6m the next.
"They're constantly innovating and offering new solutions to body insecurities," says Helen Wood, lingerie buyer at John Lewis. "And they do it all with a sense of fun – from their packaging to the names of their product. A new range called 'Trust Your Thinstincts' is a great example."
It helps that Blakely is so personable, so recognised from slots on QVC that she is spotted in the street, and willing to promote her products through herself. Her first point of sale included before and after shots of her derriere in tight trousers with and without Spanx. Her success story is intrinsically linked to her brand and therefore to her customers. Out of the 125 employees of Spanx, only 16 are men.
"As a woman, I have a better understanding of what women want and need," agrees Michelle Mone. "I can relate to the body and lingerie dilemmas we face, and try to create solutions."
Nor is Blakely publicity shy – although she has conquered phobias of heights, flying and public speaking along the way. In 2003, she appeared as a contestant on Richard Branson's reality show Rebel Billionaire, in which she climbed up the side of a hot air balloon at 8,000 feet. Although she didn't win the series (Branson deemed her too successful, despite having been in business for only a year), he wrote her a cheque for £475,000 with which to start a charitable foundation. Today, that charity helps disadvantaged women across the world to better themselves.
At the other end of the scale, Blakely continues to help celebrities including Gwyneth Paltrow, Beyoncé and Jennifer Lopez manage their assets at public functions and photocalls. Candidly clad reality TV star Kim Kardashian regularly shows her Spanx unwittingly – in terms of exposure, it doesn't get much better than this.
"I have to pinch myself," Blakely told Forbes a decade after she started. "Five grand ... good investment."
A Life In Brief
Born: Sara Blakely, February 21 1971, Clearwater, Florida.
Family: The daughter of a personal injury lawyer and an artist, she married the former rapper Jesse Itzler in 2008; they have one child.
Education: Florida State University degree in legal communications.
Career: Sold fax machines door to door for seven years. At 27, she invested her $5,000 life savings in a line of slimming undergarments called Spanx which launched when she was 29. Today it sells 200 products in 11,500 stores in 40 countries. This week she was named as Forbes' youngest self-made female billionaire.
She says: "Everybody has a million-dollar idea; it's just a matter of pursuing it."
They say: "She's 50 per cent Lucille Ball, 50 per cent Einstein." Jesse Itzler, husband
Register for free to continue reading
Registration is a free and easy way to support our truly independent journalism
By registering, you will also enjoy limited access to Premium articles, exclusive newsletters, commenting, and virtual events with our leading journalists
Already have an account? sign in
Register for free to continue reading
Registration is a free and easy way to support our truly independent journalism
By registering, you will also enjoy limited access to Premium articles, exclusive newsletters, commenting, and virtual events with our leading journalists
Already have an account? sign in
Join our new commenting forum
Join thought-provoking conversations, follow other Independent readers and see their replies