Second coming of Nigel Lawson: The former Chancellor on fracking, global warming and why David Cameron has blown it in Europe
Three decades after his glory years as Margaret Thatcher's longest-serving Chancellor, the irrepressible Lord Lawson is revelling in his political twilight
Jane Merrick
Saturday 28 June 2014 21:47 Comments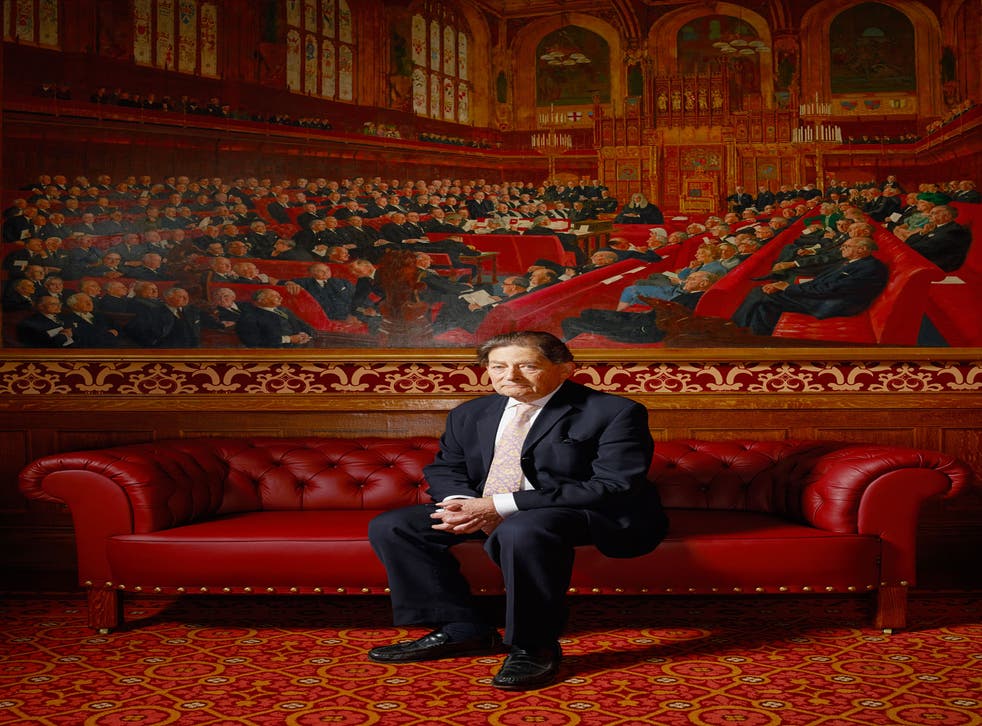 His Cabinet career may have ended following a bitter disagreement with Margaret Thatcher over the economy, but 25 years on Nigel Lawson clearly still reveres the former prime minister. So much so that when I compare the late Lady Thatcher to the woman tipped to one day succeed her, Theresa May, Lord Lawson can barely conceal his disdain.
"Oh she's not remotely like Margaret Thatcher, not in any way, apart from the fact that she's a woman, that's the only thing, and also that she's a Conservative – two things, but not in any other way whatsoever."
The current Cabinet squabbles between May and Michael Gove seem parochial compared with the epic battles waged between the huge figures of the Thatcher government, chiefly over the economy and the European Union. Lawson resigned as Chancellor in 1989 after a clash with the prime minister and her close economic adviser Sir Alan Walters over the Exchange Rate Mechanism. When, following the resignation, Thatcher described Lawson as "unassailable", it came to be used ironically, as the peer later observed in his Memoirs of a Tory Radical.
Today, at 82, and a quarter of a century since leaving frontline politics, Lawson should be in the sort of reflective semi-retirement many of his contemporaries enjoy in the upper house. But it seems every other week he is on the radio banging the drum for fracking, or intervening in the Government's economic policies. And sitting across the table from me in a noisy tearoom in the Lords, Lawson is as intellectually sharp as I imagine he was in government, rigorous in his answers and critical of everything from David Cameron's negotiating position on Europe to the global-warming "alarmists" who promulgate "propaganda". His convictions are as strong and challenging as the coffee we are drinking.
The peer is serious but not as dry as the dust on the leather-bound copies of the House of Lords Hansard down the corridor: despite his age, he seems in robust physical health, with only a gentle stoop when he walks, and occasionally during our hour-long interview there is a flash of a warm smile. Lawson remains, if not unassailable, then certainly irrepressible.
When I ask him how he feels about the label of "climate-change sceptic" (although some environmental campaigners would choose the word "denier"), the peer, who was also Thatcher's energy secretary, says: "I would rather you call me a climate-change dissenter because my objection is to the policies that are being pursued.
"There is no global warming to speak of going on at the moment. If you look at the Met Office statistics, that's quite clear. But there could be, there clearly could. If it does happen, there would be a much slower process than the alarmists pretend. But the important question is, what do you do about it? This is where I am in complete disagreement with the parties of the Establishment."
Yet how can he justify his position when 97 per cent of scientists say that global warming is happening now? Lawson corrects me: "It wasn't 97 per cent of scientists – but what they did was take a whole load of papers which they selected and then they said 97 per cent of the papers said, as I have, that it could well happen. The only people who are in the 3 per cent were people saying, 'No way it could ever happen.'"
But even David Cameron, who as prime minister has played down his green credentials, has linked the winter floods and last year's devastating Typhoon Haiyan to global warming. "He's talking through his hat," says Lawson. "There's been no increase in their number or intensity at all. All the experts are clear that you can't link [these events] to warming, not surprisingly because there hasn't been warming."
Lawson's strong personal views would be easily dismissed if he had no influence on the Government. Yet he has: George Osborne has become an enthusiast for shale gas, something Lawson has, through his Global Warming Policy Foundation, been advocating for a number of years; last year, the Chancellor announced tax breaks for fracking. Lawson has a "high regard" for Osborne, whom he says has "depth" and "thinks", and the pair talk from time to time.
Fewer than half of voters support fracking, I point out, but Lawson is having none of it. "They don't know anything about it, understandably, because it's never happened in this country. There is a ridiculous campaign of misinformation by its opponents, which people can't judge properly". He says 99.5 per cent of what is used in drilling for shale is water and sand, and only 0.5 per cent is a "totally harmless" chemical, polyacrylamide, used in face creams.
Lawson wants a Cabinet committee, chaired by the Chancellor, to oversee Government policy on fracking. At the moment, there are four Whitehall departments and various agencies involved, which are "hopelessly unco-ordinated".
As most of the UK's shale gas deposits are in northern England, Lawson suggests that fracking could be the answer to the difficult question of how to rebalance the economy – while London is racing ahead thanks to its booming property market and global financial centre, many in government are worried that the regions are being left behind.
"I think that the development of shale gas will help over time," he says. "You can't do it overnight, but it will help over time enormously, as it has done in many of the poorest parts of the United States. It has been a huge boon to those [US] localities, in terms of bringing money into them, bringing jobs... There are obviously areas of great natural beauty where you would not want to see development of any kind, but this is no different from other industrial development; in fact, this is less intrusive because it's all going on a mile underground."
As with energy, Lawson regularly speaks out on the economy. Last year he criticised Osborne's flagship mortgage-guarantee policy, Help to Buy. At present, the Government backs first-time mortgages on homes worth up to £600,000, which critics say is fuelling London's overheating property market. Lawson has called for the ceiling to be cut to £300,000, which would focus help outside London.
While he believes that Osborne "deserves considerable credit for sticking to his guns" on economic austerity, Lawson says of Help to Buy that, "He has passed the buck to the Bank of England, so it's clearly their responsibility, but what they should do is say we must wind down – not suspend, but wind down – Help to Buy.
"The global economic scene is quite uncertain," adds the peer. "A lot of people are worried about China, which has a lot of bad debt in its banks, and its growth slowing down; I'm not so worried about that, I think they can manage that. But the eurozone, which is important, is in a very poor state. And in the United States the most recent quarterly figures showed US growth falling; it was just one quarter – but nevertheless it is worth watching."
As a result, he says, Britain must use its position as a global financial centre to keep up with China and India: "We don't want to be little Europeans; we want to be global players."
While in the Cabinet, Lawson was a strong supporter of the European Union, but he has since changed his mind and called for Britain to leave the EU. He changed his mind "because Europe changed – the original postwar political project of protecting Germany from itself and the world is now redundant.
"The new political objective is to create a mega-state, the United States of Europe. And in order to build it they create a single currency because a single nation requires a single currency. It's not a disreputable objective but I don't think it makes sense; more importantly, nor do most of the people of Europe.
"I think we have a choice: we either subscribe to this political objective, join the single currency and play our full part in trying to influence it in whatever way we can; or else we say, no, we don't share this ambition… [at which point] you have to say, 'We love you and leave you.'"
Is it possible, I ask, if Cameron wins the next election but gets little out of renegotiating k Britain's deal with Brussels, that he might change his position and argue in the 2017 referendum to leave the EU?
Lawson's response will cause consternation in Downing Street: "He might do a Harold Wilson – whether the public will believe it as they did in 1975 is another matter. What Harold Wilson did, and David Cameron is following in his footsteps, he said that he didn't agree with the terms that Ted Heath had negotiated, he was going to renegotiate the terms and then put it to the people in a referendum. Through the long renegotiation, we got absolutely damn all – indeed, I doubt there's anyone alive today who can remember what he did get out of it, it was so trivial – but he presented it as a great success, and people bought it. I think David Cameron could try to do the same; he will get very little and he will present it as something."
Perhaps he could at least threaten to withdraw in the run-up – that's his final card in a way? "Yes, but he hasn't. That is what's surprising, that he's made it quite clear that he doesn't want to exit, which doesn't strengthen his negotiating hand… If David Cameron had said, 'Well I'm not sure how to vote, it depends on what I am able to negotiate' – that would have been a stronger hand. But he's actually made it clear he's going to vote for 'in' irrespective, so he has no negotiating hand to speak of."
Lawson believes that the British people will vote to remain in the EU in 2017, but will then "bitterly regret it" and leave later on.
The more immediate problem for the Conservatives is dealing with the popularity of Ukip, who could deny Cameron a majority at the next election. Lawson says the best argument is "a vote for Ukip is a vote for Labour", because there is no way Nigel Farage can become prime minister.
There is, however, a very real possibility that Labour will win, triggering a Tory leadership contest. Given his warm words about Osborne, does Lawson think the Chancellor will make a good leader of the party? Despite the peer's outspokenness on other subjects, I am surprised that he does not want to speculate on this. He bats away my questions, first with the old line, "There's no vacancy," and then, "I hope that the Conservatives will win the next election and if they do, David Cameron will stay as leader."
Yes, but if they don't?
"I don't think it's sensible to start speculating, I know journalists always like to."
Lawson should know, as he was a journalist himself – including a stint as editor of The Spectator – until entering politics in 1974. He has five children and two of the best-known, Dominic and Nigella, were both journalists – before his daughter went on to become a famous TV chef.
When I ask about Nigella's difficult year, Lawson clams up and says, "I don't talk about private life." I wanted to note how she had had many wishes of support, but Lawson will say only, "Yes, she's a great girl."
As for himself, the peer does not show any signs of relinquishing his grip on politics. While many former Cabinet ministers are happy to retire, what makes him stay engaged? "I find life more interesting that way. Fortunately my health enables me to, so that's very good. There are a number of issues that interest me. I lead a kind of double life because my home is deep in la France profonde, so I spend Friday, Saturday, Sunday there, then Monday to Thursday here. So I lead two completely different lives – one completely non-political in the countryside for half the week and then a fairly active metropolitan and political life the other half."
Which does he prefer? "I like having both," he answers swiftly, "or else I wouldn't do it." It is a position which is unassailable.
Register for free to continue reading
Registration is a free and easy way to support our truly independent journalism
By registering, you will also enjoy limited access to Premium articles, exclusive newsletters, commenting, and virtual events with our leading journalists
Already have an account? sign in
Join our new commenting forum
Join thought-provoking conversations, follow other Independent readers and see their replies