Simon Mann: 'My biggest mistake was approaching Mark Thatcher'
Simon Mann's days of trying to overthrow African dictators are behind him. But, he tells Kim Sengupta, there are still scores to settle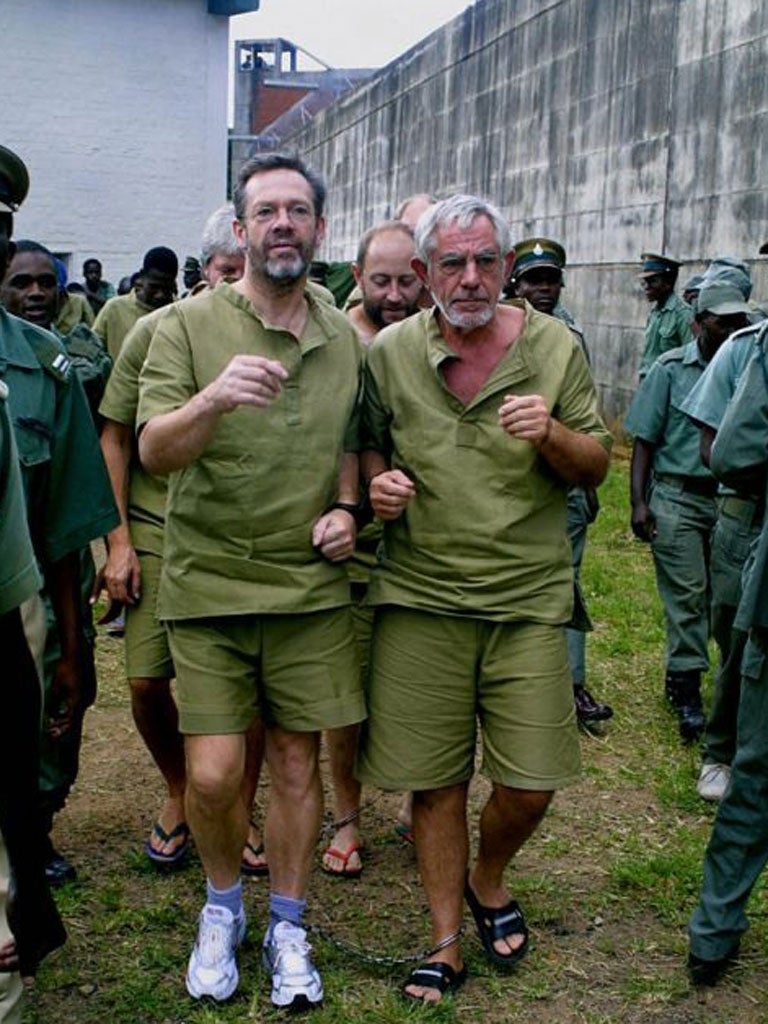 A senior official at a new corporate security company where Simon Mann has started doing consultancy work was uneasy about employing the man who became so well known for leading the "Wonga Coup".
Others at the blue-chip Moda Solutions, however, persuaded Lord Des Browne, the former Defence Secretary, of the value of the SAS officer who had been involved in some of the hottest spots in Africa before the failed attempt to replace the dictator of oil-rich Equatorial Guinea with an exiled opposition leader.
Critics could point out that Lord Browne's objections were an example of the sense of ambiguity in the Establishment when it comes to "soldiers of fortune" who are often used to carry out the policy of UK PLC in the shadows and are cut adrift if things go wrong. There is evidence that the British government gave its tacit approval for the coup against President Teodoro Obiang Nguema, and before that, the activities of Mr Mann and his colleagues in the private military force, Executive Outcomes, during the wars in Sierra Leone and Angola.
Mann has written an account, called Cry Havoc, of the Equatorial Guinea mission as well as his experience on other frontlines. Talks are being held, he says, for the book to be turned into a Hollywood film.
One enterprise he was involved in illustrated the links between espionage, mercenaries and governments. He became involved in planning clandestine operations to provoke a reaction from Saddam Hussein's regime and justify the invasion of Iraq. A plan was sent to Downing Street and, according to Mann, was seen by Tony Blair and his chief of staff, Jonathan Powell. "They like certain elements, they don't like some others ... It is clear they are going in," he noted at the time.
Mann, 59, insists he had only got involved because "Saddam Hussein was a tyrant" – the same motivation which, he claims, led him to Equatorial Guinea.
Mann's politics were certainly not neo-con, he says, or even particularly right wing. The former SAS man and his comrades fought for the left-wing MPLA government in Angola against rebels backed by South Africa's apartheid regime, the CIA and diamond and oil interests. It was not, he acknowledges, entirely altruistic. "We made about £10m. But we could have made more if we had taken up offers from a multinational in London who wanted us to drop MPLA when we were hardly getting any money from them" he said.
"Anyway, most of that money went in Sierra Leone for which we never got anything back. But we did fight off when we were there militias which were going around chopping off people's hands and legs."
Nevertheless, Mann maintained that he understands the views of those worried about his past. "After all there was all that publicity, all the labels given sometimes stick and may influence people who don't know the whole story.
"But things have moved on. Now we hear that PMCs [private military companies] for oil companies were advising the rebels in Libya, co-ordinating air strikes. They were sent, we are told, because Western forces could not be put on the ground.
"It is interesting just how many conflicts have some kind of oil connection, the influence of the dodgy interests, the 'Barrel Boyz'. But taking the industry as a whole, this does raise new political, commercial and ethical questions and maybe the need for a debate and new rules.
"As far as my experiences are concerned, I am happy to explain what happened and learn from my mistakes, after all the whole thing cost me about £1m. I am also keen to clear up any misunderstandings."
Clearing up one set of "misunderstandings" led to a series of low-profile overseas visits – to Equatorial Guinea, the scene of his incarceration at Black Beach prison, which had become synonymous with brutality. Mann was pardoned by President Obiang after serving 15 months of a 34-year jail sentence at the end of his trial in the capital, Malabo. He had been extradited to Equatorial Guinea after serving a four-year sentence in Zimbabwe where he was arrested on the first leg of the mission.
"I wrote a security paper for Obiang's government and I've been back there a few times. I really do think that since the coup attempt there have been a lot of improvement in most aspects of life" the former Scots Guards captain insisted.
"Even conditions in Black Beach, over which so much was written, have got a lot better. This is not just me saying it, but Western governments. Nine months after the coup Condoleezza Rice was welcoming the great tyrant Obiang to Washington. I think they realised in Malabo that unless they got their act together, there would simply be other coup attempts."
Mann has been helping President Obiang on another front, in the pursuit of his civil litigation against Sir Mark Thatcher, and Ely Calil, a businessman based in London, who, it is alleged, helped organise the coup.
Sir Mark was convicted in South Africa in January 2005 for his involvement in the affair, given a four-year suspended sentence and fined £266,000. Mr Calil categorically denies taking part in the coup attempt.
"I have flown to Beirut to be interviewed by Equatorial Guinea lawyers. Lebanon is their chosen country for litigation because a lot of the planning took place there," Mann said. "I have no hesitation in saying what I know about these people and others who were involved.
"As far as I am concerned these people were not only investors in this venture, but also brothers-in-arms. But they did nothing to help me or my family while I was in prison." Mann was also approached by Scotland Yard's anti-terrorist branch which had started an investigation because of the coup's London connections. This has now been quietly wound up.
"I was going to be the chief witness in any trial and the CPS guaranteed me immunity from prosecution in this country. But what they could not do was offer the same guarantees about prosecutions elsewhere in Europe. My own lawyers told me it would simply be far too risky for me to go ahead."
Looking back at what went wrong, Mann held that the chief architect of the plot failed to raise the necessary funds in time for the mission. "One of the biggest mistakes was approaching Mark Thatcher to put in money. He wanted to be one of the boys, gain power in an oil rich country, impress his mother. He turned out to be a very weak link indeed."
But far bigger players were taking an interest and it was that which, Mann believes, scuppered the "Wonga Plot". The US, he had been assured, had "given the green light" for the coup along with the UK, South Africa and Spain [the former colonial power in Equatorial Guinea]. "But the US administration is a hydra-headed body and it is sometimes very difficult to work out what various branches want," he said. "From what we can work out, the CIA decided to pull the plug, let Zimbabweans know about us and that was that."
Two years after being released from Black Beach prison, Mann says he is savouring every day with his wife, Amanda, and his family. "I feel that will do for the time being, we take each day as it comes," he said. "But we need to keep an eye on what's going on, the 'Barrel Boyz' and their kind haven't gone away."
"Cry Havoc" by Simon Mann is published by John Blake and is out now at £ 19.99
A life in brief
Born Simon Francis Mann in Aldershot on 26 June 1952
Education Studied A-levels in history, English and geography at Eton College; Sandhurst Military Academy
Career Commissioned into the Scots Guards in 1972, where he gained the rank of lieutenant. Later joined the SAS, rising through the ranks to become a commander and serving in Cyprus, Germany, Central America and Northern Ireland. After leaving the military in 1981, he ran a firm that sold security equipment and provided bodyguards. Returned to military during the Gulf War, then became a mercenary and set up Sandline International in 1996 – a company that was involved in military and security operations in Angola and Sierra Leone and Papua New Guinea. Sandline closed in April 2004 and Mann was arrested less than a month later and charged with trying to buy arms for an attempted coup in Equatorial Guinea
Family Four children with his wife, Amanda, and three children from previous marriage
Join our commenting forum
Join thought-provoking conversations, follow other Independent readers and see their replies