Sir Chris Bonington & Sir Robin Knox-Johnston: 'I remember looking down 3,000ft, standing on a ridge as wide as my little finger'
The mountaineer and the yachtsman first met 35 years ago while Bonington was researching a book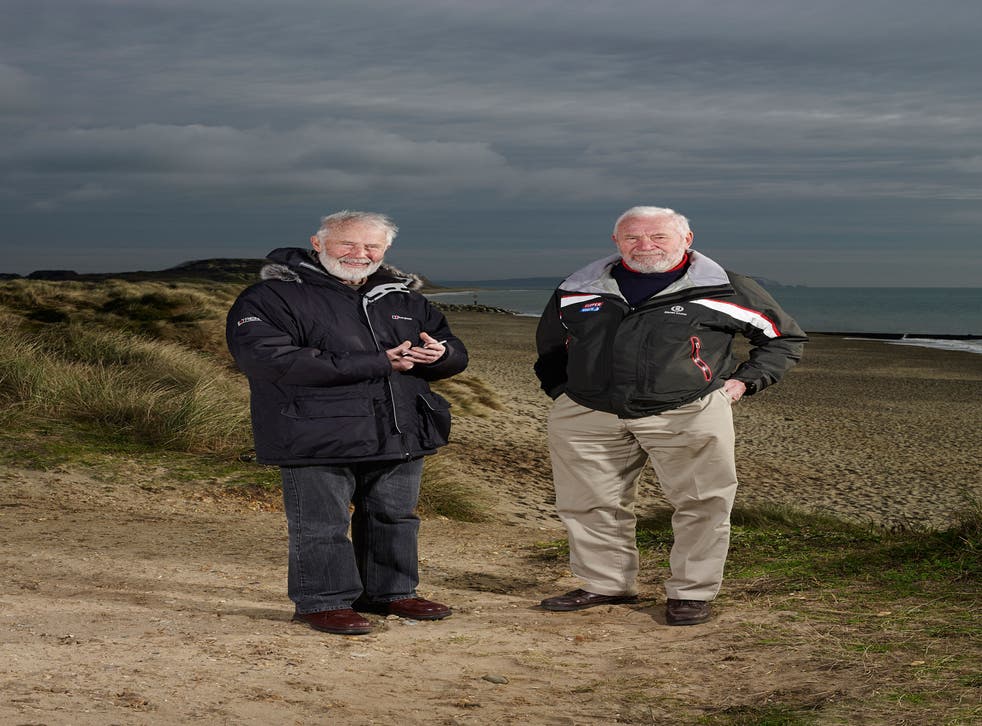 Sir Chris Bonington, 80
One of the world's most accomplished mountaineers, Sir Chris (left in picture) has scaled Mount Everest four times. A widely published author, he lives in the Lake District
I first met Robin years ago – 1979 or 1980. I was researching for a book I was writing called Quest For Adventure, in which I looked at the important and innovative adventures of the post-war era. Robin had been, in 1969, the first man to circumnavigate the globe single-handedly, non-stop. So I wrote to him.
He was on holiday in Scotland at the time, but he invited me to join him, his wife and daughter, sailing. They all made me feel incredibly welcome, and we sailed to the Isle of Skye. When we arrived, I thought I should repay the favour and give him a nice walk – specifically, up a mountain. Unfortunately, I had forgotten my map, which was not a good start. But we found it anyway, climbed it, then abseiled down. It was a fantastic few days, and in that time we struck up a real friendship.
Some time later, he came to me with a proposal: that we sail to Greenland and climb a mountain there, the Cathedral. I knew very little about Greenland, but was keen. It's a real experience watching Robin sail. He doesn't use satnav, refuses to use autopilot and relies on instinct. If you go even two or three degrees off course, he senses it, at which point he cries out: "YOU'RE BLOODY OFF COURSE!"
He can appear very robust, whereas I am quite an emotional soul. I'd say he has a much stiffer lip than I do, but then, underneath, there is a real warmth and sensitivity to him. He is also a brilliant leader, and on a boat you need a skipper. Lives depend on it.
We've both led dangerous lives, I suppose. Climbing at a high level is ferociously dangerous: most of my friends have been killed. I've lost someone on all my major expeditions. It's safer on a boat – but that doesn't necessarily mean it always feels it.
After one trip to Greenland, Robin and I had a hell of a time getting back around the south of Iceland. There were really bad storms, and we had to lay up several times in fishing ports along the way. Eventually there was a break, and Robin suggested we go for it. The storm got much worse. That was the only time I saw him tense up, but then it really was touch and go for a while. I was terrified; while he was sailing the thing, I was down below making cups of tea.
We live in different ends of the country but whenever we see each other, it's an absolute delight. There is much to talk about. We both love military history, and enjoy discussing politics: Robin is a fairly staunch conservative, while I am by nature a social democrat.
We are both widowers now; I lost my wife last summer. I'm still grieving her, and probably always will. But at the same time, I am determined to get on with my life, and make the most of it. Robin is, too. A sailor can go on doing extraordinary things into ripe old age, as Robin is proving. I'd certainly love to go on an expedition with him again.
Sir Robin Knox-Johnston, 75
At the age of 67, Sir Robin became the oldest yachtsman to complete a round-the-world solo voyage. He recently came third in the solo transatlantic race the Route du Rhum. He lives in Portsmouth
Years back, Chris was writing a book and wanted to include me; we shared a literary agent, who put us in touch. I had been very aware of Chris, of course, so I was more than happy to have him tag along on our family holiday. He struck me as the sort of bloke who would be pretty easy to get along with, very professional in his chosen field, as I am in mine. Generally speaking, when people are like that, you get on with them quite easily.
We were away for a week or so, and he was very good company, an easy fit. He took me climbing and I came to the conclusion that it was a thoroughly unsafe thing to do. Abseiling, especially. I remember at one stage, looking down 3,000ft, my feet on a ridge as wide as my little finger, thinking that this wasn't a good idea. But when you are with one of the best climbers in the world, I suppose that lessens the risk somewhat.
We both wanted to go on further expeditions together, but the next one took some time to arrange – 10 or 11 years, I think. We went to Greenland, and it was one of the best adventures I have been on. There wasn't much pre-preparation, to be honest; he spent a morning telling me how to climb the mountain, then we climbed it.
Another time, years after, he called me up to say that we were going to abseil down the front of Lillywhites [the sports department store] in Piccadilly. Why? I don't know. I didn't ask. I just turned up. And do you know, there is actually not much difference between abseiling down a mountain in Greenland and Lillywhites in central London.
I have always found him very congenial; he is good company, and we have lots of amicable debates about all sorts of things. And of course we love to talk about adventures. He has a lot of wounds from his, but then climbing is dangerous. The dangers of what we do is never discussed. Why make a big thing of it? You just get on with it.
We both have a pretty low threshold for boredom; we each crave our next adventure. That hasn't changed simply because we are older now. People may perceive age to be a problem, but we don't. Inside our heads we are still young men. We might not be as agile as we once were, but we bring a lot of experience to bear. That counts for a lot.
Sir Chris Bonington will be in conversation with Sir Robin Knox-Johnston and his fellow climbing and exploring friends on Wednesday, 7.30pm, at the Royal Geographical Society, London SW7. Tickets, at £25, from 01768 840911 (https://secure.worldexpeditions.com)
Register for free to continue reading
Registration is a free and easy way to support our truly independent journalism
By registering, you will also enjoy limited access to Premium articles, exclusive newsletters, commenting, and virtual events with our leading journalists
Already have an account? sign in
Register for free to continue reading
Registration is a free and easy way to support our truly independent journalism
By registering, you will also enjoy limited access to Premium articles, exclusive newsletters, commenting, and virtual events with our leading journalists
Already have an account? sign in
Join our new commenting forum
Join thought-provoking conversations, follow other Independent readers and see their replies