Sir Paul Smith: 'I lament the decline in craftsmanship'
Small businesses are under too much pressure to turn a profit and achieve status, designer supreme Sir Paul Smith tells Simon Usborne. And the result is that skills are disappearing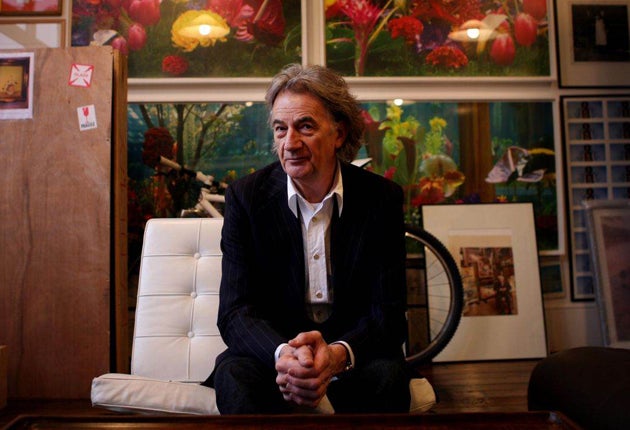 Sir Paul Smith can't remember if it was even sunny the day he wore the sunglasses that nearly killed him. He didn't care. Aged 17, he just wanted to look good – and his Buddy Holly wayfarers were about as cool as things got in 1960s suburban Nottinghamshire. But they weren't suitable for cycling, which is what Smith was doing at great speed when, his vision of the car ahead obscured by his chunky frames, he slammed into a car.
"I hit the back of it but ended up on the bonnet and then on the ground," Smith says, waving his arms about his top-floor office at his London headquarters. Dazed and bleeding, the promising junior racer dragged himself to his feet only for the shattered end of his thigh bone to tear through his muscle and skin. He spent three months in hospital, his dreams of becoming a professional cyclist smashed on the asphalt along with his leg, nose, collarbone and several ribs.
Of course cycling's loss would be fashion's gain – it was while he was laid up and licking his wounds that Smith would meet the art and fashion students who helped inspire a new ambition. And he's done all right. Smith's snappy suits with their signature flashes of colour cosset the shoulders of footballers, world leaders, and leading men, while a lucrative line in accessories as diverse as snowboards and wash bags have helped him ride out the recession while cannily hanging on to the respect of his peers.
But if success brings with it the opportunity to indulge one's passions then pleasure for Smith, 64, doesn't float on gin palaces or soar on private jets – it rolls on two wheels. The designer's well-known love of cycling is most evident in his office, where half a dozen spotless bikes lean against studied clutter on bookshelves and walls.
"Look at this," he says, bounding across the polished parquet wearing suede loafers with bright blue socks, grey trousers and a white, unbuttoned shirt. Gleaming in the sunlight streaming through the windows sits one of his latest designs, a lovingly crafted fixed-gear Mercian in blue and green.
Smith hoists the bike on to the oak table that dominates his office, and gazes at it longingly. It is a work of art, but for Smith it symbolises more than a deep fondness for the sport. He designed it as a favour to Mercian, one of England's last bespoke cycle makers, to mark its 60th anniversary. It was a Mercian that transformed Smith's upbringing in Beeston near Nottingham; the designer says he has "no memory at all" of life before he was 11, when he got his first bike, a pale blue racer.
"I look at this bike and see something that was handmade in England by a small business," Smith says. "And that's something I mourn – the fact that there are now so few small companies like that. I worry about the pressure young people feel to earn a certain amount of money or to achieve a certain status. To be a stonemason and only to carve as much stone as your hands can manage isn't attractive anymore." It's a curious cry from Britain's most commercially successful fashion designer – a man who commands a global empire spanning 74 countries that racked up sales last year of almost £350m (from which he is thought to have pocketed £4m), and who lends his instantly recognisable autograph and candy-stripe motif to a dizzying array of accessories including, last year, a glass bottle for Evian (the stripes were painted in organic ink, naturally).
Smith admits he has sold out, if not in so many words, but his lament for the craftsman is not without legitimacy. When he started more than 40 years ago, Smith only sold what he could cut and stitch with his own hands. A secondary school drop-out at the age of 15, Smith had developed an eye for design while improvising displays at the clothing warehouse to which his father, Harold, had taken him to find work.
After the bike crash, Smith helped a designer friend, Janet, to open Nottingham's first boutique. Later, his girlfriend and now wife, Pauline, another fashion student, taught him about patterns and fabric, skills he perfected while doing night classes at a tailors specialising in military uniforms.
Smith opened his first store in a Nottingham back alley in 1970, and carefully cultivated a loyal clientele made up of bands such as Led Zeppelin and snappy dressers who wanted the cut of a Savile Row suit but with a modern flash, or "classic with a twist" as Smith called it.
He waited nine years before opening his first store in London, but first he needed cash. One bank manager said no, put off by Smith's long hair and garish red scarf, but eventually loans were secured – and the rest is history.
But how would Smith rate his chances now as a talented young designer with half a foot in the fast-revolving door of fashion? With George Osborne pitched in a battle against the banks over the latter's reluctance to lend to the Smiths of today, times have rarely been tighter for fledgling small businesses – particularly those established by the kind of artisans that Smith believes are so important. "I think there is the possibility to do OK in today's world but the sad fact is that very few people are going to succeed," he says. "I don't envy them."
Not that Smith lays the blame entirely at the doors of the bankers or politicians. At the risk of sounding like a grumpy old man (he couldn't be less grumpy and daily swimming and frequent cycling lends him the air and gangling physique of a much younger man) Smith picks out flaws in today's crop of young creatives and entrepreneurs.
"I meet a lot of young designers now and they're so talented but they lack the life skills you need to make money," he says. "When I started my clothes were quite particular and I knew I wouldn't sell a lot, so I only opened on Fridays and Saturdays. For the rest of the week I rolled up my sleeves and did shitty jobs – styling, or just borrowing a mate's Transit van to go selling suits – so I could keep the shop pure. So many people today only want the purity and wonder why they go bankrupt. You've got to have a balance between image-making and rent-paying."
The balance has been hard to strike in the downturn. Christian Lacroix's high-concept, high-price lines had never turned a profit and last year, as rich shoppers tightened their belts, the French label went bust, the most prominent among a host of big brands to flounder in the recession.
Smith's clientele is much broader than Lacroix's. The collections he will show at next month's London Fashion Week represent his Friday and Saturday. The real money comes from the off-the-peg suits, the shoes and the endless accessories. "What people don't know is how much I say no to," Smith says in response to the suggestion he risks harming his name by slapping it on so much stuff. "This year I could have done a couple of hotels, three mobile phones and about five cars. But saying yes has always been about earning money by doing jobs that aren't so appealing to subsidise the purity I dreamed about."
If Smith offers a blueprint for survival during tough times then he says success is built on graft, honesty, humility – and good manners. Back in the early Eighties, when Japan looked like emerging as a lucrative market, several designers were invited to Tokyo, but none seized the opportunity like Smith. "It's all about getting in there, embracing people and hoping that they will embrace you," he says.
Smith's dedication and natural entrepreneurialism has paid off – Japan accounts for almost half his global turnover. His customers sometimes embrace him too enthusiastically – Smith is frequently mobbed on the streets of the country's big cities. "It's like being a pop star," he says. "Sometimes I've had extreme situations where I've had to run up fire escapes because 800 people are chasing me." Smith lopes next-door to retrieve a copy of Men's Non-No, a Japanese fashion magazine.
"Look, there are 16 pages of Paul Smith," he says. "It's just unbelievable. But ultimately all this comes down to effort." The headline on the cover reads: "Paul Smith: Unbeatable." Smith adds: "One of my Japanese staff said it painted a picture of strength and continuity – like a battleship."
London Fashion Week is looming but at no point does Smith seem interested in talking about clothes. He exudes an air of calm – a calm which seems to circulate the building. There is the sense that the empire has become so unsinkable that, to some extent, it pilots itself, leaving its founder to his first love. Cycling dominates Smith's blog, where he writes about such topics as the discovery of rare Italian cycling shoes, or today's stars of the road, many of whom, including Mark Cavendish and Bradley Wiggins, he counts as friends.
Smith recently announced a new range of jerseys and accessories he has designed for Rapha, the premium London bikewear brand. If there's one thing that the leg- shattering crash didn't change about Smith – and it transformed everything else – it's his desire to look good on his bike. "Perhaps I should design some cycling sunglasses," he says, laughing.
Join our commenting forum
Join thought-provoking conversations, follow other Independent readers and see their replies