Sir Philip Green: Taxing issues for the rag trade king
Britain's sixth richest man is a ruthless deal-maker. But as he enters politics, will his lifestyle and financial affairs survive scrutiny?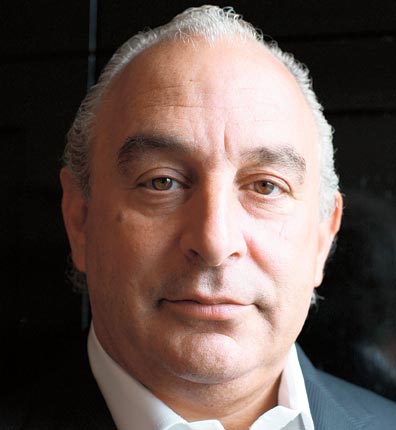 Sir Philip Green doesn't do politics.
He makes money in stratospheric quantities, gives liberally to charities, hangs out with Naomi Campbell and Kate Moss on his mega yacht and every Friday flies to Monaco aboard his private jet to spend the weekend with his family. It is the uncomplicated routine of your everyday self-made billionaire. As for the messy business of government – it is a place he has repeatedly insisted he simply does not want to go.
But that all changed earlier this month with the announcement that the 58-year-old tycoon had agreed to share what he has learnt over 40 years of wheeler-dealing in the retail fashion trade to help to drive down Whitehall costs. Not surprisingly for a man as colourful, brash and successful as Sir Philip, it is an appointment that has not gone unremarked or uncriticised. It will be recalled that the Liberal Democrats, before signing up to the coalition with their Tory partners, spent much of the election campaign pledging to crack down on tax avoidance and lambasting the beneficiaries of so-called casino capitalism.
The tycoon may have form in both areas – not that he sees it that way. As far as he is concerned he and his Arcadia group employ 45,000 people while Green himself has paid £400m in tax over the past five years. Yet critics will recall that in 2005, Sir Philip's wife Tina received a £1.2bn dividend as nominal owner of Arcadia, which includes Topshop, Burton and Dorothy Perkins among its high street names. Because she happens to live in Monaco she also enjoyed a tax saving estimated at up to £300m, which might have helped to build 10 new secondary schools for the Treasury he now serves. The dividend is the largest ever paid in corporate history. So it is hardly going to convince those on the receiving end of any savings he makes in his role as the Government's "efficiency tsar" that – as George Osborne and David Cameron like to insist – we are all in this together.
But that Sir Philip is very rich is hardly news. His gilded lifestyle with a personal 200ft super yacht, the lavish parties – the three-day toga bash for his 50th cost £5m while he hired Destiny's Child to sing at his son's bar mitzvah – not to mention his glittering roster of super-rich friends, make him a man somewhat at odds with these straitened times. He is both the greatest and most visible winner from an unprecedented boom era which spawned extraordinary levels of excess and which gave way to the worst bust since the 1930s. According to Robert Peston, the BBC's business editor who devotes an entire chapter to Sir Philip in his book Who Runs Britain?, Green is quite simply "the king of jackpot capitalism".
Britain's sixth richest man built his estimated £4bn personal fortune from relatively humble origins. Born into a business-obsessed middle-class family in Croydon (the East End patter is an affectation acquired during his early years in the rag trade), Green was an unspectacular scholar at the Jewish Eton, the former Carmel College in Oxfordshire. His father, who rented out televisions, died from a heart attack when Philip was 12. Green too suffered cardiac trouble just as he prepared to hit the big time. His mother and her businesses, which included a petrol station, were to become his greatest influences. Leaving school with no qualifications at 15, he was apprenticed to a wholesale shoe trader working from a warehouse on the edges of the City. Though it was not a glamorous start, the youngster had entered an industry that was dramatically changing to reflect equally rapid shifts in society.
The 1970s were a time when youngsters wanted regular supplies of cheap fashionable clothes and denim and discounts were king. Having been left the equivalent of £180,000 by his father, he hoped to build on his grass-roots knowledge, pioneering links with Far East producers. But these early ventures, including the ill-fated Joan Collins Jeans range, were not successful. By the time he was 30, a lifetime of restless striving had brought little in the way of tangible rewards. In business, however, failure can be the greatest teacher. In the first half of the 1980s, Green bought and turned around two ailing companies – Bonanza Jeans and Jean Jeanie – through an instinctive process of relentless work, getting the right stock, hiring the right staff and deploying an uncanny ability of buying and selling at the right time. With his first millions in the bank, a spell at Lee Cooper proved unsatisfactory while his next move, to Amber Day, saw him fall permanently out of love with a City of London which he felt looked down its public school and university-educated nose at him.
Through the 1990s, amid an unprecedented consumer boom, he bought a succession of underperforming companies – Owen Owen, Olympus, Mark One, Shoe Express and finally, in 1999, the retail chain Sears UK with the help of his friends, the Scottish entrepreneur turned billionaire philanthropist Tom Hunter as well as Sir David and Sir Frederick Barclay. Between 2000 and 2005 he made the two deals of his life, acquiring the fading Bhs brand for £200m and Arcadia for £850m – though his second ill-fated bid for Marks & Spencer collapsed amid recriminations.
Peston points out that, though Green took risks with his own money, his ability to persuade the banks to support these deals stands out. He paid only £20m from his own coffers for Bhs but was able to award himself £400m in dividends only four years later. His personal equity investment in Arcadia was £9.2m, for which three years later he was able to reap a 130-fold return of £1.2bn. For his part Green insists he has always under-promised and over-delivered to his backers.
Even those who dislike what they deem his bullying style admit he is a turbo-charged genius as a clothes retailer. He is more than happy to berate journalists who cross him (the Daily Mail hates him), but is also accessible and prides himself on returning 99 per cent of phone calls. Employees and suppliers might justifiably fear him but he has a loyal cadre of long-serving lieutenants whom he listens to. He is equally happy to impart his advice, and when he does, people tend to listen.
But the greatest deal of his life is now some five years past. Some observers believe he is restless in his weekly routine living in a Mayfair hotel before jetting home for the weekend. Holidays at Sandy Lane, playing tennis with Roger Federer, gambling at the world's top casinos and his role as a powerful behind-the-scenes figure in the Premier League and at his beloved Tottenham Hotspur may have begun to pall.
Perhaps an indication of what might now be driving Sir Philip to enter the bear pit of politics and endure the disdainful snorts of Today programme presenters can be found in the final chapter of Liz Barclay's The Unauthorized Guide to Doing Business the Philip Green Way. Barclay, a self-confessed fan of the retail magnate, lists 10 secrets behind Green's enormous fortune, the last of which is "give something back". Beneath the gruff exterior she notes a more vulnerable side and a need for approval from his peers that he is the best.
Hence acts of spontaneous generosity such as the £60,000 he donated to charity for a one-minute kiss with Kate Moss which he "gifted" to Jemima Khan to enjoy, though detractors saw it as evidence merely of his genius for self-promotion. He gives £1m a year to the charity Jewish Care, donated his private jet to Madeleine McCann's family and gave £100,000 in cash and £1m in clothes to help victims of the tsunami. He has also spent £5m setting up the Fashion Retail Academy and £1.25m to promote business teaching in schools.
Of course he can afford it. Yet politics always seemed an unlikely calling and first contacts with David Cameron were unpromising. The Tory leader criticised Bhs for selling padded bras to teenage girls even though the product line had been withdrawn three years earlier.
Whatever his motivation, those who think he will have to walk away, as fellow tycoon David Rowland did yesterday before starting his post as Tory treasurer, are likely to be disappointed.
A life in brief
Born: 15 March 1952 in Croydon, south London.
Family: Lived in Hampstead Garden Suburb. His father died of a heart attack when Green was 12, leaving him in line to inherit the family business. He is married to South African Cristina, who lives in Monaco with their two children Chloe and Brandon.
Education: Attended Jewish boarding school Carmel College in Oxfordshire. Left school at 15.
Career: Working by 16, and by 23 had set up his first fashion business, importing jeans from the Far East. Now owner of retailers Bhs and the Arcadia Group, Green has achieved billionaire status.
He says: "I could have closed down bits of British Home Stores to make more money but it's not my style. I want to make my money as a retailer, not by putting people out of work."
They say: "You know where you stand with him. He tells you the way it is, not the way you want it to be. The difference about Philip is that he plays with his own money, not a plc's money. He puts his balls on the table every time and that's what you've got to admire about him". - Marco Pierre White
Join our commenting forum
Join thought-provoking conversations, follow other Independent readers and see their replies